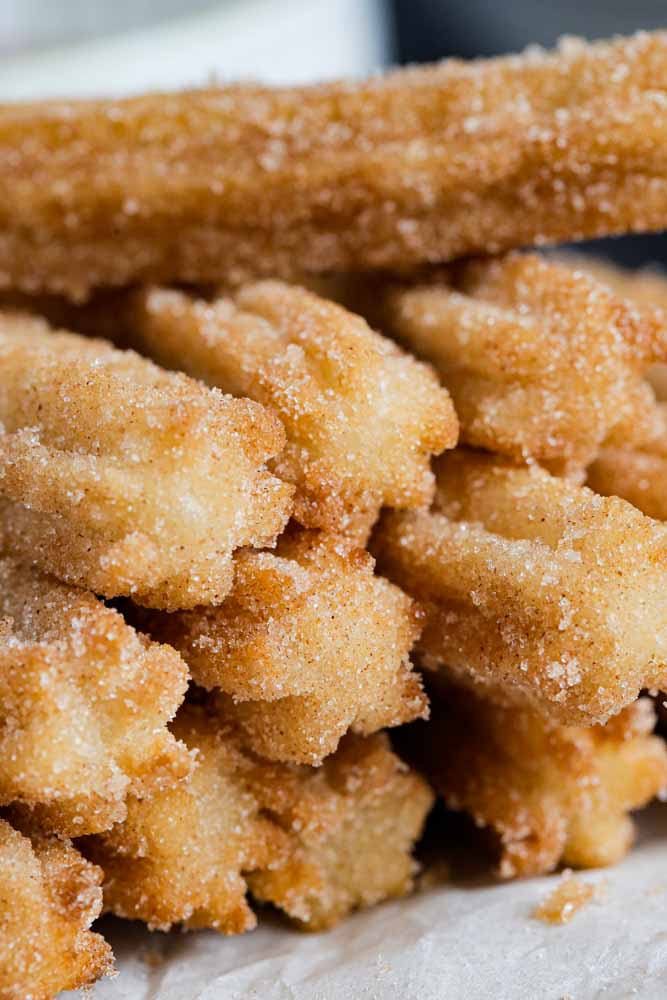 Posted in Recipes on 14.06.2021
Caramel Churros with Chocolate Sauce
prep: 20 mins / cook: 30 mins / inactive: 0 mins / total: 50 mins / quantity: 25-30 churros Print recipe?
No one will ever know (or care!) that these caramel churros are vegan because they are SO good! Make sure to make a lot too, as they disappear FAST with their fluffy caramel insides and cinnamon sugar crunchy outside! Dunk in velvety chocolate sauce for utter indulgence!
I've not actually had that many churros in my life.  My first churro was just over 17 years ago on our honeymoon in Downtown Disney.  But when I think of them they take me right back to Phil and I sharing a giant churro that was all warm, sugary and utterly delicious.  The only time I've ever seen churros in the UK was at an outlet village in Nottingham that had a little cart selling them.  You could smell them as you walked round the entire place.  And of course who can resist that sweet, sweet smell?
I really wanted to replicate those smells, tastes and memories.  It took a couple of tries to get them just right.  The first batch I tried baking and they just weren't the same.  They were too crunchy all the way through.  Now I don't mind a baked donut at all, but I decided these NEEDED to be fried.  The second batch I used the same recipe but they just fell apart when I fried them.  Phooey.  Back to drawing board.  I think I over-beat the mixture trying to get it cool enough to handle so I could pipe them.  The mix was also a little too stiff in the piping bag.  So I dropped down the amount of flour, swapped oil for butter and success followed!
Don't tell Phil but I must have eaten half a dozen of these as they came out of the fryer before I called him down to be a more objective taste tester.  He always tells me the truth about a recipe, even when I don't necessarily want to hear it.  I literally had to push him away from these caramel churros before he ate so many I had none left to photograph.
Why the caramel flavouring?
I really wanted to capture that Downtown Disney essence.  That sweet burnt sugar smell and flavour.  And the caramel flavouring from Foodie Flavours is (shhhh) one of my favourites of theirs.  It's so rich, almost buttery, and adds another dimension of flavour to these vegan churros.
How to make deceptively easy vegan caramel churros:
You actually start a little backwards by making the sauce first.  The churros don't take long to cook and there's nothing like a warm churro dunked in velvety chocolate sauce.
Break the chocolate into pieces in a bowl and boil the cream.  I've seen various chocolate sauce videos where you heat the chocolate and the cream in a saucepan.  It's very easy to overcook it this way and split the chocolate, rendering the whole lot useless.  I was also taught never to put chocolate over a direct flame.  The heat from the cream once it is boiled will be more than enough to melt the chocolate.  I've also added a few extra drops of Caramel flavouring just to bring that flavour marriage between the churros and the sauce.
To make the churros put the water, oil, caramel drops and sugar into a medium pan and bring to the boil.  Making churros is very similar to how you make choux pastry.   The liquid in the pan should come to a rolling boil, meaning it should be bubbling furiously before you add in the flour.  Add the flour in one go and vigorously stir until you have a thick paste, a bit like a roux for a traditional white sauce.
Remove from the heat and leave to cool slightly.  While it's cooling mix together the sugar and cinnamon you're going to use to coat the fried churros.  Just stir together in a shallow dish so you can toss the churros to coat them.
Spoon the cooled 'batter' into a piping bag fitted with a star nozzle.  Heat some light vegetable oil in a large pan – enough to be about an inch and a half deep.  Have some sheets of kitchen roll laid out on a plate so you can drop the cooked churros on to drain off the excess oil before tossing in the sugar.  Get a little production line happening – pan for frying, slotted spoon, plate with kitchen roll and bowl with cinnamon sugar.
Have a knife or a pair of scissors handy.  To test if the oil is at the right temperature pipe a little of the mixture into the pan.  If it sizzles and rises to the top it's the correct temperature.  Pipe over the pan a line of the churro batter then use a knife or the scissors to cut it from the bag, allowing it to gently fall into the oil.  Only cook 3-4 at a time as anymore and you'll drop the temperature of the oil.
Sizzle in the oil until they're just starting to turn a golden colour.  Then remove with a slotted spoon onto the kitchen paper.  Repeat the piping process then while the next batch are cooking, toss the warm cooked churros in the cinnamon sugar.
Repeat the whole process until all the batter is used up.  This recipe makes quite a lot (25-30) small/medium sized churros.
You'll want a lot if you're feeding a few as I promise these are pretty much irresistible!
Looking for more vegan treats?  Try these:
Blueberry Twisty Bread with Cream Cheese Frosting
Blackcurrant Cheesecake Brownies
Jamaican Ginger Sticky Pudding Cake
I'd also love to hear from you if you make these Caramel Churros with Chocolate Sauce! Just leave a comment as it's so helpful and I love to hear how the recipe worked out for you! Thank you so much!
Don't forget to follow us on YouTube, Facebook or Pinterest for even more recipe inspiration and chat, competitions, behind the scenes and so much more!
Caramel Churros with Chocolate Sauce
prep: 20 mins / cook: 30 mins / inactive: 0 mins / total: 50 mins / quantity: 25-30 churros
Ingredients
Chocolate Sauce:
Churros:
250ml (1 cup) water
2 tblsp light vegetable oil
1 tblsp sugar
25 drops Foodie Flavours Caramel
1 cup (130g) plain flour
Cinnamon Sugar:
4 tblsp sugar
1 tsp ground cinnamon
For frying:
2 cups (500ml) light vegetable oil
Equipment:
Piping bag and star nozzle
Instructions
Start by making the sauce - break the chocolate into a heatproof bowl and gently boil the cream. Pour the hot cream over the chocolate, add the Caramel drops and stir to melt the chocolate. Set aside to cool and thicken
To make the churros put the water, vegetable oil, sugar and Caramel drops into a medium saucepan and bring to a very rapid or rolling boil
Tip in all the flour at once and mix well until all the flour is mixed in and you're left with a soft but thick batter. You don't want it to be so 'loose' you can pour it but also not so stiff you can't pipe it! Set aside to cool
In a shallow bowl or plate stir together the cinnamon and sugar for coating and prepare a plate with some kitchen paper on to drain the cooked churros
Spoon the slightly cooled churro mixture into a piping bag fitted with a star nozzle and heat the vegetable oil for frying in a large saucepan
To test if the oil is hot enough, carefully drop a little of the churro mix into the pan - if it sizzles and floats the oil is hot enough
You want to pipe 4-5 churros at a time into the pan, no more as it'll bring the temperature of the oil down too much. Squeeze the piping bag over the oil until a line of churro mix comes out to about 4 inches (10cm) long then use a knife or a pair of scissors to cut the churro, letting it gently drop into the hot oil
Sizzle the churros, turning once until they're a light golden colour then lift out with a slotted spoon or spatula onto the kitchen paper
Put them into the dish with the cinnamon sugar and turn to coat completely
Repeat with the churro mix until it's all used up - you can keep the cooked churros warm in a very low oven while you cook the remaining mixture
Serve with the chocolate sauce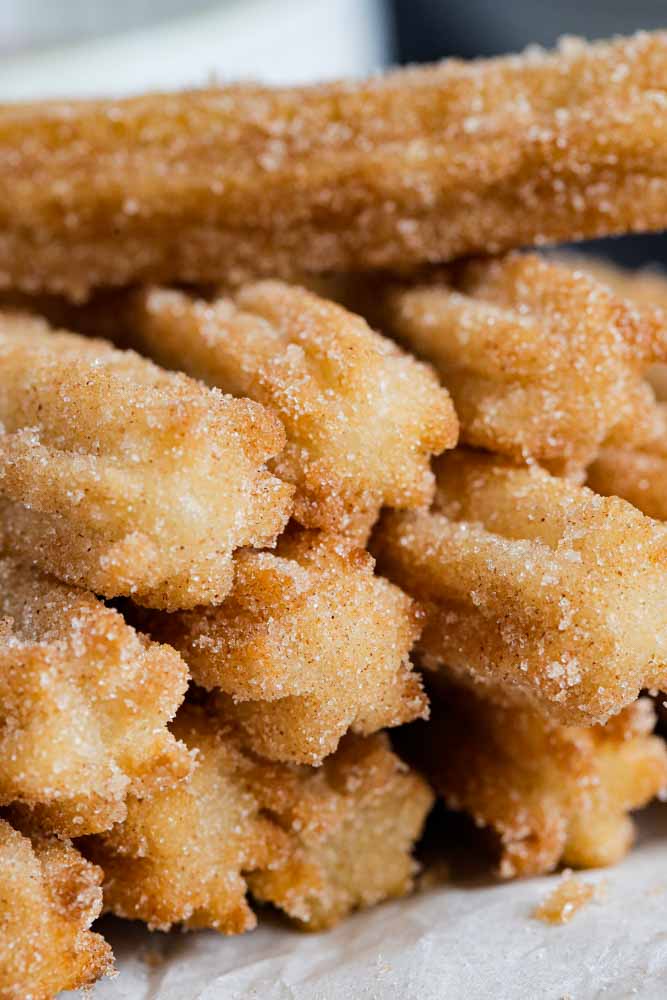 Hello and welcome to The Cook & Him.
We are Sam (The Cook), Phil (Him) and our little dog Nooch. What started with a plan to shed a few pounds back in 2016, soon became obvious that eating healthy doesn't have to be bland and boring.
So, combining Sam's 15 years of experience working within Michelin starred restaurants and our love for deliciously healthy food, we're creating recipes for you to make and enjoy. We've added our own unique spin on traditional and contemporary vegetarian and vegan recipes that keep you (and your pets!) healthy and full.  And we make sure they just work.
All things autumn - warming soups, savoury bakes and delicious sweet treats!
and I would like to see...
Or search for a recipe or post by keyword