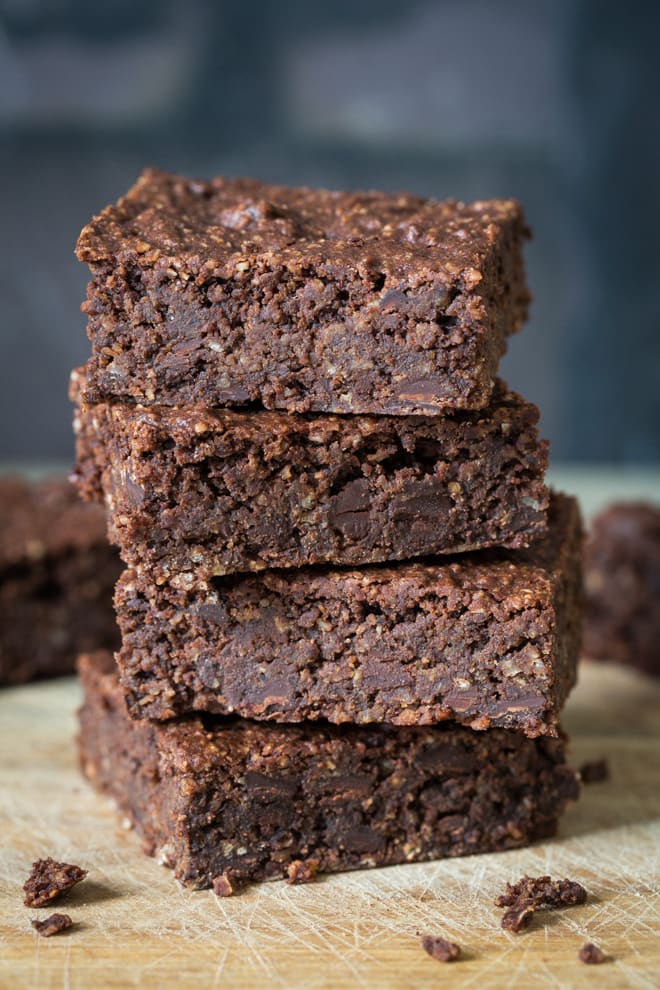 Posted in Recipes on 28.04.2018
Chocolate and Blackcurrant Brownies
prep: 30 mins / cook: 30 mins / inactive: 0 mins / total: 60 mins / quantity: 12 bars Print recipe?
I absolutely adore brownies.  They're one of the simplest things to make and one of the most often ordered desserts if we go out for dinner and they're on the menu.  Ok, so it's also because they mostly come with vanilla ice cream and hot fudgy sauce but if it's on the menu there had better be something pretty darn good there to make me choose it instead.  You really can't fault a good brownie and you have to work hard to get it wrong.  It's that crusty coat that gives way to melt in the mouth soft chocolate fudgyness.  Excuse me while I wipe up the drool a little here.
But like all decadent desserts it's full of all the things we're trying to cut back on/down on/out of our diet.  It 'aint easy though when the sweet cravings kick in.  AKA every evening.  As a child brought up with pudding after I'd diligently eaten my plate of food I now crave something sweet after something savoury.  Anyone else have that problem?
So after looking at many MANY recipes for gluten free, vegan brownies and finding that most contained ingredients I'd either never heard of or had no way of getting hold of, it was back to kitchen alchemy and sorta making it up as I went along.
'Regular' basic brownie has just a few ingredients – butter, chocolate, eggs, flour and sugar.  That's it.  So would it be as simple as swapping out one thing for something else?
The first problem was the chocolate.  For which there's really no substitute.  Raw cacao powder is great for some things but it's quite bitter and provides no moisture like melted chocolate.  Ok, so we'll stick with the chocolate. But let's keep it high cocoa content dark chocolate. The brand you use is up to you.  If you're not vegan there's almost too much choice.  If you want to keep these brownies vegan we recommend any of these (trust me, we've tested them to death ?)
Butter – well that's simple, swap it for a combination of coconut oil and coconut yoghurt.  Eggs – easy peasy, flax eggs to the rescue!  Flour – hmmm, I've had some recent absolute disasters using gluten free flour.  For some reason I just can't get it to work in baking.  Bread seems to be fine, but cakes and muffins?  Nuh-uh.  Would the texture be too unpleasant with ground oats?  Maannn, where would I be without oats?  They're my go to for EVERYTHING!  Maybe half oats/half almonds?  Yup, that might work.
The sugar is simple, just a straight swap to coconut sugar (after I've had a sniff in the bag of course! If you don't already know I have a real thing about the smell of coconut sugar — DIVINE!)
I also wanted to give it a little extra kick of something fruity.  We've recently discovered Arctic Power and their wonderful range of berry powders.  Boy, they give a real hit of flavour to everything!  They're fantastic in your morning porridge or overnight oats or try adding a spoonful to your weekend pancakes.  I see lots of berry tinged things in our future eating!
I can't tell you how proud I was when I took these out of the oven and they weren't just a soggy mess.  Not only did they look like brownies but a burnt tongue later and I discovered they tasted like brownies!!  I genuinely burnt my mouth – don't lick a hot knife kids ?
If you make this recipe or any of the recipes from The Cook & Him we'd LOVE to see! Just snap a picture and share it on Instagram using #thecookandhim and tagging @thecookandhim in the photo itself (as this guarantees we'll see your picture!
)
And don't forget to follow us on Instagram , Facebook or Twitter for even more recipe inspiration and chat, competitions, behind the scenes and so much more!
Chocolate and Blackcurrant Brownies
prep: 30 mins / cook: 30 mins / inactive: 0 mins / total: 60 mins / quantity: 12 bars
Ingredients
2 tblsp ground flax seeds
150g dairy free dark chocolate (see note for recommendations)
2 tblsp coconut oil
1 cup rolled oats
1/2 cup ground almonds
2 tblsp Arctic Power Blackcurrant Powder
1/2 cup coconut sugar
1 tblsp raw cacao powder
1 tsp baking powder
1/2 cup coconut yoghurt
1/2 tsp vanilla extract
1/2 cup dairy free chocolate chips
Instructions
Preheat your oven to 170 Fan / 190 C / 375 F / Gas 5 and line a 7 x 9 inch / 18 x 24 cm tin with parchment, covering the base and sides
In a small bowl or mug mix the ground flax seeds with 5 tablespoons of water and set aside
Break the chocolate into pieces then melt with the coconut oil in a microwave or over a bain-marie (a heatproof dish set over a saucepan of barely simmering water)
In a food processor or blender whizz the oats to a very fine powder.  Tip into a large bowl along with the ground almonds, blackcurrant powder, coconut sugar, raw cacao powder and baking powder
Tip in the yoghurt, vanilla, flax egg, melted chocolate and chocolate chips and stir until well combined
Spoon into the prepared tin and bake for 30 minutes until set - it will firm up more as it cools!
I'd recommend leaving it at least a few minutes out of the oven to prevent burnt mouths!  It also cuts better when it's left to cool!
Notes
We've tried a LOT of vegan chocolate to find the best - all in the name of research of course:
Doisy & Dam - Maca, Vanilla and Cacao Nibs - some of the best damn chocolate I've ever tasted!
Conscious Chocolate - The Dark Side - lovely company, raw and handmade
Callebaut - Dark Chocolate Callets - a little more expensive but this was the stuff I used in a professional kitchen.  This is serious chocolate ?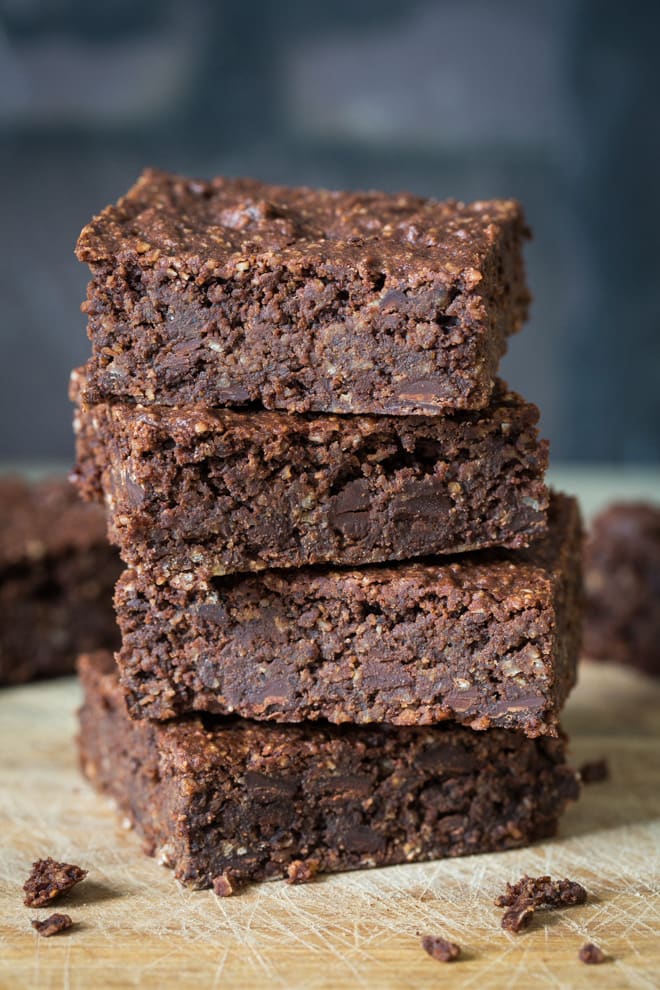 Some products I used in today's post...
Some of the links above are affiliate links, which pay us a small commission for our referral at no extra cost to you! Thank you for supporting The Cook & Him.
Hello and welcome to The Cook & Him.
We are Sam (The Cook), Phil (Him) and our little dog Nooch. What started with a plan to shed a few pounds back in 2016, soon became obvious that eating healthy doesn't have to be bland and boring.
So, combining Sam's 15 years of experience working within Michelin starred restaurants and our love for deliciously healthy food, we're creating recipes for you to make and enjoy. We've added our own unique spin on traditional and contemporary vegetarian and vegan recipes that keep you (and your pets!) healthy and full.  And we make sure they just work.
All things autumn - warming soups, savoury bakes and delicious sweet treats!
and I would like to see...
Or search for a recipe or post by keyword