Posted in Recipes on 16.12.2017
Chocolate Gingerbread Quinoa Puffs
prep: 10 mins / cook: 5 mins / inactive: 30 mins / total: 45 mins / quantity: 25 squares Print recipe?
These Gingerbread Quinoa Puffs feel like I've taken Healthy Rice Krispie Treats and made them more grown up.  Adultified.  Right down to the fiery gingery nuggets that bejewel each bite.
Sometimes cooking can be a faff.  An enjoyable faff but still a faff.  Time consuming, lots of preparation and actual hours of cooking.  And that can be a wonderful thing.  A stress reliever, a shared experience with spouse or kids.  Or, if you're anything like me, getting to share what you've made with the people you care about.  Other times it can be as simple as stirring melted chocolate through some festively spiced Quinoa Puffs and waiting barely half an hour before you have an utterly delectable little treat.
Have you ever tried Quinoa Puffs?  I'm addicted.  They're THE BEST addition to granola – giving a truly wonderful crunch.  They're firmer than Rice Krispies with a definite bite and don't just dissolve in your mouth.  They're also a protein powerhouse and high in fibre.
Hodmedod's Quinoa Puffs are grown in Essex and puffed using traditional Japanese cannons!!  Anyone else want to see how that actually happens??  I have visions now of quinoa being loaded into giant cannons and *KABOOM*.  Then some poor soul somewhere having to go round and scoop up all the puffs.  I'm pretty sure it's a much more sanitary process than that but that's what will be in my head now every time I eat these ?
Because I'm going to be using these quinoa puffs a LOT.
How can you tell when you're addicted?  When your quinoa puffs come in 1kg sacks!!
Speaking of addiction, Phil ate half the tray I think first time I made these.  Sometimes he forgets there are other people in the house or that he used to be diabetic.
If you make this recipe or any of the recipes from The Cook & Him we'd LOVE to see! Just snap a picture and share it on Instagram using #thecookandhim and tagging @thecookandhim in the photo itself (as this guarantees we'll see your picture!
)
And don't forget to follow us on Instagram , Facebook or Twitter for even more recipe inspiration and chat, competitions, behind the scenes and so much more!
Chocolate Gingerbread Quinoa Puffs
prep: 10 mins / cook: 5 mins / inactive: 30 mins / total: 45 mins / quantity: 25 squares
Ingredients
150g dairy free dark chocolate
1/4 cup coconut oil
3 cups Hodmedod's Quinoa Puffs
1/3 cup crystallized ginger – roughly chopped into small pieces
2 tsp ground ginger
1 tsp nutmeg
Optional
melted white chocolate for drizzling – around 30g
Instructions
Line a 9 x 9 inch square tin or dish with cling film, covering the bottom and sides
Break the chocolate into squares or roughly chop then melt with the coconut oil in a microwave or over a bain marie (a bowl set over a saucepan of barely simmering water)
Put the quinoa puffs, crystallized and ground ginger and the nutmeg in a large bowl and stir together
Pour in the melted chocolate mixture and stir well until all the quinoa puffs are well coated
Tip into the prepared tin and put into the fridge for at least half an hour to set (longer if you can stand the wait!)
When set, tip the whole thing out, remove the cling film and cut into squares using a large sharp knife
Drizzle with some optional melted white chocolate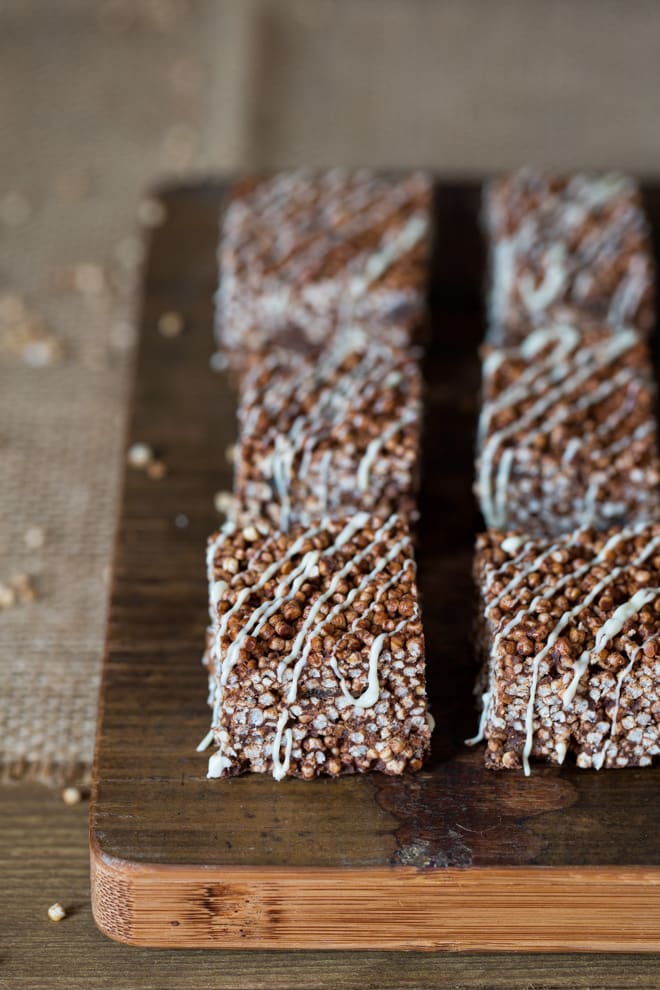 Hello and welcome to The Cook & Him.
We are Sam (The Cook), Phil (Him) and our little dog Nooch. What started with a plan to shed a few pounds back in 2016, soon became obvious that eating healthy doesn't have to be bland and boring.
So, combining Sam's 15 years of experience working within Michelin starred restaurants and our love for deliciously healthy food, we're creating recipes for you to make and enjoy. We've added our own unique spin on traditional and contemporary vegetarian and vegan recipes that keep you (and your pets!) healthy and full.  And we make sure they just work.
All things autumn - warming soups, savoury bakes and delicious sweet treats!
and I would like to see...
Or search for a recipe or post by keyword