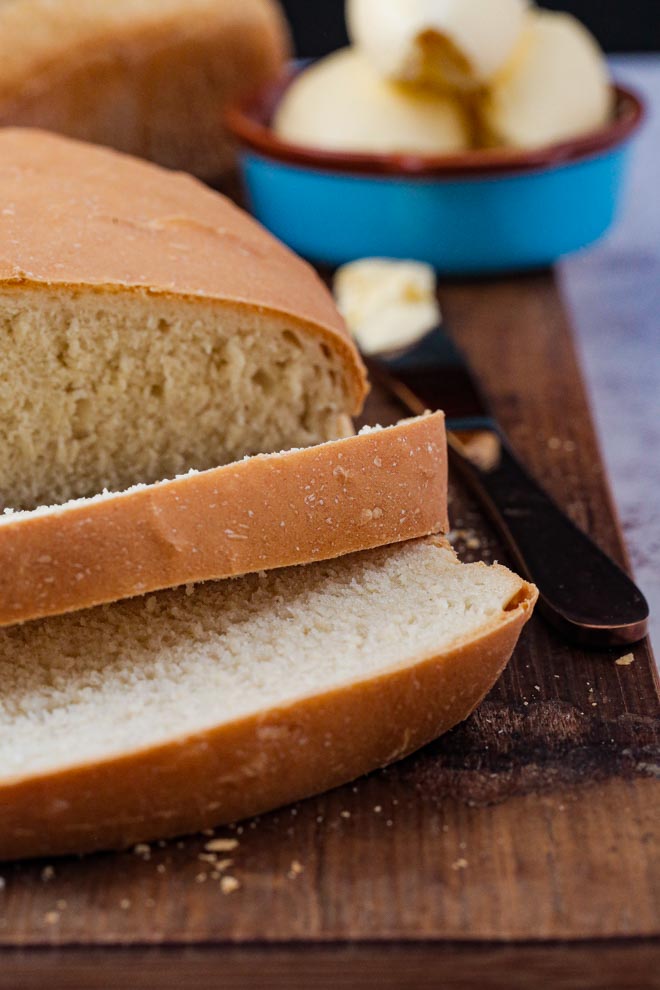 Posted in Recipes on 18.01.2021
Easy Homemade White Bread Recipe
prep: 15 mins / cook: 45 mins / inactive: 2 hours 0 mins / total: 3 hours 0 mins / quantity: 2 loaves Print recipe?
There's nothing like the smell of a freshly baked loaf and it couldn't be easier to make with this white bread recipe. Only a few store cupboard ingredients needed for perfect bread every time!
Have you noticed that so much shop bought bread is actually pretty flimsy and tasteless?  Bland and blah.  Completely forgettable.  Merely a conduit to get something else, more tasty, into your mouth.  Yeah I have opinions 😉  But there's something deeply satisfying about making your own bread.  And the grandpappy of them all – honest to goodness, no frills homemade white bread.
I have a lot of bread recipes on the blog.  A LOT.  Everything from asparagus and sun dried tomato bread to gluten free bread, kombucha bread and beyond!  I love making it and I love sharing it with you.  Oh and we love eating it.  We all like to get in on THAT action.
The beauty of a simple white loaf of bread is its compatibility with so many things:
Accompanying a warming bowl of Hearty Vegetable Soup
Dipped in sweet, spiced milk and gently fried to make Vegan French Toast
Toasted, slathered in vegan cream cheese and topped in blackberries for the perfect lunch
Gorgeous vegan Sesame Prawn Toast (I honestly can't stop making these!)
If you've ever been nervous about making your own bread it really is a simple process.  There are just a few 'rules' to follow and it does take a bit of time with all the proving but hands on activity is fairly minimal and SO very worth it.  The whole process can be quite cathartic – take any pent up frustration out on your raw dough.  Bash it, stretch it, pound it.  Scream at it if you need to.  No judgement.  It can take it.  And then you get that wonderful smell wafting through your home.  And THEN you get to eat it.  Dip it, toast it, spread it, who cares?  This loaf of bread is not that flimsy, wishy washy stuff in a bag.  This bread has flavour.  REAL flavour.  All made by your own two hands.
However, I AM trying to cutdown eating bread.  Simply because I would eat it ALL the time.  Every meal.  Every day.  So when I do have it, I want to make sure it's something I can really enjoy.  And fresh homemade white bread is one of the most comforting of comfort foods.  It's almost primal.  Like if I can bake a whole loaf all by myself then maybe I do have a little bit of my shit together.  The world was unified in March last year by a sudden need to make bread.  Baking supplies became precious commodities.  And as we're in the middle of our second major lockdown here in the UK I thought we should revisit our old friend, the humble white loaf.
How to make a simple white loaf:
The beauty of homemade bread is that it really doesn't require many ingredients.  Sure you can add all kinds of goodies to it for variety but a base dough is simply flour, yeast, liquid, salt and sugar.
I also add a little bit of vegan butter because fat not only provides flavour but also lubricates the dough. This helps to retain the gases released during baking, ensuring a well risen loaf which with a softer crumb.  All the principles of vegan bread are exactly the same as a non-vegan loaf.  It's just a straight swap of butter and milk to their vegan counterparts.
Start by warming the liquid and sugar.  For this white loaf the liquid I've used is a mixture of water and non-dairy milk.  I've used oat and almond milk on different occasions but you can try other types or even use all water.  Milk gives a richer and more velvety texture and often when making sweet dough (for something like this Pumpkin Spice Pull Apart Bread) I tend to use all milk.
You only want to warm the liquid to body temperature.  This just means that when you dip you finger to test the temperature you can't actually feel if it's hot or cold!  If you're unsure about any of these stages I've written a complete bread making guide with some of the science behind why we do some of the things we do to bread.
We also have a YouTube video for Tear and Share Pizza Bread – the early part shows how to knead the dough
Whisk in the yeast.  Then cover with a tea towel and set aside for 5-10 minutes until a froth forms on top of the liquid.
Put the remaining ingredients into a large bowl.  This is the flour, salt and butter.  Then use your fingertips to rub the butter into the flour until no lumps of butter remain.
Add the liquid to the bowl of dry.  Then give it all a stir together until it starts to form a dough.  Tip it out onto your work surface and continue to bring it together, kneading, stretching and tearing the dough for 5-10 minutes until it feels smooth and elastic.  If your dough is too wet just add some more flour while you knead.  You don't want the dough too dry, if it's still sticking to the surface that's ok, I really recommend a dough scraper for helping you get any sticky dough off your counter!
Put the dough into a lightly oiled bowl and leave to prove until doubled in size.  This can take anything from 30 minutes to over an hour dependent on ambient temperature – or if you have one of those fancy ovens with a dough setting!
Knock the dough back.  This is what helps to eliminate any large air pockets in your finished loaf.  Because I don't know about you but I feel cheated when my slice of bread comes with a giant hole!
Shape the dough or put into a (prepared) tin.  I just grease and flour my tin as it's old and a bit battered with not much non-stick left!  This bread recipe makes two loaves.  One for now, one for later!  I slice and freeze the second loaf and use it for toast.
Leave to prove somewhere warm again until doubled in size.  Just before you're ready to bake, preheat your oven then pop the loaves in for 45-50 minutes.  Before you bake you can dust the tops of the loaves with flour or do some artistic slashes with a (very sharp) knife.  The sharper the better as you want to slash rather than push with the knife so you don't deflate your lovingly kneaded dough!
To test if bread is cooked just tap the bottom of one of the loaves.  It should sound hollow.  If not bake for a few more minutes.
Once baked leave to cool in the tin for 10-15 minutes.  Turn out onto a cooling rack.  Try not to leave it to cool completely in the tin as this results in condensation and soggy bottoms!
Bask in your epicness at being a baker of loaves.  Schmear and tuck in.  And don't share.
I'd love to hear from you if you make this Homemade White Bread recipe! Just leave a comment as it's so helpful and I love to hear how the recipe worked out for you! Thank you so much!
Don't forget to follow us on YouTube, Facebook or Pinterest for even more recipe inspiration and chat, competitions, behind the scenes and so much more!
Easy Homemade White Bread Recipe
prep: 15 mins / cook: 45 mins / inactive: 2 hours 0 mins / total: 3 hours 0 mins / quantity: 2 loaves
Ingredients
1 cup (250ml) water
1/2 cup (125ml) non-dairy milk
1 tblsp sugar
1 tblsp active dried yeast
4 cups (630g) strong white bread flour
1/2 tblsp salt
1/4 cup (50g) vegan butter
Instructions
Put the water, milk and sugar into a saucepan and warm just until body temperature. It only takes a minute, maybe less - keep testing it so it doesn't get too hot
Whisk in the yeast, cover the pan with a tea towel and leave 5-10 minutes until the top becomes frothy
Tip the flour, salt and butter into a large bowl and use your fingertips to rub the butter into the flour until no lumps of butter remain
Add the frothy yeast mixture to the bowl of dry and mix together until it starts to form a dough. Then tip out onto your work surface and continue kneading for 5-10 minutes until the dough is smooth and elastic
Put the dough into a clean, lightly oiled bowl, cover with a tea towel and leave to prove somewhere warm until doubled in size. This can take anything from 30 minutes to over an hour
Once it's proved tip the dough back out and knock back - this helps eliminate any air pockets. Then shape your dough into free form loaves or use loaf tins
Again leave to prove until roughly doubled in size. Just before it's ready to be baked preheat your oven to 180 Fan / 200 C / 400 F / Gas 6
Bake the loaves for 45-50 minutes until golden. To test if the bread is cooked tap the bottom of one of the loaves - if it's baked it will sound hollow
Leave to cool for 15 minutes in the tins (if using) before turning out onto a wire rack to cool completely
Fresh bread is best only for a day or two, but you can easily slice and freeze any leftovers and use for toast!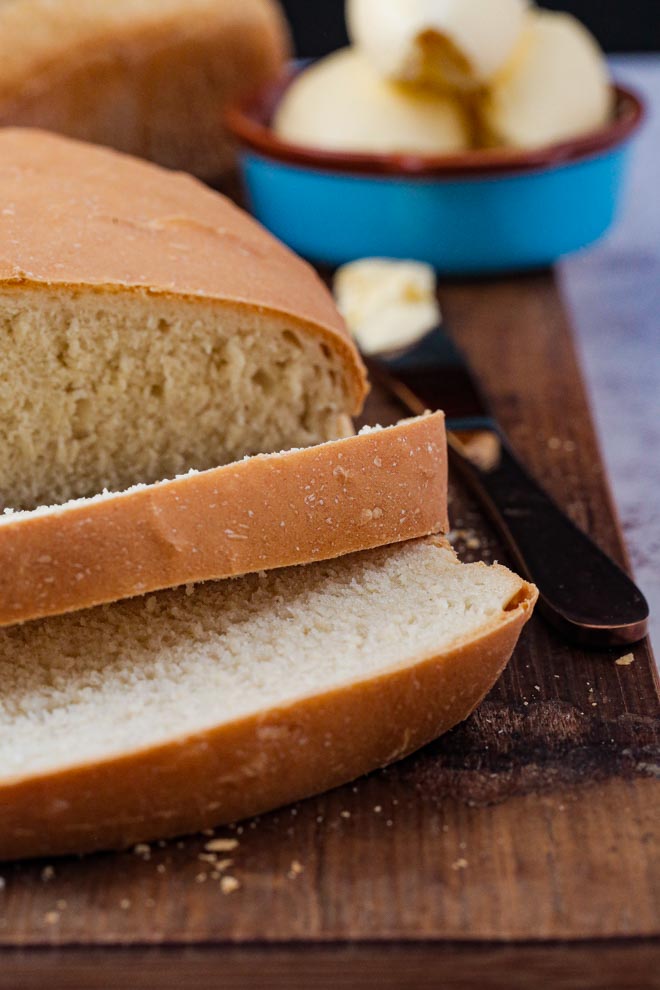 Hello and welcome to The Cook & Him.
We are Sam (The Cook), Phil (Him) and our little dog Nooch. What started with a plan to shed a few pounds back in 2016, soon became obvious that eating healthy doesn't have to be bland and boring.
So, combining Sam's 15 years of experience working within Michelin starred restaurants and our love for deliciously healthy food, we're creating recipes for you to make and enjoy. We've added our own unique spin on traditional and contemporary vegetarian and vegan recipes that keep you (and your pets!) healthy and full.  And we make sure they just work.
All things autumn - warming soups, savoury bakes and delicious sweet treats!
and I would like to see...
Or search for a recipe or post by keyword