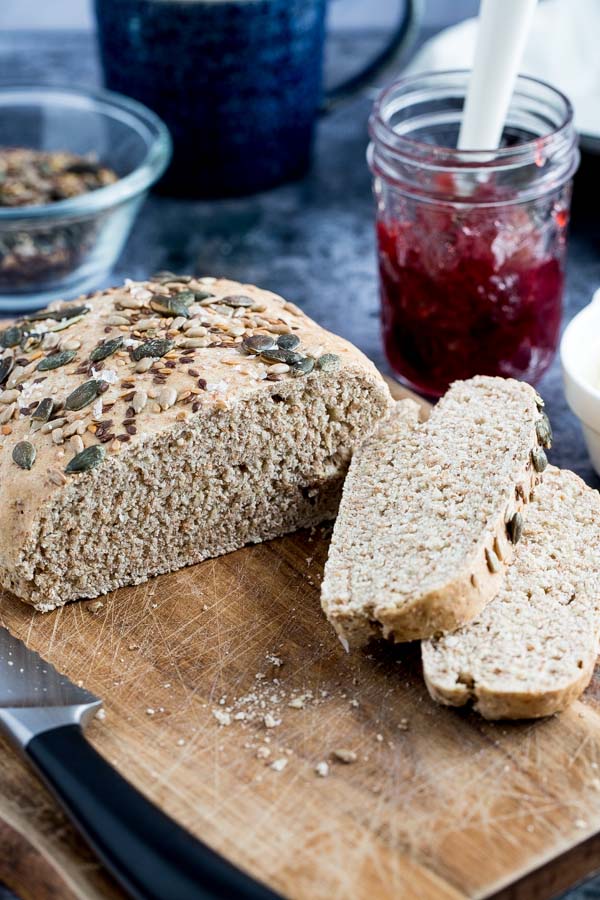 Posted in Recipes on 23.03.2020
Emergency No-Knead Bread
prep: 5 mins / cook: 30 mins / inactive: 0 mins / total: 35 mins / quantity: 1 medium loaf (8-10 slices) Print recipe?
This wonderfully adaptable no-knead bread is made with just a few store cupboard ingredients and 5 minutes of mixing for a deliciously crusty homemade loaf!
Right now the world is slap bang in the middle of a viral pandemic with people crazy panic buying and stockpiling everything from toilet rolls and pasta to tinned soup and milk.  Queues of people can be seen trailing round supermarket car parks as people worry that they're going to run out of their essentials.  Special 'silver hours' for elderly shoppers and crucial extra opening times for our NHS workers are springing up all over the country.
Because people (and their pets) still gotta eat.  Food provides comfort and normality.  And while things are especially wobbly it can give us something other than the ever so slightly worrying daily news to focus on.
And in these frugal times it requires us to to be a little more resourceful with our ingredients.  It encourages us to waste as little as possible, to be more considerate of others and help out where we can.
And what better way to stay centred than to bake a loaf of no-knead bread.  For you, your freezer, your neighbour or the little old lady who lives down the road.  Especially if there's so little bread in the shops right now.  And baking bread doesn't have to be a big old faff.  It can be as simple as a few store cupboard ingredients, 5 minutes of mixing time and 30 minutes of baking time before you have a wonderfully delicious and crusty homemade loaf.
How to make a quick emergency loaf
It really is as simple as mixing together the dry and wet ingredients into a soft dough, shaping and baking.  Toppings are optional (but tasty).  I've used a splash of oat milk brushed over the top then sprinkled with a mixture of seeds, pushing them gently into the dough so the little buggers don't just fall off your lovely baked loaf as soon as you look at it.  You can use oats, grated vegan cheese, finely chopped nuts or nothing at all.  Whatever takes your fancy or you actually have in the house.
You can also use all plain white flour or all plain wholemeal flour instead of the mix of both types as I've done here.  You might need to adjust the amount of milk needed slightly in your no-knead bread.  A little less if using all white, a little more using all wholemeal.  You're looking for a soft, not too sticky dough that can be picked up and shaped.  And because we're only using plain flour not strong flour usually associated with with bread making there's no need to knead!!  Just mix the ingredients together until they form the dough.  I use my hands for this part as it's the easiest way to tell if your dough is too wet or too dry.
I've kept my shaped dough quite flat before baking too.  We're only using baking powder as the leavening agent and too high a dome might result in uncooked dough in the middle of your loaf.
And boy have we made sure this no-knead bread tastes good no matter how you choose to use it!
Fresh from the oven smeared with butter and jam
Toasted and topped with minted pea guacamole
Spread with hummus and sandwiched with all the fresh veggies you can fit inside
You can also make a couple of no-knead bread loaves at a time and freeze one for another day as it freezes really well – either as a whole loaf or sliced ready to quickly defrost and nom 😉
If you make this recipe or any of the recipes from The Cook & Him we'd LOVE to see! Just snap a picture and share it on Instagram using #thecookandhim and tagging @thecookandhim in the photo itself (as this guarantees we'll see your picture!
)
And don't forget to follow us on Instagram , Facebook or Twitter for even more recipe inspiration and chat, competitions, behind the scenes and so much more!
Emergency No-Knead Bread
prep: 5 mins / cook: 30 mins / inactive: 0 mins / total: 35 mins / quantity: 1 medium loaf (8-10 slices)
Ingredients
1 cup (150g) plain white flour
1 cup (150g) plain wholemeal flour
1 tsp salt
1 tsp sugar
2 tsp baking powder
3/4 cup (170ml) vegan milk (I used oat milk but any nut or soy milk would work)
1 tblsp oil (your preference)
Optional topping
A little extra milk for brushing
Seeds / oats / finely chopped nuts / grated vegan cheese
Instructions
Preheat your oven to 190 Fan / 210 C / Gas 6 and line a small baking tray with parchment or a silicon mat
In a large bowl mix together the flours (see note), salt, sugar and baking powder
Stir in the milk and oil and mix together to form a soft but not too sticky dough
Shape into a flatish ball or oval shape and gently place onto your prepared baking tray
Brush with milk and add toppings of choice or leave plain
Bake for 30-35 minutes until risen and lightly golden on top
Store in an airtight container for up to 2 days or use for toast or croutons if it's starting to go stale. You can also slice and freeze
Notes
You can use all plain white or all plain wholemeal instead of the mixture of both types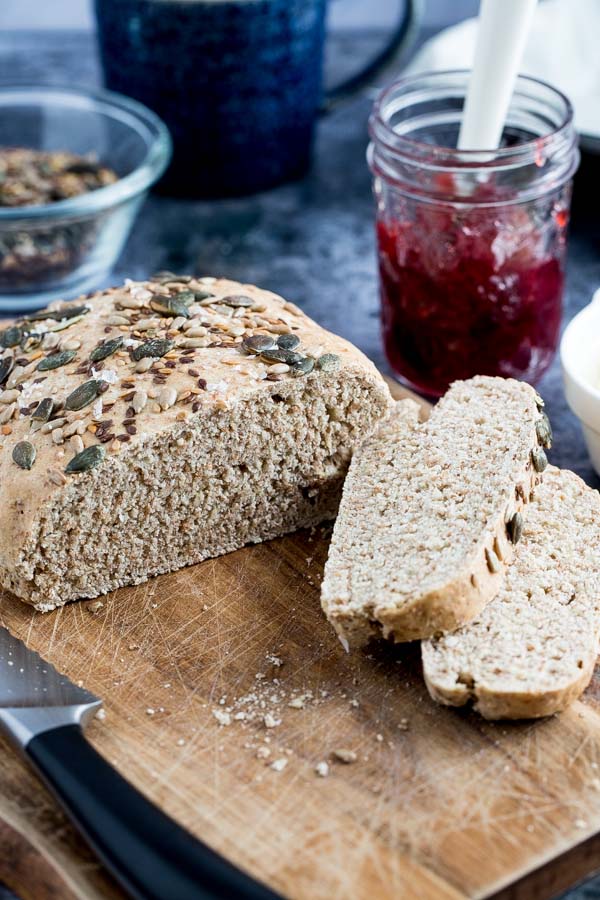 Hello and welcome to The Cook & Him.
We are Sam (The Cook), Phil (Him) and our little dog Nooch. What started with a plan to shed a few pounds back in 2016, soon became obvious that eating healthy doesn't have to be bland and boring.
So, combining Sam's 15 years of experience working within Michelin starred restaurants and our love for deliciously healthy food, we're creating recipes for you to make and enjoy. We've added our own unique spin on traditional and contemporary vegetarian and vegan recipes that keep you (and your pets!) healthy and full.  And we make sure they just work.
All things autumn - warming soups, savoury bakes and delicious sweet treats!
and I would like to see...
Or search for a recipe or post by keyword