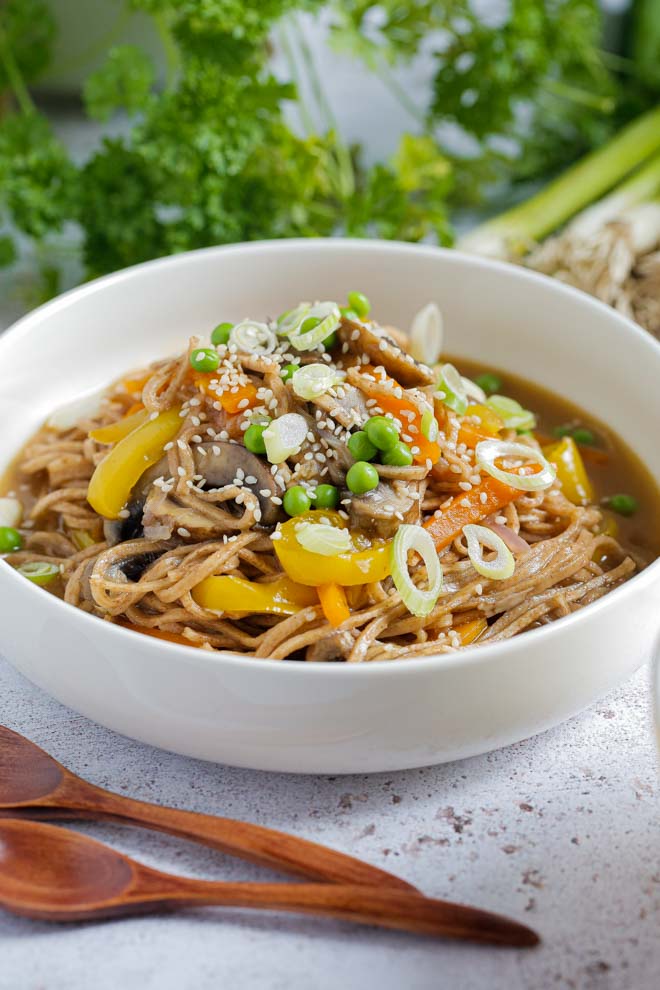 Posted in Recipes on 19.10.2020
Instant Pot Vegetable Lo Mein
prep: 10 mins / cook: 10 mins / inactive: 0 mins / total: 20 mins / quantity: 2 servings Print recipe?
Packed with veggies and noodles this Instant Pot Lo Mein is a quick and easy, healthy family favourite made with minimal effort for maximum flavour!
I am SO Team Instant Pot right now.  Between planning for a MAJOR life change next year, all the up-coming Christmas recipes I have for you and the general blah of life my Instant Pot is getting a thorough working out right now.  Plus it's now officially autumn (well it is in my head) so big warming bowls of something quick, easy, filling and delicious with minimal washing up are practically demanded.  And this vegetable lo mein doesn't come any easier or tastier.
We've also got a holiday coming up so I'm trying to get ahead with everything for that too.  It's just a few days away in Anglesey but we're both so looking forward to a change of scenery.  And reading.  And naps.  And maybe a dog walk on the beach if it's not too cold or wet.  Because we discovered in a very cold and wet February that our big rough, tough staffie who normally has the constitution of a small bull, doesn't like the cold or wet.  Or pebbles.  Or sand.
So I got my Instant Pot last Christmas and even though I'd asked Santa for it on the strength of some of the amazingly EASY looking recipes I'd seen all over Pinterest, I'll admit it sat on a shelf in the garage, untouched, for quite a few months.  I was intimidated.  Buttons, bleeps and steam.  Is this thing really as easy to use as everyone is saying it is?
Well, yes.  It really is.  My first triumph was Mac and Cheese.  I was hooked.  We ate mac and cheese for like a week after.  Remember those days when everyone got a microwave and sat watching it 'cook' a cup of tea or melt butter not believing it was actually doing it?  That's how I felt about the Instant Pot.  Except no little window to watch and judge the process.  Just secure the lid, press some buttons and wait.
And because the Instant Pot cooks things 70% faster than many other ways to cook it's been becoming a complete game changer in my tiny kitchen.  Plus I thought I really should expand my repertoire beyond a basic pasta and sauce.
So I needed something quick and warming for lunch one day as Phil and I were bone cold after having the patio door replaced (good job family, getting it done on the coldest day in September).  I had some veggies and some noodles and thought what the heck.  20 minutes later, gloriously tasty low mein and only one pot and 2 bowls to wash up.
How to make Instant Pot Veggie Noodles
Saute your veggies.  Yep you can also do this in your Instant Pot before you pressure cook.  It gives the veggies a head start and helps to add flavour.
Add your liquid, seasonings and dry noodles.  Then put the lid on, set to sealing, set the pressure cooker for 4 minutes and let the magic happen.  It takes a few minutes for the pot to come up to pressure so it feels like nothing is going on and have you done it right?  It'll beep and start the countdown once it's at the right pressure.
Release the steam.  This was the truly terrifying part for me.  This from a girl who watched the Exorcist at age 13.  It's actually not that scary.  Just don't stick your face in the way.
Stir everything together.  I use tongs for this so the noodles get completely coated in the sauce.  Using the soy sauce or liquid aminos means you shouldn't need to add any extra salt.  Simply ladle into bowls and serve.
See.  Super easy 😉
I'd love to hear from you if you give this Instant Pot Vegetable Lo Mein recipe a try! Just leave a comment as it's so helpful and I love to hear how the recipe worked out for you! Thank you so much
Don't forget to follow us on YouTube, Facebook or Pinterest for even more recipe inspiration and chat, competitions, behind the scenes and so much more!
Instant Pot Vegetable Lo Mein
prep: 10 mins / cook: 10 mins / inactive: 0 mins / total: 20 mins / quantity: 2 servings
Ingredients
2 tsp sesame oil
4 cloves garlic – peeled and crushed
1 onion – peeled and sliced
1 bell pepper – seeds removed and sliced
1 carrot – peeled and cut into matchsticks
2 cups (250g) chestnut mushrooms – thickly sliced
handful frozen petit pois peas
2 cups (550ml) vegetable stock
2 tblsp soy sauce or liquid aminos
2 tblsp rice wine vinegar
2 tblsp light brown sugar
1 heaped tsp miso paste
8 ounces (190g) uncooked dry noodles
Optional – sliced spring onions and sesame seeds
Instructions
Set instant pot to sauté and add the oil, garlic, onion, pepper and carrot matchsticks.
Sauté for 1-2 minutes then add the mushrooms and sauté for another 1-2 minutes.
Stir in the peas, veg stock, soy sauce, vinegar, sugar and miso paste then add the noodles, nestling them into the liquid
Put the lid on, set to sealing then set to manual pressure cooking for 4 minutes.
When the timer is finished, release the steam, stir everything together with tongs then serve sprinkled with sliced spring onions and sesame seeds if using.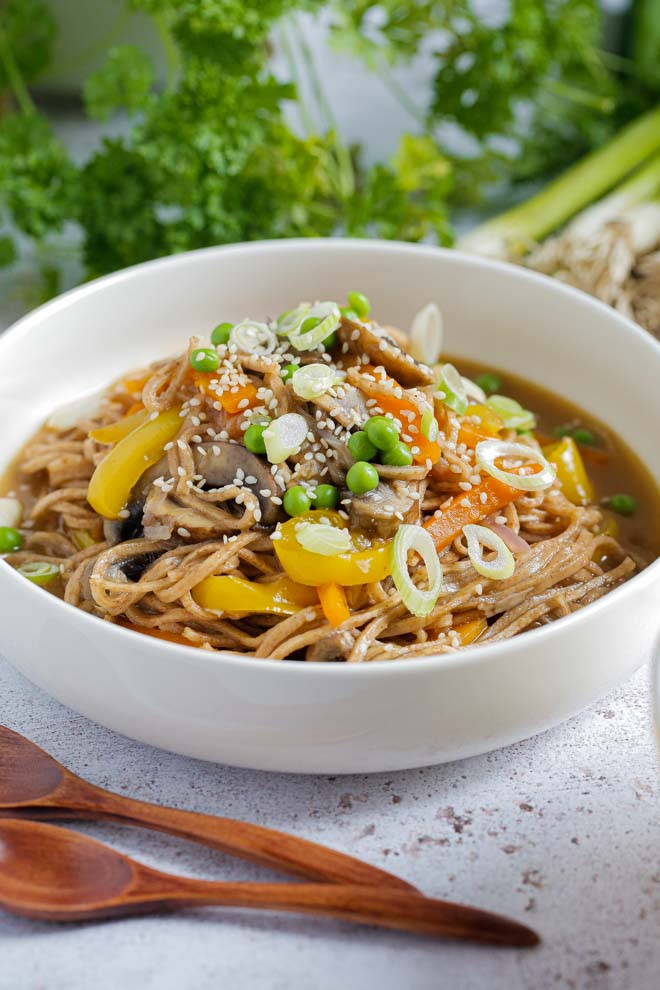 Hello and welcome to The Cook & Him.
We are Sam (The Cook), Phil (Him) and our little dog Nooch. What started with a plan to shed a few pounds back in 2016, soon became obvious that eating healthy doesn't have to be bland and boring.
So, combining Sam's 15 years of experience working within Michelin starred restaurants and our love for deliciously healthy food, we're creating recipes for you to make and enjoy. We've added our own unique spin on traditional and contemporary vegetarian and vegan recipes that keep you (and your pets!) healthy and full.  And we make sure they just work.
All things autumn - warming soups, savoury bakes and delicious sweet treats!
and I would like to see...
Or search for a recipe or post by keyword