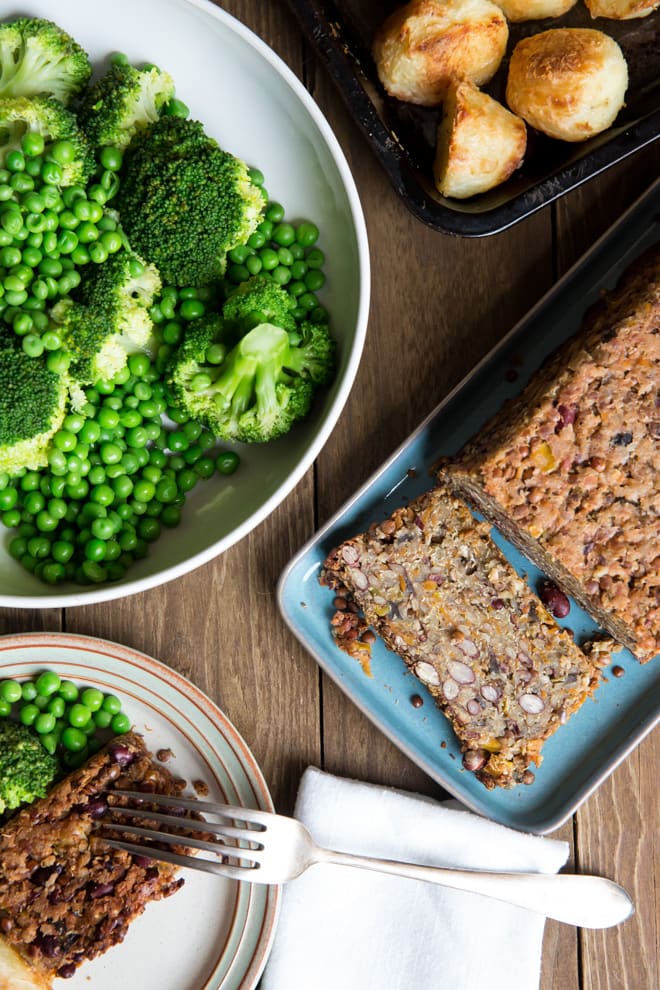 Posted in Recipes on 11.12.2017
Lentil, Haricot Bean and Mushroom Roast
prep: 20 mins / cook: 2 hours 15 mins / inactive: 0 mins / total: 2 hours 35 mins / quantity: 6-8 portions Print recipe?
Are you a roast dinner fan?  I never really was as a whole.  I'd rather eat the 'trimmings' – the roast potatoes, the veg, the gravy, the roast potatoes!  And with winter bringing a wonderful array of seasonal vegetables, delicious trimmings and sides aren't hard to come by.  But with the 'Big Day' of Christmas looming and thankfully more and more people wanting the vegan or vegetarian option it can be daunting what you can replace the traditional poor 'ole turkey with.  So for the last couple of weeks we've been having Christmas dinner at least once a week as I've been trying a few different ideas.  'Tis a tough life.
I'll admit in previous years I've been embarrassingly unimaginative – having just a Quorn 'chicken' thing and focusing so much on roast potatoes all the sides and trimmings.  One year I even forgot the gravy.  Phil was not impressed.
But in the spirit of trying to make things as easy as possible for everyone (Christmas Day often being stressful enough, particularly if all the cooking is down to one person – when did it become a thing to put that much pressure on one meal?) I've been trying a few different things that can easily be made ahead and will provide a bit of variety whether you're veggie yourself or catering to visiting veggies.
This Lentil Haricot Bean Mushroom Roast is absolutely jam packed with protein.  I've used the wonderful Hodmedod's Haricot Beans, Lentils and Quinoa Flakes.  I need to give a bit of a special mention to the Lentils.  Since Hodmedod was founded to bring more British-grown pulses into British kitchens, they'd hoped to start producing lentils alongside traditional UK crops of fava beans and dried peas.
Lentils are a notoriously difficult crop to harvest and have never been grown widely in the UK. They are low-growing and not especially vigorous; they need a warm, dry autumn to ripen for harvest and – even if all that goes well – are not very high yielding. Yet, aside from tasting wonderful, they are also a useful low-input crop for less intensive farming systems – they fix their own nitrogen and suffer few pests and diseases and require less water than many other crops.
But Hodmedods persisted and even though it seems lentils have never been grown commercially in the UK before, they're now incredibly proud to bring the first trial of British grown crops available to order.  Read more of their lentil story here.
As for this Lentil Haricot Bean Mushroom Roast – I like to think it looks particularly Christmas-y with all those jewel like colours.
If you make this recipe or any of the recipes from The Cook & Him we'd LOVE to see! Just snap a picture and share it on Instagram using #thecookandhim and tagging @thecookandhim in the photo itself (as this guarantees we'll see your picture!
)
And don't forget to follow us on Instagram , Facebook or Twitter for even more recipe inspiration and chat, competitions, behind the scenes and so much more!
Lentil, Haricot Bean and Mushroom Roast
prep: 20 mins / cook: 2 hours 15 mins / inactive: 0 mins / total: 2 hours 35 mins / quantity: 6-8 portions
Ingredients
Drizzle of olive oil
1 red onion – peeled and finely diced
3 cloves garlic – peeled and crushed
2 Portobello mushrooms – diced small
1 carrot – grated
1/2 pepper – diced small (the colour of pepper is up to you – yellow and red are sweeter!)
1 tsp dried thyme
1 tsp dried rosemary
4 tblsp nutritional yeast
1 + 1/2 cups Hodmedod's Organic Quinoa Flakes
1 vegetable stock cube dissolved in 4 fl oz water
Salt and pepper
Instructions
Put the haricot beans in a small saucpan, cover completely with cold water, bring to the boil then reduce the heat to medium and simmer for 40 minutes.  
Give the lentils a rinse under cold water then add to the saucepan with the beans, adding more water to cover, bring back to the boil and simmer both for 20 minutes.  
Keep an eye on the water level and as it evaporates just top up with more water, stirring occasionally
Drain thoroughly
While the beans and lentils are cooking prepare all the veg - peeling, crushing and dicing as listed in the ingredients
Heat the oven to 160 Fan / 180 C / 350 F / Gas 4 and lay a piece of greaseproof across the middle of a 2lb loaf tin so it overhangs the sides - see 4th picture in post - this just helps you lift out the loaf once cooked.  Rub a little olive oil on the two uncovered ends of the tin
In a large frying pan drizzle the olive oil and gently saute the onion and garlic for just a couple of minutes. 
Add the grated carrot, diced mushrooms and pepper and cook gently, stirring, for another couple of minutes
Tip in the cooked beans and lentils and stir well
Add the dried herbs, nutritional yeast, quinoa flakes and plenty of salt and pepper and give everything a good stir
Add the vegetable stock and give a last stir
Tip it all into your prepared tin, pressing down firmly, place onto a baking tray (this just makes it easier to get the tin in and out of the oven!) and bake for 1 hour 30 minutes when it should feel firm to the touch
If you're serving immediately, you'll need to give it around 15 minutes before trying to slice.  Run a knife along the ends without the greaseproof then gently lift the loaf out onto a board and use a sharp, serrated knife to cut thick slices
Notes
If you're making this ahead you can do this to two different stages:
Make up to the point of cooking it then chill, lightly covered with cling film, in the fridge for 4-5 days.  If you remember, before cooking, bring out of the fridge and leave at room temp for an hour before cooking.  If not you might need to cook it a little longer to make sure it's firm enough to slice
By far the easiest way to ensure lovely slices is to cook in advance then leave to cool completely, chill and then slice.  Keep chilled in the fridge for 4-5 days.  To reheat just lay the slices on a prepared tray, cover with foil then reheat at 180 Fan / 200 C / 400 F / Gas 6 for around 25 minutes
This is also absolutely fantastic the next day in a sandwich with some pickle ?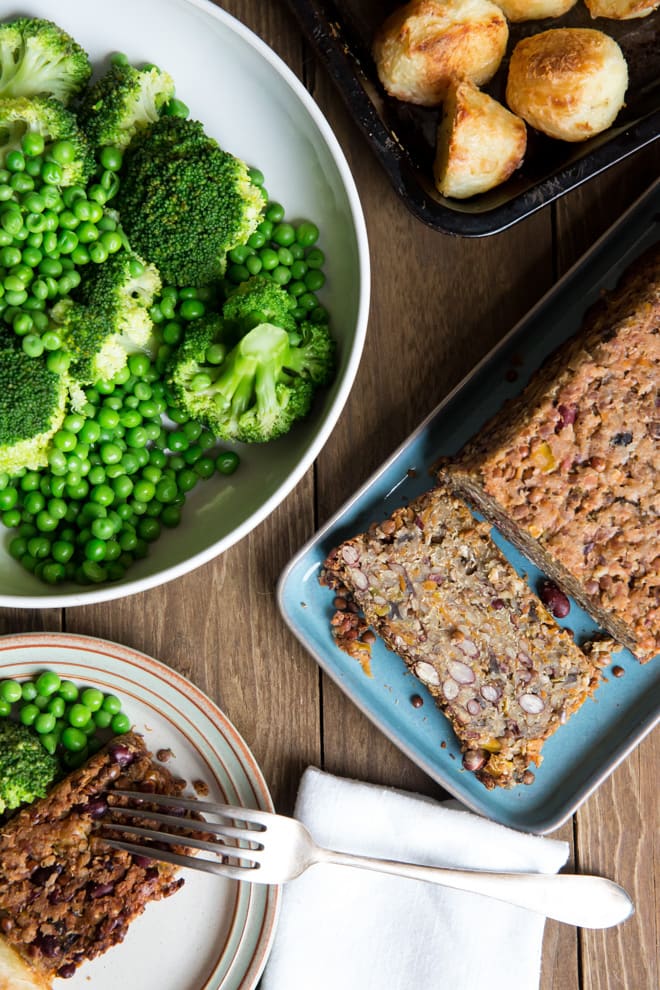 Hello and welcome to The Cook & Him.
We are Sam (The Cook), Phil (Him) and our little dog Nooch. What started with a plan to shed a few pounds back in 2016, soon became obvious that eating healthy doesn't have to be bland and boring.
So, combining Sam's 15 years of experience working within Michelin starred restaurants and our love for deliciously healthy food, we're creating recipes for you to make and enjoy. We've added our own unique spin on traditional and contemporary vegetarian and vegan recipes that keep you (and your pets!) healthy and full.  And we make sure they just work.
All things autumn - warming soups, savoury bakes and delicious sweet treats!
and I would like to see...
Or search for a recipe or post by keyword