Posted in Recipes on 09.11.2018
Mushy Pea Parsnip and Potato Cakes
prep: 20 mins / cook: 2 hours 0 mins / inactive: 0 mins / total: 2 hours 20 mins / quantity: 6-8 potato cakes Print recipe?
These light and fluffy mushy pea parsnip and potato cakes are a great way to use up any leftover veg! With their crispy jackets they're also a super easy side dish, lunch or light dinner!
Though to be honest, it's very rare that we have leftover anything in our house!  But these vegan and gluten free potato cakes are so easy to make even if you don't have leftover veg!
Simply boil your Hodmedods Marrowfat Peas and veggies then whizz with some fresh herbs, seasonings and a bit of Hodmedods green pea flour to hold everything together.
I am also in the market for a new food processor.  Ours just can't cope.  The bowl is too tiny and I find myself regularly having to blitz things in batches and frequently scrape the sides as the contents don't move.  They just sit there, not getting chopped ?
If you have any recommendations, let me know in the comments!
However, even with a good food processor you're still looking for some lumps for texture!  But once you have your mixture blended, shape into cakes and sizzle away.  A little olive oil and a hot pan gives them a crispy jacket with soft, fluffy insides that's just divine!
We're hand on heart HUGE fans of Hodmedods as a company and for their products.  Their beans, peas, pulses, seeds and flours are so versatle and I've used them in everything from vegan and gluten free Lemon Meringue Pies to Chocolate Orange Granola and even Homemade Dog Treats!
This recipe makes 6-8 potato cakes, dependent on how generous you are with portion size!  We like BIG butts potato cakes and tend to have 3 each with just a side salad and some garlic field mushrooms for a healthy, hearty meal ?
If you make this recipe or any of the recipes from The Cook & Him we'd LOVE to see! Just snap a picture and share it on Instagram using #thecookandhim and tagging @thecookandhim in the photo itself (as this guarantees we'll see your picture!
)
And don't forget to follow us on Instagram , Facebook or Twitter for even more recipe inspiration and chat, competitions, behind the scenes and so much more!
Mushy Pea Parsnip and Potato Cakes
prep: 20 mins / cook: 2 hours 0 mins / inactive: 0 mins / total: 2 hours 20 mins / quantity: 6-8 potato cakes
Ingredients
1 cup (210g) Hodmedod's Marrowfat Peas
3 cups (640ml) vegetable stock
1 tsp bicarbonate of soda
3 cups (500g) white potatoes – peeled and diced weight
2 parsnips – peeled and roughly diced with the tough center core removed and discarded
4 tlbps  Hodmedods Green Pea Flour
2 tsp garlic powder
2 tsp ground cumin
3 tblsp chives – roughly chopped
2 tblsp flat leaf parsley – leaves removed from stalks and stalks discarded
salt and pepper
drizzle of oil
Instructions
Start by boiling the marrowfat peas - put into a medium pan with the veg stock and bicarbonate of soda and bubble gently, stirring occasionally for 1 hour - 1 hour 20 minutes. Taste after an hour - I like the peas to still have a little bite, cook yours for longer if you prefer mushier peas! Top up with a little extra water if they're starting to boil dry before being cooked to your liking. You're looking for mushy peas that are like a lumpy paste without too much liquid
While the peas are cooking fill the kettle and bring to the boil. Put the potatoes and parsnips into a large saucepan with a pinch of salt and cover with the boiled water
Cook the potatoes and parsnips for 15-20 minutes until soft but not falling apart. Drain well once cooked
If you have a large enough food processor you can skip step 5 and put everything straight into the processor bowl with the blade attachment
In a large bowl put the cooked peas, potatoes and parsnips along with the pea flour, garlic powder, cumin, chopped chives, parsley leaves and a good pinch of salt and pepper and give everything a good stir
Spoon the mixture into a food processor - if your processor is quite small you'll probably need to do this in batches - and blitz until broken down. You don't want the mash completely pureed here, some lumps are fine!
Once you're happy with the texture tip into a bowl then using damp hands (I just run them briefly under the tap) shape the mixture into 6-8 patties (or more if you want smaller ones!) and put them onto something flat (baking tray/chopping board) with a silicon mat or piece of parchment covering it
Heat a large frying pan with a drizzle of oil then place the cakes in. Cook for 6-8 minutes over a medium heat then carefully flip and do the same on the other side
Lift out of the pan and serve immediately
Notes
You can make this recipe up to a couple of stages - all the veg cooked and blitzed then store in the fridge till you're ready to shape
Or shape the patties and store in the fridge till you're ready to fry
You can also fry them then allow to cool before storing in the fridge and either having cold or reheat thoroughly by baking in the oven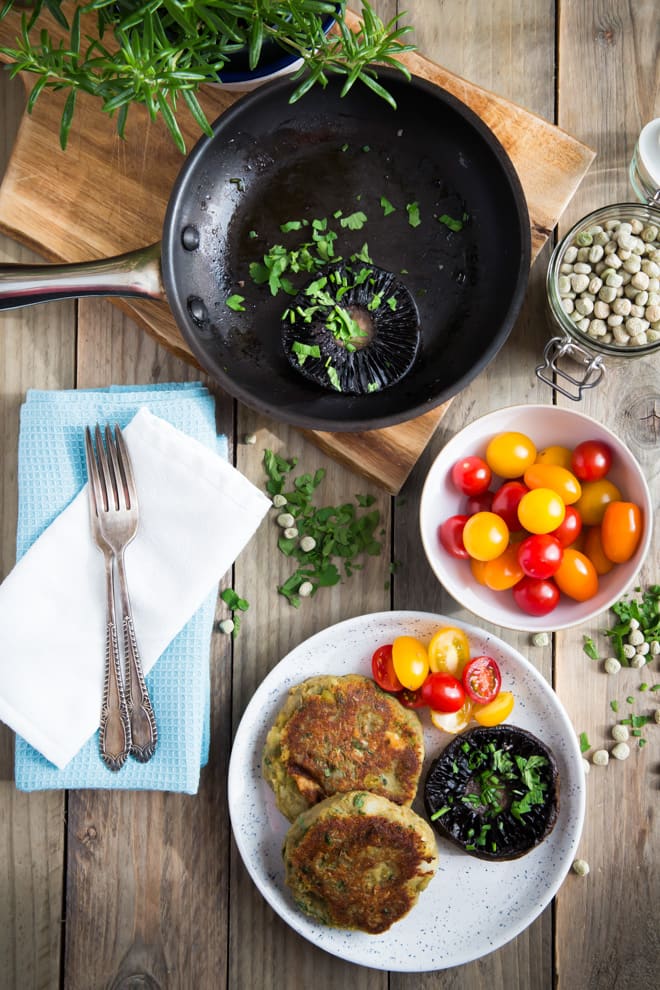 Some products I used in today's post...
Some of the links above are affiliate links, which pay us a small commission for our referral at no extra cost to you! Thank you for supporting The Cook & Him.
Hello and welcome to The Cook & Him.
We are Sam (The Cook), Phil (Him) and our little dog Nooch. What started with a plan to shed a few pounds back in 2016, soon became obvious that eating healthy doesn't have to be bland and boring.
So, combining Sam's 15 years of experience working within Michelin starred restaurants and our love for deliciously healthy food, we're creating recipes for you to make and enjoy. We've added our own unique spin on traditional and contemporary vegetarian and vegan recipes that keep you (and your pets!) healthy and full.  And we make sure they just work.
All things autumn - warming soups, savoury bakes and delicious sweet treats!
and I would like to see...
Or search for a recipe or post by keyword