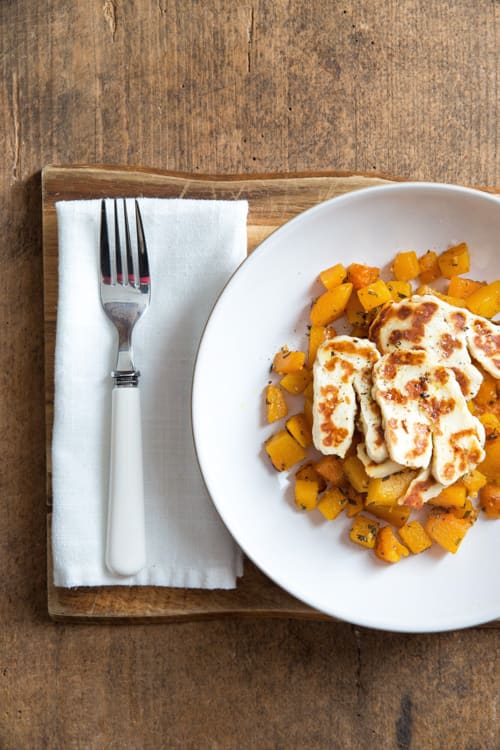 Posted in Recipes on 13.09.2017
Rosemary & Garlic Butternut Squash with Halloumi
prep: 10 mins / cook: 10 mins / inactive: 0 mins / total: 20 mins / quantity: 1 serving Print recipe?
Sometimes I spend a really long time getting a recipe just right.  Sometimes things just don't work first attempt.  Or  I run out of ingredients.  And then there are those rarer than rare days when the sun comes out, the angels sing and everything just comes together whilst barely even trying.  As autumn marches on I feel a need to have something bubbling on the stove so that I can have a bowl of it later.  Or something baking in the oven making all those wonderful smells.  But on this day I was actually scratching round the fridge looking for something for lunch that was warming and filling and (mostly) healthy.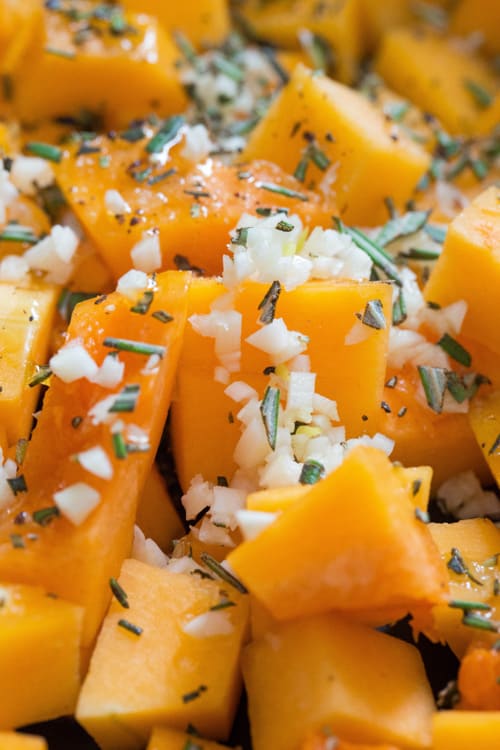 I get very engrossed in the detail a lot.  Too much.  And sometimes forget that the simplest of ingredients can make the tastiest of dishes.  Because when 'forced' to make do with what I have it's a truly special, phone the husband and tell him about it kinda feeling to make something so tasty and so quick and oh so easy.
I always thought butternut squash should be roasted – it's a dense, hardy vegetable and needs time to cook – turns out, cut it slightly smaller than I normally would for roasting and you can simply pan fry it to soft unctuousness.  Pair it with fresh rosemary and garlic and the smells from your frying pan will have you hopping round the kitchen in anticipation.  Not that I did that.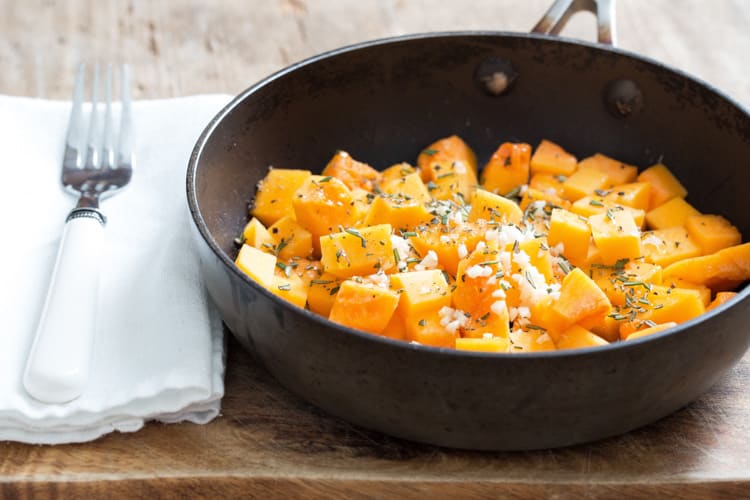 And is there anything more enjoyable on your palate than fried halloumi cheese?  It's the stuff of magic.  Cheese that doesn't melt (not that I'm not a fan of melty cheese – bit too much of a fan actually) but is salty and chewy.  Seriously, go buy some now and try frying it.  Our collective lives should not be missing fried halloumi cheese! ?
If you have to buy a whole squash just for one portion of this there's a couple of things you can do:
Serve more than one person – share that halloumi love ❤
Dice up the rest and either keep in the fridge for a few days to use for subsequent garlicky lunches or freeze in batches (for subsequent garlicky lunches)
Try these Butternut Squash & Goat's Cheese Pasties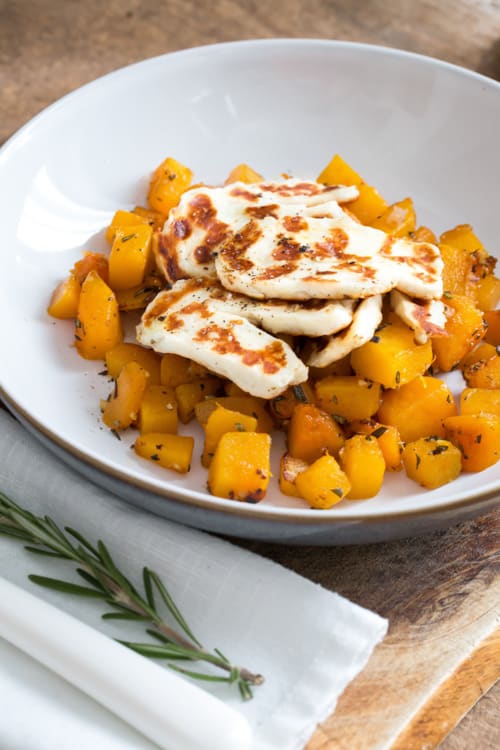 If you make this recipe or any of the recipes from The Cook & Him we'd LOVE to see! Just snap a picture and share it on Instagram using #thecookandhim and tagging @thecookandhim in the photo itself (as this guarantees we'll see your picture!
)
And don't forget to follow us on Instagram , Facebook or Twitter for even more recipe inspiration and chat, competitions, behind the scenes and so much more!
Rosemary & Garlic Butternut Squash with Halloumi
prep: 10 mins / cook: 10 mins / inactive: 0 mins / total: 20 mins / quantity: 1 serving
Ingredients
200g butternut squash (about 1/4 of a whole squash) – peeled
Couple of drizzles of olive oil
1 clove garlic – crushed
2 sprigs fresh rosemary
Salt and pepper
4-5 thick slices halloumi cheese
Instructions
Dice your squash into just smaller than bite sized pieces and put in small frying pan with a drizzle of olive oil and the garlic
Remove the leaves from the stalks of the rosemary and add that to the pan along with a few grinds of black pepper and a pinch of sea salt
Gently fry till soft - around 10 minutes - stirring frequently
In another small frying pan drizzle in a little olive oil and over a medium heat fry the halloumi cheese for about 5 minutes - then lift up a piece and check if it's golden and crispy on the bottom.  Carefully flip the cheese over when it is and cook for a further couple of minutes till golden on both sides
Put the butternut squash in your bowl, top with your halloumi and dig in immediately!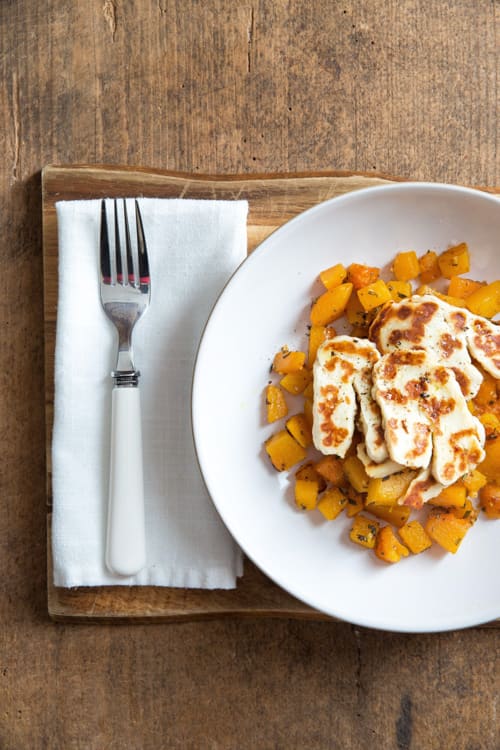 Hello and welcome to The Cook & Him.
We are Sam (The Cook), Phil (Him) and our little dog Nooch. What started with a plan to shed a few pounds back in 2016, soon became obvious that eating healthy doesn't have to be bland and boring.
So, combining Sam's 15 years of experience working within Michelin starred restaurants and our love for deliciously healthy food, we're creating recipes for you to make and enjoy. We've added our own unique spin on traditional and contemporary vegetarian and vegan recipes that keep you (and your pets!) healthy and full.  And we make sure they just work.
All things autumn - warming soups, savoury bakes and delicious sweet treats!
and I would like to see...
Or search for a recipe or post by keyword