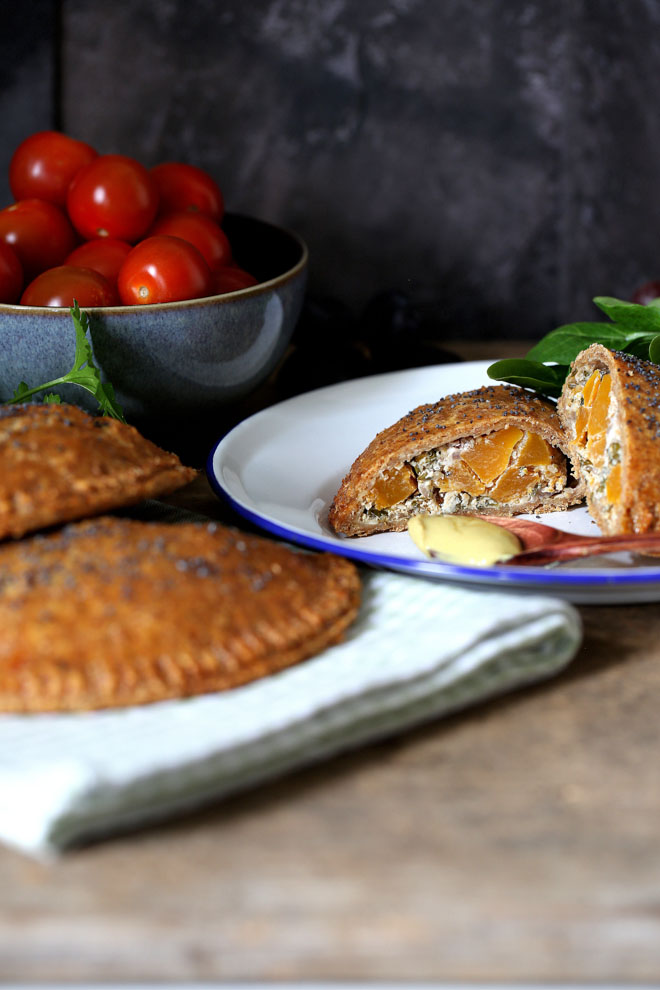 Posted in Recipes on 14.08.2017
Butternut Squash & Goat's Cheese Pasties
prep: 60 mins / cook: 25 mins / inactive: 0 mins / total: 1 hour 25 mins / quantity: 6 pasties Print recipe?
"Do I like butternut squash?"  That's the question I was asked when I told Phil I was making these pasties.  He's come a LONG way in terms of what he'll eat and at least these days he'll try something before he decides he doesn't like it (HUGE step!)
One thing he definitely loves though is pastry so in trying to make the unhealthy healthy(er) I thought it was about time I learnt how to make wholemeal pastry.  Yep, learnt.  Pastry as a definitive whole rather than just the doughy stuff you make pies with is often an exact science.  You can't really just throw in some of this or that and trust that it'll work.  You have to weigh and measure.  Too much of something and you've got a claggy mess.  Too little of something and you've got a dry brick.
So in my naivety I'd always assumed that wholemeal pastry would be dry and tasteless.  Happily, I couldn't have been more wrong!
I've also always made pastry completely by hand – like bread dough it's one of those things that I love getting involved with one on one 😉  But not everyone has time to faff and if you have a time saving device why not use it?
For the pastry for these pasties I also added some strong sharp cheddar – it makes the pastry a little more crumbly when trying to roll it out but the taste makes it oh so worth it!  Oh and a touch of paprika gives the finished pies a subtle kick too!
Now for the filling – creamy goat's cheese, roasted butternut squash, fresh basil, fiery red onion and garlic, some crunchy seeds and a pinch of spice are all you need to make these incredibly tasty vegetarian pasties.
To cut the large circles I just use a side plate that's 6 inches in diameter and a sharp knife to cut round it.  Oh and feel free to be as fancy as you like with the crimping – though the rustic look of a forked edge is good enough in our house!
Be generous with the egg wash for a really deep rich colour.  I usually do a couple of washes – brush them all then go back and do them all again.
Oh and for the record, Phil does indeed like butternut squash 😉
If you make this recipe or any of the recipes from The Cook & Him we'd LOVE to see! Just snap a picture and share it on Instagram using #thecookandhim and tagging @thecookandhim in the photo itself (as this guarantees we'll see your picture!
)
And don't forget to follow us on Instagram , Facebook or Twitter for even more recipe inspiration and chat, competitions, behind the scenes and so much more!
Butternut Squash & Goat's Cheese Pasties
prep: 60 mins / cook: 25 mins / inactive: 0 mins / total: 1 hour 25 mins / quantity: 6 pasties
Ingredients
PASTRY:
200g wholemeal flour
100g cold butter – roughly diced
1 tsp salt
1 tsp paprika
100g strong cheddar cheese – grated
3 tblsp cold water
FILLING:
1 small butternut squash
1 tblsp olive oil
150g goat's cheese
1 tblsp sesame seeds
1 tblsp flax seeds
1 tblsp hemp protein powder
2 tsp ground cumin
1 tsp Dijon mustard
Handful of fresh basil leaves
Poppy seeds
1 small egg
Salt and pepper
Instructions
Heat the oven to 180 Fan / 200 C / 400 F / Gas 6
Peel the butternut squash then dice into smallish pieces. Toss with the olive oil and a good dash of salt and pepper.  Tip onto a baking tray and roast for 30-40 minutes until the pieces are tender and starting to brown at the edges.
Set aside to cool.
While the squash is cooking make the pastry!
For speed I use a food processor and start by grating the cheese using the grater attachment. Tip the cheese into a large bowl.
Swap the grater attachment for the blade and tip in the flour, diced butter, salt and paprika and pulse till the mixture resembles breadcrumbs. Add the grated cheese (don't wash the bowl yet!) and give a few pulses, then add the water, pulsing till the dough comes together into a ball.
Wrap the ball of dough in cling film and chill for 30 minutes.
Using the bowl you put the grated cheese in, tip in the cooked squash and add the goat's cheese, sesame seeds, flax seeds, hemp protein powder, cumin, and Dijon mustard.
Shred the basil leaves and add those to the squash mixture. Give it all a good mix together using a spoon or spatula.
Roll out the pastry to around 5mm thick then cut out circles – I use a small side plate that's 6 inches in diameter, lay it on the pastry and cut round it with a knife.
Spoon the filling onto one half of each of the pastry circles, leaving a 1cm border to the edge. Brush the edges with beaten egg then fold the pastry over, pressing down to seal in the filling.  Here you can decorate the edges how you like, I just use a fork and press that down to seal the pastry together.
Place onto a baking tray (or trays) and brush all over the tops with beaten egg. Sprinkle over some poppy seeds and bake for 25-30 minutes till crisp and golden.
Notes
Him likes finding these in his lunchbox with a crisp mixed salad – they freeze really well, making them very handy to make ahead!
They also reheat very well - just defrost completely if frozen and bake for 25 minutes at 180 Fan / 200 C / 400 F / Gas 6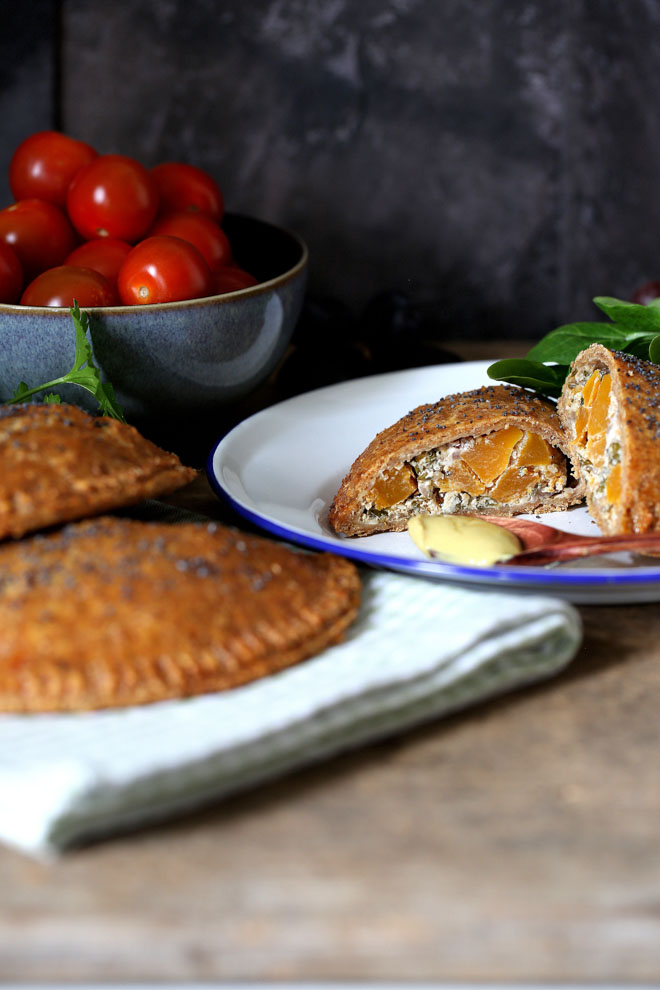 Hello and welcome to The Cook & Him.
We are Sam (The Cook), Phil (Him) and our little dog Nooch. What started with a plan to shed a few pounds back in 2016, soon became obvious that eating healthy doesn't have to be bland and boring.
So, combining Sam's 15 years of experience working within Michelin starred restaurants and our love for deliciously healthy food, we're creating recipes for you to make and enjoy. We've added our own unique spin on traditional and contemporary vegetarian and vegan recipes that keep you (and your pets!) healthy and full.  And we make sure they just work.
All things autumn - warming soups, savoury bakes and delicious sweet treats!
and I would like to see...
Or search for a recipe or post by keyword