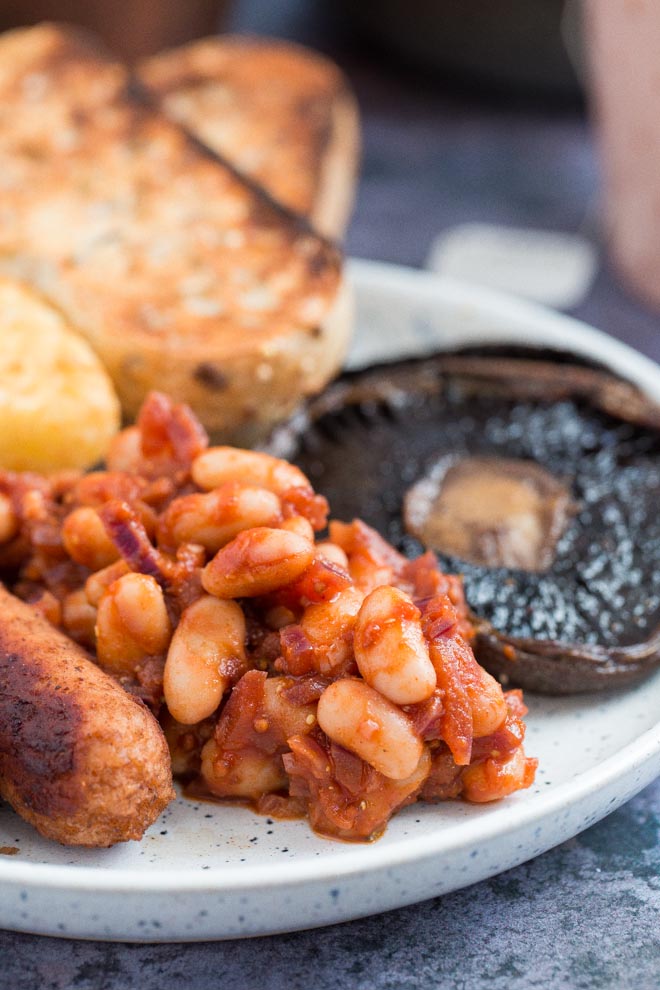 Posted in Recipes on 15.01.2020
Spicy Baked Beans
prep: 10 mins / cook: 10 mins / inactive: 0 mins / total: 20 mins / quantity: 4 servings Print recipe?
Both sweet and savoury with a spicy kick, these homemade baked beans are so versatile and packed with flavour!
And being made with just a few store cupboard ingredients, these homemade baked beans are quick and versatile enough to be a speedy but healthy breakfast or lunch, or a delicious side to a hearty dinner.  They also go ridiculously well with these Vegan Sausage Rolls if you want a lazy in front of the television dinner.
These baked beans are also just as good cold as they are hot.  And they take that ultimate comfort food of beans on toast to a WHOLE new level.  Fast food doesn't have to be over-processed, under-flavoured and over-priced.  It can be just a few simple ingredients and a few minutes before you're sighing with satisfaction and a big tomatoey grin 🙂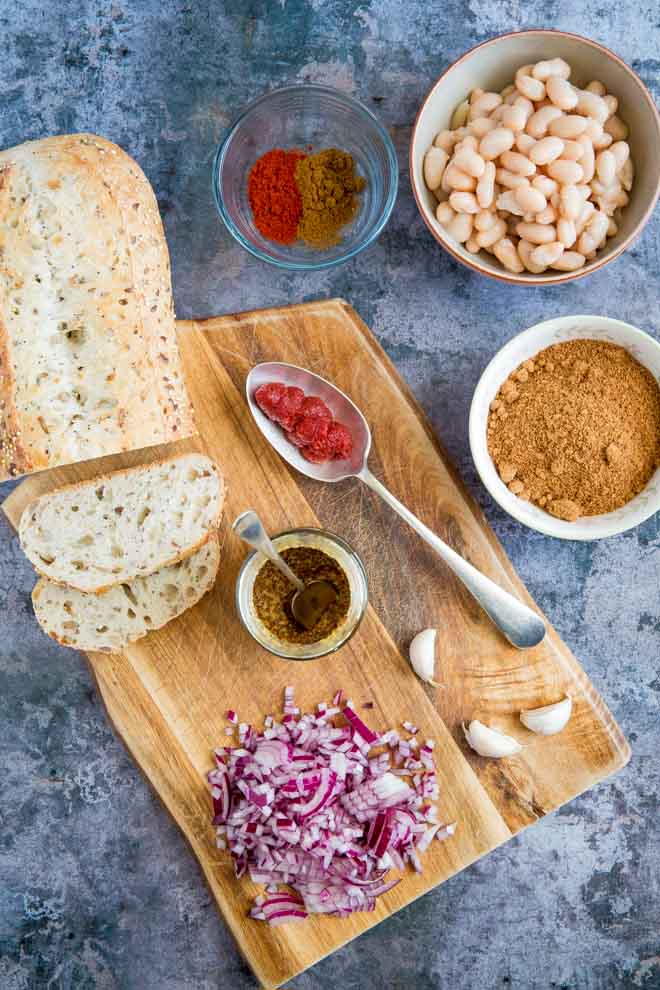 This is healthy comfort food that couldn't be easier!
Simply sizzle the onion and garlic until just softened before adding the rest of the ingredients and gently bubbling for 5 minutes.  That's it.  Nothing more complicated than that.
You could cook your own cannelini beans (or even haricot beans) rather than use tinned ones as I have if you want to make everything yourself.  I just wanted to make these as quick and easy as possible.
I've also used red onions for this vegan baked beans recipe because I use them for pretty much everything.  They're milder and slightly sweeter as well as being so, SO colourful.  It's all about eating the rainbow.  Though that does make me sound like I slaughter and devour unicorns.
I don't.  For the record.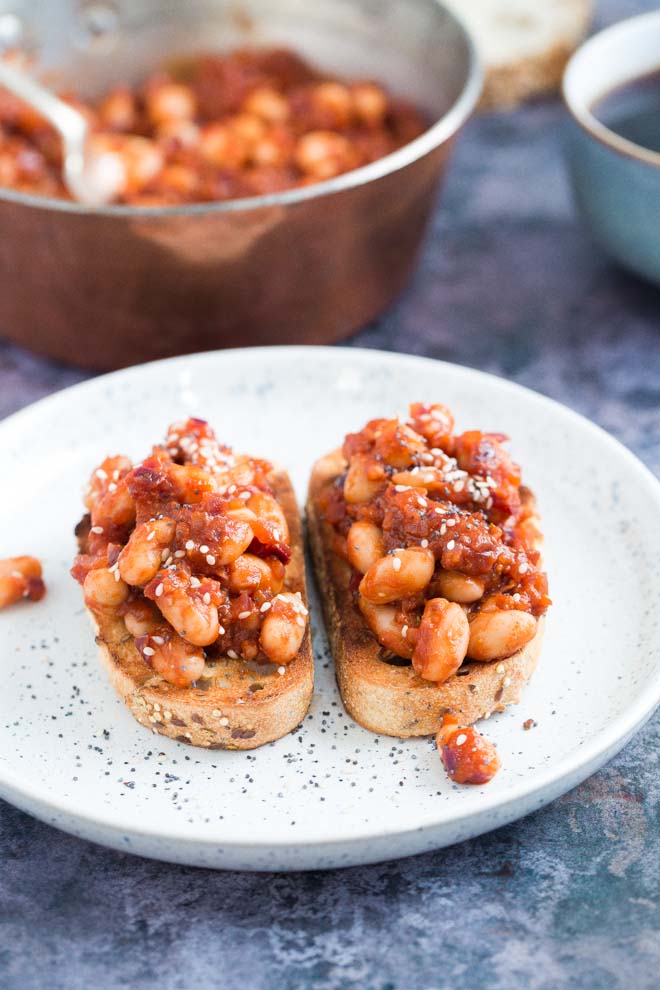 I DO urge you, however, to try these atop a couple of toasted slices of this Oaty Wholemeal Bread – your mouth, spirit and inner child will thank you.
I imagine they'll make a great baked potato topping too.  Not to self: make more baked beans and buy some potatoes.
Or how about with these Vegan Scrambled Eggs?  Breakfast perfection friends.
Beans are not only high in protein but are also packed full of fibre, iron and folate. They are also low GI, meaning that they'll keep you feeling full while your blood sugar levels remain stable.
Tomatoes are unusual in that their health benefits actually increase with cooking!  They're also packed with important nutrients – Vitamin A, potassium, iron and antioxidants.
Yes, food that makes you feel all warm and fuzzy can actually be pretty darn good for you too.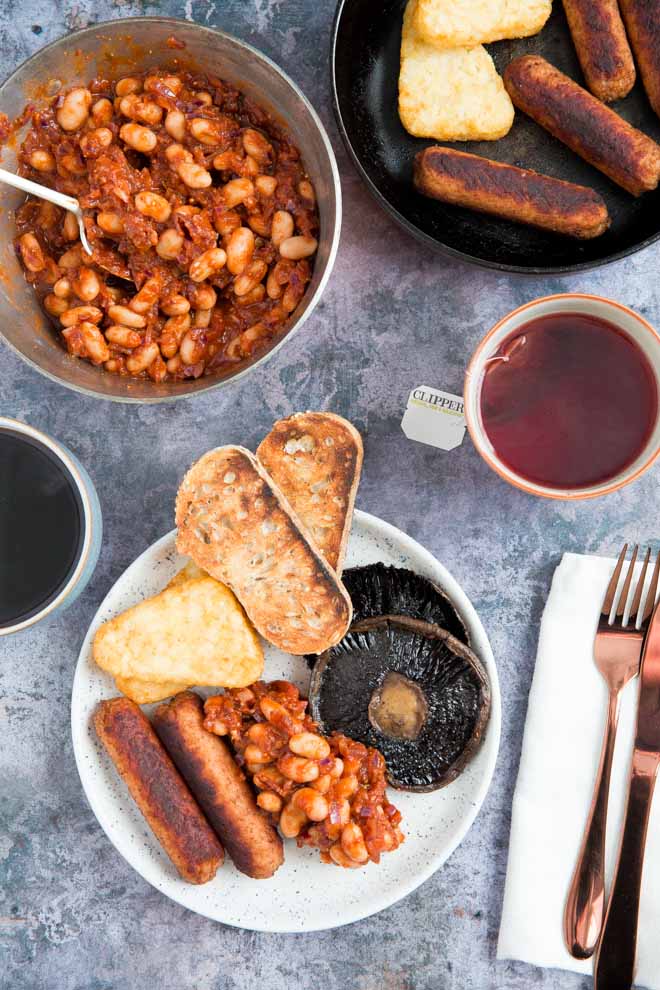 If you make this recipe or any of the recipes from The Cook & Him we'd LOVE to see! Just snap a picture and share it on Instagram using #thecookandhim and tagging @thecookandhim in the photo itself (as this guarantees we'll see your picture!
)
And don't forget to follow us on Instagram , Facebook or Twitter for even more recipe inspiration and chat, competitions, behind the scenes and so much more!
Spicy Baked Beans
prep: 10 mins / cook: 10 mins / inactive: 0 mins / total: 20 mins / quantity: 4 servings
Ingredients
Drizzle of olive oil
1 red onion – peeled and finely diced
2 large cloves garlic – peeled and minced
1 tblsp tomato puree
1 tsp ground cumin
1/2 – 1 tsp smoked paprika – though feel free to add more if you love spice!
1/2 tsp dried thyme
1 tblsp coconut sugar
1 tblsp liquid aminos or sub with light soy sauce
1 tblsp balsamic vinegar
1 + 1/2 cups (400g) can cannelini beans (280g drained weight)
1/2 cup (130ml) tomato passata
1-2 tsp mustard – I used dijon but English and wholegrain would work too
salt and pepper
Instructions
In a medium/large saucepan gently sizzle the finely diced onion and the minced garlic with a drizzle of olive oil, stirring often, till they start to soften and the onion turns pale and translucent.
Add the rest of the ingredients (apart from the salt and pepper) and simmer for 5 minutes until the sauce has thickened slightly. Taste and season
Serve immediately or cool and keep in the fridge for up to a week (great for the lunchtime hungries!)
Some products I used in today's post...
Some of the links above are affiliate links, which pay us a small commission for our referral at no extra cost to you! Thank you for supporting The Cook & Him.
Hello and welcome to The Cook & Him.
We are Sam (The Cook), Phil (Him) and our little dog Nooch. What started with a plan to shed a few pounds back in 2016, soon became obvious that eating healthy doesn't have to be bland and boring.
So, combining Sam's 15 years of experience working within Michelin starred restaurants and our love for deliciously healthy food, we're creating recipes for you to make and enjoy. We've added our own unique spin on traditional and contemporary vegetarian and vegan recipes that keep you (and your pets!) healthy and full.  And we make sure they just work.
All things autumn - warming soups, savoury bakes and delicious sweet treats!
and I would like to see...
Or search for a recipe or post by keyword