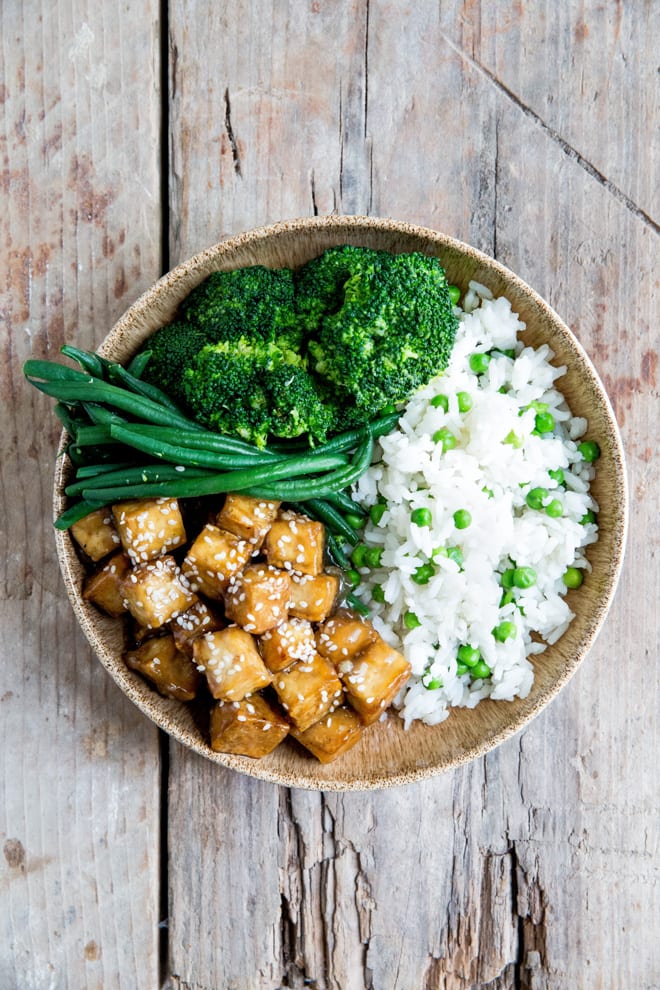 Posted in Recipes on 11.06.2019
Teriyaki Baked Tofu
prep: 15 mins / cook: 30 mins / inactive: 30 mins / total: 1 hour 15 mins / quantity: 2 generous servings Print recipe?
Better than takeout but easy and quick enough for a weeknight meal, this crispy teriyaki baked tofu is a little bit sweet, a little bit savoury and so delicious!
The best thing about making your own food (other than eating it!) is that you get to make it YOURS.  Don't like an ingredient?  Don't use it!  I wish I liked ginger, it's SO good for you.  I love the smell – even my shampoo is ginger.  But the taste is too strong and too potent for me.  So it's always put me off of anything teriyaki.  And then I made this teriyaki baked tofu.  Minus the ginger.  And it was gooooood.
The secret to it is twofold.  First is (for me) the absence of ginger – all that sticky teriyaki flavour but without that overpowering fieryness that ginger brings.  If  ginger is your thing PLEASE ignore me and add to your hearts content.  The second is crisp little bits of tofu.  Baked in a simple 'dressing' of liquid aminos, cornflour and oil just pop in the oven and forget about them for 30 minutes.  No need to turn or baste for perfectly crispy baked tofu.
The teriyaki sauce couldn't be simpler either.
Liquid aminos – I find this less salty than soy sauce but just as rich in flavour.  Use soy sauce if that is what you have (or prefer).
Maple syrup – because teriyaki sauce should be sticky and unctuous.  Can be subbed for coconut sugar or agave syrup.  Coconut sugar will give a darker sauce and you may need to use a little less.
Dry sherry – because that's what I had in the cupboard!  Use any other sherry or brandy, white wine or even rice wine or mirin if you have it!
Garlic – simply there for that wonderful garlic flavour.  Cooking it in the sauce negates that raw (and sometimes overpowering) garlic flavour.
Cornflour – turns the watery liquid into a sauce that doesn't just coat the tofu but makes it positively cling to it!
Ginger – optional.  Because this is YOUR food.  Make your food your way that you want to eat.  If you love ginger I'd recommend 1-2 tsp of peeled, grated fresh ginger for the quantities in this recipe.
This dish is best served as soon as it's cooked BUT – the first time I made it I had enough for a couple of meals worth so I put the extra in a tuppaware in the fridge and had the next day.  Let me assure you, it's still yummy the next day but the tofu becomes more chewy than crispy.  Didn't for a second stop us devouring it though!  You can make extra sauce ahead of time, then just bake the tofu, reheat the sauce and chuck in the tofu as per the recipe.  Honestly, this meal is on repeat at least once a week at the moment!  I serve ours with some steamed veg and fluffy white rice and peas – we have a great How to Cook Rice guide if you're still mystified how to get perfect rice every time.
Love tofu?  Try these other flavourful vegan recipes:
Tofu Stir Fry – crispy fried peanut tofu with bright veggies and rice noodles!
Vegan Scrambled Eggs – the perfect final flourish to a vegan cooked breakfast!
Healthy Indian Takeaway – tofu baked in coconut yoghurt and spices served with cauliflower fried rice.
Buddha Bowl – an exercise into how many delicious things can be crammed into one bowl!
Beer Battered Vegan Fish and Chips – crisp fluffy batter and nori for that 'fishy' taste. Serve with seasoned potato wedges, peas and a chunky homemade tomato sauce for a vegan version of that quintessentially English dish!
If you make this recipe or any of the recipes from The Cook & Him we'd LOVE to see! Just snap a picture and share it on Instagram using #thecookandhim and tagging @thecookandhim in the photo itself (as this guarantees we'll see your picture!
)
And don't forget to follow us on Instagram , Facebook or Twitter for even more recipe inspiration and chat, competitions, behind the scenes and so much more!
Teriyaki Baked Tofu
prep: 15 mins / cook: 30 mins / inactive: 30 mins / total: 1 hour 15 mins / quantity: 2 generous servings
Ingredients
Tofu:
2 cups (400g) firm tofu
1 tblsp cornflour
1 tblsp liquid aminos (can be subbed with soy sauce)
1 tblsp oil
Teriyaki Sauce:
2 tblsp liquid aminos (can be subbed with soy sauce)
2 tblsp maple syrup  (can be subbed by coconut sugar or agave syrup)
1-2 tblsp dry sherry (can be subbed for any sherry, brandy, white wine, mirin or rice wine)
2 cloves garlic – peeled and crushed
1 tblsp cornflour
1/3 cup (80ml) cold water
Optional: 1-2 tsp grated fresh ginger
Instructions
Drain the tofu and leave sandwiched between a few sheets of kitchen paper for 30 minutes - this can be done as far ahead of time as you wish, but 30 minutes is enough to dry it out for crispy baked tofu!
Preheat your oven to 200 Fan / 220 C / 425 F / Gas 7 and line a large baking sheet with parchment or a silicon mat
In a medium bowl whisk together the cornflour, aminos and oil until no lumps of cornflour remain then add the tofu. Gently turn the tofu through the sauce until it's all well coated
Lay the tofu pieces onto your prepared tray placing relatively close together to fit them all on
Bake for 30 minutes
While the tofu is baking prepare the sauce
Into a pan or wok large enough to hold all the tofu put the aminos, syrup, alcohol and crushed garlic (and grated fresh ginger if using)
In a small bowl or mug mix the cornflour with the water until smooth and lump free, set aside
Bring the liquid in the pan to the boil then simmer for 1-2 minutes
Whisk in the cornflour and water to a smooth, glossy and sticky sauce
Once the tofu is cooked carefully tip it into the sauce, stir to completely coat each piece of tofu then serve immediately (see note)
Notes
The tofu is best served straight after cooking but it doesn't lose any flavour chilled and eaten later. It does lose some of it's crispiness though, becoming more chewy!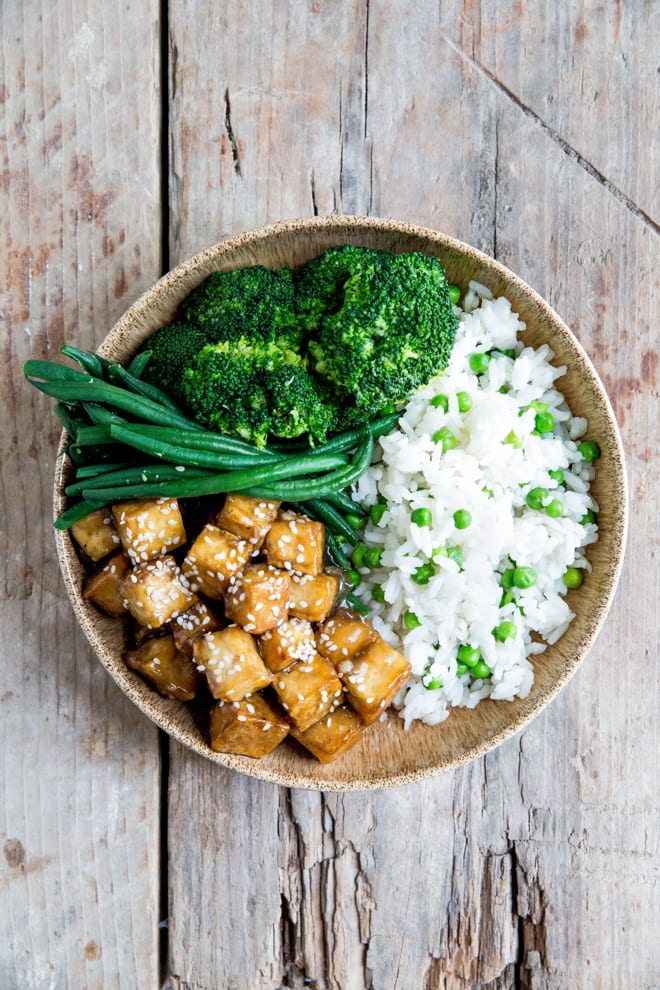 Some products I used in today's post...
Some of the links above are affiliate links, which pay us a small commission for our referral at no extra cost to you! Thank you for supporting The Cook & Him.
Hello and welcome to The Cook & Him.
We are Sam (The Cook), Phil (Him) and our little dog Nooch. What started with a plan to shed a few pounds back in 2016, soon became obvious that eating healthy doesn't have to be bland and boring.
So, combining Sam's 15 years of experience working within Michelin starred restaurants and our love for deliciously healthy food, we're creating recipes for you to make and enjoy. We've added our own unique spin on traditional and contemporary vegetarian and vegan recipes that keep you (and your pets!) healthy and full.  And we make sure they just work.
All things autumn - warming soups, savoury bakes and delicious sweet treats!
and I would like to see...
Or search for a recipe or post by keyword