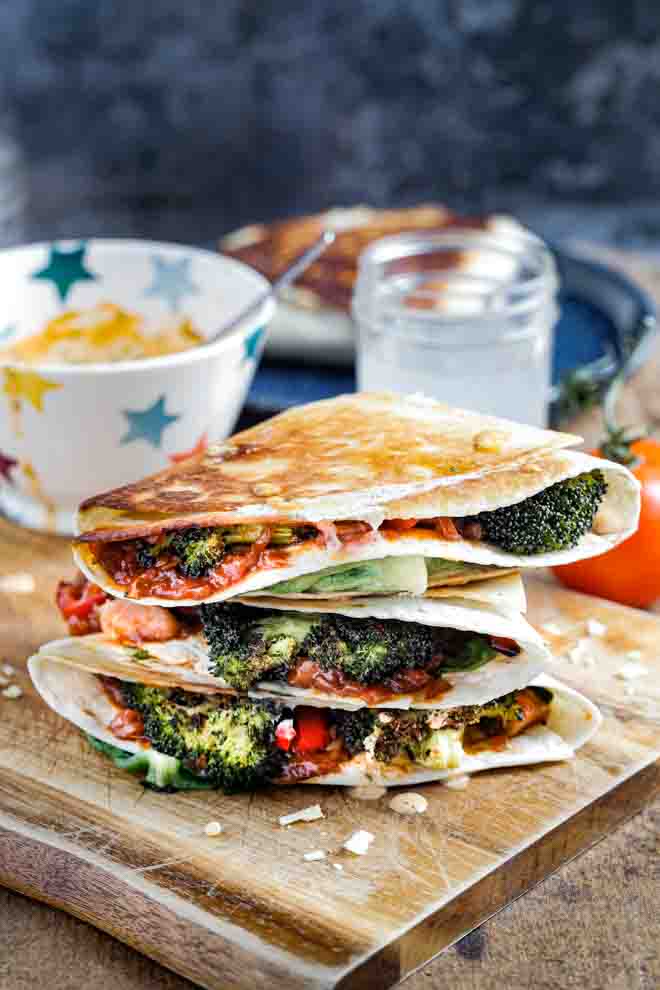 Posted in Recipes on 19.04.2021
TikTok Folded Tortilla Wraps with BBQ Jackfruit
prep: 10 mins / cook: 40 mins / inactive: 0 mins / total: 50 mins / quantity: 4 wraps Print recipe?
Tonnes of veggies and flavour crammed into folded tortilla wraps. They're crunchy on the outside, warm, cheesy and delicious on the inside! Great for brunch with friends and simple enough for a family weeknight dinner!
Not really a user of TikTok, I discovered the viral trend for folded tortilla wraps much more randomly.  The trend my have passed by now but I'm old enough not to care about being 'on trend'.  Good food is always good food and I still absolutely love the concept.  Layers of flavour built into soft tortilla wraps all crisped to deliciously warm, cheesy, saucy perfection!
These aren't my first folded wrap incarnation.  In case you missed them, there's these Breakfast Folded Wraps.  Every time I make them they are practically inhaled.  But as a lover of BBQ sauce (homemade or straight out of the bottle, I don't care) and roasted veggies I wanted to try those flavours together in a folded wrap.
How to make a folded wrap:
It's all about layers of flavour.  The fillings are placed on different quarters of the tortilla then folded over each other to make a large triangle before being sizzled to crispy wonderfulness.
Prep all the fillings that need to be cooked.  I've roasted broccoli with peppers and cooked the jackfruit in a bottled BBQ sauce.  There's enough ingredients going into these wraps, no need to over-complicate it!  Toss the broccoli florets and sliced bell pepper with some oil, salt and pepper and a pinch of dried rosemary (or thyme if you'd prefer or have available).
Drain and rinse the jackfruit.  Then cut off the hard core pieces.  Sauté some diced onion until softened, add the jackfruit, BBQ sauce and a splash of water and simmer gently for about 10 minutes, stirring from time to time.  It's ready when the jackfruit can be easily flaked apart.
Make the ranch dressing.  You can whisk together in a small bowl or shake in a lidded jar.  You can also use bottled stuff but vegan ranch can be very hit and miss with availability here.  I also find it a little too vinegary for my taste and it's simple enough to make and keep in a jar.
Assemble your fillings.  So we've got the roasted broccoli and peppers, the BBQ jackfruit and ranch dressing.  You'll also want some sliced tomato, lettuce leaves and grated vegan cheese.  For the cheese I've used a combination of cheddar and mozzarella for flavour and meltyness!
Lay your tortillas out flat.  Make a cut from the centre to the outer edge of the tortilla.
Add your fillings to each 'quarter' of your tortilla.
BBQ jackfruit
Roasted broccoli and peppers
Shredded lettuce, sliced tomato and ranch dressing
Grated cheese
Fold the jackfruit quarter over the broccoli, those two layers over the tomato and finally over the cheese so you end up with a large triangular shaped tortilla.  Tuck each layer tightly as you fold – this makes it easier to pick it up to put it in the pan and to flip it during cooking.  It also helps prevent all that wonderful filling falling out!
Heat a little oil in a large skillet or frying pan.  Lay the folded tortillas in the pan and sizzle until crisp and golden on the bottom.  Flip and repeat with the other side.
Feel free to inhale immediately.  Or, you know, consumer at your leisure.
I'd also love to hear from you if you make these Folded BBQ Jackfruit Wraps! Just leave a comment as it's so helpful and I love to hear how the recipe worked out for you! Thank you so much!
Don't forget to follow us on YouTube, Facebook or Pinterest for even more recipe inspiration and chat, competitions, behind the scenes and so much more!
TikTok Folded Tortilla Wraps with BBQ Jackfruit
prep: 10 mins / cook: 40 mins / inactive: 0 mins / total: 50 mins / quantity: 4 wraps
Ingredients
Roasted broccoli:
Florets from 1 head of broccoli
1 bell pepper – sliced (stalk and seeds removed and discarded)
Drizzle of oil
Pinch of dried rosemary
Pinch each of salt and pepper
BBQ Jackfruit:
Drizzle of olive oil
1 red onion – peeled and finely diced
1 can of jackfruit in water – drained
1/2 cup (125g) BBQ sauce
1/2 cup (125ml) water
Vegan Ranch Dressing:
2 tblsp vegan mayonnaise
1 tsp apple cider vinegar
1 clove garlic – peeled and crushed
1 tsp onion powder
1 tsp dried parsley
1/2 tsp smoked paprika
pinch each salt and pepper
Assembly:
Shredded lettuce leaves
Sliced tomato
Vegan cheese – grated (I've used a combination of cheddar and mozzarella)
4 large soft tortilla wraps
Drizzle of oil
Instructions
Preheat your oven to 180 Fan / 200 C / 400 F / Gas 6
Toss the broccoli florets and sliced pepper with the oil, rosemary and seasoning, tip onto a baking tray and roast for 30 minutes
For the BBQ jackfruit, saute the diced onion in a drizzle of olive oil till just starting to soften
Add the drained jackfruit, BBQ sauce and water and simmer gently, stirring from time to time, for 10 minutes or until the jackfruit easily flakes apart and the sauce is thickened
Whisk together all the ingredients for the vegan ranch dressing
Once you've got all your fillings ready, construction is really simple! Start by laying out your wraps on a flat surface. You can make one at a time or fill them all quarter by quarter if you have space
On the bottom left quarter of the wrap put the BBQ jackfruit
Above the jackfruit in the top left corner put the roasted broccoli and pepper
On the top right corner put the shredded lettuce and sliced tomato and drizzle with the ranch dressing
And on the final bottom right quarter put a sprinkle of cheese
To fold start with the quarter with the BBQ jackfruit and fold over the broccoli. Then work clockwise to fold each quarter over the next so you're left with a large triangle
Push down firmly on top of the wraps so everything holds together
Heat a drizzle of oil in a large frying pan or skillet
Gently add the folded wraps and cook for 4-5 minutes over a medium heat until the bottom is crisp and golden
Carefully flip and repeat with the other side
Serve immediately. If you end up with leftovers they can be re-crisped in a frying pan or in the oven
Notes
Use whichever colour bell pepper your prefer or have to hand
The fillings can all be made/prepared in advance and kept chilled till needed
Don't have a big enough pan or skillet to cook 4 (or more) wraps? Keep them in a warm oven while you cook the others!
If you have fresh herbs use those instead of dried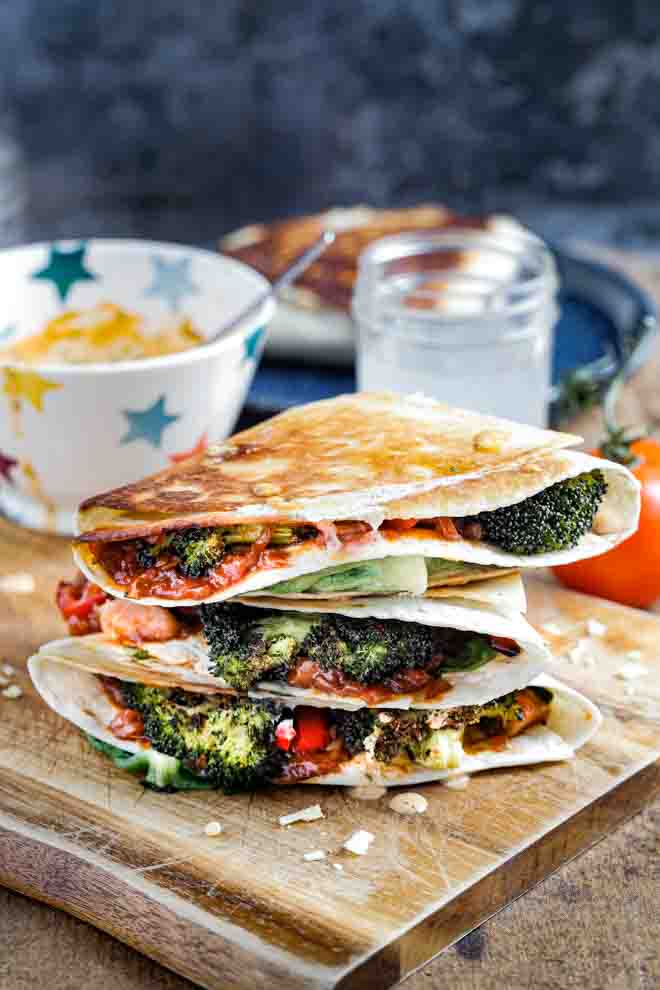 Hello and welcome to The Cook & Him.
We are Sam (The Cook), Phil (Him) and our little dog Nooch. What started with a plan to shed a few pounds back in 2016, soon became obvious that eating healthy doesn't have to be bland and boring.
So, combining Sam's 15 years of experience working within Michelin starred restaurants and our love for deliciously healthy food, we're creating recipes for you to make and enjoy. We've added our own unique spin on traditional and contemporary vegetarian and vegan recipes that keep you (and your pets!) healthy and full.  And we make sure they just work.
All things autumn - warming soups, savoury bakes and delicious sweet treats!
and I would like to see...
Or search for a recipe or post by keyword