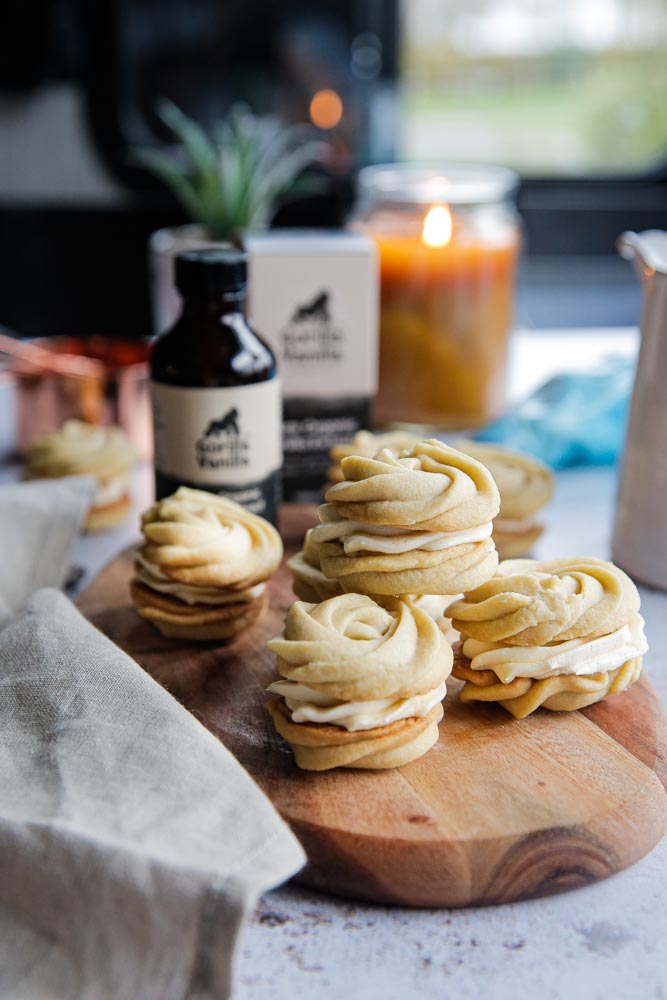 Posted in Recipes on 29.11.2021
Vanilla Sandwich Cookies
prep: 30 mins / cook: 20 mins / inactive: 30 mins / total: 1 hour 20 mins / quantity: 20 cookies / 10 sandwiches Print recipe?
Soft, buttery and melt in the mouth these vegan vanilla sandwich cookies filled with vanilla buttercream are an easy to bake delicate little treat!
At the moment we're rushing headlong towards Christmas.  And while I normally bake a LOT, Christmas really brings out the baker in me. However, these dainty little sandwich cookies would be pretty much perfect to bake ANY time of the year.  I'm confident these cookies could happily nestle in the prettiest of cookie exchange boxes but also wouldn't look out of place on a spring brunch table or summer afternoon tea!
Have you ever done a cookie exchange?  I'd so so love to do one.  If you live anywhere near Ipswich and love to bake vegan cookies let me know!
So, vegan cookies
I've talked a lot throughout various posts about how easy vegan baking really is.  For the most part it's just a few simple swaps – plant based butter, plant milk and so on.  Do you have a favourite plant milk?  I almost exclusively use oat milk for everything.  These kind of cookies are egg free anyway – the richness of flavour comes from the (vegan) butter and the very very good vanilla.
Vanilla Essence vs Extract vs Pods
When it comes to vanilla I always say buy the best you can afford.  The flavour difference between the cheapest essence and the very best extract is totally discernible.  The best extracts should taste as good as using vanilla pods.  The only difference is you don't get those lovely little black specks in your baking.  But for flavour and value, good quality extracts are, for me, the best option.  Vanilla pods are also ludicrously expensive, whereas extracts might seem costly for a relatively small bottle.  But unless you're baking vanilla cookies every day of the week (and oh how Phil would love that) extracts actually last quite a long time.
Foodie Flavours Gorilla Vanilla is, in my opinion, one of the best.  It's made from vanilla beans specially grown by select farmers in Uganda. The land of the mountain gorillas.  Growing and harvesting the pods provides income for families and local communities.  Sustainable employment for workers in rural Uganda also helps to contribute to the safety of the mountain gorillas, so they can enjoy their habitat in peace.
These vanilla crops are expertly pollinated, harvested and cured to give a distinctively rich and earthy flavour.
How to make these vegan sandwich cookies
I'd recommend some kind of stand mixer to make these cookies.  The cookie dough is quite stiff to mix by hand.  The process itself, though, is very simple.
Beat the butter with the paddle attachment until soft and creamy.  Then beat in the icing sugar until well incorporated.  You want the butter and sugar to become pale and fluffy.  This is what makes the baked cookies melt in the mouth soft.
Add the vanilla extract.  Followed by the flour and cornflour.  I also add a little bit of boiling water otherwise the mixture is just too stiff to pipe.  You want a slightly sticky dough, test with your fingers before filling your piping bag.
Pipe swirls or rosettes of the mixture onto a lined tray.  If it helps you to keep all your cookies the same size, draw circles on your greaseproof paper.  I use an open(ish) star nozzle to get that lovely swirl effect.
Bake until just golden.  This should take about 20 minutes but I often check after 15.  Especially now with our slightly dodgy, no grill, one shelf, cooks from the bottom only caravan oven.
While they're baking make the buttercream.  Again this is made so much easier with a stand mixer.  And again beat the butter until softened then add in the icing sugar and vanilla.  Beat this much more than the dough – this you want to be really soft and fluffy.  I also add a tablespoon of boiling water to the buttercream as well to help with the fluff!  Spoon the buttercream into a piping bag fitted with the same nozzle you used for piping the cookies.
Transfer the baked cookies to a wire rack to cool completely.  Then pipe half of them with the vanilla buttercream.  Sandwich together two cookies and immediately, if not sooner, daintily, with one's little finger extended, shove them into your mouth.  If you get the size right you can consume a whole cookie in one bite!
More vegan cookie recipes for you to love:
Cinnamon Sugar Cream Cheese Cookies
Healthy Cookies (to, you know, balance out the not so healthy cookies)
I'd also love to hear from you if you make these vegan Vanilla Sandwich Cookies! Just leave a comment as it's so helpful and I love to hear how the recipe worked out for you! Thank you so much!
Don't forget to follow us on YouTube, Facebook or Pinterest for even more recipe inspiration and chat, competitions, behind the scenes and so much more!
Vanilla Sandwich Cookies
prep: 30 mins / cook: 20 mins / inactive: 30 mins / total: 1 hour 20 mins / quantity: 20 cookies / 10 sandwiches
Ingredients
Cookies:
2/3 cup (160g ) vegan butter
1/4 cup (40g) icing (powdered) sugar
1 cup (160g) plain flour
1/4 cup (40g) cornflour
Buttercream:
1/4 cup (70g) vegan block butter (softened to room temp if mixing by hand)
3/4 cup (115g) icing (powdered) sugar
Piping bag fitted with star nozzle
Instructions
Preheat your oven to 170 Fan / 190 C / 375 F / Gas 5 and line a large baking tray with parchment
If you want to, draw round something on the underside of the parchment approx 2 inches (5cm) in diameter as a guide when piping your cookies. You can space these circles fairly close together as the cookies shouldn't spread
Cream together the vegan butter, icing sugar and vanilla extract until soft and fluffy. You can do this by hand, in a food processor or in a stand mixer using the paddle attachment
Beat in the flour and cornflour until well mixed but try not to overmix. If the dough feels too stiff to pipe add just a splash of boiling water in small increments until you have a pipeable dough
Spoon into a piping bag fitted with a star nozzle then pipe swirls of the dough onto your parchment until you've used all the dough - it should make roughly 20 cookies 4-5 cm (1 3/4 - 2 inches) in diameter
Bake for 20 minutes until lightly golden and just set
Leave to cool on the tray for 5 minutes then transfer to a wire rack to cool completely
Either while the cookies are baking or cooling make the buttercream by beating the ingredients together with 1 tblsp boiling water until very soft, pale and fluffy. Spoon into a clean piping bag with a star nozzle
Pipe the buttercream on the bottom (flat) side of half of the cookies then top with another cookie so the two flat sides are pressed against the buttercream
Store the cookies in an airtight container at room temparature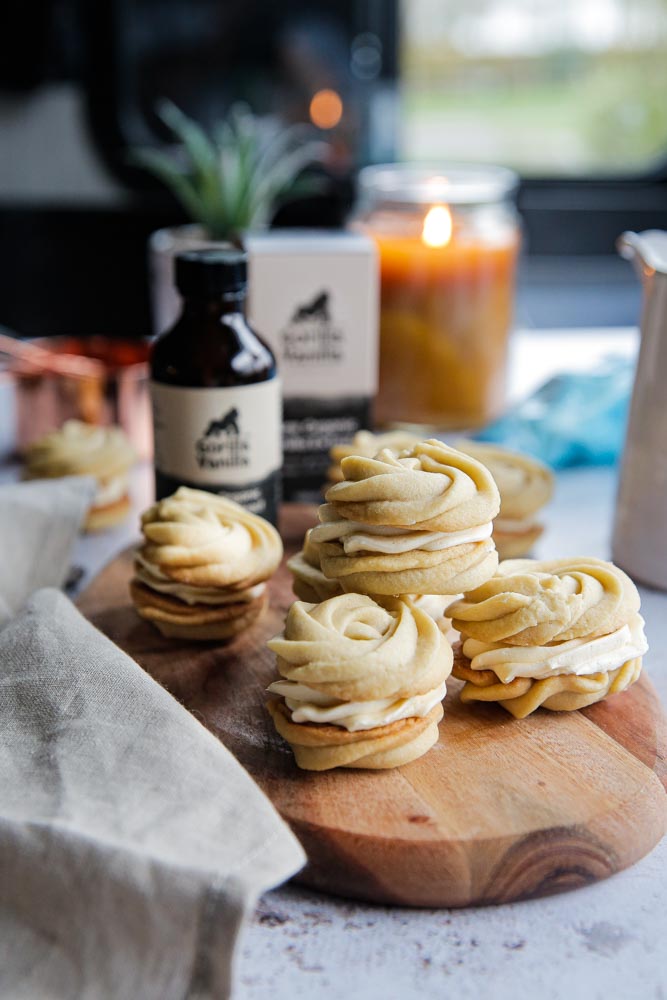 Hello and welcome to The Cook & Him.
We are Sam (The Cook), Phil (Him) and our little dog Nooch. What started with a plan to shed a few pounds back in 2016, soon became obvious that eating healthy doesn't have to be bland and boring.
So, combining Sam's 15 years of experience working within Michelin starred restaurants and our love for deliciously healthy food, we're creating recipes for you to make and enjoy. We've added our own unique spin on traditional and contemporary vegetarian and vegan recipes that keep you (and your pets!) healthy and full.  And we make sure they just work.
All things autumn - warming soups, savoury bakes and delicious sweet treats!
and I would like to see...
Or search for a recipe or post by keyword