Posted in Recipes on 19.02.2019
Vegan Cookies
prep: 15 mins / cook: 15 mins / inactive: 0 mins / total: 30 mins / quantity: 20 cookies Print recipe?
Thick, soft vegan cookies loaded with gooey chocolate chunks! No one would ever know they're vegan!
Purely in the interests of making sure this vegan cookies recipe works without a hitch for anyone that makes it, Basically I made it more than once.  Or twice.  Its important that you realize that had nothing to do with the fact that these are unquestionably some of the BEST vegan cookies I've ever tried.
Is there anything better than a fresh batch of cookies though?
What's more is that we're going for huge great chunks of chocolate in this vegan cookies recipe.  Not chips.  Only significantly giant chunks will do.  Because look at that melt, and no-one wants only to "occasionally" get a bit of chocolate in a cookie, do they?
As for other ingredients, well we've got …
Tahini – because tahini makes everything better.  If you have a nut alergy, omit the almond butter and double the tahini quantity instead
Almond butter – with the tahini this gives the cookies that soft, bakery style cookie texture
Cornflour – this helps stop the cookies spreading into giant puddles of cookie biscuit
At first I tried making these cookies a few ways –
Firstly I tried scooping by hand – messy.  And not in a good way.
Secondly I tried scooping with an ice cream scoop and leaving domed – tasted great but looked wrong.  Can't explain why wrong.  Just wrong.
Then I tried scooping with an ice cream scoop, baking domed then flattening while still warm – similarly also wrong.
Eventually I tried scooping with an ice cream scoop then flattening before baking – EUREKA!
That's actually a photo of them being flattened while still warm and I don't know what it is exactly that makes them just look wrong but nonetheless, they look wrong to me!  Do you care how your cookies look?  Is it essential that every aspect of vegan cookies is just perfect?  They look a little like they've been sat on – not a good look on any cookie.
However, flattening them just a little after you've scooped them works perfectly. And of course, using an ice cream scoop also means you get mostly the same sized cookies too.  I'm not so hot at judging things like that by eye – we can end up with cookie famine and cookie feast all on the same tray.
If you make this recipe or any of the recipes from The Cook & Him we'd LOVE to see! Just snap a picture and share it on Instagram using #thecookandhim and tagging @thecookandhim in the photo itself (as this guarantees we'll see your picture!
)
And don't forget to follow us on Instagram , Facebook or Twitter for even more recipe inspiration and chat, competitions, behind the scenes and so much more!
Vegan Cookies
prep: 15 mins / cook: 15 mins / inactive: 0 mins / total: 30 mins / quantity: 20 cookies
Ingredients
1/2 cup (115g) vegan spread
1/4 cup (65g) tahini
1/4 cup (65g) almond butter
2/3 cup (140g) coconut sugar
1/4 cup (60ml) unsweetened almond milk
1 + 1/4 cups (185g) plain flour
2 tblsp (20g) cornflour
1/2 tsp baking powder
1/2 tsp bicarbonate of soda
1 cup (180g) bar of vegan chocolate
Instructions
Preheat your oven to 170 Fan / 190 C / 375 F / Gas 5 and line 2 large trays with baking parchment or silicon mats
In a large bowl or the bowl of a stand mixer put the vegan spread, tahini, almond butter and coconut sugar and beat together with a wooden spoon or the paddle attachment
Beat in the almond milk
Add the flour, cornflour, baking powder and bicarb and beat in until just mixed
Chop the bar of chocolate - use a large knife and chop carefully - you want to keep some largeish chunks
Stir the chopped chocolate into the dough
Scoop out even sized pieces of dough, about the size of a golf ball, using your hands, a spoon or an ice-cream scoop
Place onto the tray and flatten lightly with a spoon or the palm of your hand then bake for 15 minutes
Allow to cool on the tray for 5 minutes before transferring to a wire rack to cool completely
Store in an airtight container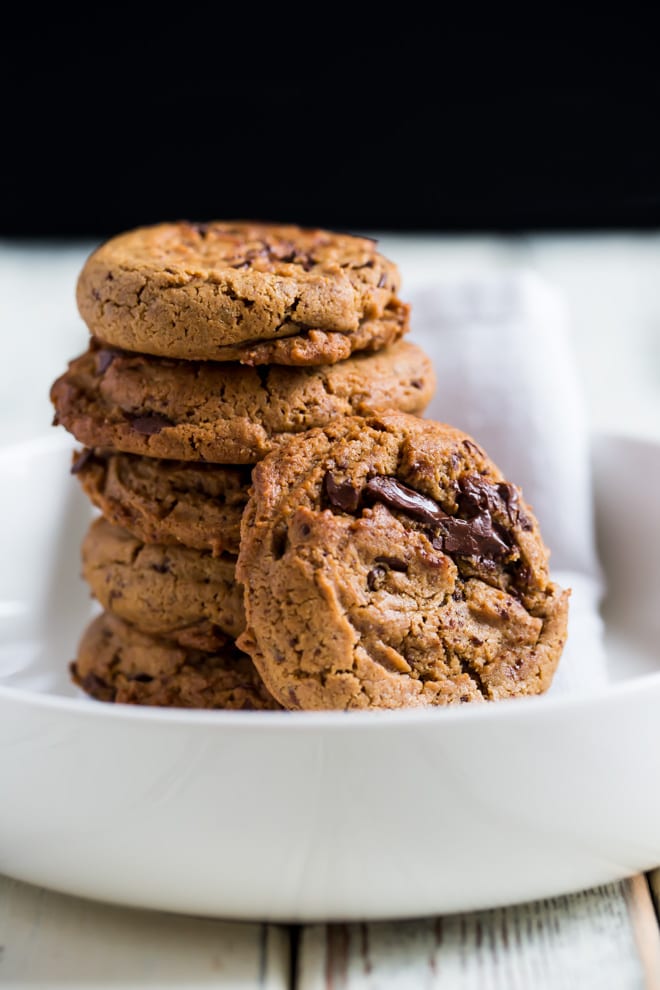 Some products I used in today's post...
Some of the links above are affiliate links, which pay us a small commission for our referral at no extra cost to you! Thank you for supporting The Cook & Him.
Hello and welcome to The Cook & Him.
We are Sam (The Cook), Phil (Him) and our little dog Nooch. What started with a plan to shed a few pounds back in 2016, soon became obvious that eating healthy doesn't have to be bland and boring.
So, combining Sam's 15 years of experience working within Michelin starred restaurants and our love for deliciously healthy food, we're creating recipes for you to make and enjoy. We've added our own unique spin on traditional and contemporary vegetarian and vegan recipes that keep you (and your pets!) healthy and full.  And we make sure they just work.
All things autumn - warming soups, savoury bakes and delicious sweet treats!
and I would like to see...
Or search for a recipe or post by keyword