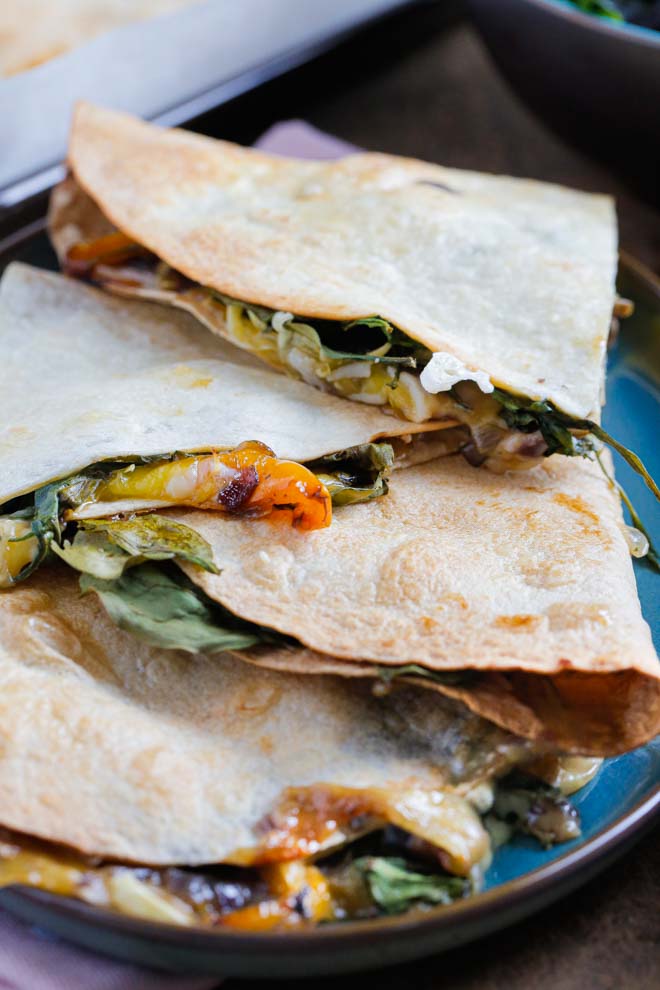 Posted in Recipes on 20.07.2020
Vegan Spinach and Mushroom Quesadillas
prep: 15 mins / cook: 30 mins / inactive: 0 mins / total: 45 mins / quantity: Serves 2-4 Print recipe?
Full of veggies and vegan cheese these mushroom quesadillas are easy to prepare, full of flavour and make a delicious meal or filling snack!
I love cooking.  I love the excitement that comes from trying a new ingredient or recipe and sharing what I've cooked.  And of course I love the food.  Food that has been created with talent, love or both.  I love recipes that have to be adhered to fairly rigidly or they fail (which is why I love baking so much).  But I also love recipes that can be so easily adapted to suit a mood, ingredients list or the taste of the eater.  Like these mushroom quesadillas.
With Phil working from home now (indefinitely it seems) it gives me a chance to be a bit more creative with lunch.  And while it's wonderful having him here so much rather than the rushed morning goodbyes and the tired evening hellos I'm very grateful that we have our own daytime spaces.  He's up in the office doing his spreadsheet thing while I do my cooking thing downstairs.  And generally get complained at that all the smells are making him hungry.  Usually about 10 minutes after he's had his breakfast.  And always with a Nooch rotating between the two of us.
At the moment the weather is nice enough to enjoy lunch in the garden.  We're so fancy.  And it feels so strangely grown up to be lunching on the patio, sharing what's been happening in our day so far instead of his usual working through lunch and me largely grazing my way through the day.  We sit down, together, and we do plates and cutlery and stuff.  Maybe even a napkin.  Told you, fancy.
And the best thing about these quesadillas is they're baked.  No cooking one at a time on the stove top.  Make them ahead then pop them in the oven about 30 minutes before you're ready to eat.
How to make these vegan quesadillas:
Saute the mushrooms, garlic, onions and peppers.  Dry fry in a small pan until they're just soft and tender.  Add some salt and pepper at the end.
Choose your wrap or tortilla.  I've opted for soft white ones for these, but we also like wholemeal seeded ones too.
Layer up your quesadilla.  Base of spinach followed by your cooked veggies and top the lot with grated cheese.  I've used a mix of vegan mozzarella and vegan cheddar.
Customise!  Add any other veggies you fancy – I also sometimes add tomatoes (fresh and sun-dried) or sweetcorn.  A pinch of chilli or red pepper flakes.  Maybe even a dollop of hummus.
Fold in half and brush the top with oil.  This helps give it a nice golden baked colour.
Bake the mushroom quesadillas for 15 minutes.  Then carefully flip, brush the now top side with oil and put back in the oven for another 15 minutes.
These mushroom quesadillas go really well with a simple salad, maybe some sweet potato fries, sticky fingers and fancy napkins 😉
Love easy, tasty food as much as we do?  Here's some of our tried and tested favourites (all vegan too!):
Za'atar tofu and cauliflower with tzatziki sauce
I'd love to hear from you if you make these Spinach and Mushroom Quesadillas.  Just leave a comment as it's so helpful and I love to hear how the recipe worked out for you!  Thank you so much 🙂
Don't forget to follow us on YouTube, Facebook or Pinterest for even more recipe inspiration and chat, competitions, behind the scenes and so much more!
Vegan Spinach and Mushroom Quesadillas
prep: 15 mins / cook: 30 mins / inactive: 0 mins / total: 45 mins / quantity: Serves 2-4
Ingredients
1 red onion – peeled and finely diced
3 cloves garlic – peeled and crushed
1 bell pepper – seeds removed and flesh cut into strips
3 cups (190g) closed cup mushrooms – sliced
pinch each of salt and pepper
2 large handfuls spinach
1 cup (90g) vegan cheese – grated (see note)
4 tortilla wraps
Spray oil or oil for brushing
Instructions
Preheat your oven to 180 Fan / 200 C / 400 F / Gas 6 and line 2 large baking trays with parchment or silicon mats
Saute the onion, garlic, peppers and mushrooms in a frying pan or wok until just softened. Season with a pinch of salt and pepper
If there is excessive moisture once cooked tip into a colander and leave the juices to drip for a few minutes
Place 2 tortillas on each baking tray then top half of each tortilla with the spinach, followed by the cooked veggies then the grated cheese
Fold the tortillas in half then spray or brush the top with oil and bake for 15 minutes
Remove from the oven and carefully turn each tortilla over. Spray or brush the now top half with a little more oil and bake for another 15 minutes
Leave to cool for just a couple of minutes then cut into wedges and serve!
Notes
I've used a mix of vegan mozzarella and vegan cheddar for these quesadillas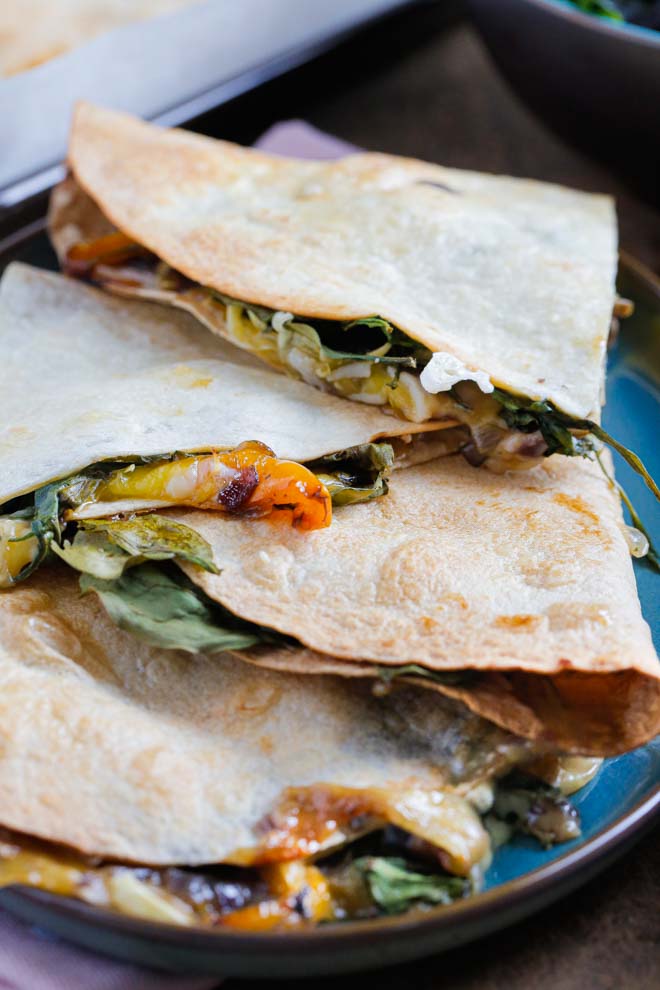 Hello and welcome to The Cook & Him.
We are Sam (The Cook), Phil (Him) and our little dog Nooch. What started with a plan to shed a few pounds back in 2016, soon became obvious that eating healthy doesn't have to be bland and boring.
So, combining Sam's 15 years of experience working within Michelin starred restaurants and our love for deliciously healthy food, we're creating recipes for you to make and enjoy. We've added our own unique spin on traditional and contemporary vegetarian and vegan recipes that keep you (and your pets!) healthy and full.  And we make sure they just work.
All things autumn - warming soups, savoury bakes and delicious sweet treats!
and I would like to see...
Or search for a recipe or post by keyword