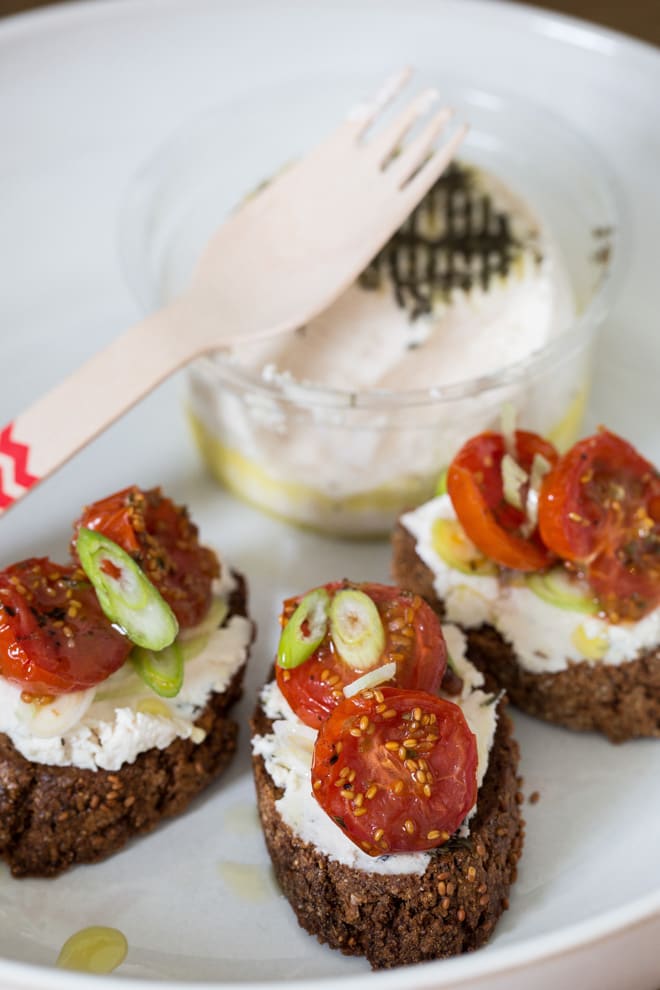 Posted in Recipes on 31.12.2017
Cherry Tomato and Goat's Cheese Crostini
prep: 15 mins / cook: 20 mins / inactive: 0 mins / total: 35 mins / quantity: 20 crostini Print recipe?
If I thought the combination of halloumi cheese and camelina seeds was THE perfect combination I was sorta wrong.  Because it's equalled by the combination of the same camelina seeds (from the truly delightful company that is Hodmedods) but this time with wine roasted cherry tomatoes …
… and super creamy soft VEGAN goat's cheese.
Yep, you read that right.  VEGAN GOAT'S CHEESE.  I'm using capitals because this is important.  Cheese is the thing I'm really struggling to give up to be completely vegan.  I don't even remotely miss eating meat.  I don't notice the difference using unsweetened almond milk for everything you'd use cow's milk for.  And I'm very careful about what I use to clean my face/hair/clothes/house with.
But cheese?  I've tried a few different vegan cheeses and they're either very bland or very rubbery.  Friends, let me introduce you to New Roots.  This is THE 'not actual cheese' but tastes and, just as importantly, has the same texture as actual cheese.  It has the look and feel of real bona fide artisan cheese.  Can I get a hallelujah? ?
They're also just about the loveliest people you could meet (their emails start with "Hello wonderful family" ❤) They're also very new and working really really hard on bringing their cheese to the UK in early 2018.  One to definitely keep an eye on!
Their tangy goat's cheese is just a heavenly contrast to the red wine roasted cherry tomatoes with a sprinkle of nutty camelina seeds.
I swear, I'm actually drooling a little at the memory of these tomatoes.  If you've never tried red wine roasted cherry tomatoes I suggest you change that really REALLY soon.  I mean …
Go on, get a little closer …
Are ya licking the screen yet? ?
These are another great little party nibble, so easy to prepare in advance and just slap together as your guests arrive.  Unless you just want to eat them all yourself and not bother inviting anyone over.  Totally not the kind of thing I'd do ?
If you make this recipe or any of the recipes from The Cook & Him we'd LOVE to see! Just snap a picture and share it on Instagram using #thecookandhim and tagging @thecookandhim in the photo itself (as this guarantees we'll see your picture!
)
And don't forget to follow us on Instagram , Facebook or Twitter for even more recipe inspiration and chat, competitions, behind the scenes and so much more!
Cherry Tomato and Goat's Cheese Crostini
prep: 15 mins / cook: 20 mins / inactive: 0 mins / total: 35 mins / quantity: 20 crostini
Ingredients
1 baguette – this Rye Bread is lovely when toasted
1 cup/approximately 15 cherry tomatoes – halved
1/2 tsp dried oregano
1 tsp olive oil
2 tsp balsamic vinegar
1/4 cup red wine
1 tblsp Hodmedod's Camelina Seeds
Salt and pepper
Instructions
Preheat the oven to 180 Fan / 200 C / 400 F / Gas 6
Slice the baguette about 1cm thick, place flat on a baking tray in one layer, drizzle with a little olive oil over each slice then bake for 10-15 minutes.  Keep and eye on them, you want them just golden but not burnt!  Leave to cool completely
Put the halved cherry tomatoes into a small bowl and gently toss with  the oregano, olive oil, vinegar, red wine, camelina seeds, a few grinds of black pepper and a sprinkle of sea salt
Tip into a baking dish or tin and roast for 20 minutes.  You can use these warm or chilled - either is delicious!
To serve, simply spread the goat's cheese on the crostini bases and top with a couple of halves of cherry tomatoes.  Drizzle a little of the juice in the baking tin over each crostini too.  Yum!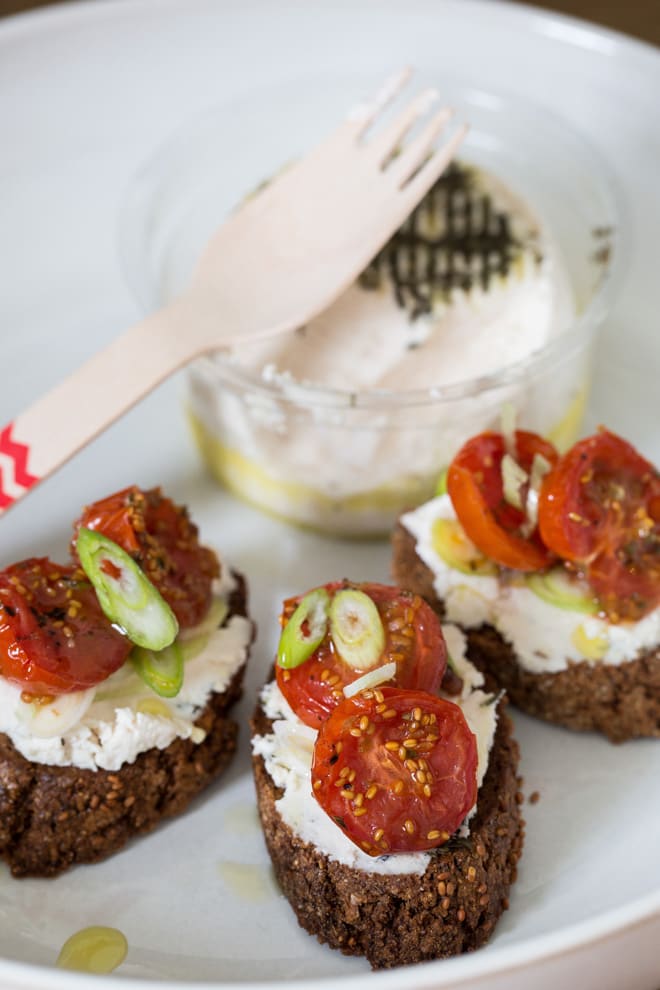 Hello and welcome to The Cook & Him.
We are Sam (The Cook), Phil (Him) and our little dog Nooch. What started with a plan to shed a few pounds back in 2016, soon became obvious that eating healthy doesn't have to be bland and boring.
So, combining Sam's 15 years of experience working within Michelin starred restaurants and our love for deliciously healthy food, we're creating recipes for you to make and enjoy. We've added our own unique spin on traditional and contemporary vegetarian and vegan recipes that keep you (and your pets!) healthy and full.  And we make sure they just work.
All things autumn - warming soups, savoury bakes and delicious sweet treats!
and I would like to see...
Or search for a recipe or post by keyword