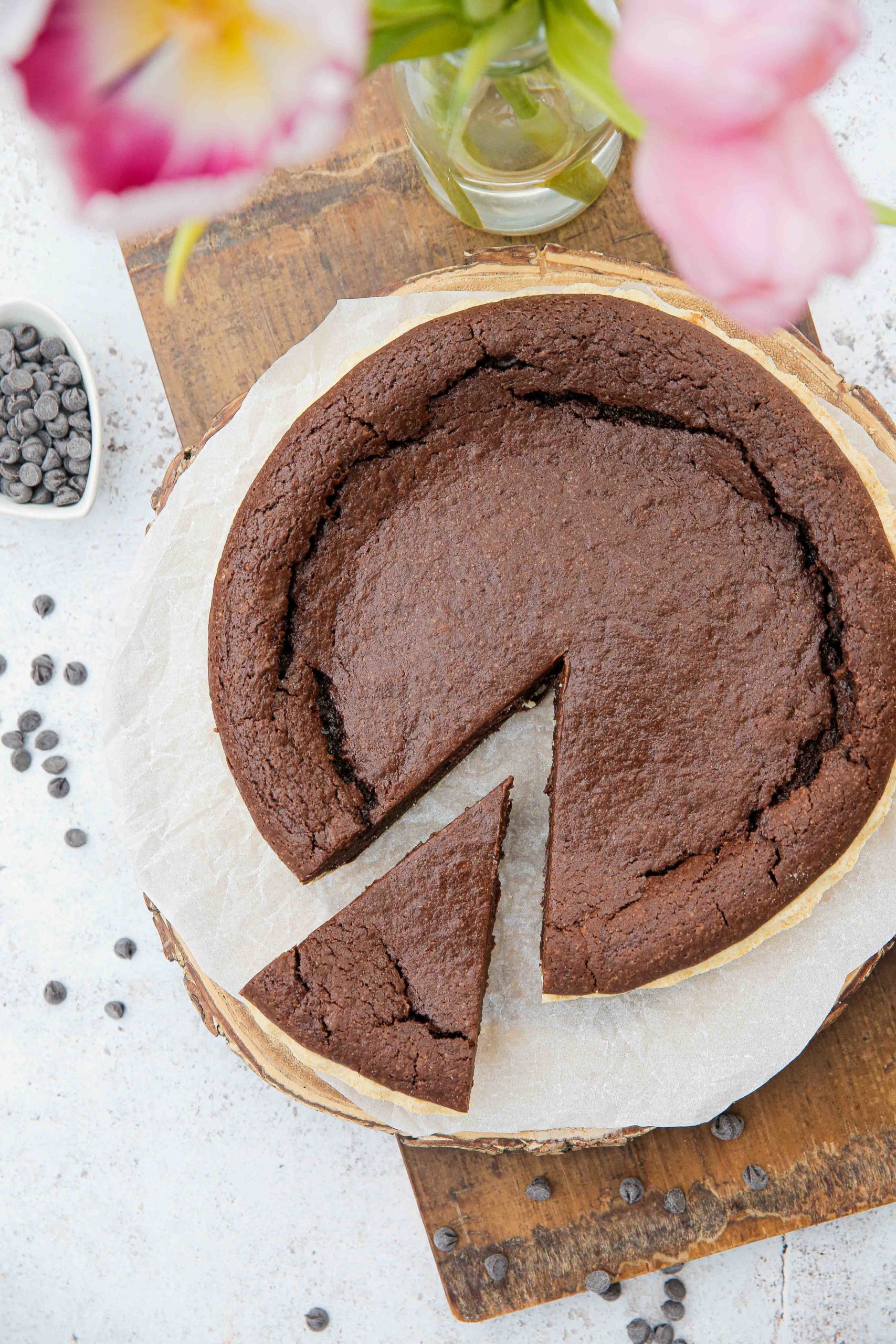 Posted in Recipes on 01.03.2023
Fudgy Chocolate Brownie Pie
prep: 30 mins / cook: 40 mins / inactive: 30 mins / total: 1 hour 40 mins / quantity: 12 slices Print recipe?
This vegan fudgy brownie pie is a really easy but impressive looking dessert and great for any occasion!
One of my all time favourite desserts is a brownie.  So easy to make vegan and lose absolutely none of that rich, chocolatey, fudgy quality.  And even though it's a simple thing, a really good brownie is a thing of beauty.  Turn a brownie into a brownie pie and I'm in dessert heaven!
The key to any brownie – or brownie pie – is to avoid over baking.  You want the filling cooked, but only just.  This gives that iconic fudgy texture we know and love.
Do I really need to blind bake the pastry case?
I know that all things pastry terrifies a lot of people.  But I'm here to walk you through the process, resulting in a buttery, flaky pie crust that's easy to make, easy to handle and won't shrink!
And because the crust takes longer to bake than the filling, it requires extra time in the oven. If you skip the blind baking step, the bottom of the crust will be doughy and/or raw.  All blind baking means is you're cooking, or par-cooking the pastry case prior to the filling being added.  If the filling just needs to set rather than also be cooked the pastry case will be cooked completely.  In the case of the filling needing cooking, like this brownie pie, we're going to part cook the pastry shell first.
An important step in pastry making is ample chilling.  This allows the dough to 'relax' so that it won't shrink when you bake it.  The chilled case is then lined with parchment and topped with dried beans/peas/rice or even reusable ceramic balls.  This prevents the pastry base from rising up and making air pockets while allowing it to partly cook before the filling is added and the whole lot is baked together.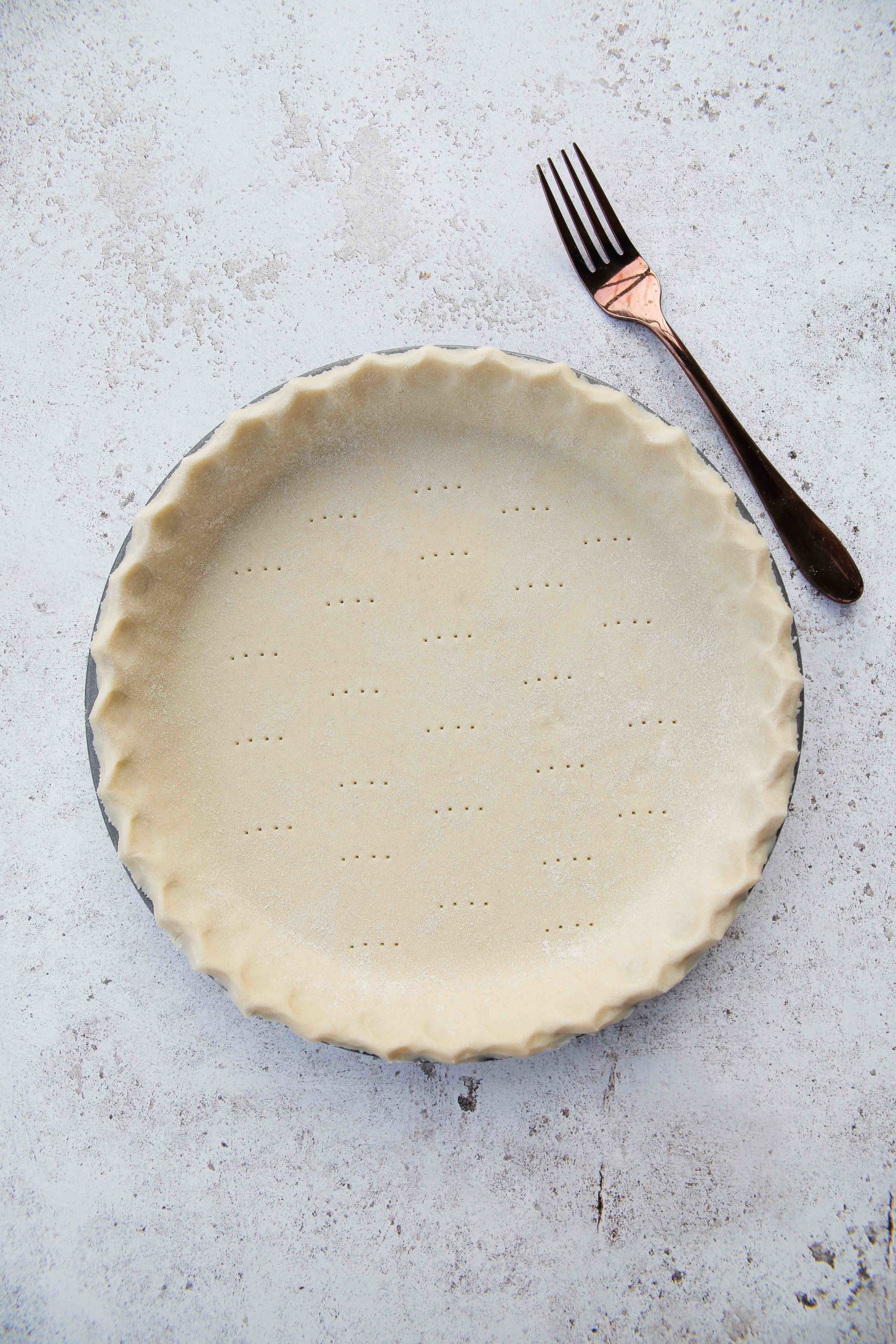 Let's talk brownie tart key ingredients:
Ground flax seeds – when mixed with water and allowed to thicken for a few minutes these serve as a substitute for eggs in vegan baking.
Chocolate – you want a good quality dark chocolate, around 70% cocoa.  Chocolate with this much cocoa will be slightly bitter but that's exactly what you want as we've plenty of sugar in the recipe.  The dark chocolate gives a richer and, well, more chocolatey flavour!
Cacao powder – I always use raw cacao powder in chocolate recipes.  It's far less processed than cocoa powder and has a much richer, more chocolatey flavour.  It contains no additional sugar or additives and it even has a few health benefits!  It IS more expensive than cocoa powder though, so bake according to your budget.  No recipe is ever set in stone 😉
Vegan butter – you want the block type butter ideally rather than the spread.  If you can get it, Flora Plant Butter is just lovely and perfect for both the pastry and filling.
Condensed milk – oh thank you Carnation for making a vegan version of your lovely condensed milk.  This is what gives the brownie pie its deliciously rich and fudgy texture and flavour.
How to make this brownie pie:
Start with the pastry.  If you have a food processor it's an absolute doddle but not that much harder if making by hand.  For the food processor version put the flour, salt, butter and sugar into the bowl with the S blade and whizz until the butter has been well mixed in.  Then add cold water, a little at a time until you have a soft but not wet dough.  Test with your fingers, you're looking for a squidgy, mouldable consistency.
If you're making the pastry by hand, use the ingredients for this recipe but follow the process here, adding the sugar once you've rubbed in the butter.
Roll the pastry out to fit a 25 cm (10 inch) loose bottomed tart tin, trimming off the excess.  It's up to you then if you want to crimp the edges of the pastry just to pretty it up a bit.  Prick all over the base with a fork.  Put the tin into the freezer for at least half an hour.
Preheat your oven then remove the tart tin from the freezer, cut or tear a piece of parchment to cover the base and sides of the pastry then cover the parchment with baking beans.  Bake for 10 minutes, remove the beans and parchment and bake for another 5 minutes.
To make the brownie filling mix the flax seeds with water and set aside.
In a large bowl stir together the flour, baking power, cacao powder and sugar.
Melt the chocolate and butter together then add to the bowl of dry ingredients along with the condensed milk, milk and flax water.  Stir everything together very well – it will be fairly thick – then tip into your part baked pastry case and smooth the top.  The top will rise and crack so no need to be too fussy with smoothing the surface.
Extra pie additions:
Here you could add a few things to your brownie pie.  I wanted to keep it plain but you can add
extra chocolate chips
nuts
broken pretzels
candied fruit
candy sprinkles
vegan gummies
crushed or broken cookies (think Oreo or Biscoff!)
Bake your pie in a preheated oven for 30-40 minutes.  Check after 30 – the top should be well risen and the centre just past the 'wobble' stage.  Return to the oven if the middle of the pie is still too soft or liquid.
Leave to cool for a few minutes before serving then store in an airtight container at room temperature or in the fridge.  It will keep longer in the fridge but is best served at room temp or even warm.  Yum 🙂
Serve with vegan cream and/or ice cream for one of the very best chocolate desserts.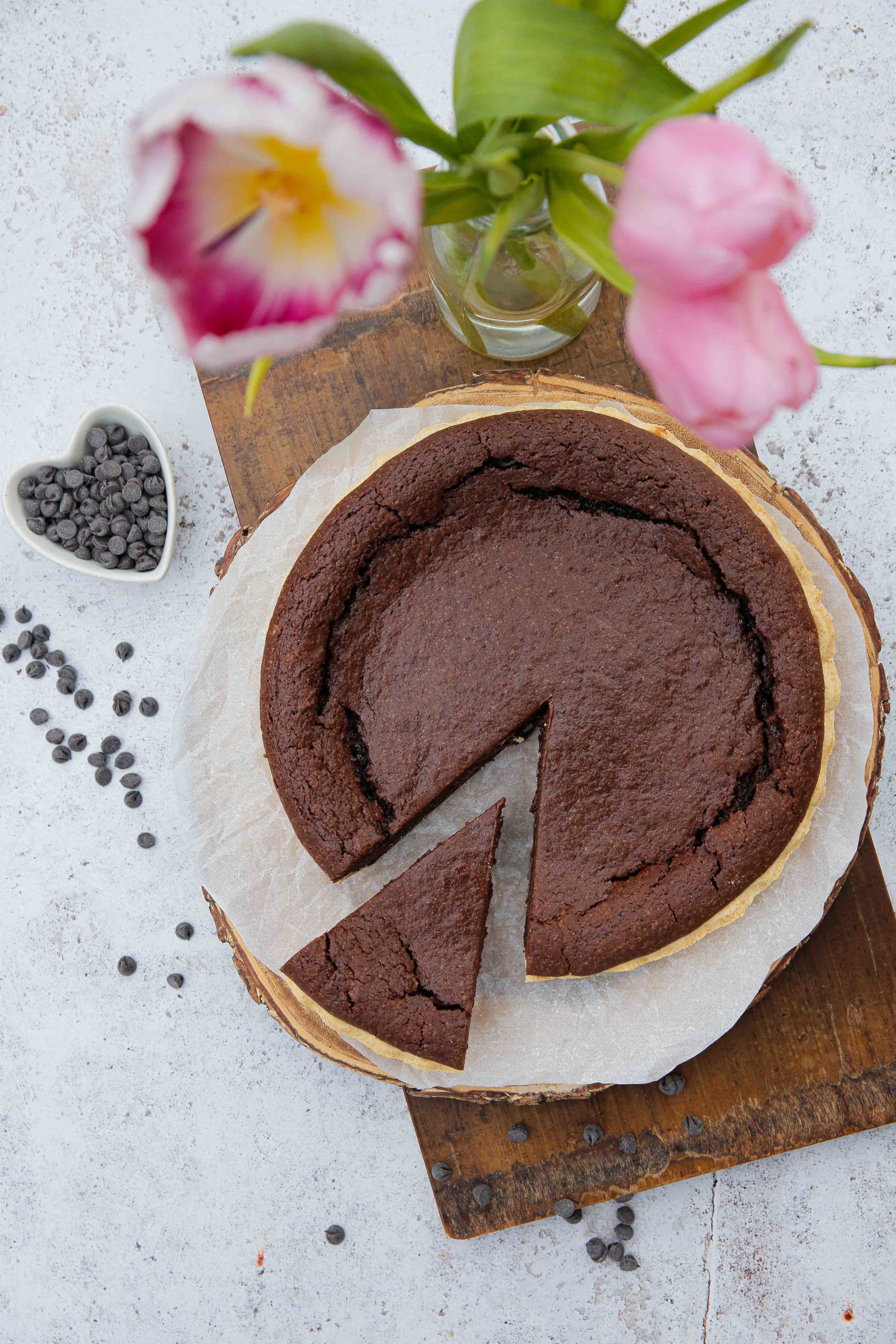 Looking for even more vegan chocolate desserts?  Try these:
No Bake Hazelnut and Chocolate Tart
Chai Spiced Cupcakes with Chocolate Buttercream
If you make this recipe or any of the recipes from The Cook & Him I'd LOVE to see! Just snap a picture and share it on Instagram using #thecookandhim and tagging @thecookandhim in the photo itself (as this guarantees I'll see your picture!
)
Don't forget to follow me on Facebook or Pinterest for even more recipe inspiration and chat, competitions, behind the scenes and so much more!
Fudgy Chocolate Brownie Pie
prep: 30 mins / cook: 40 mins / inactive: 30 mins / total: 1 hour 40 mins / quantity: 12 slices
Ingredients
Pastry:
2 cups (250g) plain flour
1/2 cup (110g) vegan butter
1/2 teaspoon salt
2 tablespoons caster sugar
3-4 tablespoons cold water
Brownie Pie Filling:
2 tablespoons ground flax seeds
1 + 1/3 cups (215g) plain flour
1 teaspoon baking powder
1/4 cup (30g) raw cacao powder
1 cup (160g) caster sugar
1 cup (370g tin) vegan condensed milk
1/2 cup (125ml) plant milk
200g vegan dark chocolate
1/4 cup (60g) vegan butter
Equipment:
food processor
25 cm (10 inch) loose bottomed tart tin
parchment
baking beans
Instructions
Start with the pastry - put the flour, butter, salt and sugar in a food processor with the S blade and whizz until all the butter has been well chopped
Add enough cold water to make a soft and pliable but not wet or sticky dough
On a lightly dusted surface roll the pastry dough out to a circle large enough to line your tin then use the rolling pin to lift the pastry over the tin
Use your hands to gently mould the pastry to the shape of the tin then trim off any excess pastry. Crimp the edges with your fingers or leave plain then prick all over the pastry base with a fork
Put the tin into the freezer for at least 30 minutes - pick up and hold the tin from the sides so you don't push on the loose bottom!
Preheat your oven to 160 Fan / 180 C / 350 F
Remove the tin from the freezer and cut or tear a piece of parchment big enough to cover the base and sides of the tart case. Lay the parchment onto the pastry and top with baking beans, spreading them out to cover the base of the pie
Bake for 10 minutes, remove the pie from the oven and lift out the parchment and beans and bake the pastry for a further 5 minutes
For the brownie filling, mix the flax seeds with 1/3 cup (80ml) cold water and set aside
In a large bowl stir together the flour, baking powder, cacao powder and sugar until well mixed
Melt the chocolate together with the butter in the microwave or over a pan of barely simmering water
Pour in the condensed milk, plant milk, flax and water and melted chocolate and butter and still well. It will be quite a thick batter
Tip the batter into your part baked pie crust and smooth the surface, no need to be too fussy as the top will rise and crack
Bake for 30-40 minutes - you want the middle of the pie to be just set
Allow to cool for a few minutes before removing from the tin and cutting into slices
Store in an airtight container at room temp or in the fridge but serve the pie warm or at room temp
Notes
Don't make the brownie filling until you're ready to actually put it in the part cooked tart base. It will thicken the longer it sits and will be difficult to spread into your tart case. Mix it up immediately before spreading into blind baked crust.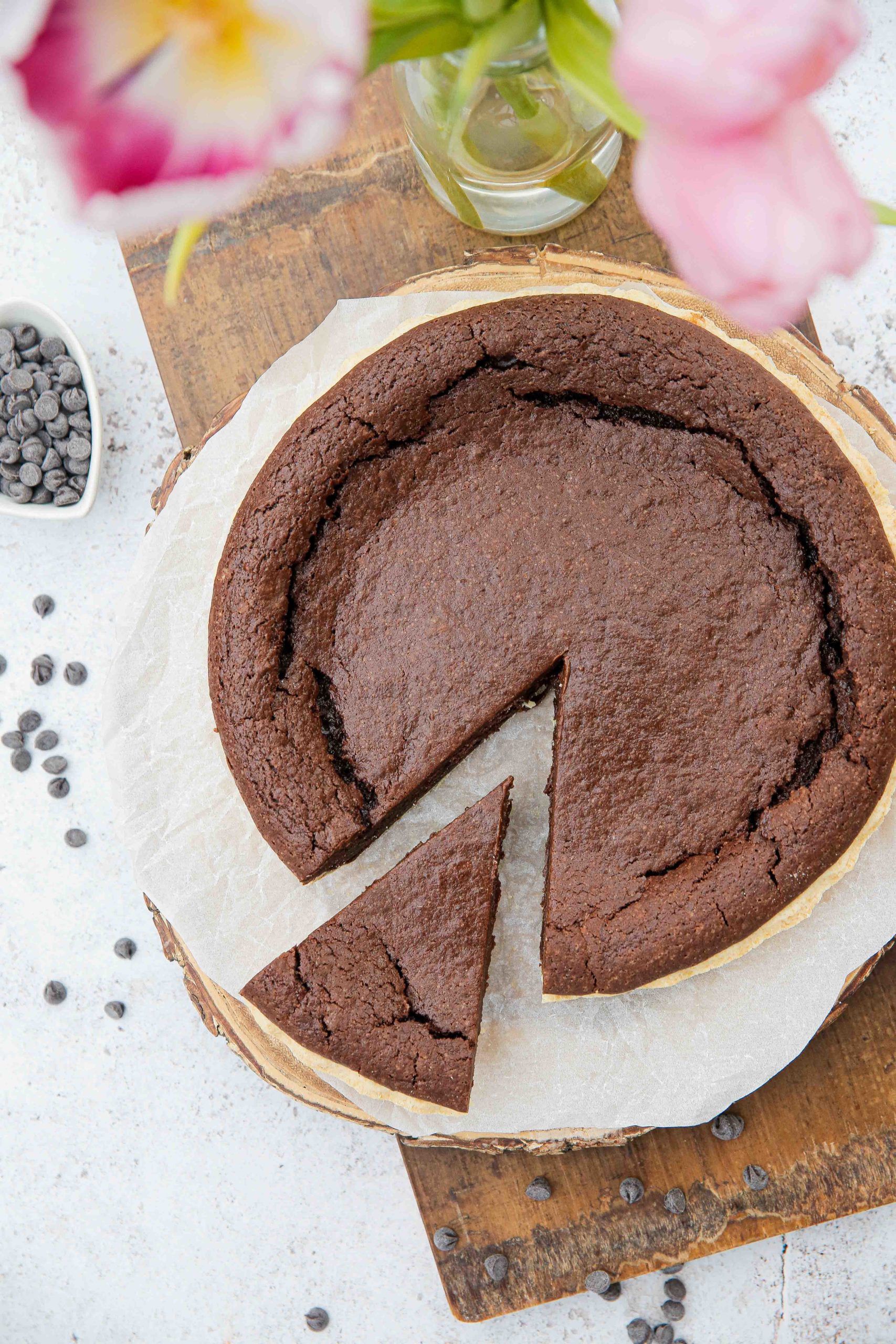 Hello and welcome to The Cook & Him.
We are Sam (The Cook), Phil (Him) and our little dog Nooch. What started with a plan to shed a few pounds back in 2016, soon became obvious that eating healthy doesn't have to be bland and boring.
So, combining Sam's 15 years of experience working within Michelin starred restaurants and our love for deliciously healthy food, we're creating recipes for you to make and enjoy. We've added our own unique spin on traditional and contemporary vegetarian and vegan recipes that keep you (and your pets!) healthy and full.  And we make sure they just work.
All things autumn - warming soups, savoury bakes and delicious sweet treats!
and I would like to see...
Or search for a recipe or post by keyword