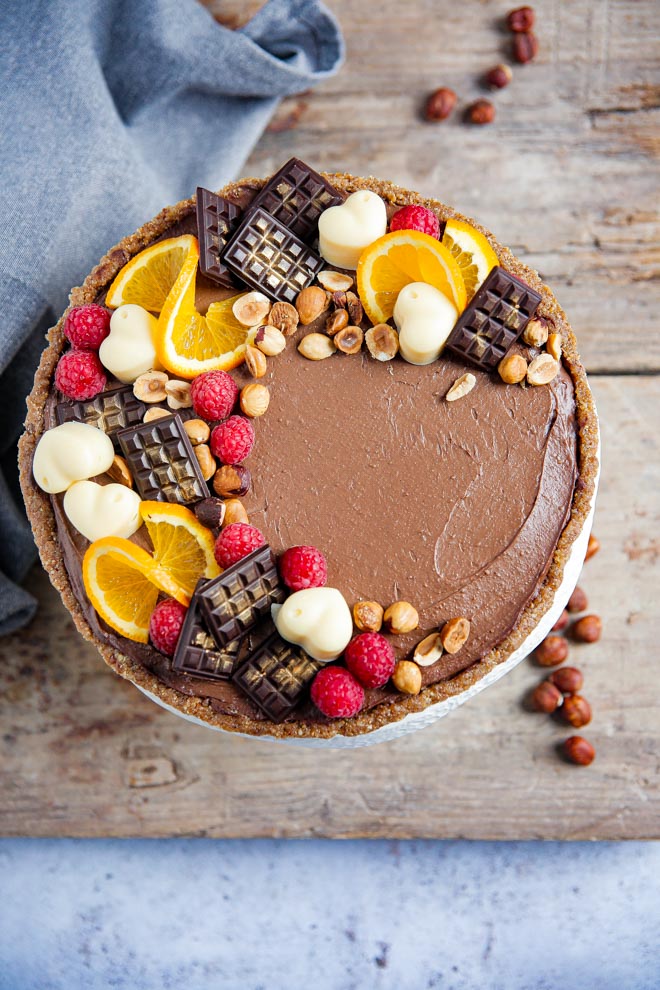 Posted in Recipes on 27.03.2021
No Bake Chocolate and Hazelnut Tart
prep: 30 mins / cook: 0 mins / inactive: 2 hours 0 mins / total: 2 hours 30 mins / quantity: 10 - 12 slices Print recipe?
This decadent no bake chocolate tart really does taste as good as it looks! It has a nutty base and a rich smooth filling, all with a vegan protein boost!
It's also SUPER easy to make.  Like SO easy (and quick) I decided to pimp the top of this no bake chocolate tart with all kinds of goodies!  You don't have to go that extra mile – this tart is everything it should be.  Rich, creamy, chocolatey.  Even without all the guff on top!  That's just for the photos.  So that you, dear reader, will make and love this just as much as we do.
First time I made this chocolate tart it was for Saturday Date Night.  Do you do date night?  It's not really a regular thing in our house.  I think Phil was just missing going out for a meal.  So he wanted to cook (he made tear and share bread which we had with salad) and I made dessert and chose the film.  I hadn't realised it was meant to be romantic so he was a bit stunned at my film selection of Zero Dark Thirty.  In my defence he hadn't specified anything other than it needed to be a good film and it didn't matter how old it was!  (My original choice was actually Seven!)
Anyhoo …
Let's talk vegan protein.
"What the heck does vegan protein have to do with a decadent chocolate tart" you might ask.  Well, I've incorporated Alpha Foods vegan protein powder to both the base and the filling.  We recently added them to our Vegan Protein Powder Review.  They're a lovely company with a great ethos (no artificial ANYTHING) and their powder was so nice as a drink on its own.
I've been a bit slacking with looking after myself lately.  The constant quest to eat better is a daily challenge.  I don't work well on a full stomach so when I've got a busy day in the kitchen (which is most days) I tend to skip breakfast then compensate later in the day with a carb overload.  And bits of me are suffering.  Brittle nails, dull skin, tired, twitchy eyes.  So I thought why the heck not put an extra scoop of health into this delicious chocolate tart.  I'm not saying the tart itself is healthy but with the only other ingredients being nuts, dates, tofu, plant milk, almond butter, tahini, agave syrup and lots of chocolate there are some health benefits.  It's refined sugar free, good fats in the nuts, almond butter and tahini, iron in the tofu, and antioxidants in the dark chocolate.  The protein powder just helps ramp those health benefits up a little!
And sometimes don't you just need a little something that's good for the soul?  The nutty base is delightfully just sweet enough and the filling is like the richest, best chocolate ganache.  Silken tofu is just wonderful – from creamy, lemon and basil pasta sauce to this, dare I say it, divinely sinful no bake tart.
How to make a really simple no bake tart:
Start with the base.  Simply whizz the nuts, dates and protein powder.  You want the mixture to look a little like fine sand and when you pinch it together between your fingers it holds its shape.  Spend a few minutes pressing this mixture into your tin, covering the base and pushing it up the sides.  Pack it really well down.  I start with my fingers, getting it as even as possible then use the bottom of a glass to really push it down.  Put the base in the fridge or freezer while you prepare the filling.
Melt the chocolate.  Do this in the microwave in small bursts to prevent it burning or in a dish set over a saucepan of barely simmering water.  Once the water starts to bubble turn the heat off and allow the heat of the bowl to melt the chocolate.
Blend together the remaining filling ingredients.  This is the tofu, hazelnut milk, tahini, almond butter, agave syrup and protein powder.  Then whizz in the melted chocolate.  You can use a blender or a food processor, they both do the job equally well.  The mixture is quite thick, especially once you've added the chocolate and I just find it easier to scrape the mixture out of a food processor!
Pour the filling into the base.  And leave it to set in the fridge.  This should only take a couple of hours for you to get lovely slices from your freshly made no bake chocolate tart!
If you want to go to town with the topping you can pretty it up as much as you like.   Fresh fruit is a lovely contrast to the rich chocolate and orange and raspberry are classic chocolate combinations!  I also made those cute little mini chocolate bars the same way as these Honey Flavoured Chocolate Bars using silicon moulds. The chocolate hearts are just melted vegan white chocolate (Tesco do a great dairy free white chocolate that melts like a dream!) also set in a silicon candy mould.
I'd love to hear from you if you make this Vegan No Bake Chocolate and Hazelnut Tart! Just leave a comment as it's so helpful and I love to hear how the recipe worked out for you! Thank you so much!
Don't forget to follow us on YouTube, Facebook or Pinterest for even more recipe inspiration and chat, competitions, behind the scenes and so much more!
No Bake Chocolate and Hazelnut Tart
prep: 30 mins / cook: 0 mins / inactive: 2 hours 0 mins / total: 2 hours 30 mins / quantity: 10 - 12 slices
Ingredients
Tart Base:
140g whole hazelnuts
65g pecan nuts
80g cashew nuts
240g dates (pitted weight)
Tart Filling:
230g dark dairy free chocolate
350g silken tofu
120ml dairy free hazelnut milk
70g almond butter
70g tahini
 2 tblsp agave or maple syrup
Optional Toppings:
Fresh raspberries
Orange slices
Toasted hazelnuts
White chocolate hearts or truffles
Equipment:
Food processor or blender
Instructions
If you have hazelnuts with the skin on you'll need to toast them in the oven first. Cook for 15 minutes at 180 Fan / 200 C / 400 F / Gas 6. Remove from the oven and leave to cool for a few minutes before rubbing between your hands to remove the skin
Put the peeled hazelnuts into a food processor with the pecans, cashews and protein powder and whizz until very finely chopped
Add the dates and whizz till the mixture starts to stick together. It's ready when you can press it between your fingertips and it holds its shape. This may take a minute or two unless you have very fresh, sticky dates!
Tip into a 10 inch (25 cm) loose bottomed tart tin and press to cover the base and sides. Take some time and care over this - make sure to push it into the corners and crevices - I also use the bottom of a glass to help push the crumb to the edge and flatten the base
Put the tin into the fridge or freezer while you make the filling
To make the filling start by melting the chocolate in the microwave or in a bain-marie (a bowl set over a pan of barely simmering water)
Put the tofu, milk, almond butter, tahini, agave and protein powder into a blender or food processor and whizz until smooth
Pour in the melted chocolate and whizz again until just incorporated
Tip the mixture into the tart case, smooth the top and put the tart in the fridge for at least two hours to set
Serve topped with fresh fruit, mini homemade chocolate bars, truffles and extra toasted hazelnuts
Notes
Place the tin onto a large tray or something flat to help transport the pie in and out of the fridge!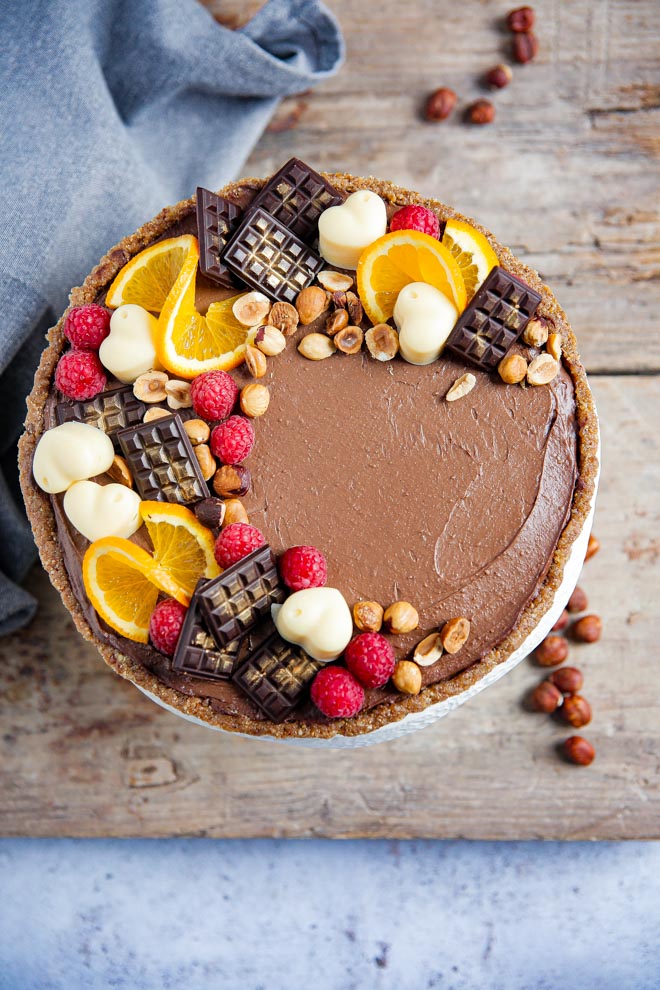 Hello and welcome to The Cook & Him.
We are Sam (The Cook), Phil (Him) and our little dog Nooch. What started with a plan to shed a few pounds back in 2016, soon became obvious that eating healthy doesn't have to be bland and boring.
So, combining Sam's 15 years of experience working within Michelin starred restaurants and our love for deliciously healthy food, we're creating recipes for you to make and enjoy. We've added our own unique spin on traditional and contemporary vegetarian and vegan recipes that keep you (and your pets!) healthy and full.  And we make sure they just work.
All things autumn - warming soups, savoury bakes and delicious sweet treats!
and I would like to see...
Or search for a recipe or post by keyword