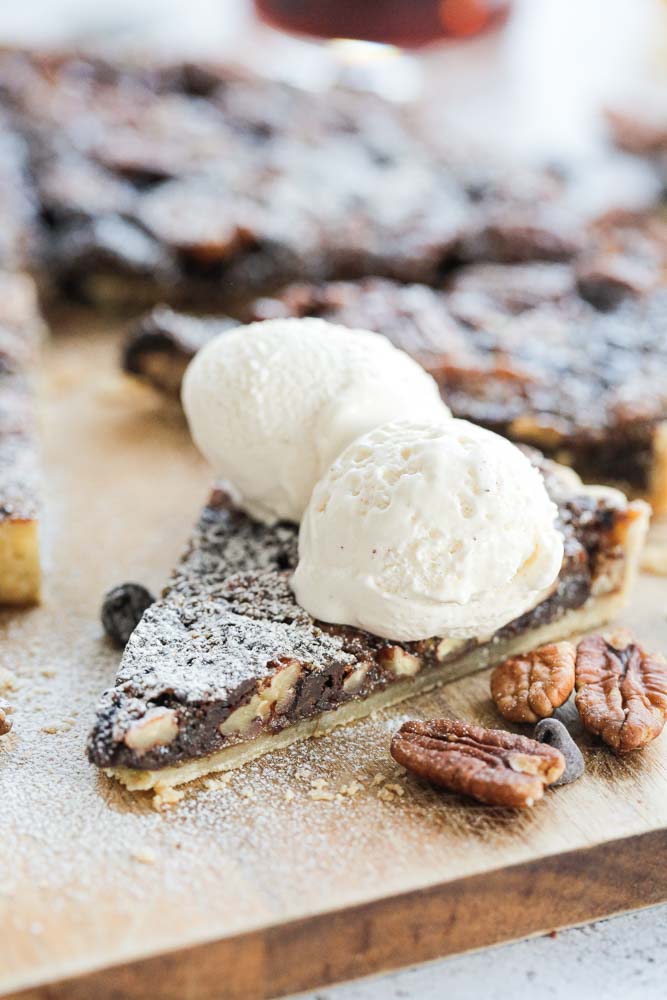 Posted in Recipes on 04.10.2021
Bourbon Chocolate Pecan Pie
prep: 20 mins / cook: 40 mins / inactive: 30 mins / total: 1 hour 30 mins / quantity: 8-10 slices Print recipe?
Sugary and buttery but not overly sweet this chocolate pecan pie is made with a dash of bourbon and a homemade pie crust. It's sticky, gooey, just as good cold as it is fresh from the oven and is a richly decadent end to any meal!
Do you have a favourite dessert?  I gravitate to anything chocolate normally.  Phil is less fussy.  As long as it's sweet and there's more than one portion of it he's happy.  But this chocolate pecan pie, with a hint of bourbon is just about everything you want from a dessert.
It's miles apart from these (gluten free) pecan pie bars.  They're a little bit healthier and they have more of a caramel flavour than this chocolate pecan pie.  This pie is all about the chocolate and bourbon giving that little something extra to gorgeous nutty pecans.  We both love pecans.  Well all nuts actually.  I've got jars, pots and tubs of nuts everywhere.  Two nuts even take up permanent residence on our sofa 😉
Pecan pie is a really easy pie to make.  The filling is a sweet, gooey concoction to which you add the nuts, chocolate and bourbon.  You can make your own pie crust or use shop bought.  I never make my own puff pastry, the stuff you can buy is pretty great.  But I find bought shortcrust pastry to be a little bland.  Making pastry at home is super simple, especially if you have a food processor.  Just put the flour, (vegan) butter and salt into the bowl with the S blade and whizz to breadcrumbs.  Add just enough liquid with the blade spinning to form a soft but not sticky dough.
A little Pastry Secret:
Lots of pie/tart recipes call for the pastry to be rested and baked blind.  You can eliminate BOTH of these steps with a simple trick.  Roll out the pastry to fit your pie tin as soon as you've made it, poke plenty of holes with a fork all over the base then pop the tin in the freezer.  I've found this eliminates the need to rest the pastry before rolling – which in turn prevents shrinking – as well as the need to faff about with beans/sugar/rice to blind bake the pie.
The Chocolate Pecan Filling:
Corn syrup or glucose syrup is what gives traditional pecan pie it's sweet, gooey texture.  I've also added a little extra light brown sugar to give more of a caramel flavour to the baked pie.  Using dark chocolate is important because first, it's generally dairy free anyway, and milk chocolate (even vegan milk type chocolates, oh thank you NOMO) will make the chocolate pecan pie far too sweet.  The dark chocolate adds just enough bitterness without losing any of the sweet.  You can use dark chocolate bars chopped into chunks or chocolate chips. I opted for chunks because there's nothing quite like finding a chunk of partially melted, ooey gooey chocolate in your pecan pie!
Looking for more vegan chocolate dessert recipes?  Try these:
No Bake Chocolate and Hazelnut Tart
Blackcurrant Cheesecake Brownies
I'd also love to hear from you if you make this vegan Bourbon Chocolate Pecan Pie! Just leave a comment as it's so helpful and I love to hear how the recipe worked out for you! Thank you so much!
Don't forget to follow us on YouTube, Facebook or Pinterest for even more recipe inspiration and chat, competitions, behind the scenes and so much more!
Bourbon Chocolate Pecan Pie
prep: 20 mins / cook: 40 mins / inactive: 30 mins / total: 1 hour 30 mins / quantity: 8-10 slices
Ingredients
Pastry:
1 + 1/2 cups (200g) plain flour
1/2 cup (120g) vegan butter
1/2 tsp salt
3-5 tblsp cold water
Filling:
4 tblsp ground flax seeds
6 tblsp cold water
1/2 cup (140g) glucose syrup or corn syrup
1/2 cup (90g) light brown sugar
1 tsp vanilla
1/3 cup (80ml) bourbon whiskey
1/2 tsp salt
1/4 cup vegan butter – melted
1 cup (100g) dark, dairy free chocolate – chopped into chunks or chocolate chips
1 cup (120g) pecans
Instructions
To make the pastry put all the ingredients except the cold water into a food processor and whizz till it becomes fine breadcrumbs. If you're making this by hand rub the butter into the flour and salt until no lumps of butter remain
Add enough cold water to make a soft but not sticky dough
Roll out the pastry on a floured surface until it's just larger than your tin then carefully lift into the tin using the rolling pin
Ease the pastry into the tin, pushing into the fluted edges (if your tin has them). Cut off the excess pastry (see note) then prick all over the base with a fork
Put the tin into the freezer for at least 30 minutes
Preheat your oven to 160 Fan / 180 C / 350 F / Gas 4, put the frozen tart case onto a baking tray then bake for 20 mins until just crisp.
While the pastry is baking mix the ground flax seeds with the water and set aside to thicken
Put the glucose syrup into a large bowl then whisk in the sugar, vanilla, bourbon, salt and melted butter
Stir in the chocolate and pecans
Remove the part baked tart case from the oven and pour in the filling
Return the chocolate pecan pie to the oven and bake for a further 35-40 minutes until bubbling and just starting to set. It will set and harden more upon cooling
Allow to cool for around half an hour before cutting into slices. Serve warm with vegan vanilla ice cream or whipped cream
Store any completely cooled leftovers in an airtight container at room temperature or in the fridge
Notes
Roll out and bake any pastry trimmings - dogs and garden birds love them in small quantities!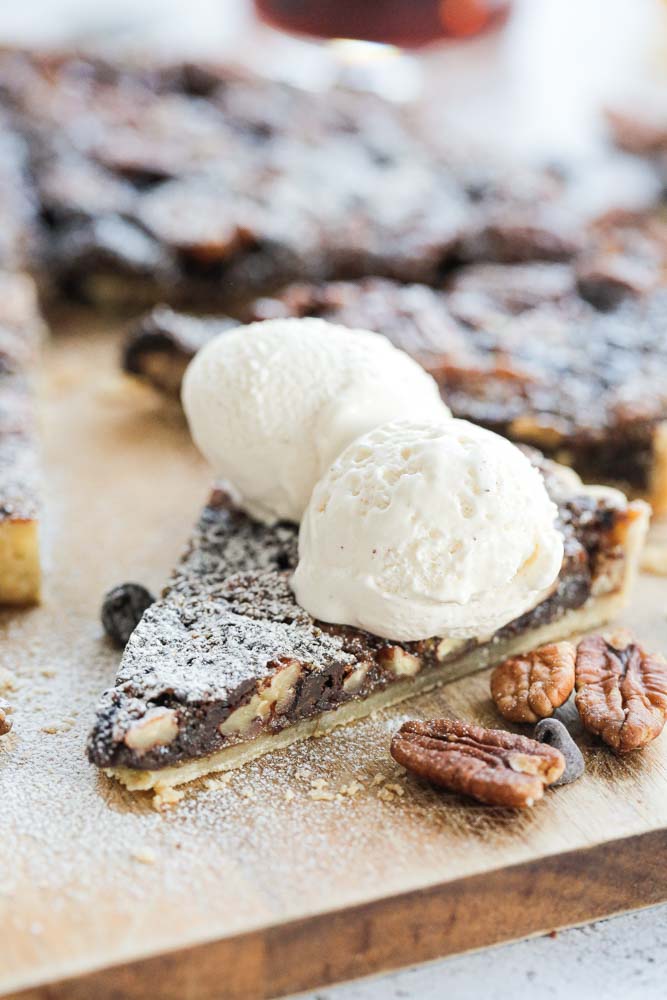 Hello and welcome to The Cook & Him.
We are Sam (The Cook), Phil (Him) and our little dog Nooch. What started with a plan to shed a few pounds back in 2016, soon became obvious that eating healthy doesn't have to be bland and boring.
So, combining Sam's 15 years of experience working within Michelin starred restaurants and our love for deliciously healthy food, we're creating recipes for you to make and enjoy. We've added our own unique spin on traditional and contemporary vegetarian and vegan recipes that keep you (and your pets!) healthy and full.  And we make sure they just work.
All things autumn - warming soups, savoury bakes and delicious sweet treats!
and I would like to see...
Or search for a recipe or post by keyword