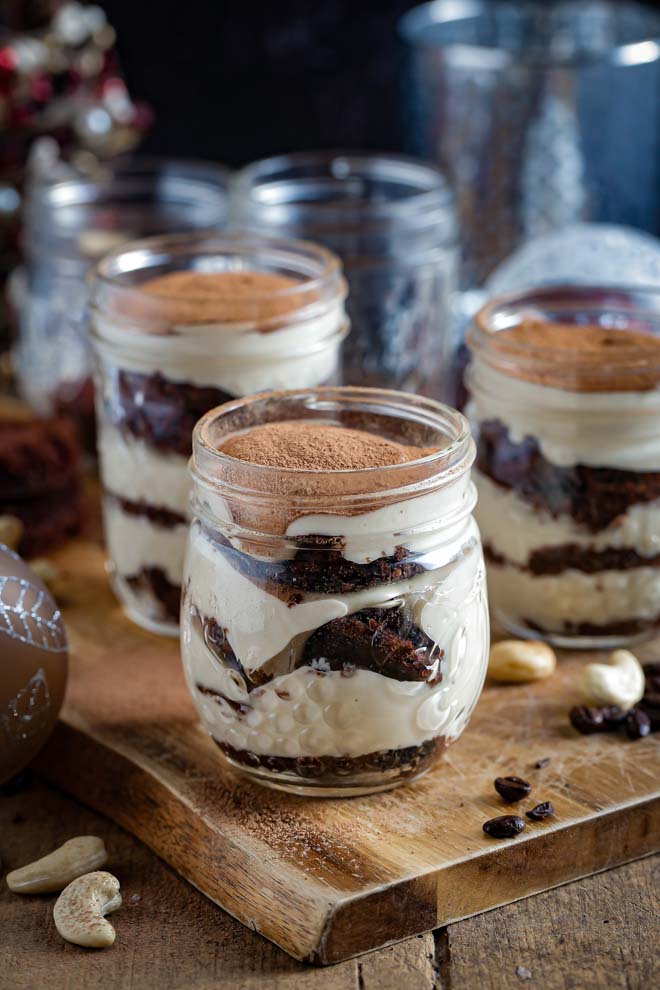 Posted in Recipes on 02.01.2021
Vegan Tiramisu
prep: 30 mins / cook: 30 mins / inactive: 2 hours 0 mins / total: 3 hours 0 mins / quantity: 6 small glass jars Print recipe?
This vegan tiramisu is the perfect dessert for coffee lovers! It combines fluffy vegan chocolate cake spiked with coffee essence, a creamy cashew 'mascarpone' all topped off with a generous dusting of cacao powder. It's rich, creamy and utterly delicious!
I hadn't really anticipated how easy it would be to convert this classic Italian dessert to fully vegan.  In my opinion tiramisu isn't a dessert that should be scrimped on.  It should be rich, decadent and creamy.  It should make you plop your spoon in the bowl when you're done with a smile of true satisfaction.
I'm not going to lie this vegan dessert takes a little bit of think ahead preparation BUT it is REALLY simple to put it all together when you're ready.  The chocolate cake can be made way in advance and kept in the fridge or freezer.  And I normally like to use a really good coffee for this but with this amazing coffee essence from Foodie Flavours you can adjust just how much coffee flavour you impart into this tiramisu!  I've used some in the chocolate cake and also used more in the syrup used to soak the sponges.
Like all of Foodie Flavours natural flavourings and essences, it has a wonderfully intoxicating smell right out of the bottle and gives such rich and intense flavour to whatever you add it to.  I made this dessert again for Christmas and it was the perfect way to finish off the day's festivities.  Not counting a sneaky mince pie or two later of course.
How was your Christmas?  How different was it this year to any previous years?  Ironically this was the first Christmas Day we didn't spend at home.  Normally we usually have a large family get together at our house just before Christmas then spend Christmas Day with just the two of us since my mum and dad died.  And it's a little melancholy to be honest.  I LOVE Christmas but it's not all about the day itself.  It's how everything is a bit more sparkly.  It's about the food, the smells and meeting up with family and friends we've not seen for a while.
So this year we did it a little differently and spent Christmas Day with Phil's brother and his fiancé.  Ate too much, laughed a lot and came home with some lovely presents.  Really thoughtful gifts.   By the way I can definitely recommend the vegan sleekster from Hotel Chocolate.  SO YUM.
What did you good folks get up to?  Did you get to spend anytime with family or friends?
How to make a vegan tiramisu:
Make the chocolate cake.  You can make this days or even weeks in advance and keep in the fridge or freezer till you need it.  And this chocolate cake recipe really couldn't be any easier.  No eggs, no dairy and so simple.  It takes literally 10 minutes to make then pop in the oven for 30.   Leave it to cool before using it for the tiramisu as you'll be cutting it and it's way easier to cut when it's chilled.  I added an extra 20 drops to the base recipe as one of the other great things about Foodie Flavours essences is that you can add a lot of flavour to anything without altering the finished product.
Soak the cashews.  You can do this overnight in cold water or only an hour before assembly by putting them in boiling water and leaving to cool.
Make the soaking syrup.  This is just some sugar dissolved in some hot water and a few drops of coffee flavouring. This is sort of optional.  I prefer a soaked sponge in my vegan tiramisu to an unsoaked one.  It makes the sponge softer and mixes better with the creamy vegan mascarpone layer as you're plunging in with your spoon.
Make the vegan mascarpone.  This is as simple as whizzing the cashews in a blender with some agave syrup, a little coconut oil, some vegan cream or non-dairy milk and a dash of Gorilla Vanilla.  If you can get it I definitely recommend cream over milk.  You can use coconut milk if you'd prefer but I love the single creams from Alpro or Oatly.  I know it's been a while since I had dairy cream but I honestly can't taste the difference!
Pour the mascarpone into a piping bag.  As I'm using the smaller jars it just makes it so much easier to pipe the cream into the jars rather than try and pour it in.
Start layering.  Cut the cake in half like you would for a sandwich cake then cut circles out of the 2 pieces of cake using a cutter that fits your glasses or jars.  You want 2-3 layers of sponge per glass so for 6 servings you'll need 12-18 discs.  Of course if you use bigger glasses you'll get less portions!  I love these handy little glass jars – they are the taller ones which are roughly the same size in terms of capacity as the dumpy ones I've also used (which are no longer available).  I use them for everything from dinky little strawberry parfait desserts to storing homemade vegan mincemeat!
Dip the sponge into the syrup if you're using.  Then put one disc in the bottom of each glass.  Pipe the mascarpone in to come 1/3 up the glass then repeat the layers with the remaining sponge, ending in a layer of mascarpone.
Liberally dust the top with cacao powder.  I've used organic cacao powder because it has a much richer and less processed flavour than cocoa powder.  It's a little bit more expensive but worth it I think.  It lasts for ages and I find you need less in a recipe for a thoroughly unctuous chocolate flavour!  I've used the same cacao powder in the chocolate cake as it's so versatile!  It also makes divine hot chocolate 😉
Leave to set a little in the fridge.  Ideally overnight but they should be reasonably well set after a couple of hours.  A lot of non-vegan tiramisu is made with gelatin and can be a tad rubbery.  Instead these are smooth, creamy perfection!  It was a struggle to share them at Christmas!
I'd love to hear from you if you make this Vegan Tiramsu recipe! Just leave a comment as it's so helpful and I love to hear how the recipe worked out for you! Thank you so much!
Looking for more decadent desserts?  These are some of our thoroughly tried and tested favourites  (all vegan too!) …
Don't forget to follow us on YouTube, Facebook or Pinterest for even more recipe inspiration and chat, competitions, behind the scenes and so much more!
Vegan Tiramisu
prep: 30 mins / cook: 30 mins / inactive: 2 hours 0 mins / total: 3 hours 0 mins / quantity: 6 small glass jars
Ingredients
Chocolate Cake:
Vegan Mascarpone:
Syrup:
Equipment:
Instructions
Start by making the cake - preheat your oven to 160 Fan / 180 C / 350 F / Gas 4. I used a non-stick tin so I swished in some vegan margarine to coat all sides then dusted with flour, shaking out the excess. I also put a square of parchment in the bottom
In a large bowl mix together the flour, sugar, cacao powder and bicarbonate of soda
In a small bowl or jug whisk together the water, milk, oil, coffee essence and vinegar
Add the wet ingredients to the dry ingredients and mix together. It's quite a loose mix so mix well with a spatula, scraping up from the bottom of the bowl to catch any flour 'pockets'
Pour into your prepared tin and bake for 30 minutes or until a cocktail stick inserted in the centre comes out clean
Leave to cool for a few minutes before turning out onto a wire cooling rack and allowing to cool completely before frosting then leave to cool for about an hour
While that's cooling put the cashews into a heatproof bowl, cover with boiling water and set aside to cool for an hour
Mix together the syrup ingredients and set that aside too
When you're ready to assemble drain the cashews from the water and tip into a blender cup with the remaining mascarpone ingredients. Whizz until smooth then tip into a piping bag (this makes it easier than pouring into your glasses
Cut the cake in half across the middle like you would a sandwich cake then use a cutter to cut discs of cake. You want 2-3 layers of sponge per glass. The size of cutter will depend on the size of your glass! These are quite rich desserts so you won't want to use huge glasses or jars!
One by one dip a disc of cake into the syrup then drop into the bottom of your 6 glasses
Pipe a layer of the mascarpone mix and repeat with 1-2 more layers of sponge, finishing with a layer of mascarpone
Use a tea strainer or cocoa dredger to dust the top completely with cacao powder
Put in the fridge to chill for ideally a couple of hours but preferably overnight. They will also keep really well chilled for up to a week
Notes
If you have time, you can make the chocolate cake days or even weeks in advance and keep in the fridge or freezer until needed. Don't forget to defrost it though!
You can use any cake trimmings to make up the layers in your tiramisu or squidge into balls, freeze for about half an hour then dip in melted chocolate to make delicate little truffles!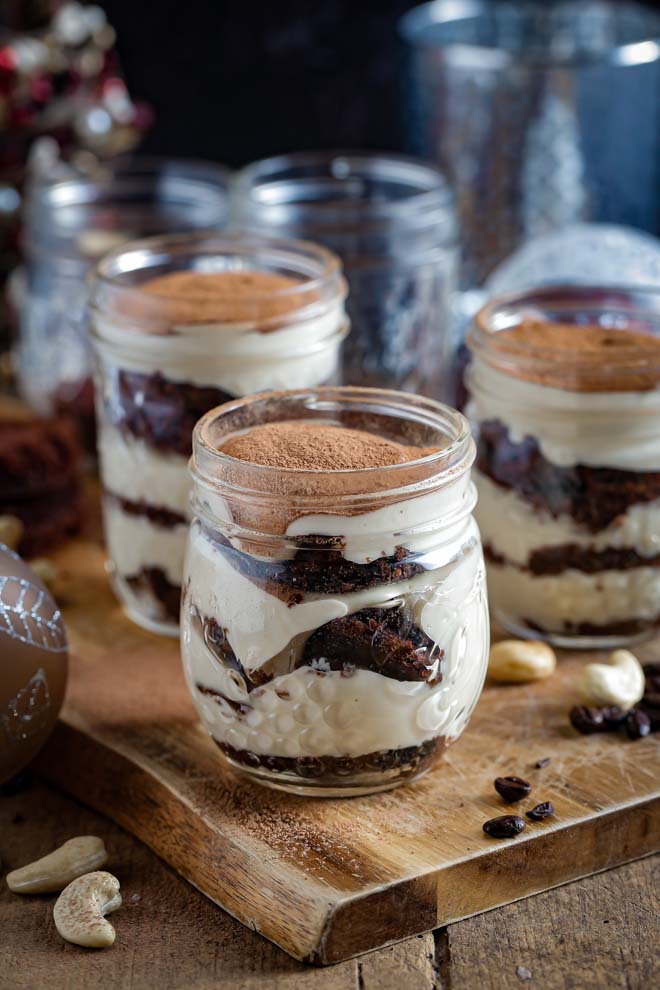 Hello and welcome to The Cook & Him.
We are Sam (The Cook), Phil (Him) and our little dog Nooch. What started with a plan to shed a few pounds back in 2016, soon became obvious that eating healthy doesn't have to be bland and boring.
So, combining Sam's 15 years of experience working within Michelin starred restaurants and our love for deliciously healthy food, we're creating recipes for you to make and enjoy. We've added our own unique spin on traditional and contemporary vegetarian and vegan recipes that keep you (and your pets!) healthy and full.  And we make sure they just work.
All things autumn - warming soups, savoury bakes and delicious sweet treats!
and I would like to see...
Or search for a recipe or post by keyword