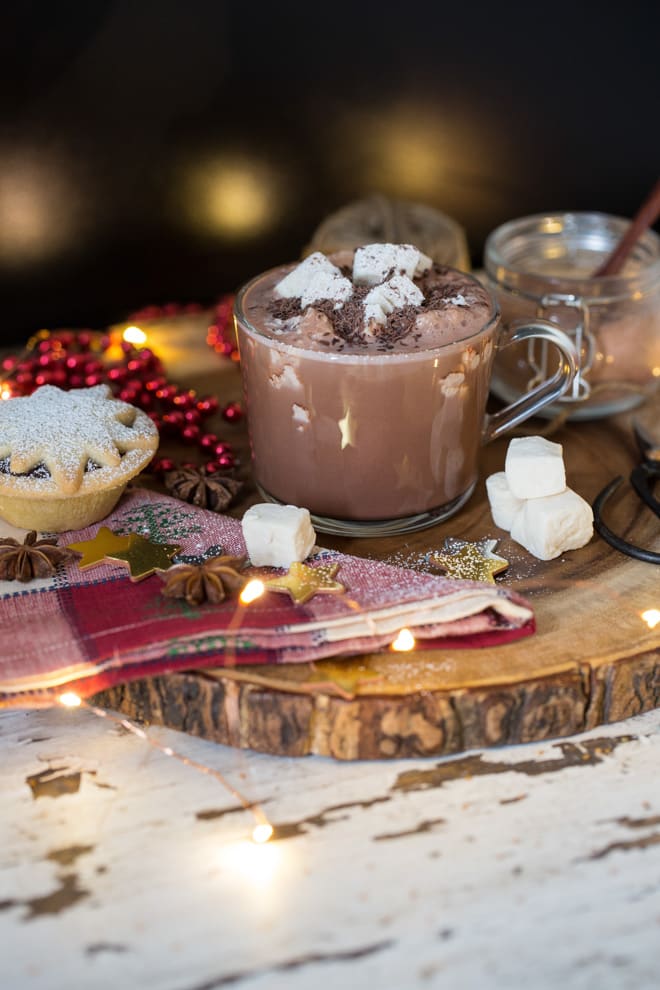 Posted in Recipes on 13.12.2017
Gingerbread Hot Chocolate
prep: 5 mins / cook: 5 mins / inactive: 0 mins / total: 10 mins / quantity: 1 mug Print recipe?
I may have gone a bit overboard this year with gingerbread EVERYTHING.  If it didn't move, I flavoured it with gingerbread spices.  It all started with these Gingerbread Cookies.  Quickly followed by this Gingerbread Granola.  And most recently some Chocolate and Gingerbread Quinoa Puffs.
But I look forward to so many things when the weather gets colder – the changing colours, candles, twinkly lights and of course hot chocolate.  For years we had the "add 3 heaped teaspoons to a cup of boiling water" type of hot chocolate and even though some brands may only be 40 calories per mug is it healthy?
There are so many reasons to make your own Gingerbread Hot Chocolate though.  It's 100% delicious, YOU control what goes in it and is just as quick to make as the packet/jar variety.
First let's talk about the spices …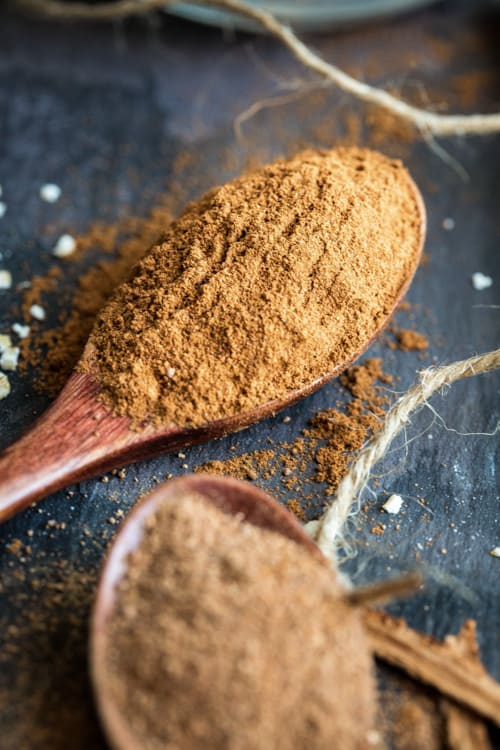 – Ginger.  Absolutely fantastic for helping fight of seasonal germs as well as being great for digestion and nausea
– Nutmeg.  Another one great for digestive health as well as giving your skin a seasonal glow and helping you sleep
– Cinnamon.  High in antioxidants, helping heart health and diabetes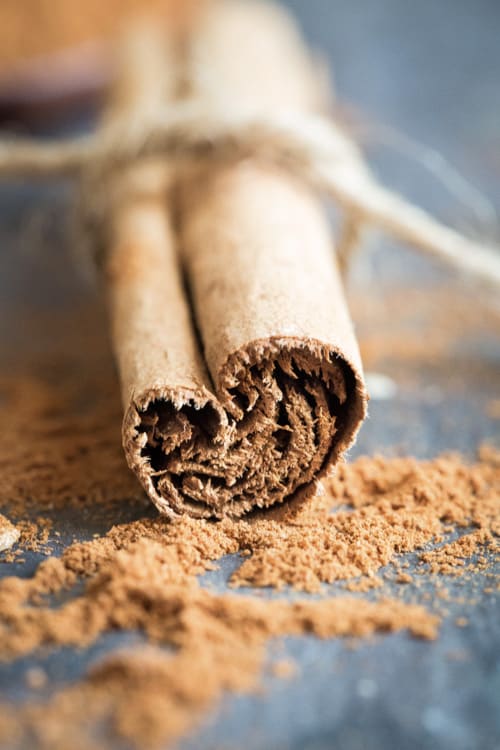 The health benefits don't stop there though …
– Raw cacao powder.  Hugely high in antioxidants, raw cacao powder is usually free from dairy, refined sugar and any other additives but is exceptional in taste and quality.
– Almond milk.  An obvious choice for vegans and those with lactose intolerance it also contains 50% less calories than cow's milk and being dairy free means it also contains no cholesterol.
And lastly a flourish of whipped coconut cream and Ananda's Vegan Madagascan Vanilla Marshmallows.  No health benefits, I'm just still flabbergasted that there's such a thing as vegan marshmallows!!
This mix is SO easy to just increase and keep some in a jar for those Gingerbread Hot Chocolate emergencies .  The kids/cat/dog has pulled the tree over.  Arguments over who put the lights away in a tangled mess last time.  The impending panic of what to buy the person who already has flipping everything (I'm looking at ALL the men here ?).  Just pull out a saucepan, a whisk, your favourite mug and shut the world out for a few moments of gingerbready heaven.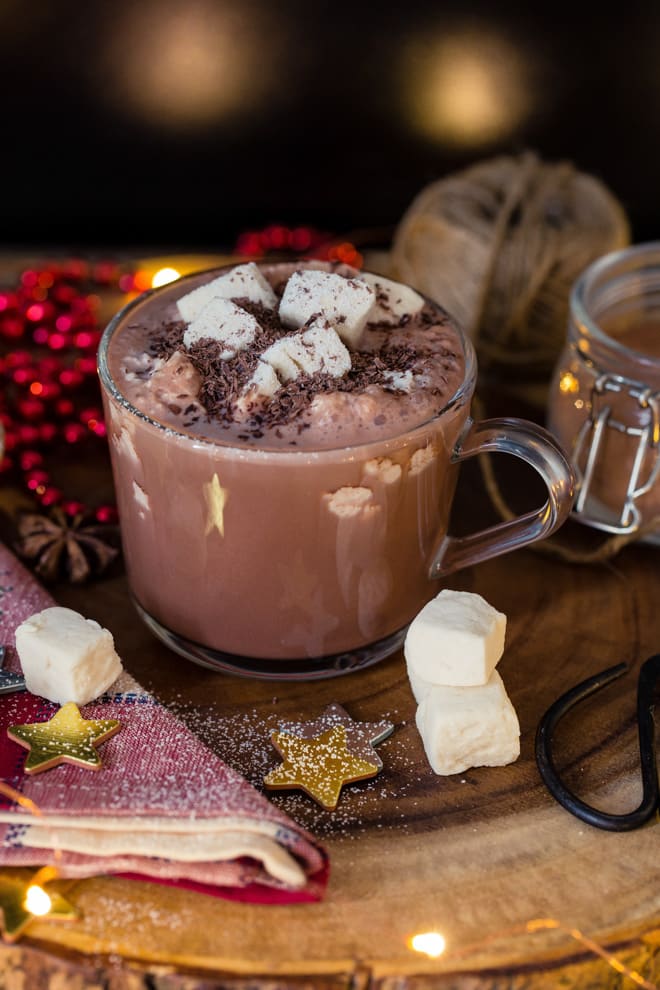 If you make this recipe or any of the recipes from The Cook & Him we'd LOVE to see! Just snap a picture and share it on Instagram using #thecookandhim and tagging @thecookandhim in the photo itself (as this guarantees we'll see your picture!
)
And don't forget to follow us on Instagram , Facebook or Twitter for even more recipe inspiration and chat, competitions, behind the scenes and so much more!
Gingerbread Hot Chocolate
prep: 5 mins / cook: 5 mins / inactive: 0 mins / total: 10 mins / quantity: 1 mug
Ingredients
1 mug/cup unsweetened almond milk
1 tblsp raw cacao powder
2 tblsp chocolate chips (dairy free if you're vegan)
1/2 tsp vanilla extract
1/2 tsp cinnamon
1/2 tsp ginger
1/4 tsp nutmeg
1-2 tsp maple syrup (depending on taste!)
Optional
Instructions
Almost fill a mug with the unsweetened almond milk and pour into a small saucepan
Whisk in the maple syrup, the cacao powder and all the spices and warm everything over a medium heat, whisking occasionally
Pour back into the mug, spoon on the optional coconut cream, drop in the marshmallows and sprinkle over the optional grated chocolate
Sit back and enjoy!
Notes
To make coconut whipped cream simply put a can of coconut milk in the fridge and when you want to use it scoop out the solid milk
You can use the coconut water in smoothies!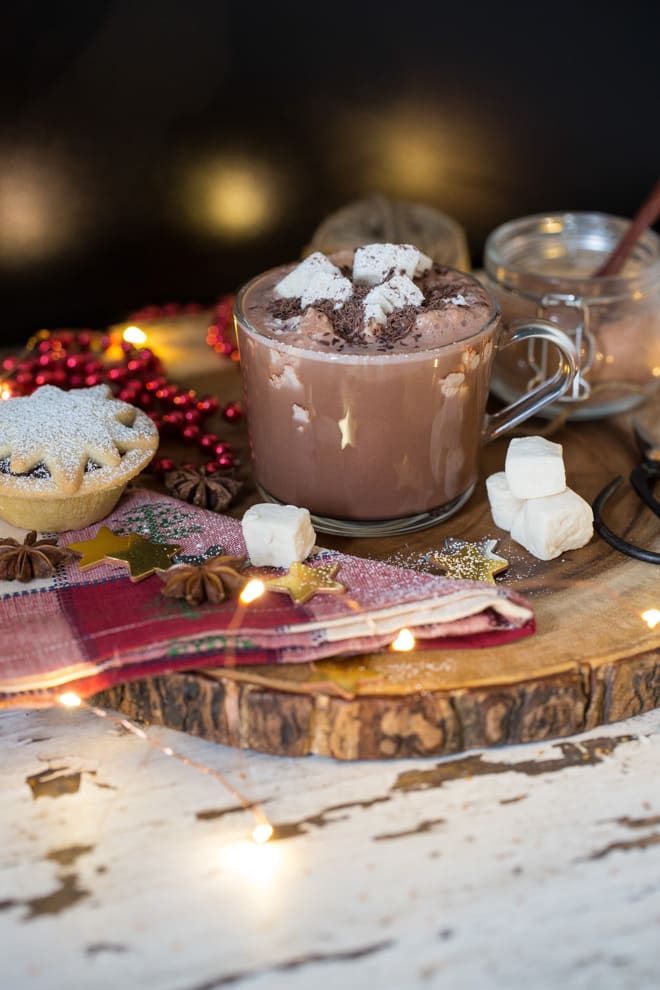 Hello and welcome to The Cook & Him.
We are Sam (The Cook), Phil (Him) and our little dog Nooch. What started with a plan to shed a few pounds back in 2016, soon became obvious that eating healthy doesn't have to be bland and boring.
So, combining Sam's 15 years of experience working within Michelin starred restaurants and our love for deliciously healthy food, we're creating recipes for you to make and enjoy. We've added our own unique spin on traditional and contemporary vegetarian and vegan recipes that keep you (and your pets!) healthy and full.  And we make sure they just work.
All things autumn - warming soups, savoury bakes and delicious sweet treats!
and I would like to see...
Or search for a recipe or post by keyword