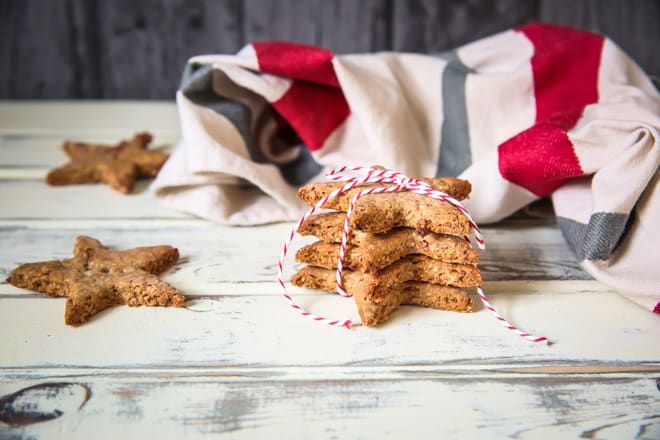 Posted in Recipes on 23.02.2018
Homemade Sweet Potato Dog Treats
prep: 15 mins / cook: 45 mins / inactive: 0 mins / total: 60 mins / quantity: 40 biscuits Print recipe?
These homemade sweet potato dog treats contain only natural, healthy ingredients that your pup will LOVE!
And when I say love, I mean pester you for these sweet potato dog treats every waking moment.
Are you one of those dog parents who's 'child' is motivated by food?  Yep, yep, yep.
Wake up, moan about not eating, out for walk, treat for being good, sleep, eat, sleep, moan about not eating, sleep, out for a walk, sleep, eat, beg for more food, sleep.  Meg's day in a nutshell.
Rinse and repeat tomorrow.
But I know she's happy, after all, she certainly seems like a happy dog.  Especially when she gets home made treats like these sweet potato dog biscuits.  Just seven ingredients and around an hour and you can have enough doggie biscuits to keep your pup happy for weeks as these also freeze really well.  Or you can spread the puppy love and share with your doggie friends.  Meg disapproves of this.
I've used wholemeal flour in this dog biscuit recipe but if your pup has wheat allergies or gluten intolerance you could substitute with oat flour or even gluten free flour to make them grain free dog treats.  Meg however will eat anything (and probably has at some point).
You can also cut them into whatever shape you like.  They won't care if they're heart shaped or poo shaped.  The whimsical shapes are for us silly humans.
Same with these Bluberry and Yoghurt Dog Treats.  And these Pumpkin Dog Biscuits.  Any and all food is only in Meg's mouth the time it takes to get from the front to the back.  There's rarely even teeth involved!
The rolled thickness of these homemade dog biscuits will change their finished texture.
The thinner you roll them the more 'snap' these biscuits will have.  If they're thicker they'll be more chewy than crunchy.  Again, either way they won't care.
Just give me the damn biscuit already …
I've also pretty much given up hope that Meg will be THAT dog that sits still, lets you balance all kinds of crap on her head and doesn't drool at the mere prospect of food.  And I've resigned myself to never getting a decent photo of her being fed her treats.  For every one decent photo of her eating her homemade dog treats I think I take 100+ photos!  Do you have a dog that will just happily pose?  Sit there patiently rather than almost take your fingers off when she/he finally gets the doggie treat?
If you make this recipe or any of the recipes from The Cook & Him we'd LOVE to see! Just snap a picture and share it on Instagram using #thecookandhim and tagging @thecookandhim in the photo itself (as this guarantees we'll see your picture!
)
And don't forget to follow us on Instagram , Facebook or Twitter for even more recipe inspiration and chat, competitions, behind the scenes and so much more!
Homemade Sweet Potato Dog Treats
prep: 15 mins / cook: 45 mins / inactive: 0 mins / total: 60 mins / quantity: 40 biscuits
Ingredients
2 large sweet potatoes
1/2 a large carrot – grated
3 cups wholemeal flour
1 tsp cinnamon
1 egg
3/4 – 1 cup water
Instructions
Peel the sweet potatoes and cut into medium sized cubes.  Put into a saucepan, cover with boiling water and simmer for around 15 minutes until soft
Take off the heat, drain, tip into a large bowl and mash
Add the grated carrot and wholemeal flour and stir together with a large spoon or rubber spatula
Beat the egg with 3/4 cup water and add to the bowl.  Stir together to form a dough, adding a splash more water if the dough is too dry.  You want a pastry like consistency that's easy to roll out
Tip onto a work surface and knead to bring to a smoothish dough
Preheat the oven to 160 Fan / 180 C / 350 F / Gas 4 and line 2-3 baking trays with parchment or a silicon mat
Dust some flour over your work surface then roll out the dough to about 1/2 cm thick.  If you want a crisper biscuit roll out so it's a little thinner - you'll also get more biscuits!
Cut into whatever shape you (or your pup!) fancy and gently lift onto your baking trays.  Re-roll any trimmings and keep cutting out till you've used up all the dough
Bake for 25-30 minutes then cool completely before storing in a sealed container.  These keep for around 5 days at room temp or up 1 week in the fridge
These also freeze really well so don't worry you have to give your pup them all at once (even if they WOULD eat them!)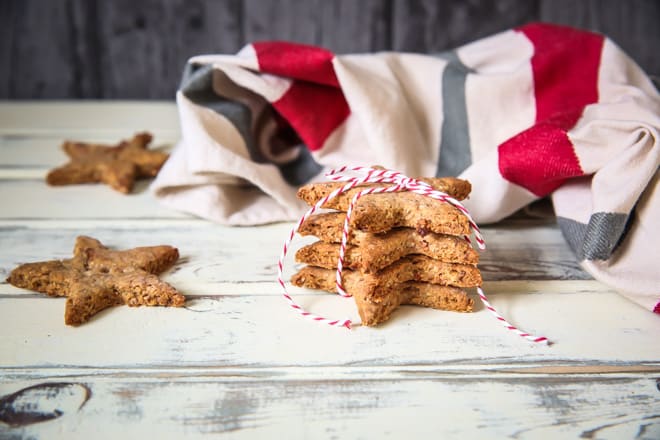 Some products I used in today's post...
Some of the links above are affiliate links, which pay us a small commission for our referral at no extra cost to you! Thank you for supporting The Cook & Him.
Hello and welcome to The Cook & Him.
We are Sam (The Cook), Phil (Him) and our little dog Nooch. What started with a plan to shed a few pounds back in 2016, soon became obvious that eating healthy doesn't have to be bland and boring.
So, combining Sam's 15 years of experience working within Michelin starred restaurants and our love for deliciously healthy food, we're creating recipes for you to make and enjoy. We've added our own unique spin on traditional and contemporary vegetarian and vegan recipes that keep you (and your pets!) healthy and full.  And we make sure they just work.
All things autumn - warming soups, savoury bakes and delicious sweet treats!
and I would like to see...
Or search for a recipe or post by keyword