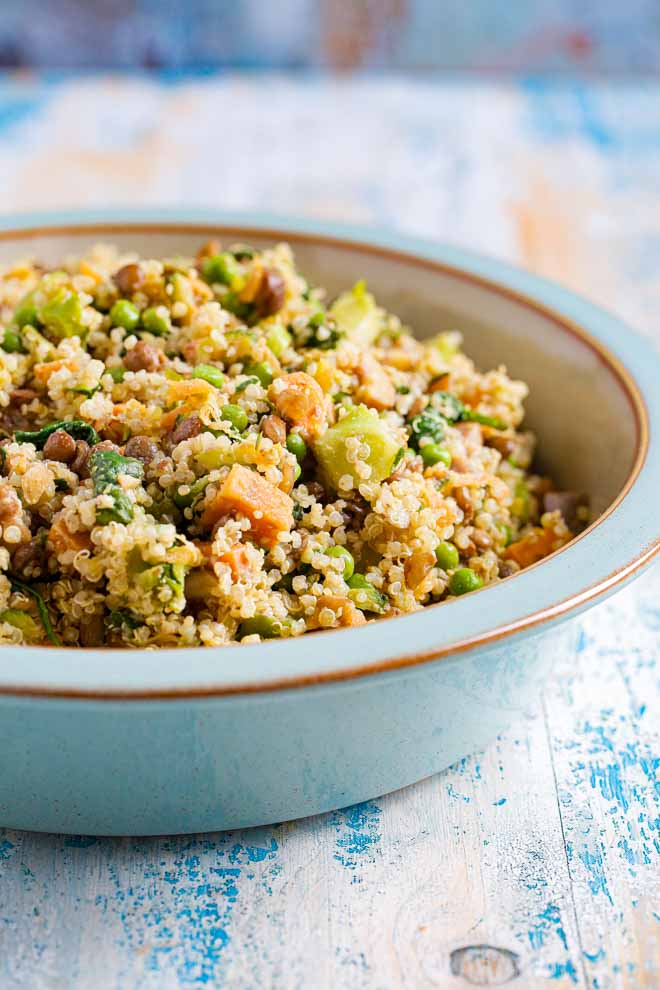 Posted in Recipes on 20.03.2021
Homemade Dog Food | Pup Approved!
prep: 20 mins / cook: 20 mins / inactive: 0 mins / total: 40 mins / quantity: 10 portions for medium sized dog Print recipe?
Feel great about spoiling your pup with this healthy, homemade dog food! Not only is it super easy to make, it's chock full of fresh veggies and plant protein. Both of our boys LOVE this stuff!
So.  The idea for homemade dog food came about from recently starting a canine nutrition diploma course.  As a vegan, I really want to understand if my dog(s) can be vegan.  I know there's a tonne of opinion about this, most of it conflicting.  Hence the diploma course.  Which I've not finished yet and I'm in no way advocating you immediately switch your dog to a completely plant based diet.  You also have to do what you think is best for your furry friend.  It's been a personal dilemma for a while now to be vegan but feed my pets some of the worst, in terms of welfare, animal based products out there.   And getting an education on the grade of meat that goes into shop bought dog food really brought that dilemma home.
However, if you just want to treat your pups from time to time with this super simple recipe, I'm pretty sure they're going to love it as much as Nooch and Baxter!
I started noticing that any time I gave them 'extras' in their kibble they got even more excited about meal times.  I sometimes soak oats in boiling water, leave to cool and add it to their breakfast kibble with some blueberries.  When I'm cooking broccoli I chop the stalk into small chunks along with some carrot, courgette and sweet potato and boil or steam until softened.  And there's never a scrap of any of it left!
I want my boys to be healthy.  I want them to live a long and interesting life and be as happy and healthy as they can be for the duration of it.  And I want them, as well as us, to eat real food, not something that's dehydrated and has a shelf life of years.  And I really don't want to feed one sentient being to another.  So I've been gradually introducing this homemade dog food into their regular diet and keeping an eye on how they're doing.  Poop is ok.  Pee is ok.  In fact, Nooch went to the vet last week for his booster injections and the vet was VERY happy with his weight, heart, lungs and general health and happiness!
What goes into this healthy recipe and why:
Quinoa – most importantly is that the quinoa is cooked.  Uncooked quinoa can cause digestive upset.  Pretty sure it would have the same effect on us humans!  Quinoa is packed with nutrients, gluten free (especially good if your dog has a wheat allergy) and high in protein, fibre and heart healthy antioxidants.
Vegetables – broccoli and carrots boost immunity.  Sweet potatoes add vitamins, minerals and fibre.  Courgette adds vitamin C, calcium, potassium and folate for your dog's bones, muscles and vision.  Spinach for vitamins A, B and C and more antioxidants and roughage.  And peas for Vitamins A and K for extra iron, zinc and magnesium helping their skin, digestion and heart.
Lentils –  a great source of iron, fibre, and plant-based protein. Lentil's low-calorie, high-fibre content helps dogs feel fuller when eating while keeping blood levels from spiking too sharply after a meal.
Ground flax – this contains Omega-6 fatty acids which supports a healthy coat and skin.
Chestnuts – again make sure they're cooked!  In moderation they provide protein, fibre and Omega-3 fatty acids.  Don't overdo it with chestnuts though as the starch they contain can be difficult for your dog to digest in large quantities.
Coconut Oil – so many reasons for including coconut oil in our dog's diets.  Healthy skin and coat, improve brain function, improve immunity and digestion as well as dental health.  It can also be used to disinfect and soothe wounds!
How to make super easy dog food at home:
The beauty of this homemade dog food is that it's really (REALLY) easy to make in bulk and freeze, so you don't have to make it every day.  If you want to add it to their regular kibble so they're getting some extra nutrients from veg, protein and fibre it will stretch even further!  It also depends on the size of your dog.  Nooch is small small for a staffie – we think there's some French Bulldog in there too.  Baxter is taller, less staffie, more bits and bobs, maybe labrador.
Cook the quinoa.  Use 1 part quinoa to 2 parts water and boil for around 10-15 minutes until the water is mostly evaporated
Prep all the veg.  No need to peel it, just remove any bad looking bits and scrub the skins of the sweet potato.  Cut the broccoli and sweet potato into smallish chunks and grate the carrot and courgette.
Boil the broccoli and sweet potato until just softened.  Drain.
In a large pan melt the coconut oil.  Add the courgette and carrots and stir over a medium heat for 4-5 minutes until softened.
Stir in the peas and spinach.  You can add the peas straight from the freezer, no need to defrost.  Cook until the spinach is wilted into the other veggies
Add the remaining ingredients.  The cooked carrot and broccoli, the lentils, cooked quinoa, ground flax seeds and chopped chestnuts.
Stir well.  Then leave to cool.  Portion up and freeze what you won't use in the next 3-4 days.
My boys honestly can't get enough of this.  There's increased skipping and dancing come dinner time.  I'm still feeding them kibble at breakfast then this for dinner.  And I'm still not sure about making them completely plant based.  Do you have experience with this?  Do you have thriving vegan dogs and if so what do you feed them?
If you're looking for more treats for your furry friends, we've got loads!  All thoroughly pup approved of course!
Grain Free Dog Biscuits – makes lots so share the love!
Sweet Potato Jerky – a 1 ingredient recipe!
Blueberry, Mint and Yoghurt Dog Treats – these were Princess Meg's personal favourite.
I also put together this book of 15 dog treat recipes for the amazing Barking Mad Dog Rescue
I'd love to hear from you if you make this Homemade Dog Food for your special friend! Just leave a comment as it's so helpful and I love to hear how the recipe worked out for you! Thank you so much!
Don't forget to follow us on YouTube, Facebook or Pinterest for even more recipe inspiration and chat, competitions, behind the scenes and so much more!
Homemade Dog Food | Pup Approved!
prep: 20 mins / cook: 20 mins / inactive: 0 mins / total: 40 mins / quantity: 10 portions for medium sized dog
Ingredients
1 cup (220g) uncooked quinoa
1 large sweet potato
1 large broccoli stalk (can use florets but more sparingly)
2 tblsp coconut oil
1 large carrot – grated
1 large courgette – grated
2 cups (220g) frozen peas
3 handfuls (120g) fresh baby spinach
1 can cooked lentils (in water not brine)
3 tblsp ground flax seeds
1/2 cup (90g) cooked chestnuts – roughly chopped
Instructions
Put the quinoa in a saucepan with 2 cups (300ml) cold water and bring to the boil. Reduce the heat and simmer for 10-15 minutes until the water has been absorbed and the quinoa is fluffy
Scrub the sweet potato and remove any mouldy bits then chop into smallish squares. Chop the broccoli stalk into similar sized pieces then pop both in a pan, top with boiling water and cook for 10 minutes until softened slightly. Drain
In a large pan melt the coconut oil then add the grated carrot and courgette and cook for just a couple of minutes, stirring
Stir in the peas and spinach and stir until the spinach is just wilted into the mixture
Add the lentils, flax seeds, chopped cooked chestnuts and cooked quinoa, broccoli and sweet potato and stir everything together
Leave to cool and store in the fridge or portion and freeze what you won't use in the next 3-4 days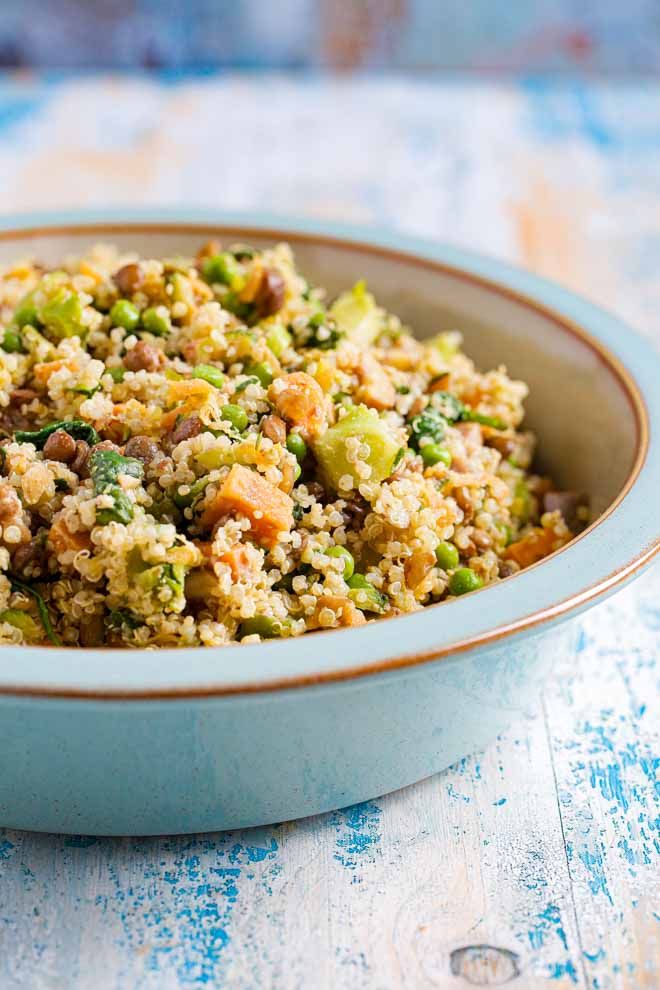 Hello and welcome to The Cook & Him.
We are Sam (The Cook), Phil (Him) and our little dog Nooch. What started with a plan to shed a few pounds back in 2016, soon became obvious that eating healthy doesn't have to be bland and boring.
So, combining Sam's 15 years of experience working within Michelin starred restaurants and our love for deliciously healthy food, we're creating recipes for you to make and enjoy. We've added our own unique spin on traditional and contemporary vegetarian and vegan recipes that keep you (and your pets!) healthy and full.  And we make sure they just work.
All things autumn - warming soups, savoury bakes and delicious sweet treats!
and I would like to see...
Or search for a recipe or post by keyword