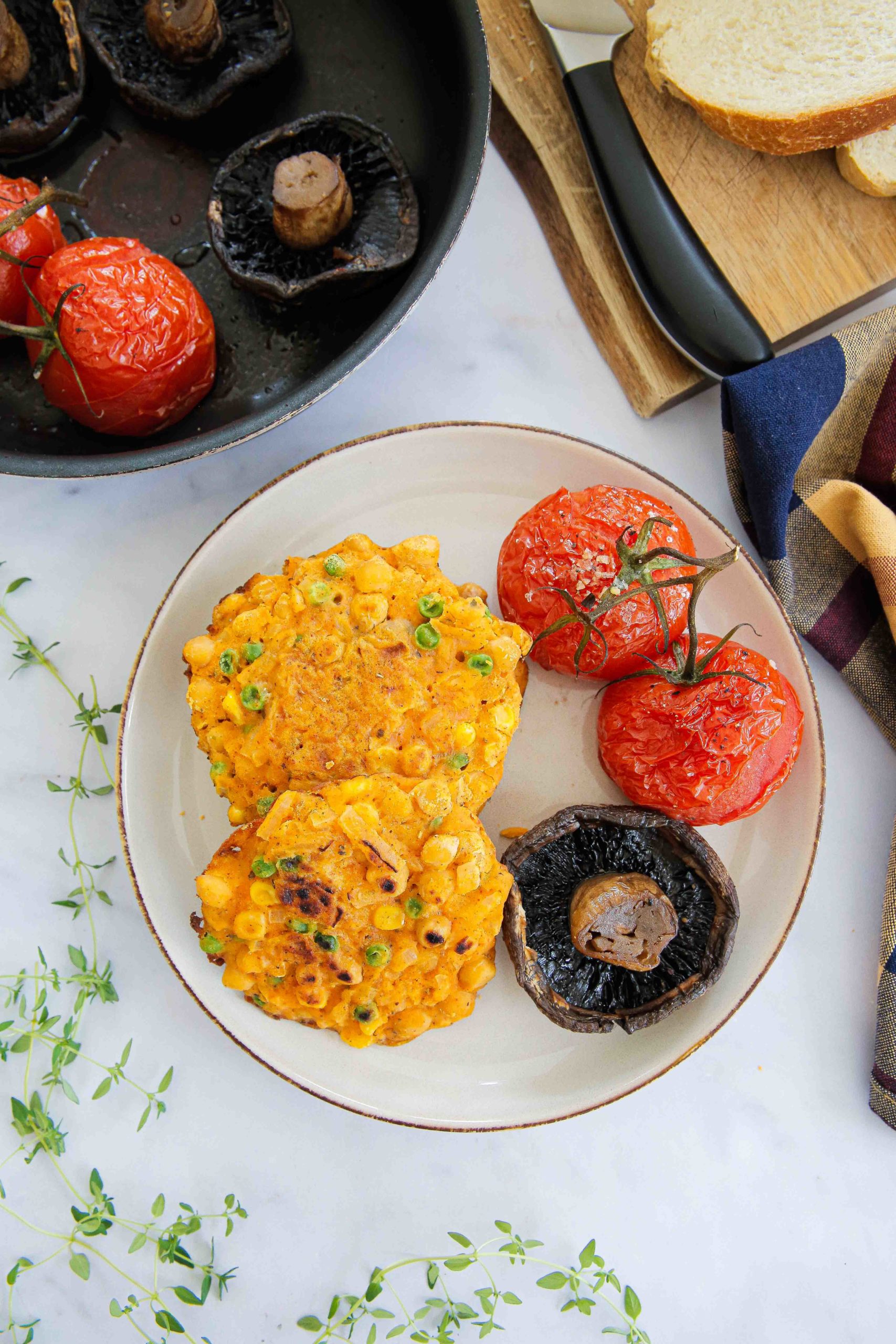 Posted in Recipes on 20.07.2023
Sweetcorn Fritters
prep: 15 mins / cook: 20 mins / inactive: 0 mins / total: 35 mins / quantity: 8-10 fritters Print recipe?
Super simple and healthy sweetcorn fritters, packed with flavour and vegan protein! Just one bowl and one frying pan needed for a delicious lunch, brunch or side dish. Gluten free too!
I've posted a few 'new' recipes lately that I've actually been making for myself for quite some time.  And whilst these sweetcorn fritters can make the most of summer fresh corn, thanks to frozen or tinned sweetcorn they can also be enjoyed all year round!
Have you enjoyed your summer so far?  I'm relieved it's not been quite as hot here in the UK as it was last year, where we had crispy burnt grass.  And while it's not been so warm I don't mind putting a pan on to cook these delicious fritters!  And they certainly are very tasty.  Full of vegan protein and fibre too.  Oh and gluten free thanks to the chickpea flour (also known as gram flour).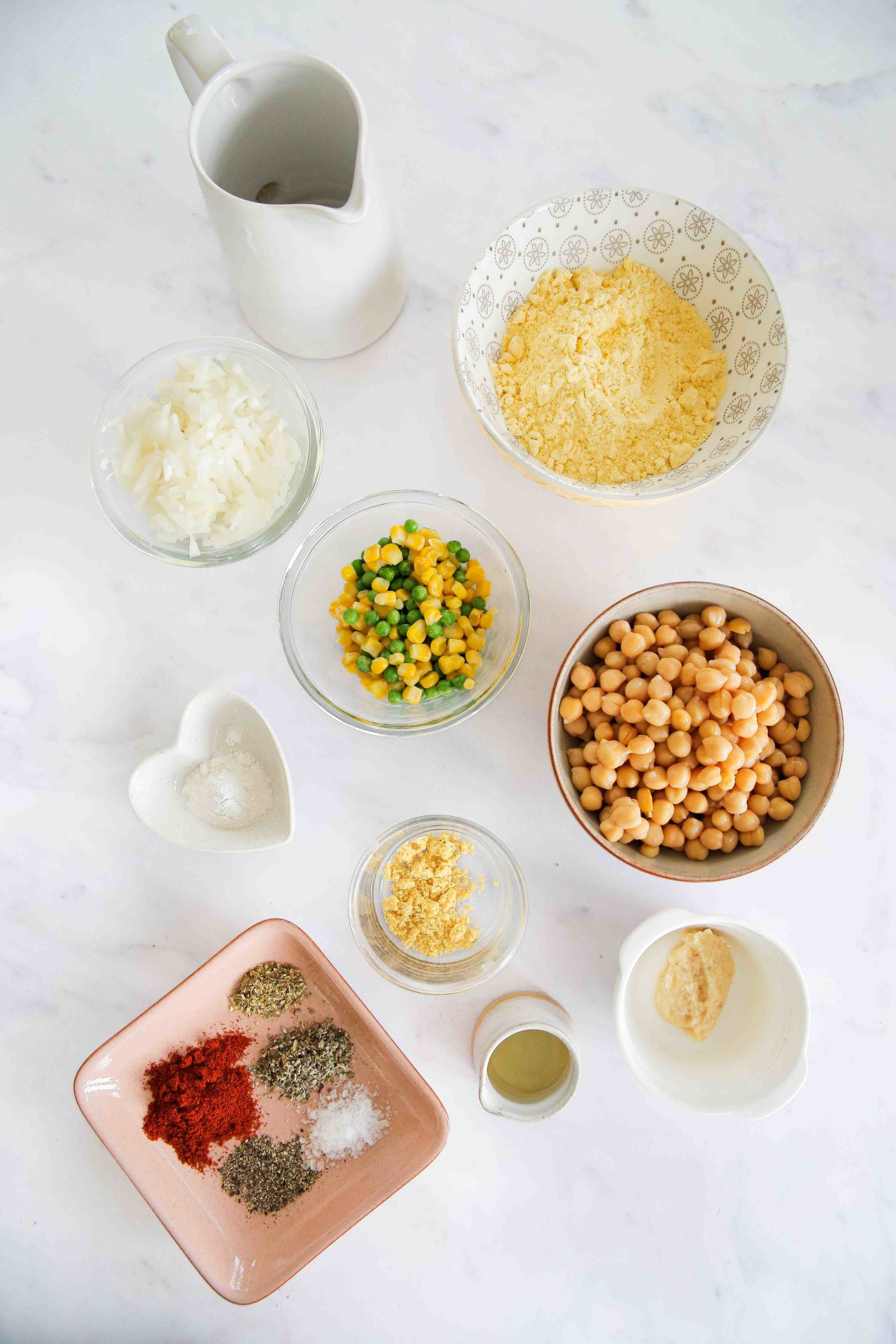 Customisable fritters:
I've packed in the flavour with these sweetcorn fritters but they're also very customisable.  The herbs can be substituted very easily – instead of dried sage and oregano try basil, thyme or rosemary.  Dried can also be swapped for fresh, I'm using dried in these fritters so that it's basically a store cupboard recipe and includes ingredients you'll most likely already have.
Like spice?  Add some red pepper flakes or sizzle some fresh chilli when you saute the onion and garlic.
I've used a brown skin onion but that can be swapped for shallot or red onion or even a small leek or a few spring onions.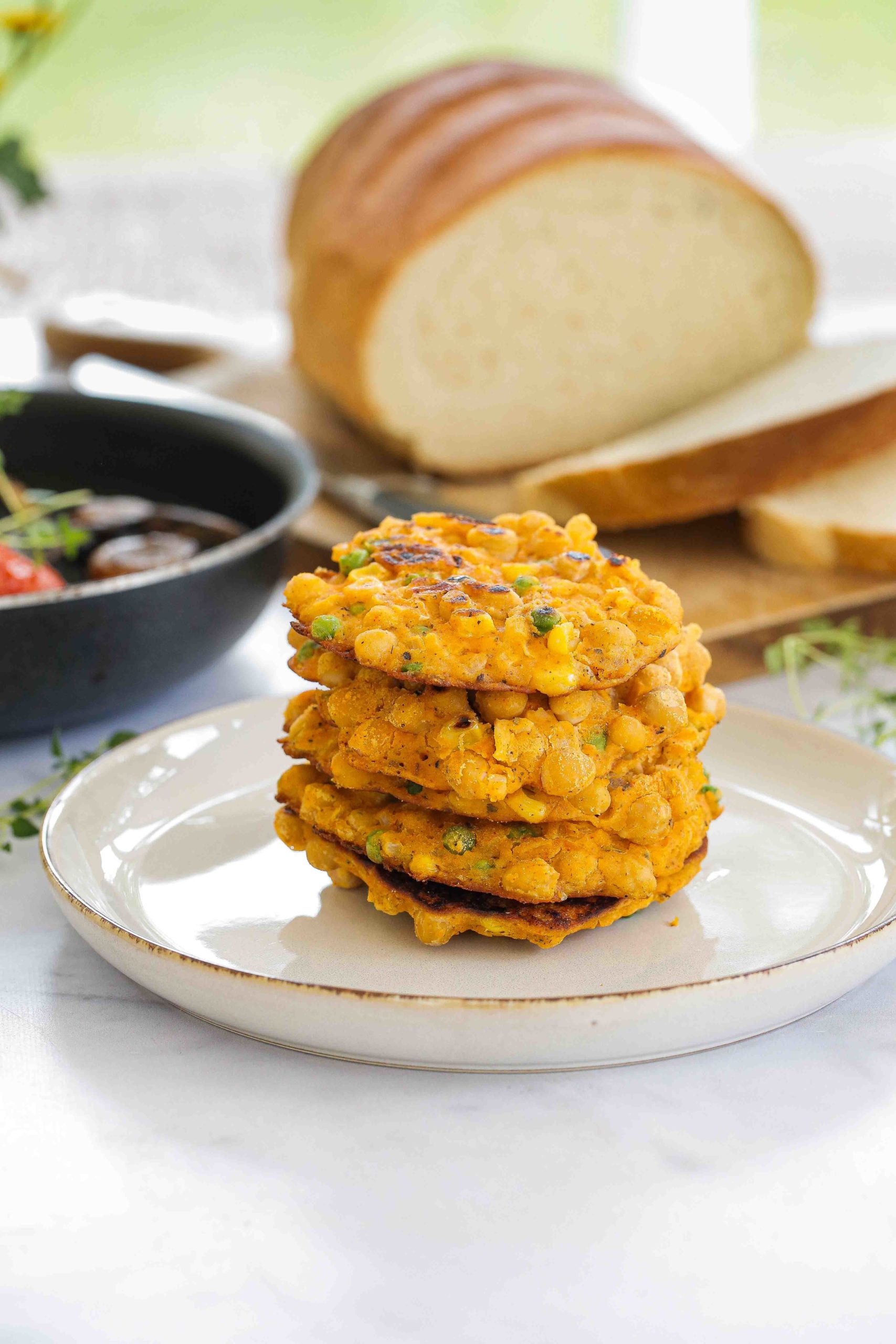 How to make these sweetcorn fritters:
Start by frying the onion in a little oil over a medium heat for a couple of minutes.  This might feel like an extra step but cooking the onion before putting them in the fritter batter (fritter batter haha) helps really bring out the flavour but take away the rawness.  Use the same frying pan you'll use to cook the fritters in and there's not even a need to wash it up!
Once they're just starting to soften and turn translucent add the garlic and fry for one more minute.  Turn off the heat and set the pan aside.
Next put all the dry ingredients into a large-ish bowl.  This is the chickpea flour, herbs and spices, baking powder, bouillon and salt and pepper.  Whisk together then whisk in the water to make a thickish batter.
Stir in the sweetcorn, peas, drained chickpeas and cooked onion and garlic, making sure everything is well mixed together.
Cooking the fritters:
In the same frying pan heat a small drizzle of oil.  Then, just like you're making pancakes, scoop in a large spoonful of the mixture, spreading it slightly to make a rough circle.  Put a couple more spoonfuls in the pan if you have room leaving space between them so you can flip them over.
Now the trick here is to leave them to cook longer than you think.  The batter needs to be thoroughly cooked on the underside before you try and flip or they'll likely break up.  It takes a good 5 minutes over a medium heat before you can flip them.  If they're ready they can easily be lifted and flipped without falling apart.  If not, leave a couple more minutes.
Flip and cook another couple of minutes on the other side then lift out onto a plate and repeat with the remaining batter until it's all used.  Keep the cooked fritters warm in a low oven.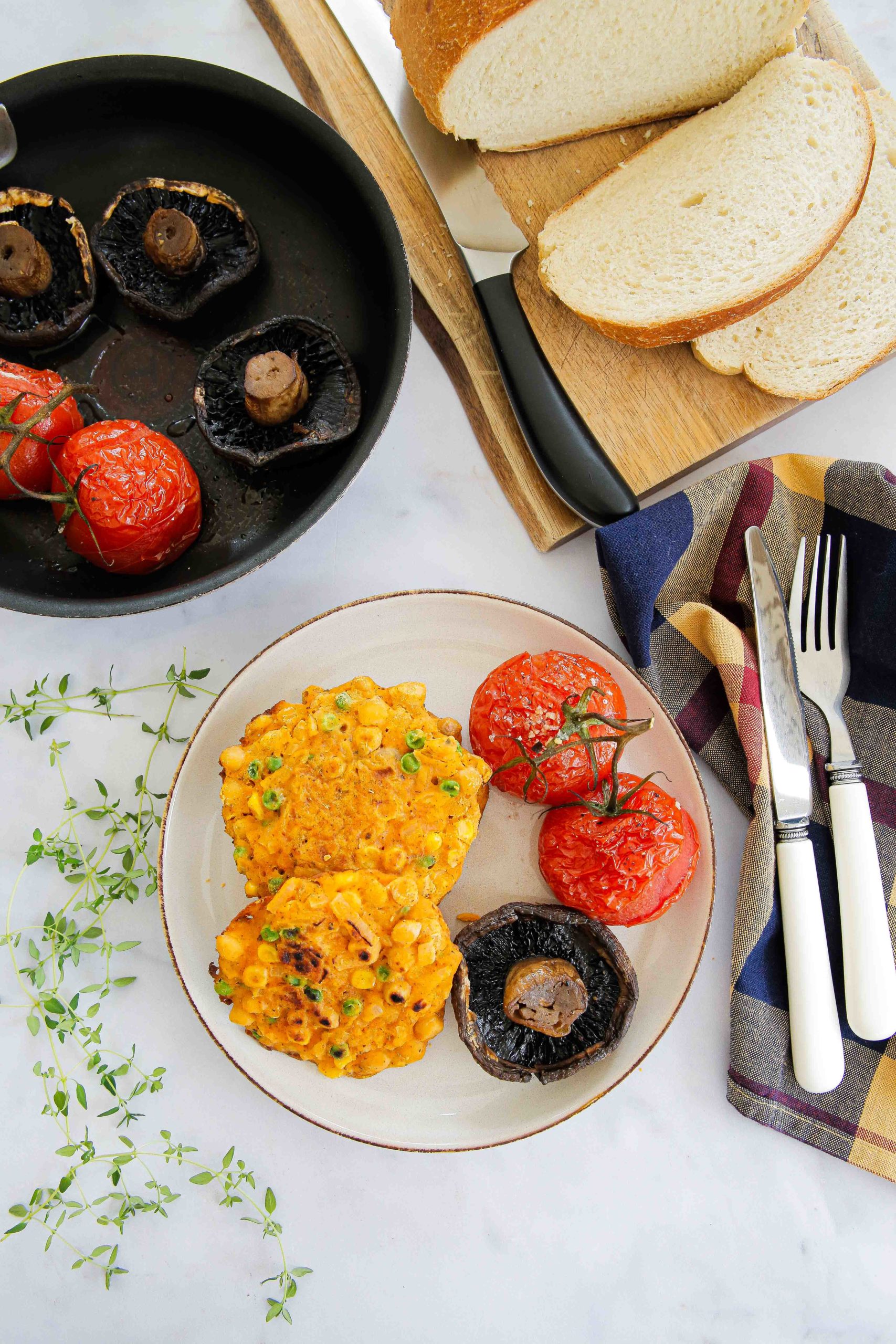 Leftovers?
These fritters make terrific leftovers and can be reheated in the microwave or even eaten cold.  Honestly I love them all ways!
Once they're cool, store in an airtight container in the fridge.
Looking for even more easy, healthy vegan recipes?  Try these:
Creamy lemon courgette rigatoni
Sesame ginger cauliflower tacos
Smoky bean and cheese toasties
If you make this recipe or any of the recipes from The Cook & Him I'd LOVE to see! Just snap a picture and share it on Instagram using #thecookandhim and tagging @thecookandhim in the photo itself (as this guarantees I'll see your picture!
)
Don't forget to follow me on Facebook or Pinterest for even more recipe inspiration and chat, competitions, behind the scenes and so much more!
Sweetcorn Fritters
prep: 15 mins / cook: 20 mins / inactive: 0 mins / total: 35 mins / quantity: 8-10 fritters
Ingredients
1-2 tablespoons oil
1 large white or brown onion – peeled and finely diced
3-4 cloves garlic – peeled and crushed
100g chickpea flour (also known as gram flour)
1 teaspoon baking powder
1 level teaspoon bouillon
1 teaspoon dried sage
1/2 teaspoon dried oregano
1 teaspoon smoked paprika
170ml cold water
good pinch each salt and pepper
400g can chickpeas – drained
40g sweetcorn – defrosted if frozen
40g petit pois peas – defrosted if frozen
Instructions
Start by frying the diced onion in a drizzle of oil for 3-4 minutes until just softened. Add the garlic and cook for a further 2 minutes. Set aside
In a large bowl whisk together the chickpea flour, baking powder, bouillon, dried herbs, smoked paprika, salt and pepper then whisk in the water
Stir in the drained chickpeas, sweetcorn and petit pois peas followed by the cooked onion and garlic. Mix well.
In the same frying pan (no need to clean it if you've thoroughly scraped out all the onion!) heat another small drizzle of oil then add a large spoonful of the fritter mixture, spreading it out slightly into a rough circle
Repeat with another couple of spoonfuls, leaving enough room in the pan to flip the fritters
Cook over a medium-high heat for a good 5 minutes before flipping over. If they're cooked enough they'll be easy to lift and flip, if not cook until they are
Cook for couple more minutes on the other side before lifting out onto a plate. Keep warm in a low oven
Repeat with the remaining batter until it's all used up
Notes
See blog post for lots of substitute ideas!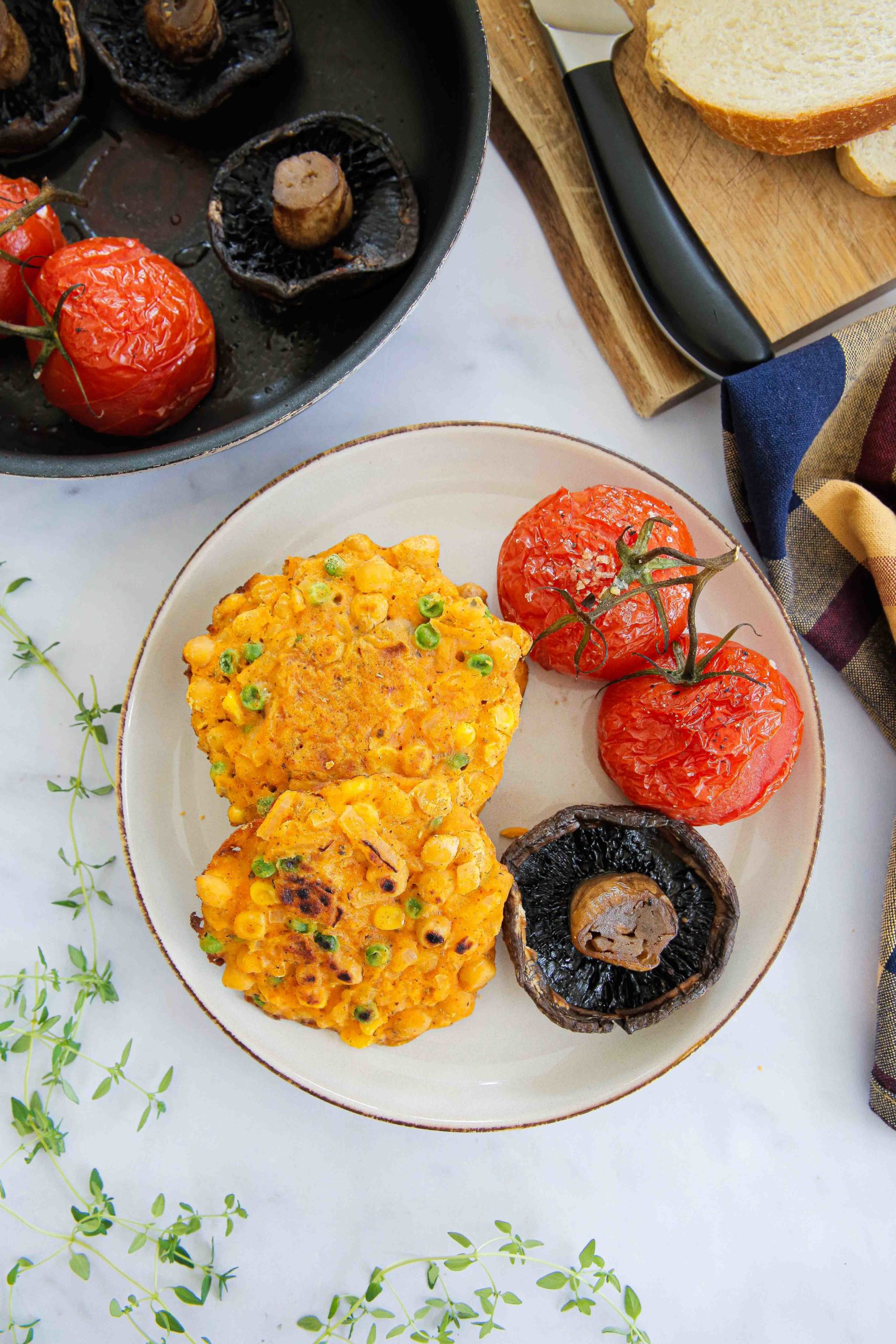 Hello and welcome to The Cook & Him.
We are Sam (The Cook), Phil (Him) and our little dog Nooch. What started with a plan to shed a few pounds back in 2016, soon became obvious that eating healthy doesn't have to be bland and boring.
So, combining Sam's 15 years of experience working within Michelin starred restaurants and our love for deliciously healthy food, we're creating recipes for you to make and enjoy. We've added our own unique spin on traditional and contemporary vegetarian and vegan recipes that keep you (and your pets!) healthy and full.  And we make sure they just work.
All things autumn - warming soups, savoury bakes and delicious sweet treats!
and I would like to see...
Or search for a recipe or post by keyword