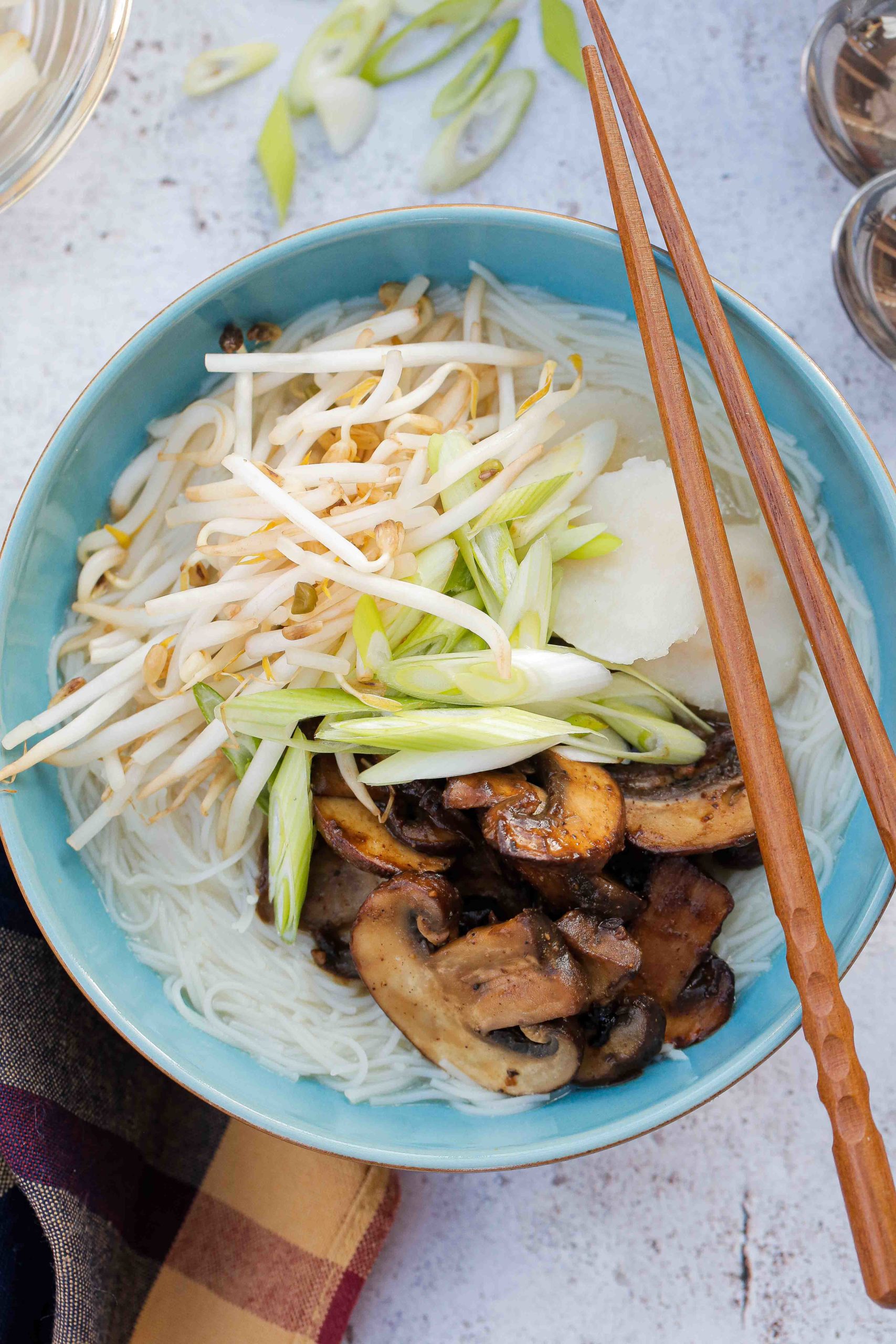 Posted in Recipes on 15.02.2023
Asian Noodle Soup
prep: 10 mins / cook: 30 mins / inactive: 0 mins / total: 40 mins / quantity: 2 portions Print recipe?
This gently spiced vegan noodle soup is full of bright fresh flavours and topped with rich umami mushrooms
Noodle soup is something I've been making for so long now but never got round to doing a proper recipe.  I love it because it's very easy – VERY easy – but so full of flavour.  It makes the most delicious lunch that can be packed into a thermos and enjoyed anywhere.  I don't really go anywhere so it makes a great desk lunch too 😉
February is turning out to be just as cold as January so this noodle bowl is perfect at the moment.  It's healthy, warming and filling but full of bright, fresh flavour.  With the extra toppings there's a tonne of texture too.  Slurp.  Crunch.  Repeat.
Side question.  What do you do when you eat?  I'm trying to be more mindful when eating.  Less distraction more attentive eating.  But I struggle.  I normally read while eating.  Currently reading Richard Osman's latest.  Such good writing.  Any tips to break the habit of needing to do something else while eating?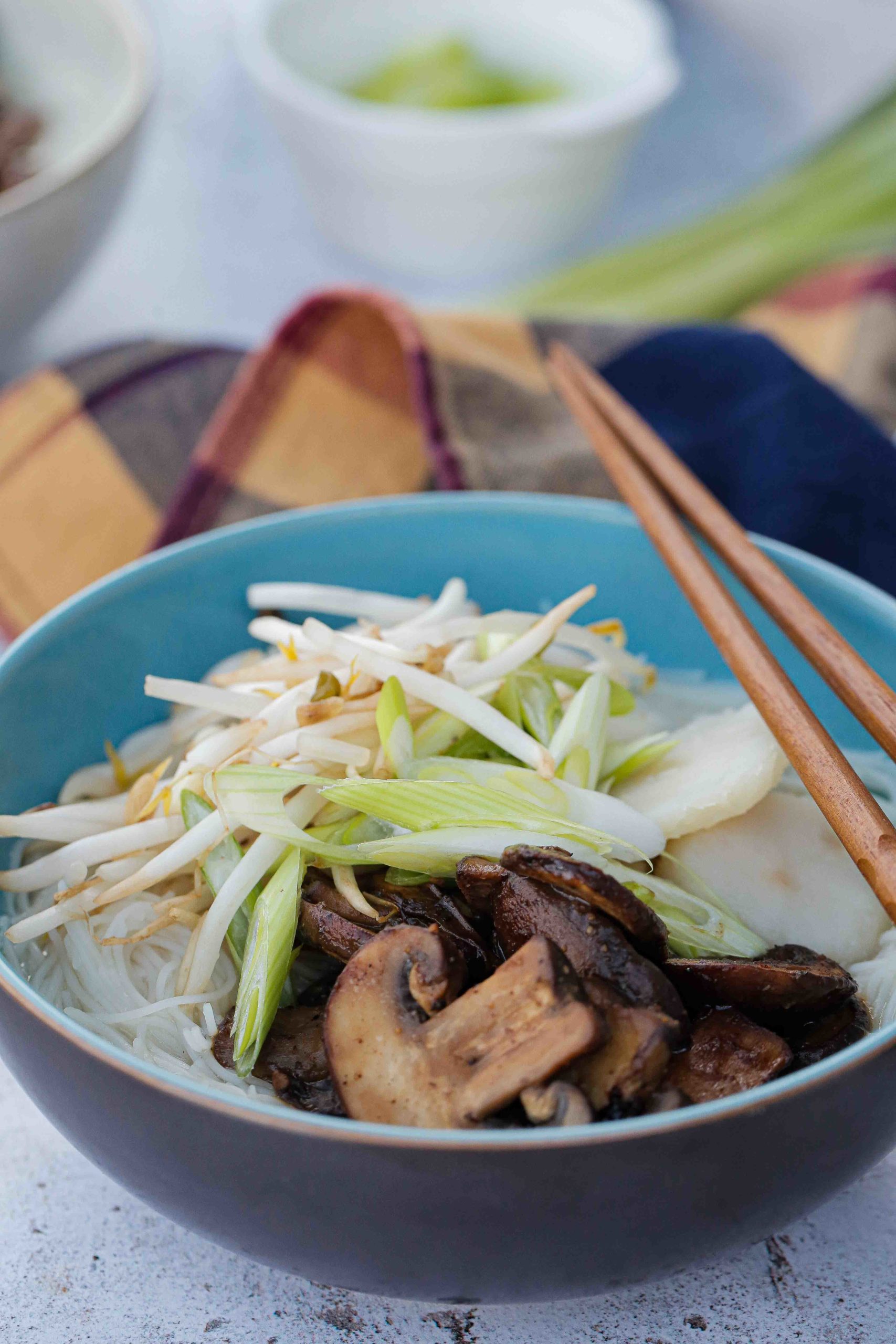 Pho inspiration
I got the original idea for making this from seeing a pho recipe on my food travels.  Pho is a Vietnamese noodle dish that usually consists of broth, rice noodles, spices and thinly sliced meat.  Making a vegan version my immediate thought was to use 'meaty' mushrooms with their rich umami flavour.  Also, a traditional pho (pronounced "fuh" like "duh"!) can, however, take several hours to make.
I still wanted to build in layers of flavour and have something that whilst most definitely was not a traditional pho, at least had some of the basics.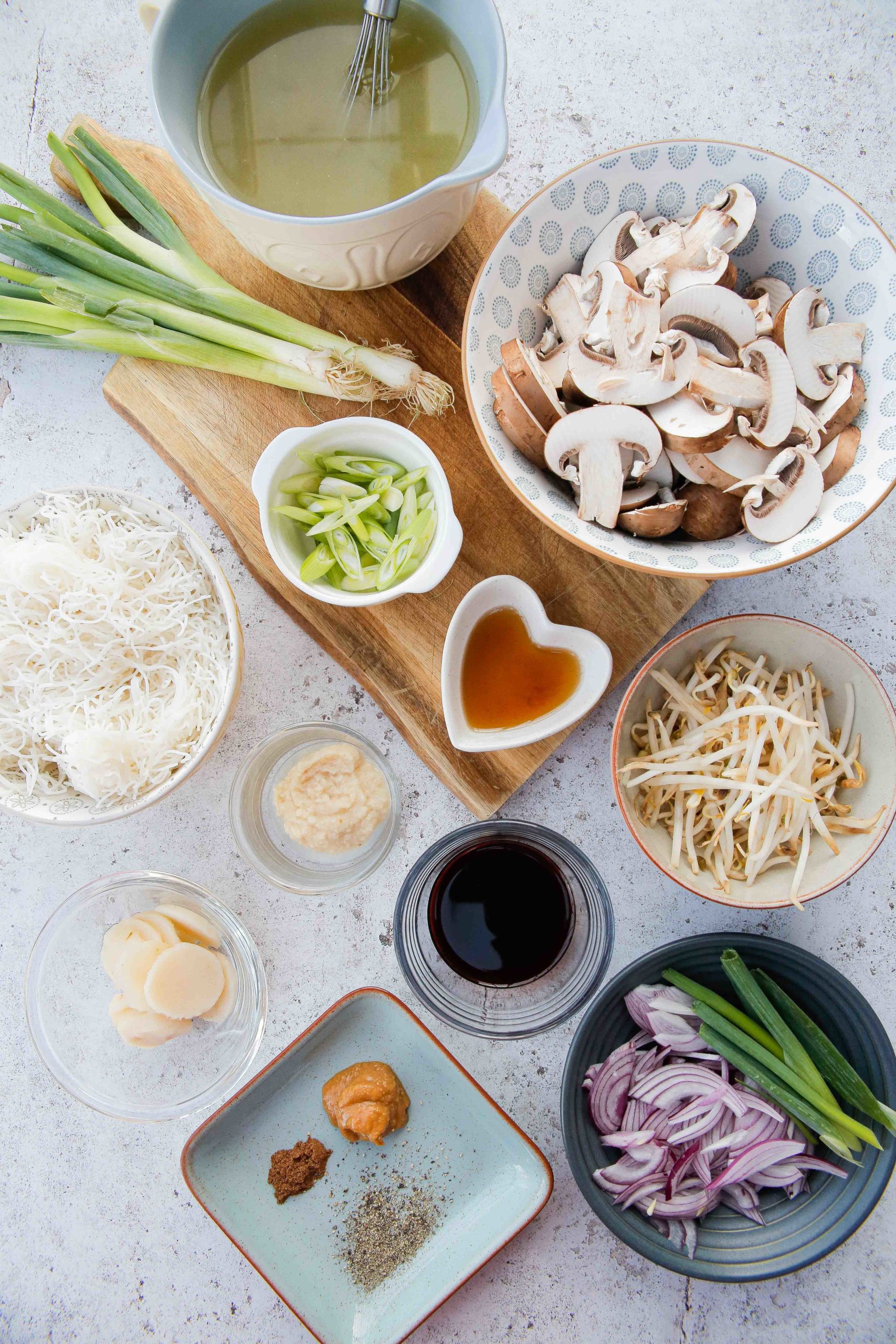 Vegetable broth – for speed I've used a vegan bouillon base.  A traditional pho recipe uses bones to make the broth and is cooked over several hours.  This dish could only be made better by making your own vegetable stock – a lovely Slow Sunday project perhaps?  But I'm generally in a hurry when it comes to food – unless it's homemade bread of course – so I went for convenience.  I did add extra vegetables to the broth as it was heating and reducing, imparting a generous extra level of flavour.
Mushrooms – chestnut mushrooms are my mushroom of general choice.  Here I've sautéed them in sesame oil before adding even more umami flavour with soy sauce and miso paste.
Rice noodles – a gluten free favourite, these are cooked in the finished broth.
Beansprouts – love these healthy little buggers for so many dishes, not just Asian inspired ones (shhh, they often find their way into my sandwiches!)
Water chestnuts – never understood why people leave these when eating their Chinese takeaway. I love them!  They have a very slight tart flavour but I also love the fresh crunch they give to this noodle soup.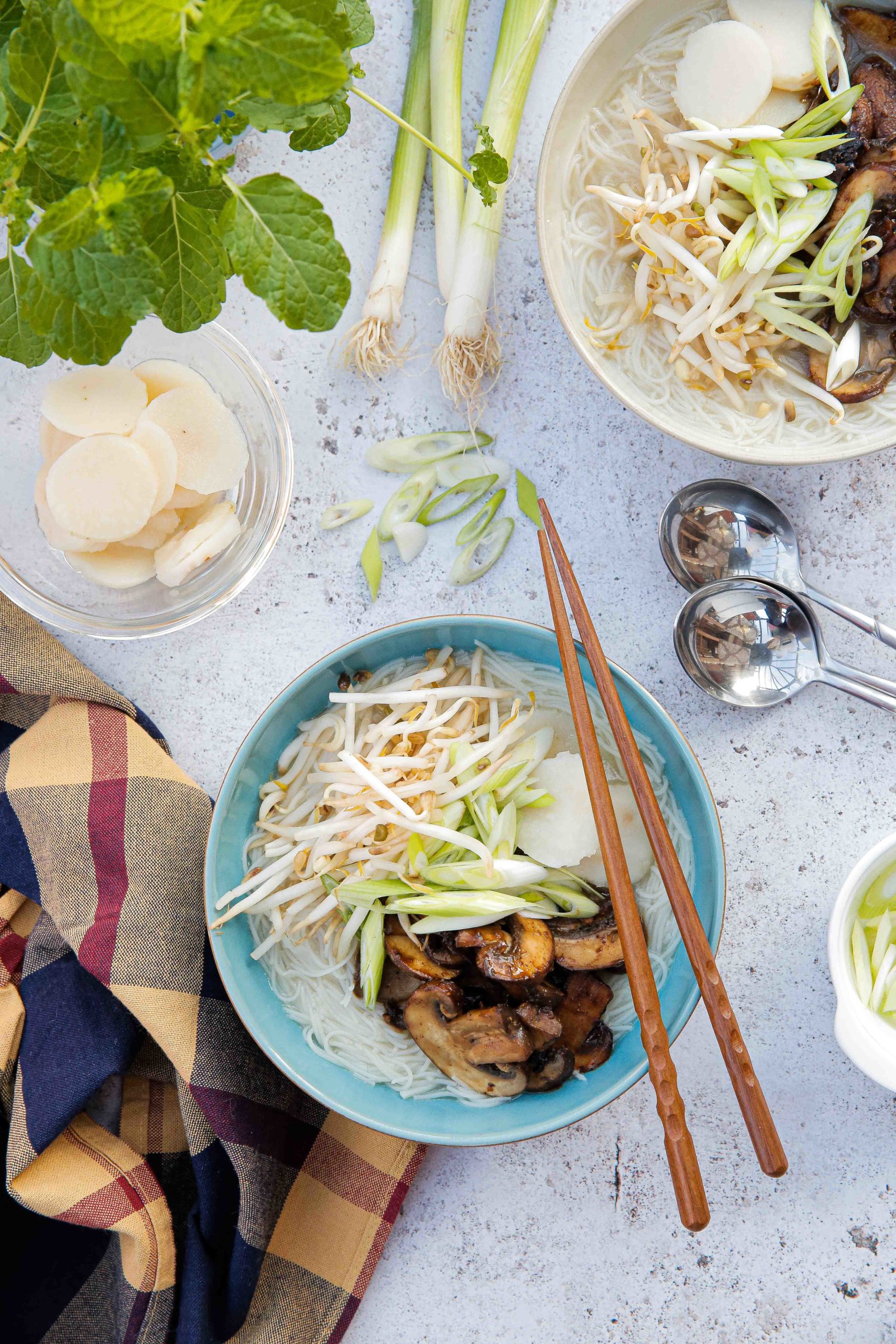 How to make this easy noodle soup:
Start with the broth.  To the vegetable bouillon and water add a sliced onion, some crushed garlic and grated ginger and a few spring onion trimmings.  Bubble these together for 15-20 minutes until reduced slightly.  This intensifies the flavour.
While the broth is bubbling cook the mushrooms.  Heat a little sesame oil in a frying pan or skillet then add the thickly sliced mushrooms.  Keep the heat fairly high and stir or toss the pan frequently until the mushrooms are lovely and golden.
Stir in the soy sauce, miso and 5 spice to coat the mushrooms.
Strain the broth through a fine sieve and return to the pan.  Add the noodles, stirring to break them up and cook according to packet instructions.
Spoon the broth and noodles into warmed bowls, top with the mushrooms, beansprouts and water chestnut slices.  Top with sliced spring onion.
So yum!!
Looking for even more vegan noodle recipes?  Try these:
Udon Noodles with Black Garlic and King Oyster Mushrooms
Instant Pot Vegetable Chow Mein
If you make this recipe or any of the recipes from The Cook & Him I'd LOVE to see! Just snap a picture and share it on Instagram using #thecookandhim and tagging @thecookandhim in the photo itself (as this guarantees I'll see your picture!
)
Don't forget to follow me on Facebook or Pinterest for even more recipe inspiration and chat, competitions, behind the scenes and so much more!
Asian Noodle Soup
prep: 10 mins / cook: 30 mins / inactive: 0 mins / total: 40 mins / quantity: 2 portions
Ingredients
750ml vegetable broth or stock
1 red onion – peeled and sliced
4 cloves garlic – peeled and sliced
small thumb sized piece of ginger – thinly sliced
2 teaspoons toasted sesame oil
2 spring onions
250g chestnut mushrooms – thickly sliced
2 tablespoons soy sauce
1 heaped teaspoon miso paste
1/2 teaspoon Chinese 5 spice
300g rice noodles
70g beansprouts
few slices of water chestnuts
Instructions
Put the vegetable broth into a saucepan or wok
Trim the green parts from the spring onions and add to the saucepan with the peeled and sliced red onion, garlic and ginger
Thinly slice the white part of the spring onion and set aside
Bubble over a medium heat for 15-20 minutes
Heat the sesame oil in a skillet or frying pan then saute the mushrooms, tossing or stirring frequently until cooked and golden
Stir the soy sauce, miso and 5 spice into the mushrooms
Strain the broth and discard the vegetables. Return the broth to the pan and add the noodles - cook according to package instructions
Ladle the broth and noodles into warmed bowls, top with the mushrooms, beansprouts, slices of water chestnut and the sliced spring onion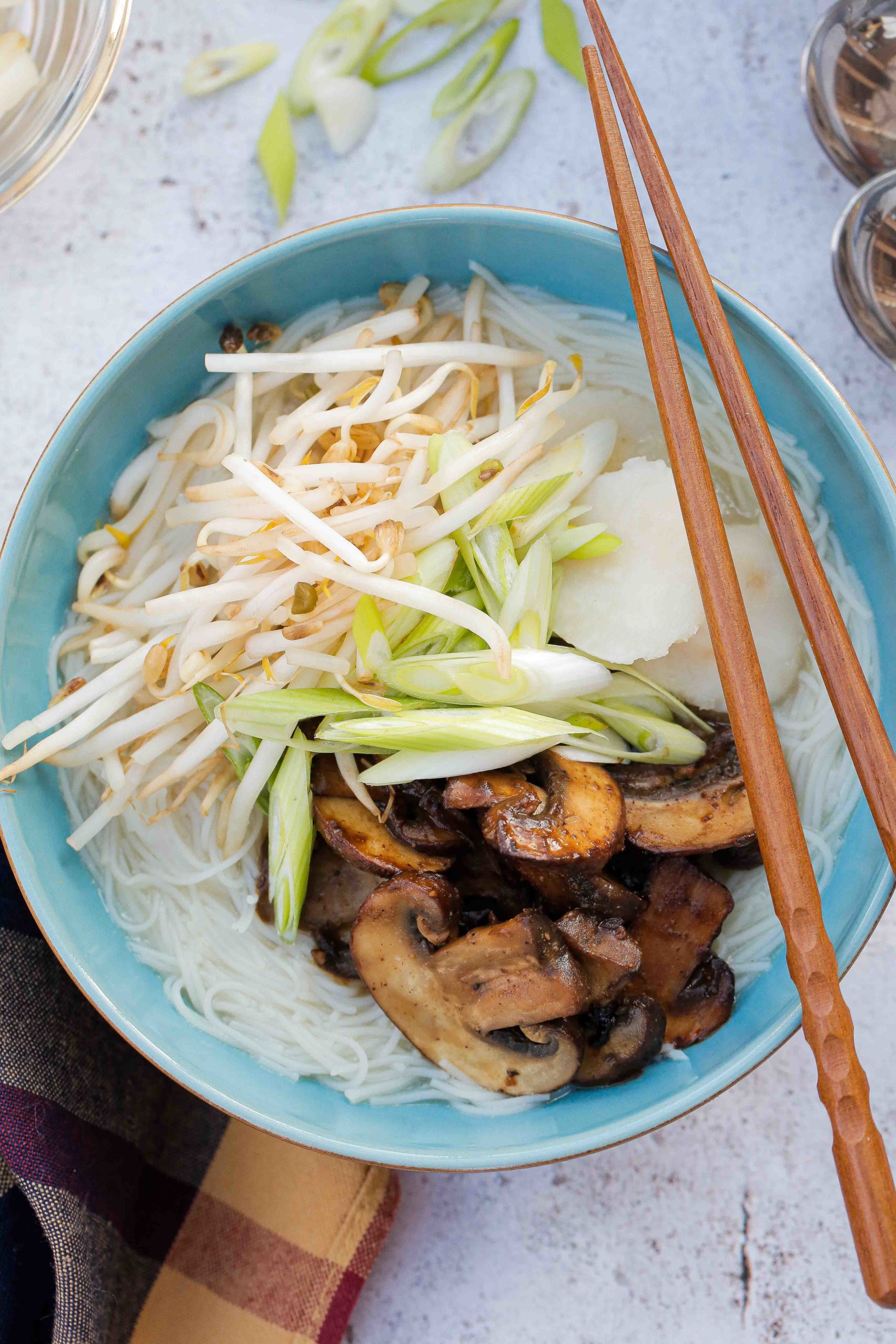 Hello and welcome to The Cook & Him.
We are Sam (The Cook), Phil (Him) and our little dog Nooch. What started with a plan to shed a few pounds back in 2016, soon became obvious that eating healthy doesn't have to be bland and boring.
So, combining Sam's 15 years of experience working within Michelin starred restaurants and our love for deliciously healthy food, we're creating recipes for you to make and enjoy. We've added our own unique spin on traditional and contemporary vegetarian and vegan recipes that keep you (and your pets!) healthy and full.  And we make sure they just work.
All things autumn - warming soups, savoury bakes and delicious sweet treats!
and I would like to see...
Or search for a recipe or post by keyword