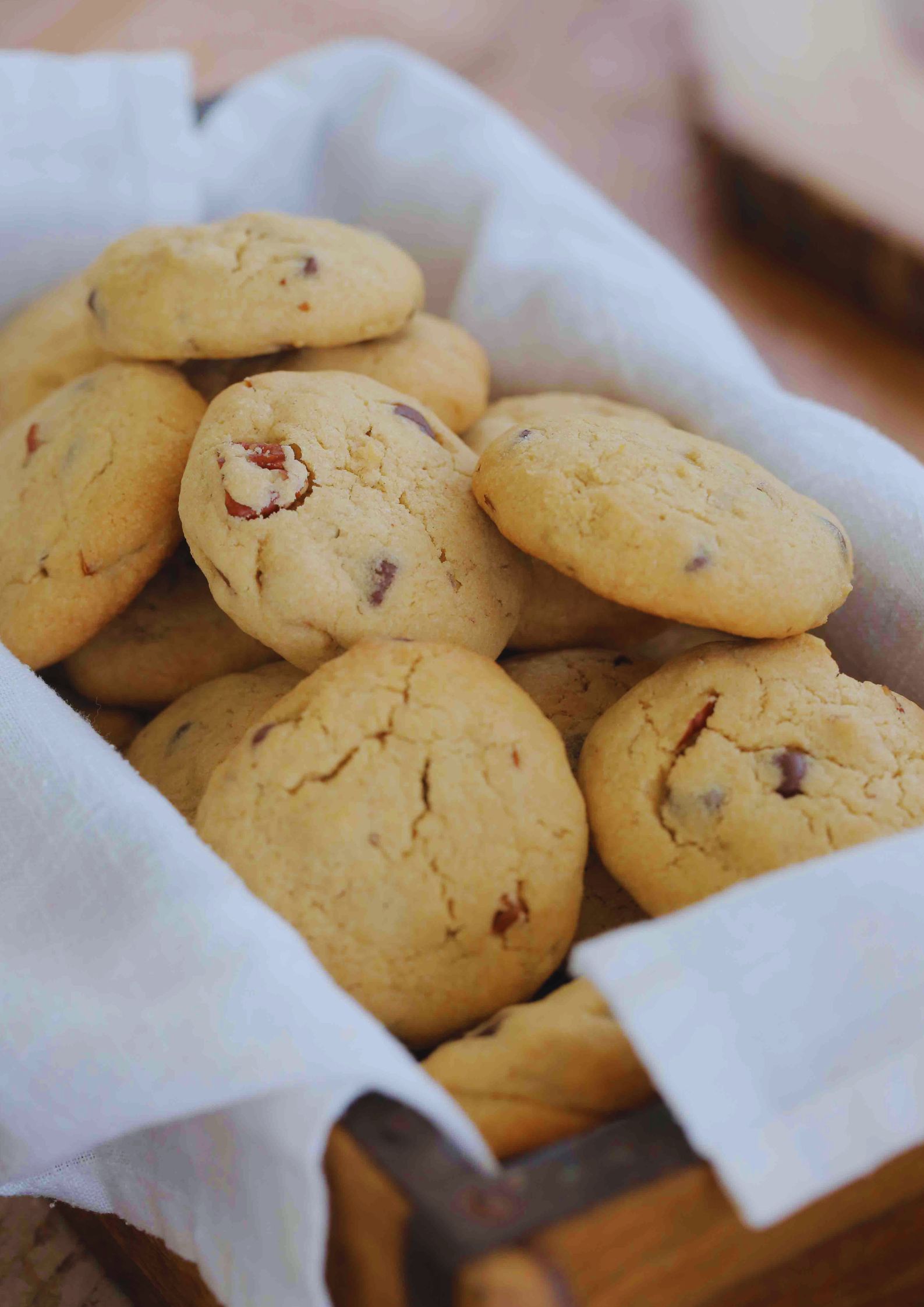 Posted in Recipes on 21.09.2023
Tahini Pecan Vegan Choc Chip Cookies
prep: 15 mins / cook: 15 mins / inactive: 0 mins / total: 30 mins / quantity: 20-24 cookies Print recipe?
These chewy vegan choc chip cookies with tahini and pecans are super easy to make with simple ingredients and take less than 15 minutes in the oven!
Right from the outset I'd like to point out that these vegan choc chip cookies aren't just good for 'a vegan cookie'.  Nope, even without dairy and eggs I'd be willing to bet no-one would be able to tell they're vegan.  I do actually think that a LOT with baking though.
I wanted these cookies to be thick and chewy, a bit like (quite possibly my favourite cookie) these cinnamon sugar cream cheese cookies.  I love the texture and density.  Ever so slightly undercooking them means they have the most amazing texture – sort of a cross between a cake and a cookie.  Flavour the cookie dough with tahini and stud the whole lot with chocolate chips and pecans and we have a new favourite cookie contender!
How to make these brown sugar cookies:
I wanted to make the whole process as easy as possible with no strange ingredients.  Which means no egg replacement and the only substitution is butter for dairy free butter.  I recommend using the block type of butter rather than margarine as they won't hold their shape as well with the softer marg.
Start by beating together the tahini, vegan butter and brown sugar.  The light brown sugar is what gives the baked cookies the most amazing caramel sweetness.  You can do this by hand or in a stand mixer – if you're mixing by hand you'll want to soften the butter first.
Scrape down the bowl a couple of times then beat in the milk then the flour, baking powder and cornflour until only just combined.
For the last few seconds, add the chopped pecans and chocolate chips until just mixed in.
Baking your cookies:
Shape the dough into golf ball sized pieces then roll and flatten slightly in your hands.  Place them on a baking tray – they don't spread too much so can be placed reasonably close together.
Bake in a preheated oven for 10-13 minutes.  I cooked mine for 12 minutes.  The less you cook them the softer they'll be, I find 12 minutes to be the 'goldilocks' time from my oven.  Check after 10 minutes and if you think they're too soft, return to the oven for a couple more minutes.
I'm not even going to suggest you wait for them to cool before eating because where's the fun in that?  Life is just too damn short to spend it waiting for vegan choc chip cookies to cool before devouring.  BUT if you have way more restraint than me, store any leftovers in an airtight container at room temperature.
I've also frozen these and they're still good to go once defrosted.  It took a couple of attempts to get the chewy consistency I was after and whilst I CAN, I most definitely SHOULDN'T eat somewhere north of 40 cookies all by myself in the space of a weekend.
Looking for even more vegan cookie recipes?  Try these:
White Choc and Raspberry Cookies
Coconut Almond Chocolate Cookies
Cinnamon Sugar Cream Cheese Cookies
If you make this recipe or any of the recipes from The Cook & Him I'd LOVE to see! Just snap a picture and share it on Instagram using #thecookandhim and tagging @thecookandhim in the photo itself (as this guarantees I'll see your picture!
)
Don't forget to follow me on Facebook or Pinterest for even more recipe inspiration and chat, competitions, behind the scenes and so much more!
Tahini Pecan Vegan Choc Chip Cookies
prep: 15 mins / cook: 15 mins / inactive: 0 mins / total: 30 mins / quantity: 20-24 cookies
Ingredients
2/3 cup (150g) vegan butter
1/4 cup (60g) tahini
1 cup (170g) light brown sugar
1/4 cup (60ml) plant milk
2 cups (300g) plain flour
1/2 teaspoon baking powder
1/2 tablespoon cornflour
1/2 cup (100g) vegan chocolate chips
1/2 cup (50g) pecans
Instructions
Preheat your oven to 170 Fan / 190 C / 375 F / Gas 5 and line a couple of large baking trays with parchment or silicon mats
Beat together the butter, tahini and brown sugar. You can do this in a stand mixer or by hand - if by hand you'll need to soften the butter first
Mix until well combined, scraping down the bowl a couple of times
Beat in the milk then the flour, baking powder and cornflour until only just combined then mix in the chocolate chips and pecans
Scoop out pieces of dough roughly the size of a gold ball, shape into a ball then flatten slightly in your palm
Place on the baking tray, spacing each one slightly apart - they don't spread too much
Once all shaped, bake for 10-15 minutes. I found 12 minutes was the sweet spot in my oven, so check after 10 minutes - if they're too soft return to the oven for a couple more minutes
Allow to cool on the tray for a couple of minutes - cookies are always best when still warm and fresh from the oven but once cooled completely store in an airtight container at room temperature
Leftovers can also be frozen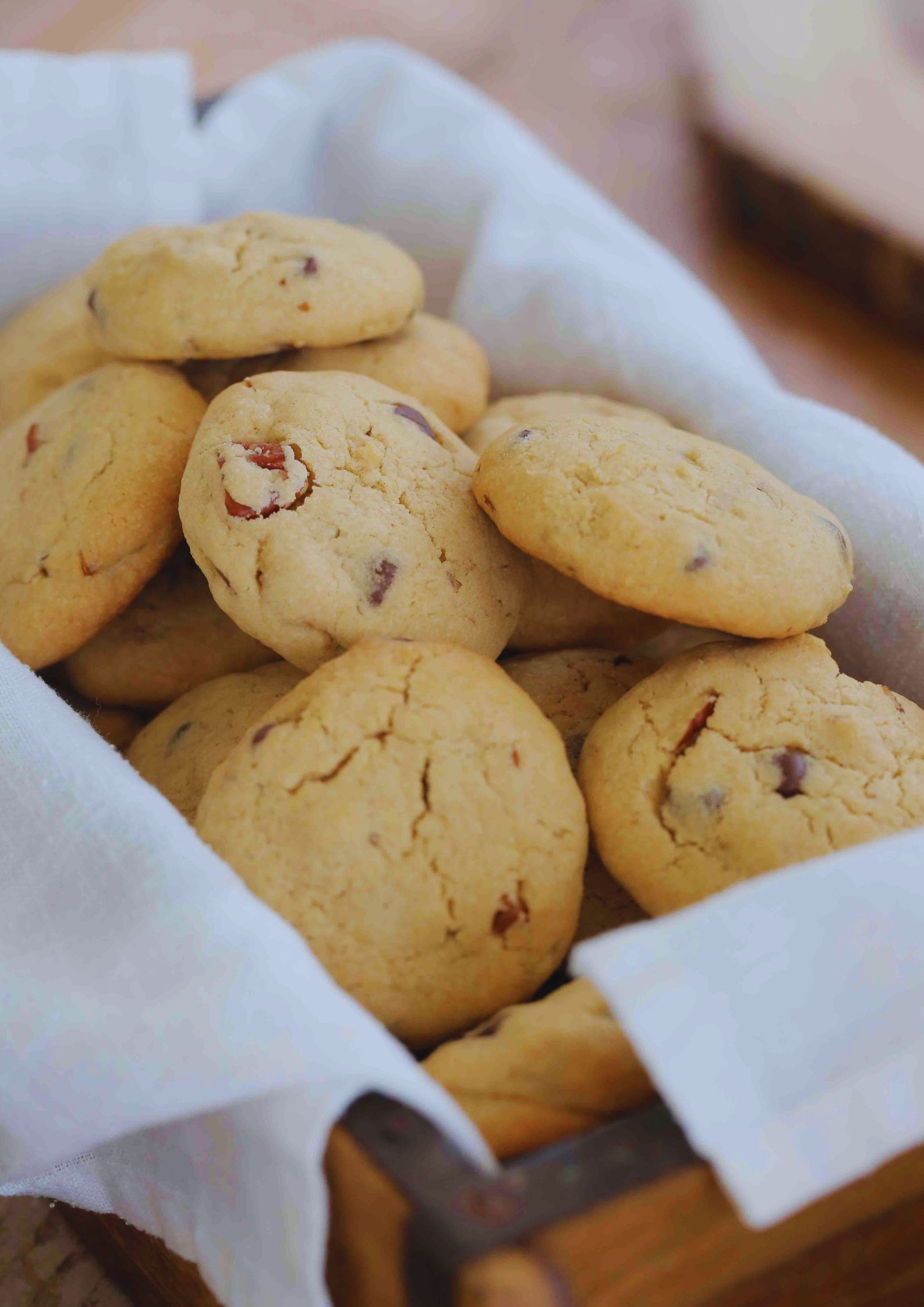 Hello and welcome to The Cook & Him.
We are Sam (The Cook), Phil (Him) and our little dog Nooch. What started with a plan to shed a few pounds back in 2016, soon became obvious that eating healthy doesn't have to be bland and boring.
So, combining Sam's 15 years of experience working within Michelin starred restaurants and our love for deliciously healthy food, we're creating recipes for you to make and enjoy. We've added our own unique spin on traditional and contemporary vegetarian and vegan recipes that keep you (and your pets!) healthy and full.  And we make sure they just work.
All things autumn - warming soups, savoury bakes and delicious sweet treats!
and I would like to see...
Or search for a recipe or post by keyword