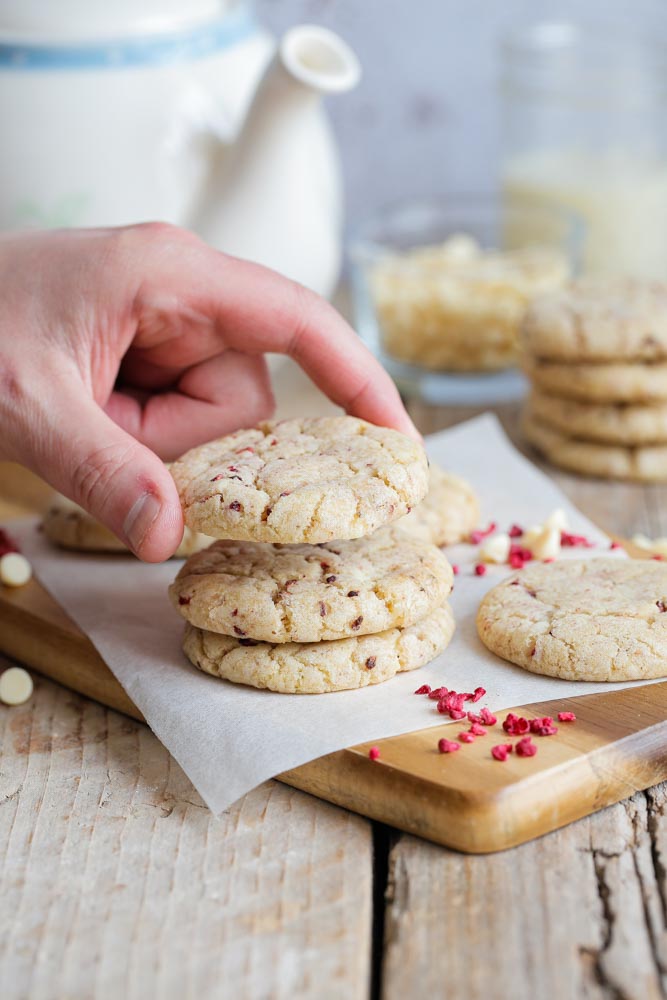 Posted in Recipes on 28.06.2021
White Chocolate Raspberry Cookies
prep: 15 mins / cook: 15 mins / inactive: 0 mins / total: 30 mins / quantity: roughly 20 cookies Print recipe?
Sweet, fruity, chewy, gooey and delicious these white chocolate raspberry cookies are SO easy to whip together for the perfect sweet treat!
White chocolate and raspberry is one of those classic combinations.  Like chocolate and orange, salt and pepper, chips and ketchup, gin and tonic, Tom and Jerry.  One CAN exist without the other but together they're just so much better.  So combining them for these white chocolate and raspberry cookies was a no brainer.
Phil is a huge white chocolate and raspberry fan.  Separate or combined.  And I was disturbed to realise I don't have any recipes with that actual combination!  What?!  Time to remedy that immediately.
I thought about adding nuts, macadamia nuts specifically, to this cookie recipe.  But I have a tendency to add nuts to a LOT of things.  And I didn't want to detract from the stars of the show.
Do I need to mention that these cookies are vegan?
I take it as a given that our regular readers/visitors just know by now that all my recipes will be vegan.  But of course we get new visitors too!  Yes we have a number of vegetarian recipes on the site as when we started these website shenanigans we were both vegetarian.  Then one day I went down the dairy farm/egg production rabbit hole and realised how naive I'd been thinking that they were harmless industries and that if I got grass fed/free range it meant the animals lived happy, healthy lives.  NOPE NOPE NOPE.  I could not have been more wrong.
How to make the connection between the animal and what's on your plate.
I try not to preach.  I'm more about showing how utterly fabulous vegan food is.  But sometimes I get really irked by the apathy of some people about the absolute suffering they contribute to.  So I'm putting these links out there and maybe someone will notice and think about what they're doing and why they're doing it.  And why they don't actually need to do it 😉
Anyway …
How to make these super easy cookies:
There's not a tonne of ingredients in these, and a lot of it is pantry staples.  The one, slightly 'unusual' one is the freeze dried raspberries.  Phil loves these on his porridge.  And I wanted to use them for these cookies as they impart a really lovely raspberry flavour but don't alter the recipe like fresh raspberries would.  I adore these crinkle topped cinnamon sugar cookies and wanted to sort of replicate the texture without using the cream cheese.
Beat together the butter and sugar.  You can do this by hand or in a stand mixer with the paddle attachment.  If you're doing it by hand you'll want to soften the butter first.
Add the milk, flax seeds and cornflour.  Beat in until combined.
Add the flour and baking powder.  Gently beat in – try not to over mix at this point.
Finally, add the chopped white chocolate and raspberries.  I've used vegan white chocolate buttons that I've just run the knife across a few times to chop them slightly.  I wanted semi-chunks of chocolate but you can use a chopped up chocolate bar or chocolate chips.  Beat them in until they're just mixed in.  You want a soft, squidgy dough that you can easily shape.
Roll the dough into balls about the size of a golf ball and place on a baking tray.  Flatten each cookie slightly – keep the raspberry cookies reasonably spaced apart as they do spread a little.
Bake for 15 minutes until lightly puffed and crinkle topped.  They sink a little and harden up as they cool so don't be worried if they feel too soft the minute you take them out of the oven.  I prefer a chewy cookie to a crisp one.  If you prefer them crisp, cook for an extra 5 minutes.
Allow them to cool on the tray for a few minutes before nomming.  These vegan cookies are SO good.  Fruity, chewy, chocolatey, sweet and very VERY moreish!
Looking for more recipes with white chocolate or raspberries?  Try these:
White Chocolate, Berry and Orange Scones
White Chocolate and Pistachio Shortbread
I'd also love to hear from you if you make these White Chocolate and Raspberry Cookies! Just leave a comment as it's so helpful and I love to hear how the recipe worked out for you! Thank you so much!
Don't forget to follow us on YouTube, Facebook or Pinterest for even more recipe inspiration and chat, competitions, behind the scenes and so much more!
White Chocolate Raspberry Cookies
prep: 15 mins / cook: 15 mins / inactive: 0 mins / total: 30 mins / quantity: roughly 20 cookies
Ingredients
2/3 cup (150g) vegan butter
1 cup (240g) caster sugar
3 tblsp (45ml) non dairy milk
1 tblsp ground flax seeds
2 tblsp cornflour
1 + 3/4 cups (260g) plain flour
1/2 tsp baking powder
scant 1/2 cup (75g) vegan white chocolate buttons – roughly chopped
1/4 cup (10g) freeze dried raspberries
Instructions
Preheat your oven to 170 Fan / 190 C / 375 F / Gas 5 and line one or two baking trays with parchment
Beat together the butter and sugar. You can do this by hand or in a stand mixer with the paddle attachment. If you're doing it by hand you'll want to soften the butter first
Scrape down the sides of the bowl with a spatula then add the milk, flax seeds and cornflour and beat those in
Add the flour and baking powder and beat until just mixed in
Add in the chocolate and raspberries and gently beat or stir until they're combined. You want a soft, squidgy dough that holds together when you press it between your fingers
Roll the dough into roughly 20 golf ball sized balls, flattening them slightly before placing on your prepared tray(s). Space them apart as they do spread a little during baking
Bake for 15 minutes until slightly puffy. They well sink and harden once they cool so don't worry if they still feel quite soft as you take out of the oven
Leave to cool on the tray then store in an airtight container at room temperature
Notes
You can keep the chocolate buttons whole, use a chopped chocolate bar or even chocolate chips
I prefer my cookies chewy rather than crisp. If you prefer crisper cookies bake for an extra 3-5 minutes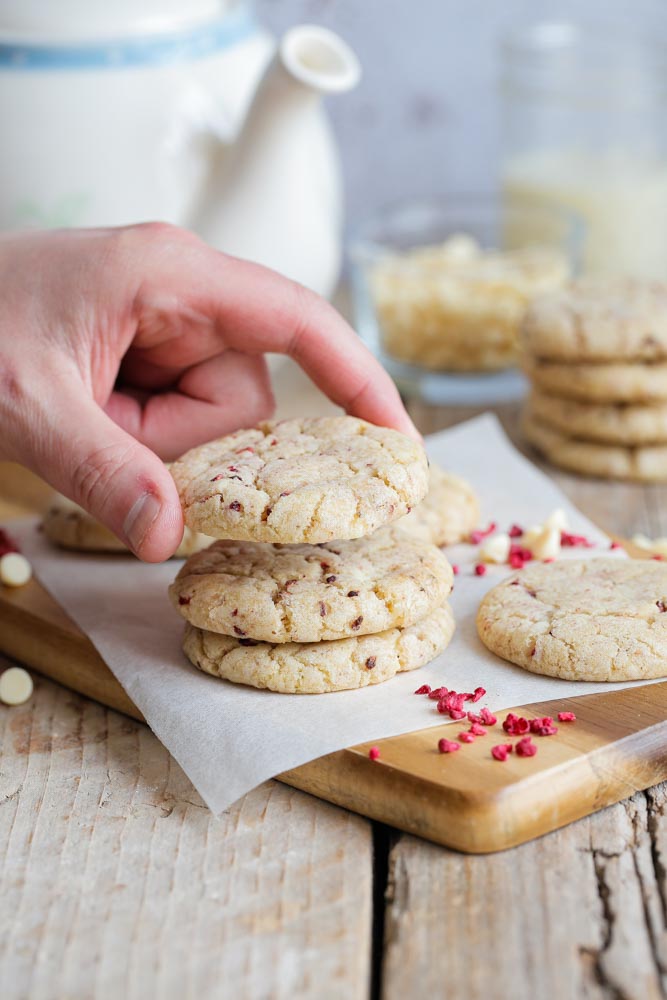 Hello and welcome to The Cook & Him.
We are Sam (The Cook), Phil (Him) and our little dog Nooch. What started with a plan to shed a few pounds back in 2016, soon became obvious that eating healthy doesn't have to be bland and boring.
So, combining Sam's 15 years of experience working within Michelin starred restaurants and our love for deliciously healthy food, we're creating recipes for you to make and enjoy. We've added our own unique spin on traditional and contemporary vegetarian and vegan recipes that keep you (and your pets!) healthy and full.  And we make sure they just work.
All things autumn - warming soups, savoury bakes and delicious sweet treats!
and I would like to see...
Or search for a recipe or post by keyword