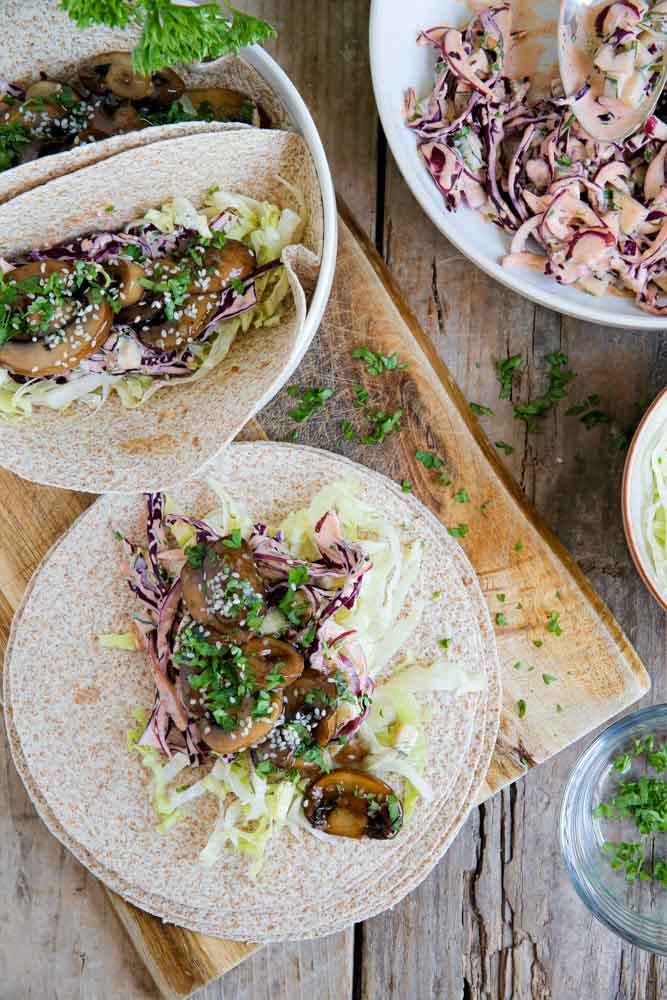 Posted in Recipes on 23.08.2021
Teriyaki Mushroom Tacos with Red Cabbage Slaw
prep: 20 mins / cook: 10 mins / inactive: 0 mins / total: 30 mins / quantity: 8 tacos Print recipe?
Sticky, smokey and all the Asian teriyaki flavours are piled into these mushroom tacos with a base of creamy vegan red cabbage slaw. Delicious!
Why limit tacos to just Tuesday?  Any night (or day) of the week should be for tacos!  Do you love leftovers?  Phil and I eat a lot of tortilla wraps.  We call them fridge forage wraps and involves most of the food being brought out of the fridge and stuffed into soft tortilla wraps.  But for a change – and because I LOVE teriyaki anything – I thought I'd make an actual recipe rather than just a mash of whatever we've got left.  Although technically these were borne out of having some mushrooms in the fridge getting close to their best before date.  So teriyaki mushrooms it was.
Let's talk coleslaw:
I also happen to love coleslaw and make way too much of it to be good for me.  It's another thing that you can put all sorts into.  My mum used to make it with apple and carrot.  I've tried slaw with just a vinegar, lemon juice and oil dressing.  And while it was really rather yum, it just wasn't coleslaw to me.  Not like this creamy Winter Slaw.  With crunchy nuts and soft, jewel like sultanas.
Of course you don't have to use a slaw in the bottom of your teriyaki mushroom tacos.  But I thoroughly recommend it.  Too often we shove any old thing in a tortilla shell.  But sometimes it's also good to have a plan.  And that plan should include creamy red cabbage slaw in complete contrast to the sticky, little bit boozy, slightly garlicy mushrooms that sit atop it.  All wrapped up in a soft tortilla.  Heaven.
How to make these creamy, dreamy, sticky, spicy mushroom tacos:
Start with the slaw.  I personally prefer day old coleslaw.  The flavours have all that extra time to marry together in the fridge.  But honestly, I'll also shovel it into my mouth while I'm making it.  Homemade coleslaw is SO much better than anything shop bought.  Of course vegan slaw being available in shops is also a fairly recent thing.  It's not bad and I'll buy it if I'm feeling extra lazy but it's always a little too vinegary for me.  Just shred or chop your vegetables, add some chopped fresh parsley, smoked paprika and dollop in the mayo.  I also taste and add extra salt and pepper as needed.
Next is the teriyaki sauce.  It's SO easy.  Simply mince the garlic and put into a saucepan with the liquid aminos (or soy sauce), bourbon (you can also use brandy or sherry), maple syrup, rice vinegar and water.  Gently bubble for a few minutes to take the raw edge off the garlic and the bourbon.  Whisk the cornflour with a little more water to a runny paste then whisk that into the saucepan.  Bubble, while whisking, until you have a thick, sticky sauce.  The sauce will look cloudy when you add the cornflour but as you cook it, it will become clear.
Saute the mushrooms in a HOT pan.  Use a little sesame oil and don't stir too much.  Allow them to caramelise.  I've used chestnut mushrooms but you could mix it up with button mushrooms and oyster mushrooms.
Once the mushrooms are cooked stir in the teriyaki sauce.  Coat the mushrooms well.
Time to load up your tacos!  We love the soft tortillas – you can warm them in the microwave or in the oven wrapped in some foil with a splash of water or just have them cold.  Layer in some shredded lettuce, followed by the red cabbage slaw then top with the warm teriyaki mushrooms.
Fold up and enjoy!  These mushroom tacos are a little bit messy, there may be some sauce that dribbles down your chin.  I have boobs that invariably catch all that stuff.  But I assure you, they're SO worth it!
Looking for more vegan tacos recipes?  Try these:
Peri Peri Tacos with Sweetcorn Salsa
Crispy Coconut Cauliflower and Prawn Style Tacos
I'd also love to hear from you if you make these Teriyaki Mushroom Tacos! Just leave a comment as it's so helpful and I love to hear how the recipe worked out for you! Thank you so much!
Don't forget to follow us on YouTube, Facebook or Pinterest for even more recipe inspiration and chat, competitions, behind the scenes and so much more!
Teriyaki Mushroom Tacos with Red Cabbage Slaw
prep: 20 mins / cook: 10 mins / inactive: 0 mins / total: 30 mins / quantity: 8 tacos
Ingredients
Red Cabbage Slaw:
1/4 red cabbage – shredded
1 red onion – peeled and finely sliced
1/4 cucumber – diced
3-4 tblsp vegan mayonnaise
few sprigs fresh parsley
1 tsp smoked paprika
salt and pepper to taste
Teriyaki Mushrooms:
2 tblsp liquid aminos or soy sauce
2 tblsp maple or agave syrup (or light brown sugar)
2 tblsp bourbon whiskey
1 clove garlic – peeled and minced
1 tsp rice wine vinegar
1/3 cup (80ml) water
1 tblsp cornflour
1 tblsp sesame oil
17 ounces (500g) chestnut mushrooms – thickly sliced
To serve:
8 soft flour tortillas
Shredded lettuce
Sesame seeds (optional)
Instructions
To make the coleslaw put the shredded cabbage, sliced onion, and diced cucumber in a large bowl
Add the vegan mayonnaise, chopped fresh parsley and smoked paprika and stir well. Taste and add salt and pepper as needed
To make the teriyaki sauce put the aminos, syrup, bourbon, garlic, vinegar and water in a small saucepan and gently bring to the boil
In a small bowl whisk the cornflour with enough water to make a runny paste - it shouldn't take much, just a tablespoon or so
Add the cornflour paste into the teriyaki sauce and whisk until the sauce thickens and turns clear
Heat the sesame oil in a frying pan until hot then saute the mushrooms. Allow them to caramelise on the bottom before stirring
Once the mushrooms are cooked stir in the teriyaki sauce and keep warm
To build the tacos, layer on the shredded lettuce, top with the coleslaw then top with the warm teriyaki mushrooms and a sprinkle of sesame seeds
Fold the tortilla and enjoy!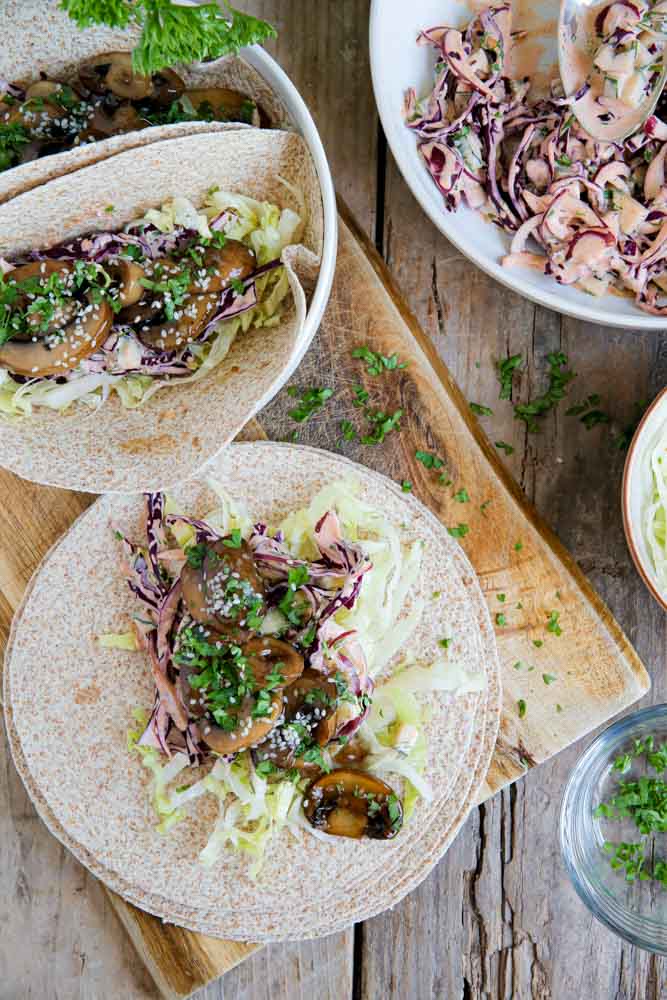 Hello and welcome to The Cook & Him.
We are Sam (The Cook), Phil (Him) and our little dog Nooch. What started with a plan to shed a few pounds back in 2016, soon became obvious that eating healthy doesn't have to be bland and boring.
So, combining Sam's 15 years of experience working within Michelin starred restaurants and our love for deliciously healthy food, we're creating recipes for you to make and enjoy. We've added our own unique spin on traditional and contemporary vegetarian and vegan recipes that keep you (and your pets!) healthy and full.  And we make sure they just work.
All things autumn - warming soups, savoury bakes and delicious sweet treats!
and I would like to see...
Or search for a recipe or post by keyword