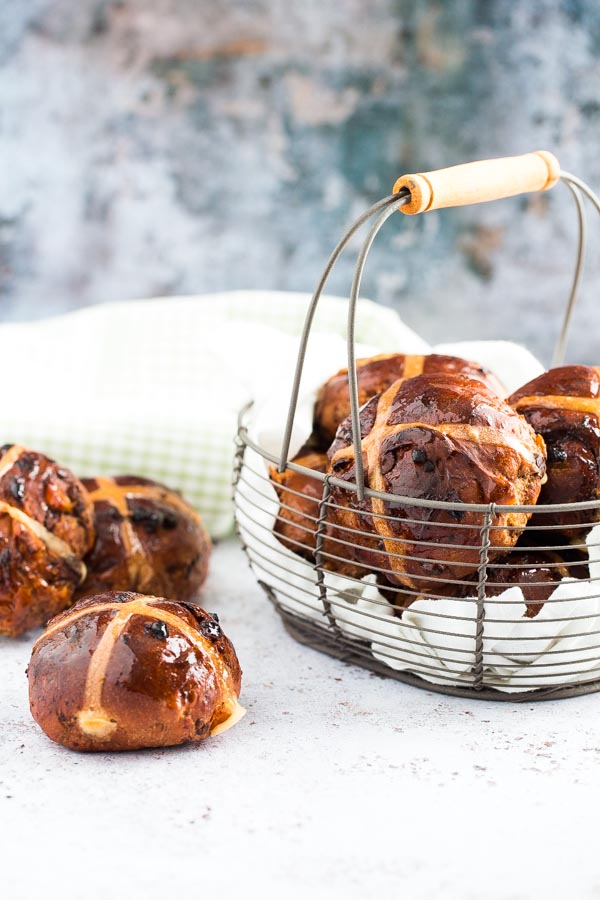 Posted in Recipes on 11.04.2019
Double Chocolate and Orange Hot Cross Buns
prep: 30 mins / cook: 25 mins / inactive: 60 mins / total: 1 hour 55 mins / quantity: 12 buns Print recipe?
Celebrate Easter in style with these heavenly Double Chocolate and Orange Hot Cross Buns! Packed with zesty orange, chocolate chunks and soft apricots.
It's officially spring but actually feels more like early summer right now.  And doesn't (somewhat unusually) Christmas feel like a really long time ago right now?  We're all probably a little more frazzled at the edges than we'd normally be during the Easter hols.  So can we just pretend for a minute that the extra vitamin C from the oranges and apricots make these chocolate and orange hot cross buns sorta healthy right?
Why chocolate in your hot cross buns?
Because as a simple bar, chocolate is sheer perfection.  It melts at body temperature, it's practically mandatory for emotional support and it will never let you down.
I've always loved hot cross buns and tea cakes in general.  But the humble fruited bun has been taken to a whole new level of deliciousness here.   There's cacao powder in the dough (which gives everything the BEST and richest chocolate flavour) and little nuggets of chopped chocolate like tiny chocolate gems in every bite.
How to make chocolate hot cross buns
There really isn't any mystery to baking with yeast – and absolutely nothing to be afraid of!  But it does take time.  There's very short periods of frantic activity (great calorie burn for an extra bun) followed by a couple of hours of leaving the yeast to do its wonderful thing.
To make the dough it's pretty much as simple as mixing the dry, mixing the wet then mixing the two together (scroll down for the full recipe and ingredients) …
Rub the butter into the flour – here I've used all white bread flour but you can do half and half with wholemeal flour too.  The end texture is just as delicious but slightly more chewy!
Stir in the sugar, spices, cacao powder and orange zest
Gently warm the milk to blood temperature – this means that when you dip your finger in you can't tell if it's hot or cold!  Too hot and you run the risk of killing the yeast so err on the side of cooler
Whisk in the yeast and leave for a few minutes until the milk becomes slightly frothy on top
Add the milk to the flour and stir together to make a dough.  You want the dough to be a little sticky
Knead for a good 5 minutes until the dough is soft and stretchy.  This is because by kneading you've been developing the gluten which gives all bread and yeast risen products that chewy texture and distinctive crumb
Leave to prove until doubled in size then knead in the chopped chocolate and apricots
Split into 12 even pieces then roll into balls, place on a baking tray and prove again.  Once proved pipe crosses then bake
Did you ever make glue from flour and water as a kid?  Well this is all the 'hot crosses' are made from – playschool paste!  It's kinda weird to work with this stuff as it's like melted mozzarella only more stringy!
If you don't fancy hot crosses on your buns, you can leave it off – it's mostly a chewy decorative thing and not a recipe deal breaker.
If you love these chocolate hot cross buns you might also like to try our Chocolate and Pistachio Babka Buns!
I don't have the words to describe how these smelt while baking.  Phil was tidying the bottom of the garden and came all the way up to ask what on earth was that sweet, chocolatey, heavenly smell.  Happy Easter everyone!
If you make this recipe or any of the recipes from The Cook & Him we'd LOVE to see! Just snap a picture and share it on Instagram using #thecookandhim and tagging @thecookandhim in the photo itself (as this guarantees we'll see your picture!
)
And don't forget to follow us on Instagram , Facebook or Twitter for even more recipe inspiration and chat, competitions, behind the scenes and so much more!
Double Chocolate and Orange Hot Cross Buns
prep: 30 mins / cook: 25 mins / inactive: 60 mins / total: 1 hour 55 mins / quantity: 12 buns
Ingredients
Buns:
3 + 1/2 cups (500g) strong white bread flour
1/4 cup (50g) vegan butter
3/4 cup (100g) coconut sugar
2 tsp mixed spice
1 tsp all-spice
1 orange – grated zest only
1/4 cup (25g) raw cacao powder
1 cup (250 ml) unsweetened dairy free milk of choice
2 + 1/4 tsp (7g sachet) dried active yeast
1 cup (200g) dried apricots – roughly chopped
1 x 90-100g bar vegan orange flavoured dark chocolate – finely chopped or grated
1/4 cup maple syrup for glazing
Crosses:
3 tblsp plain flour
3 tblsp water
Instructions
Put the flour into a large bowl and rub in the vegan butter using your fingertips until no lumps of butter remain
Stir in the sugar, spices, orange zest and cacao powder
Gently warm the almond milk - you want it blood temperature which means when you put your finger in to test it you can't feel if it's hot or cold!  If it's too hot it will kill the yeast and it won't prove (think hockey pucks!) ... too cold and the yeast will take longer to activate!
If you get it too hot just set aside until it cools to blood temperature
Whisk they yeast into the milk and leave for 5-10 minutes until the surface froths slightly. Pour the milk into the dry ingredients and stir together till it starts to form a dough
Tip out onto a floured work surface and knead for around 5-10 minutes until it's soft and elastic.  You'll want to put your back into this as you're trying to stretch the gluten in the flour that gives baked bread its texture!
Once its well kneaded put into a large clean bowl that you've lightly oiled and cover with a clean t-towel or piece of clingfilm
Leave the bowl in a warm place to prove for around an hour or until doubled in size
Once it's doubled in size tip the dough back onto your work surface and knead in the chopped apricots and chopped/grated chocolate until very well incorporated
Divide the dough roughly into 12 equal sized balls and using your hands roll/shape them into buns
Put onto a large tray lined with parchment.  The rolls are going to rise again so you'll want to space them not too close together to allow room to expand.  Use 2 trays if you don't have one large enough
Loosely cover the tray with a piece of oiled cling film (the oil stops it sticking when you remove it to bake the buns!) and again leave in a warm place for around an hour or until doubled in size
Just before they're ready to be baked, preheat your oven to 180 Fan / 200 C / 400 F / Gas 6.  Prepare your crosses - whisk together the flour and water to a thick but fluid paste - too thin and it will just run off the top of your buns, too thick and you won't be able to pipe it!  This part is a bit trial and error - different flours have different absorbency qualities so add more flour or water to get the right consistency
Put the paste into a piping bag - or a sturdy sandwich bag which you'll then snip the corner off
Remove the piece of cling film and pipe crosses of paste over the tops of each bun
Put the tray(s) in the oven for 20-25 minutes.  To check if they're cooked, carefully lift one of the hot buns and tap the bottom - it should make a hollow sound
Remove from the oven and immediately brush with maple syrup to glaze the buns
Transfer to a wire rack to cool completely
To serve, split in half and toast under a hot grill
Notes
These buns freeze really well!  Just put into a lidded container (the sticky top will stick to a freezer bag!) and defrost thoroughly before using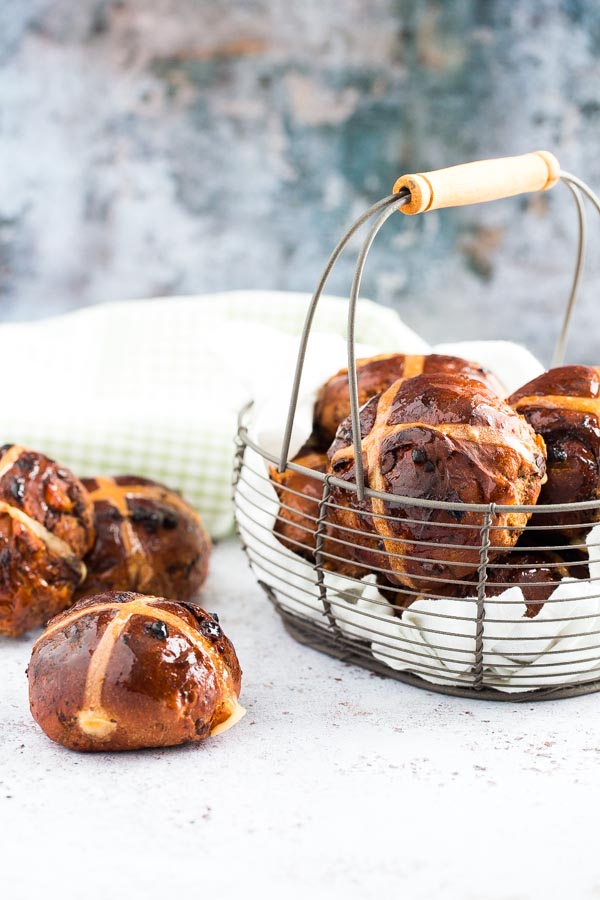 Some products I used in today's post...
Some of the links above are affiliate links, which pay us a small commission for our referral at no extra cost to you! Thank you for supporting The Cook & Him.
Hello and welcome to The Cook & Him.
We are Sam (The Cook), Phil (Him) and our little dog Nooch. What started with a plan to shed a few pounds back in 2016, soon became obvious that eating healthy doesn't have to be bland and boring.
So, combining Sam's 15 years of experience working within Michelin starred restaurants and our love for deliciously healthy food, we're creating recipes for you to make and enjoy. We've added our own unique spin on traditional and contemporary vegetarian and vegan recipes that keep you (and your pets!) healthy and full.  And we make sure they just work.
All things autumn - warming soups, savoury bakes and delicious sweet treats!
and I would like to see...
Or search for a recipe or post by keyword