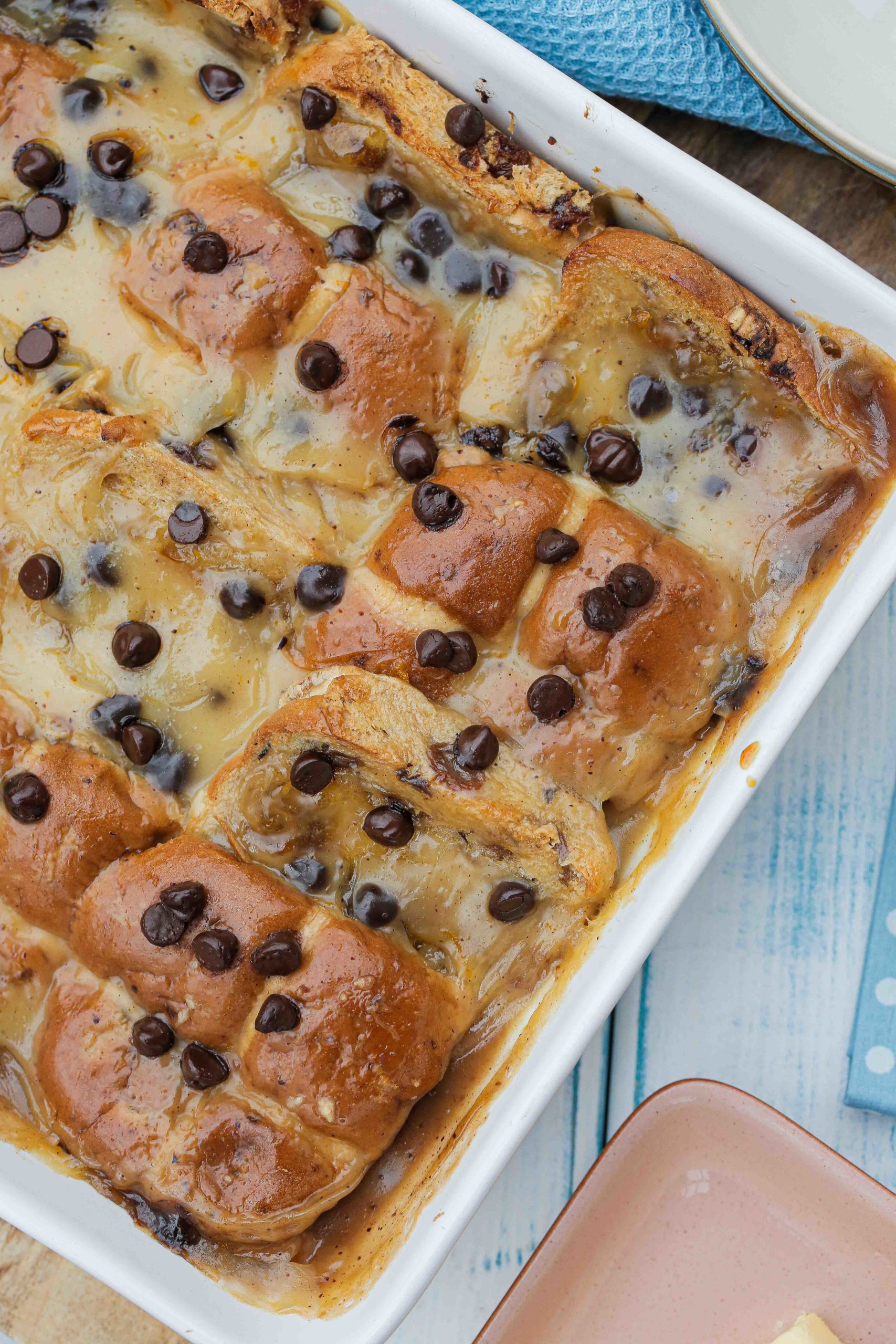 Posted in Recipes on 15.03.2023
Hot Cross Bun Bread Pudding
prep: 20 mins / cook: 30 mins / inactive: 30 mins / total: 1 hour 20 mins / quantity: 6-8 portions Print recipe?
This vegan hot cross bun bread pudding, filled with tangy orange marmalade and chocolate chips, is an impressive but deceptively easy delicious Easter dessert!
I was going to start by saying this hot cross bun bread pudding is THE perfect way to use up any leftover hot cross buns.  But is that even a thing?  Leftover hot cross buns I mean.  Because for me, that's almost laughable.  Even before the current global economic situation, I've always absolutely tried to use up everything to its last drop, crumb or thread.  But the concept of having hot cross buns and not eating them?  Pffft.  I had to buy them in especially to make this dessert … and not eat them in the meantime!
I toyed with using homemade hot cross buns for a while.  I mean, that's the ultimate right?  But the only hot cross bun recipe I currently have on the website is for Double Chocolate and Orange ones.  And honestly, they don't need anything other than a gentle toasting and a spread of some lovely plant butter.
I also wanted to make this an EASY  Easter dessert.  And while making your own bread anything isn't hard, it IS time consuming.
Do you celebrate Easter?  It's not something I've ever really done.  And these days I have a very strong objection to all the packaging surrounding Easter eggs.  But I'm totally here for the hot cross buns.
How to make vegan custard:
The basis of any good bread and butter pudding, hot cross bun or otherwise, is a good vanilla custard.  Vegan custard isn't hard.  In fact, did you know Birds instant custard is accidentally vegan?  Yep, that childhood favourite is egg and dairy free!  I say childhood because it was a regular in our house, Dad would make it extra thick to top sliced banana.  Oh yes, we knew how to live.
Vegan custard is thickened with cornflour and practically ensures perfect custard every time as you're not dealing with eggs which can easily overcook and become sweet scrambled eggs.  Blergh.
For the vanilla bit, use the best quality you can afford.  Vanilla extract is the best.  But if all you can afford is essence, use that.  Can't have you missing out on this hot cross bun bread pudding for want of a better quality vanilla!
Quick guide to making this vegan hot cross bun bread pudding:
Start with the hot cross buns.  They can be as stale as you like for this as they're going to soak up all that lovely vanilla custard.  Split in half then spread with softened vegan butter or margarine then the orange marmalade.  Lay in a lightly buttered dish spread side up.  Overlap them slightly.
To make the custard measure your milk then use a bit of it to make a thin paste with the cornflour in a small bowl.  Heat the rest of the milk with the sugar, nutmeg and vanilla until just boiling.  Whisk in the cornflour and continue whisking over a gentle heat until the mixture thickens.  Take off the heat and whisk in the orange zest.
Pour the custard all over the hot cross buns, sprinkle over the vegan chocolate chips, then set aside to allow the buns to soak up the custard. This will make the baked bread and butter pudding all unctuous and squidgy and oh so delicious!
Bake the pudding for around 30 minutes.  You want the top of the custard to have just set.
Dig in!  Personally I don't think this Easter dessert needs anything extra but you might like a scoop of vanilla ice cream for that whole hot/cold dessert thing 😉
Leftovers can be reheated in the oven or microwave.  Store the chilled dessert in the fridge.
Looking for even more vegan Easter recipes?  Try these:
Double Chocolate and Orange Hot Cross Buns
If you make this recipe or any of the recipes from The Cook & Him I'd LOVE to see! Just snap a picture and share it on Instagram using #thecookandhim and tagging @thecookandhim in the photo itself (as this guarantees I'll see your picture!
)
Don't forget to follow me on Facebook or Pinterest for even more recipe inspiration and chat, competitions, behind the scenes and so much more!
Hot Cross Bun Bread Pudding
prep: 20 mins / cook: 30 mins / inactive: 30 mins / total: 1 hour 20 mins / quantity: 6-8 portions
Ingredients
6 hot cross buns
1 stick (100g) softened vegan butter + a little extra for buttering dish
1/2 cup (120g) orange marmalade
3 cups (800ml) plant milk
3 tablespoons cornflour
1/2 cup (105g) caster sugar
1 teaspoon vanilla extract
1 teaspoon nutmeg
grated zest of one orange
1/4 cup (50g) vegan chocolate chips
Equipment:
25cm (10 inch) square baking dish
Instructions
Butter your baking dish with a little softened butter or margarine
Split the hot cross buns in half and generously butter each half then spread with the marmalade
Lay the bun halves into your baking dish, overlapping each one
Put the cornflour into a small bowl then stir in enough of the measured milk to make a thin paste
Put the remainder of the milk into a saucepan with the sugar, vanilla and nutmeg and bring to just boiling
Whisk in the cornflour mixture and continue to whisk until the custard has thickened
Take off the heat and whisk in the orange zest then pour all over the hot cross buns. Sprinkle over the chocolate chips then leave the buns to soak up the custard for about 30 minutes
Preheat your oven to 180 Fan / 200 C / 400 F / Gas 6
Bake the pudding for 30 minutes or until the custard is just set and golden. Serve immediately
Notes
Chill any leftovers and store in the fridge. Reheat in the oven or microwave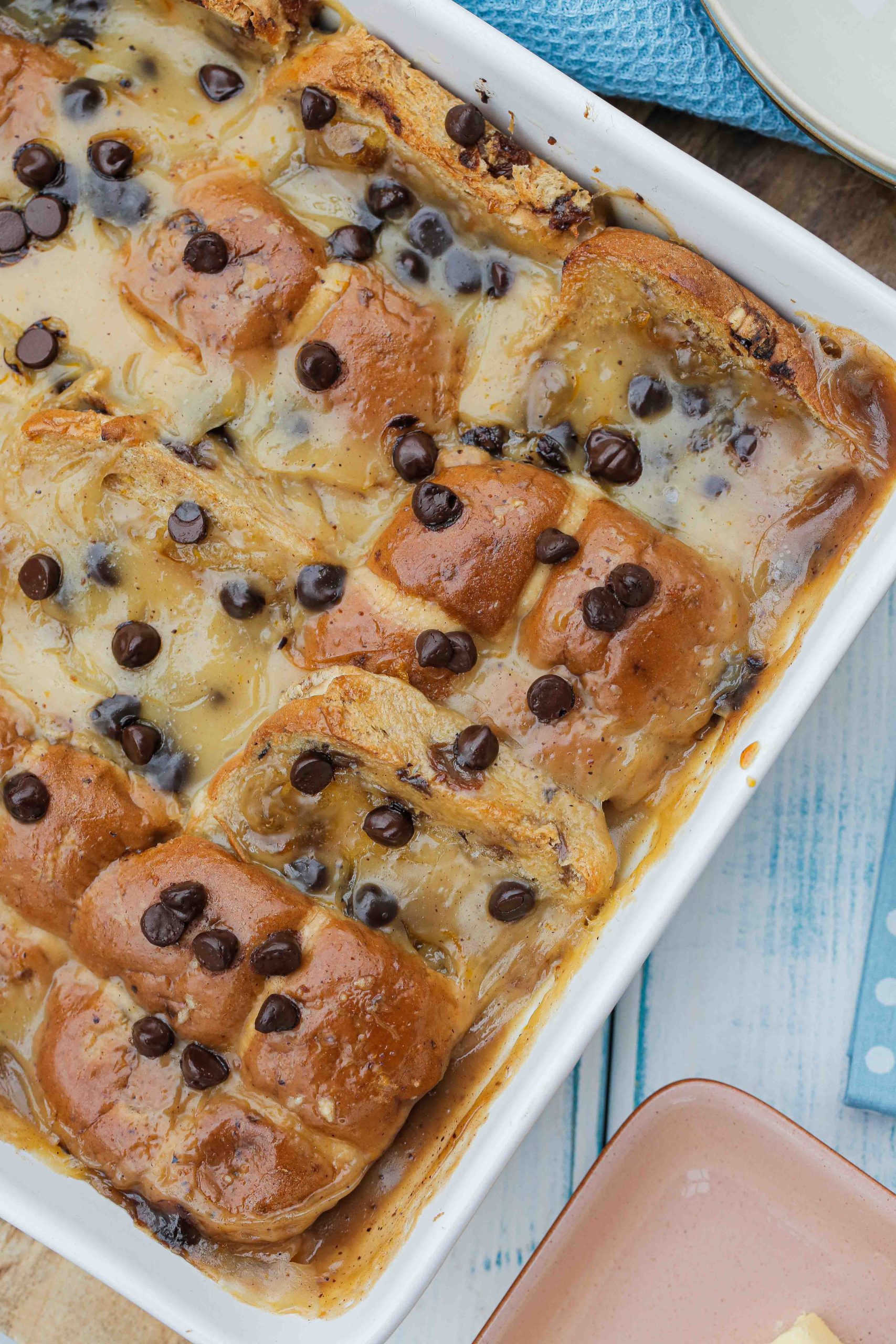 Hello and welcome to The Cook & Him.
We are Sam (The Cook), Phil (Him) and our little dog Nooch. What started with a plan to shed a few pounds back in 2016, soon became obvious that eating healthy doesn't have to be bland and boring.
So, combining Sam's 15 years of experience working within Michelin starred restaurants and our love for deliciously healthy food, we're creating recipes for you to make and enjoy. We've added our own unique spin on traditional and contemporary vegetarian and vegan recipes that keep you (and your pets!) healthy and full.  And we make sure they just work.
All things autumn - warming soups, savoury bakes and delicious sweet treats!
and I would like to see...
Or search for a recipe or post by keyword