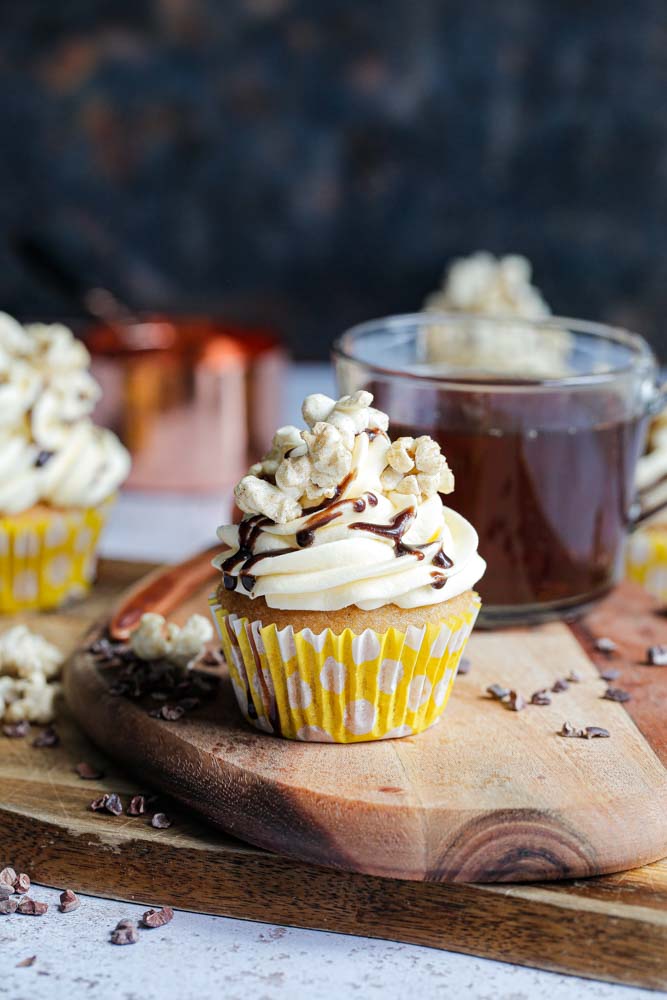 Posted in Recipes on 18.10.2021
Creamy Buttery Caramel Cupcakes
prep: 20 mins / cook: 25 mins / inactive: 0 mins / total: 45 mins / quantity: 12 cupcakes Print recipe?
Full of buttery caramel flavour in both the deliciously soft sponge and fluffy buttercream frosting these cupcakes are perfect for both beginner and expert vegan bakers!
Every time I make cupcakes (buttery caramel ones or otherwise) I try to make the sponge as light as possible.  That way I feel slightly less guilty for piling the frosting as high as possible.  And for having two cupcakes.  Or maybe three.  Ok four.
They make a wonderful afternoon treat or autumn picnic dessert! Top with salted caramel popcorn and chocolate drizzle for real indulgence!
If you love caramel flavours these cupcakes are most definitely for you.  But if you're wondering how to get a really rich caramel flavour in a cupcake the answer is simple.
How to make the best buttery caramel cupcakes:
You've probably guessed by now that I love all things Foodie Flavours but this Creamy Buttery Caramel is one of my favourites.  This stuff is the absolute bee's knees.  It smells like an autumn carnival and grandma's kitchen all rolled into one.  It's DIVINE.  And it makes these cupcakes taste like you've used the finest butter and the darkest brown sugar.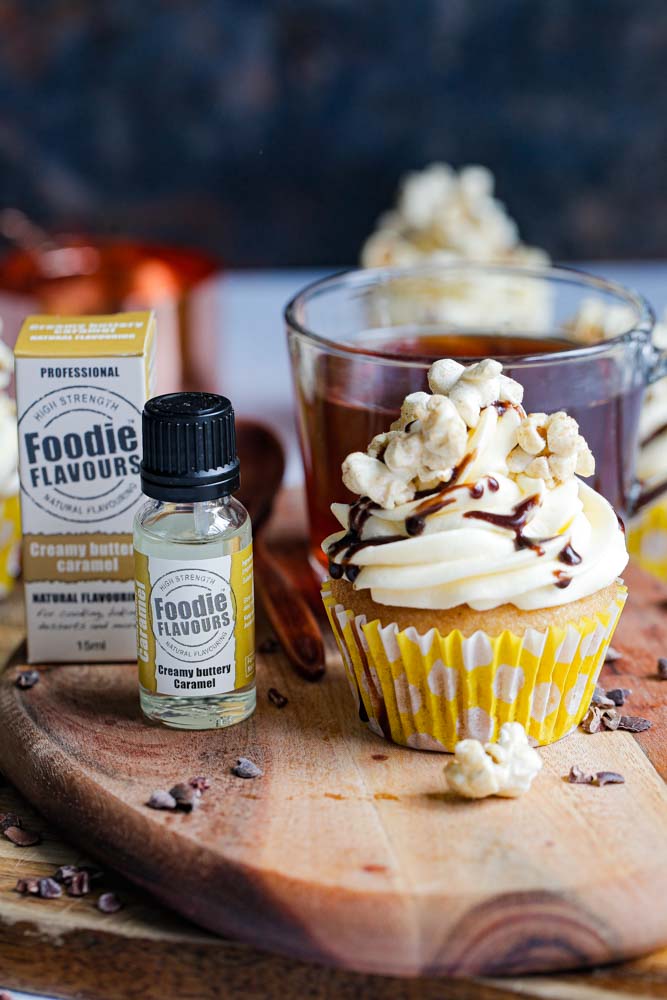 Worried about vegan baking?
There's no mystery about vegan baking and making the lightest, fluffiest cupcakes you could possibly ever dream of.  It's just a case of a couple of simple swaps.  I use apple cider vinegar and baking soda as together they react to make your cupcakes extra fluffy.  Don't worry, you do NOT taste the vinegar!  I've also used yoghurt as it gives vegan baking a buttermilk like flavour without actually using buttermilk.  And having recently discovered vegan 'Greek style' yoghurt from Alpro gives even more flavour.  Oh my goodness I love this yoghurt.  It's so rich and creamy and I'm having by the spoonful in everything breakfast at the moment – smoothies, muffins, swirled into hot porridge, dolloped on top of fresh stewed autumn fruits.  So good.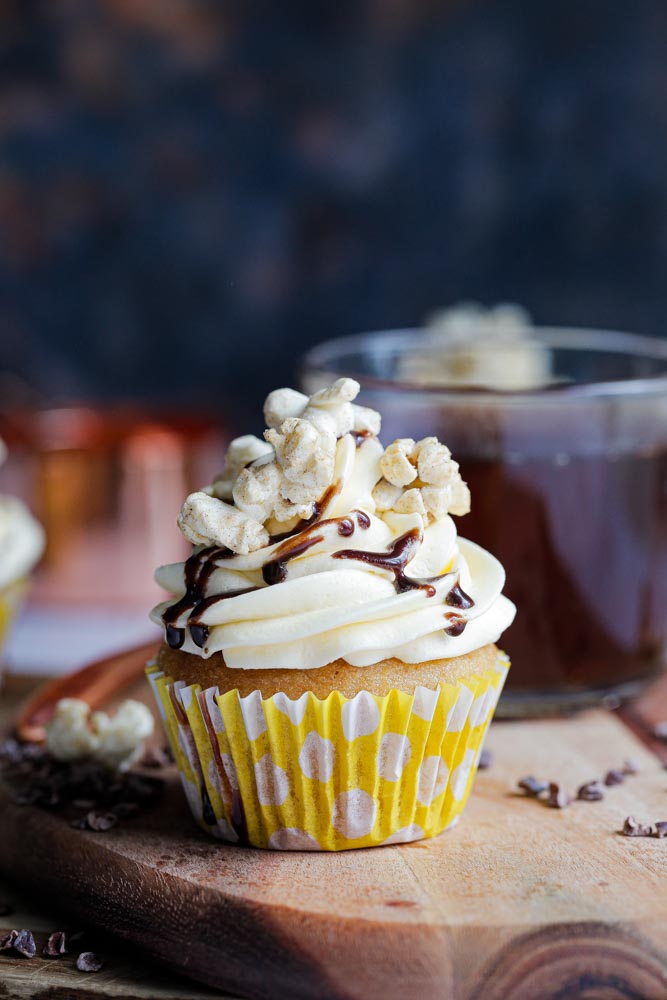 Looking for more vegan cupcake recipes?  Try these:
Jack Daniels and Cola Cupcakes
I'd also love to hear from you if you make these Creamy Buttery Caramel Cupakes! Just leave a comment as it's so helpful and I love to hear how the recipe worked out for you! Thank you so much!
Don't forget to follow us on YouTube, Facebook or Pinterest for even more recipe inspiration and chat, competitions, behind the scenes and so much more!
Creamy Buttery Caramel Cupcakes
prep: 20 mins / cook: 25 mins / inactive: 0 mins / total: 45 mins / quantity: 12 cupcakes
Ingredients
Cupcakes:
3/4 cup (150ml) dairy free milk
1 tblsp apple cider vinegar
1 cup (200g) caster sugar
2 + 1/2 cups (200g) self raising flour
1/4 tsp baking powder
1/2 tsp bicarbonate of soda
1/2 cup (120g) vegan yoghurt (Greek style if you can get it)
1/3 cup (80ml) light vegetable oil
25 drops Foodie Flavours Creamy Buttery Caramel
Buttercream Frosting:
1 cup (230g) vegan butter
3 cups (400g) icing sugar
1 tblsp boiling hot water
25 drops Foodie Flavours Creamy Buttery Caramel
Optional Extras:
Salted caramel popcorn
Chocolate drizzle
Instructions
Preheat your oven to 180 Fan / 200 C / 400 F / Gas 6 and line a 12 hole muffin tin with muffin cases (see note)
In a jug or bowl mix together the milk and vinegar and set aside while you weigh out the dry ingredients
In a large bowl whisk together the flour, sugar, baking powder and bicarbonate of soda
To the jug of milk whisk in the yoghurt, oil and drops of Creamy Buttery Caramel flavouring
Add the jug of liquid ingredients to the bowl of dry and mix together well, stirring up from the bottom of the bowl to get rid of any flour pockets
Divide the mixture equally between the 12 cases then bake for 20-25 minutes until golden and cooked through. To test if the cupcakes are cooked insert a cocktail stick into the centre of one of the cupcakes - if it comes out clean they're done, if there is still raw mixture clinging to the stick return to the oven for a few minutes and check again
Leave the cupcakes in the tin for 5 minutes before transferring to a wire rack to cool completely
For the frosting beat together the butter and icing sugar until creamy then add the boiling water and Creamy Buttery Caramel flavouring and beating until very light and fluffy
Spoon the mixture into a piping bag fitted with a star nozzle
Once the cupcakes are completely cooled pipe on the frosting into high peaks then dot each cupcake with some of the popcorn and drizzle over the chocolate
Store in an airtight container at room temperature
Notes
If you prefer to make smaller, dinky little cupcakes this recipe will make more actual cupcakes and will probably take less time to cook. Check after 15 minutes of baking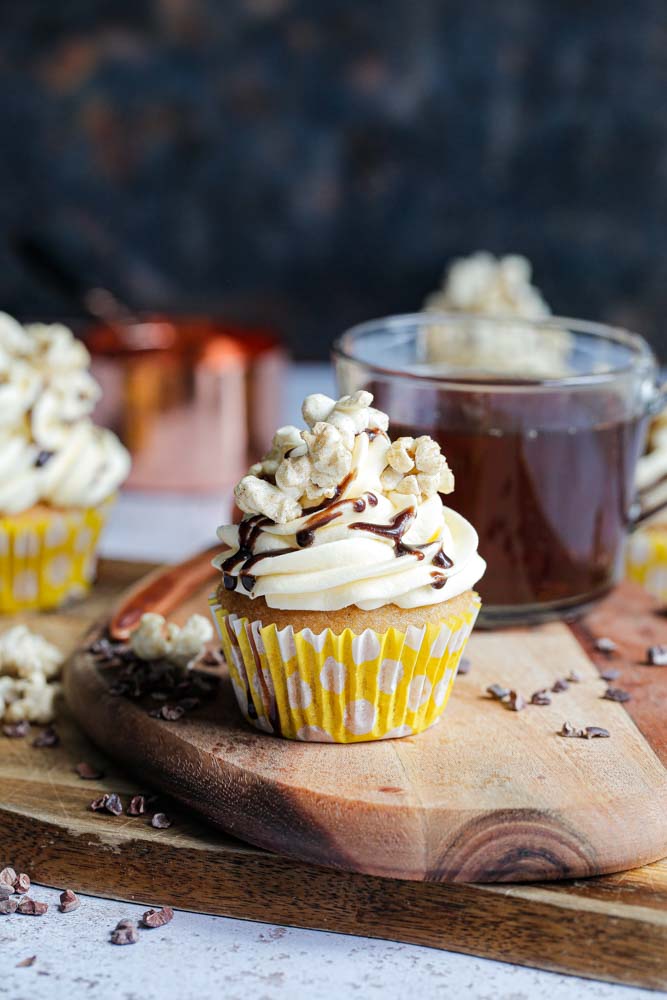 Hello and welcome to The Cook & Him.
We are Sam (The Cook), Phil (Him) and our little dog Nooch. What started with a plan to shed a few pounds back in 2016, soon became obvious that eating healthy doesn't have to be bland and boring.
So, combining Sam's 15 years of experience working within Michelin starred restaurants and our love for deliciously healthy food, we're creating recipes for you to make and enjoy. We've added our own unique spin on traditional and contemporary vegetarian and vegan recipes that keep you (and your pets!) healthy and full.  And we make sure they just work.
All things autumn - warming soups, savoury bakes and delicious sweet treats!
and I would like to see...
Or search for a recipe or post by keyword