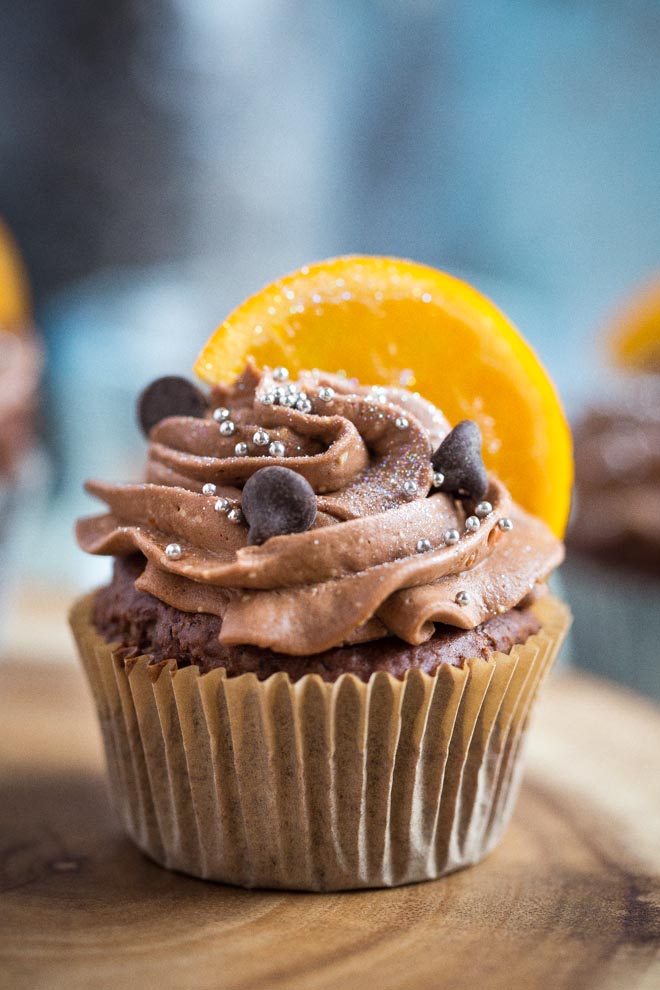 Posted in Recipes on 18.04.2020
Vegan Chocolate Orange Cupcakes
prep: 20 mins / cook: 25 mins / inactive: 0 mins / total: 45 mins / quantity: 12 cupcakes Print recipe?
Deliciously fudgy dairy and egg free Chocolate Orange Cupcakes with fluffy chocolate buttercream frosting. You'd never know these are vegan!
These were born out of the the sudden realisation that I hadn't put together a recipe for chocolate orange cupcakes.  WHAT an omission!  It's probably my very favourite flavour combination and I'm always looking for new ways to bake with it.
These cupcakes are super light and moist and the buttercream is dreamily soft and whippy.  Glitter sprinkles are of course optional 😉
How to make vegan chocolate cupcakes
There really isn't much mystery to vegan baking but I know a lot of people can be put off by a list of strange and exotic sounding ingredients.  So let's talk about what we have here:
Non-dairy milk – this is mostly personal preference or allergy based.  I nearly always use either almond or oat milk in baking but soy is also a good substitute.  Just make sure to get the unsweetened one!
Coconut yoghurt – I use yoghurt in baking because I think it gives a much richer texture than milk alone.
Raw cacao powder – it's like normal cocoa powder but has a much more chocolatey flavour.  Cacao powder hasn't been high heat treated so retains a lot of its nutrients.  You can use cocoa powder if that's what you have though.
Vegan butter – I use the block kind rather than the spreadable margarine in the tub for the buttercream.  It is more forgiving of temperature and holds its shape much better than the spread (which can go very soft very quickly!)
Everything else is pretty much bog standard baking ingredients – flour, baking powder, bicarb, sugar.
I've not listed in the recipe instructions how to make the sticky orange slices for decoration because they're purely optional and ideally need to be made in advance as they need to cool and dry for around 24 hours.  If you do want to make them though they're pretty simple:
How to make candied orange slices
Cut 1-2 oranges into slices 1/4 inch (5mm) thick
Put 1 cup (250ml) water and 1 cup (250g) caster sugar into a heavy based saucepan and bring to the boil.  Once the sugar has dissolved add the sliced oranges, spacing apart as much as possible
Simmer for 30-35 minutes, turning each slice over after about 15 minutes
Carefully remove from the syrup onto a wire rack and leave to cool and dry out overnight
If you're feeling super fancy you can even dip half of each slice in melted chocolate!
Use whatever piping nozzle you have for the buttercream or simply spoon it on top.  There'll be no judgement here.  Frosting is frosting and just as sinfully delicious artfully piped or smeared on with a knife!
Love chocolate orange as much as we do?
Spiced Chocolate Orange Twists – Phil's personal favourite of all choc orange things – chewy bread + sticky sweet nut butter and chocolate filling.
Chocolate Orange Granola – I can eat this by the spoonful straight out of the jar.  Not that I ever would (or have been caught doing).
Chocolate Orange Nutty Truffle Tart – wonderful make ahead tart, perfect dessert for a special occasion.  Like it being Monday.
Chocolate Orange Spice Mini Loaf Cakes – LOVE my mini loaf tin.  Would eat every meal shaped like a tiny loaf if I could!!
Gluten Free Double Chocolate Orange Brownies – oh so very very sticky sweet and fudgy!
Orange Spice Vegan Chocolate Muffins – pick your topping for these wholesome muffins!
Double Chocolate and Orange Hot Cross Buns – leave off the cross and enjoy these Easter treats all year round!
Nutty St Clements Chocolate Bark – super simple, get the kids involved, unleash your inner Picasso sweet (and healthyish) treat!
In all of these recipes I've used a variety of different ingredients to give that perfect chocolate orange flavour.  For these cupcakes though, I've used fresh grated orange zest in both the batter and the frosting + the juice in the batter as well.  Feel free to use orange essence if that's what you have instead.  This extract from Nielsen Massey or this one from Foodie Flavours are very good substitutes.
I truly hope you try these.  At the moment the world is still struggling with a global Coronavirus pandemic and I know some ingredients are hard to get hold of – flour in particular.  Maybe pin for later to try these heavenly chocolate orange cupcakes once we get back to relative normality ❤
If you make this recipe or any of the recipes from The Cook & Him we'd LOVE to see! Just snap a picture and share it on Instagram using #thecookandhim and tagging @thecookandhim in the photo itself (as this guarantees we'll see your picture!
)
And don't forget to follow us on Instagram , Facebook or Twitter for even more recipe inspiration and chat, competitions, behind the scenes and so much more!
Vegan Chocolate Orange Cupcakes
prep: 20 mins / cook: 25 mins / inactive: 0 mins / total: 45 mins / quantity: 12 cupcakes
Ingredients
Cupcakes:
1/2 cup (120ml) unsweetened almond milk (or dairy free milk of choice)
1/2 cup (120ml) coconut yoghurt
1 orange – grated zest and squeezed juice
1 cup (200g) plain flour
1 tsp baking powder
1/2 tsp bicarbonate of soda
1/4 cup (20g) raw cacao powder
1/2 cup (100g) caster sugar
Frosting:
3/4 cup (190g) vegan butter (the block kind not the spread) – softened if you're mixing by hand
1 + 1/2 cups (180g) icing sugar
1/4 cup (20g) raw cacao powder
1 orange – grated zest only
Optional topping:
Vegan cake sprinkles
Vegan chocolate chips
Candied orange slices (see blog post for instructions how to make these!)
Instructions
Preheat your oven to 180 Fan / 200 C / 400 F / Gas 6 and line a muffin tin with 12 muffin or large cupcake cases
Put the milk, yoghurt and orange juice and zest into a jug and whisk together
Into a large bowl sift together the flour, baking powder, bicarbonate of soda and cacao powder
Stir in the caster sugar
Add the jug of wet ingredients to the bowl and using a rubber spatula mix them together, stirring up from the bottom of the bowl to get rid of any flour 'pockets'
Evenly divide between your muffin cases - filling each one 2/3 full then bake for 25 minutes until a cocktail stick inserted into the centre of a cupcake comes out clean with no raw cake clinging to it
Leave to cool in the tin for 10 minutes then lift out onto a wire rack to cool completely
While they're cooling beat together the frosting ingredients - you can do this with a stand mixer or by hand but you'll need to make sure the block butter is softened if mixing by hand. Beat until very well mixed, soft and fluffy then spoon into a piping bag fitting with a star nozzle (see note)
When the cupcakes have compeltely cooled pipe or spread the frosting onto each one then decorate with whatever sprinkles, grated chocolate, chocolate chips you have to hand!
Store in an airtight container
Notes
Use whatever shaped nozzle you have or simply spoon or spread the frosting onto the cupcakes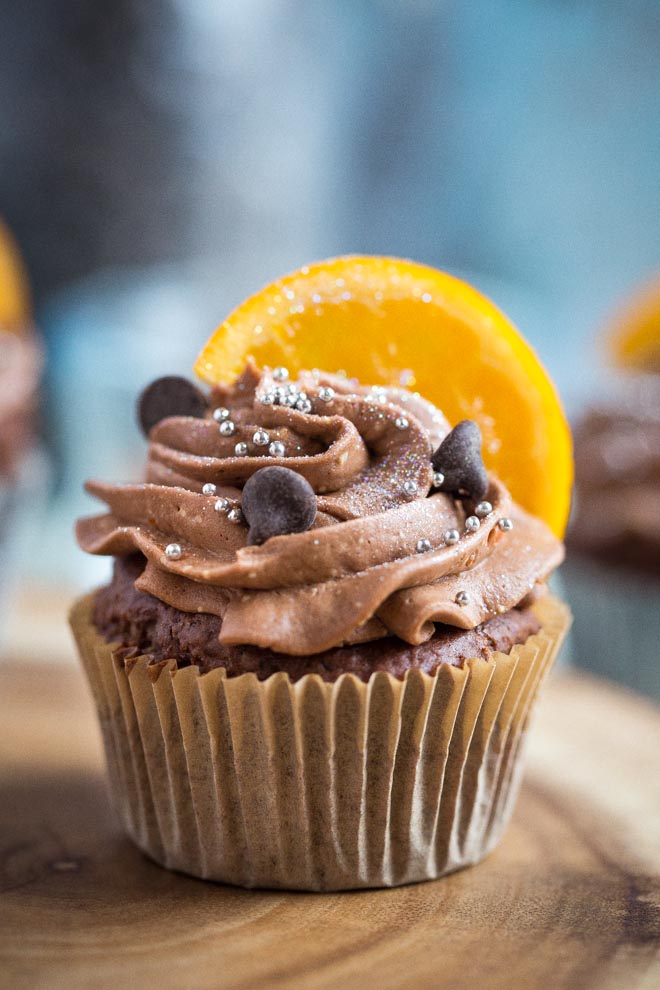 Hello and welcome to The Cook & Him.
We are Sam (The Cook), Phil (Him) and our little dog Nooch. What started with a plan to shed a few pounds back in 2016, soon became obvious that eating healthy doesn't have to be bland and boring.
So, combining Sam's 15 years of experience working within Michelin starred restaurants and our love for deliciously healthy food, we're creating recipes for you to make and enjoy. We've added our own unique spin on traditional and contemporary vegetarian and vegan recipes that keep you (and your pets!) healthy and full.  And we make sure they just work.
All things autumn - warming soups, savoury bakes and delicious sweet treats!
and I would like to see...
Or search for a recipe or post by keyword