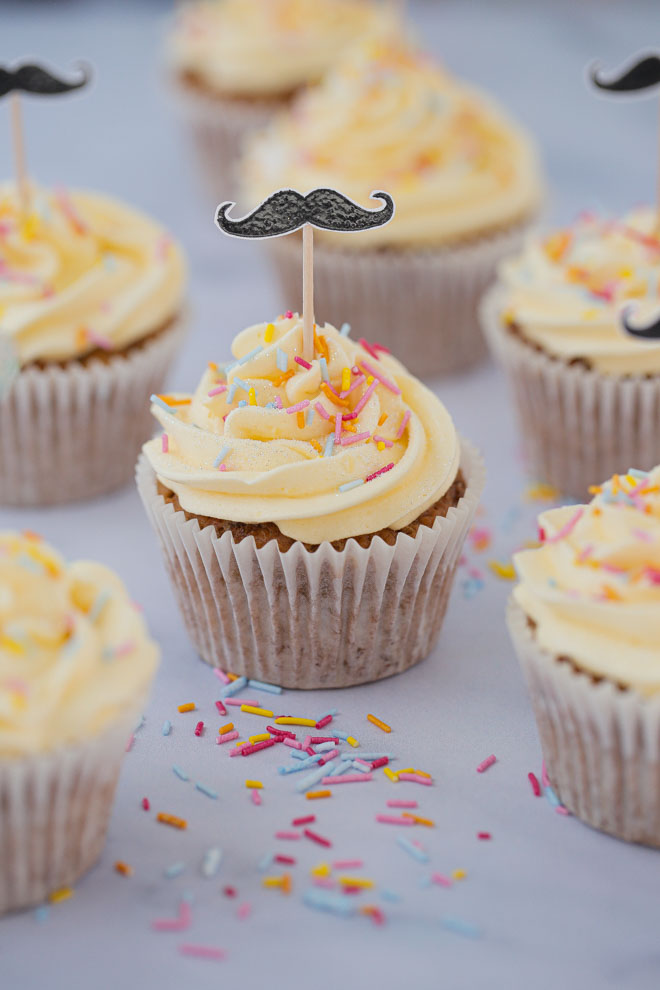 Posted in Recipes on 20.08.2020
Funfetti Cupcakes with Vegan Buttercream
prep: 20 mins / cook: 25 mins / inactive: 30 mins / total: 1 hour 15 mins / quantity: 10 large cupcakes Print recipe?
Sweet vegan funfetti cupcakes filled with colourful sprinkles and vanilla flavour, topped with a light fluffy vegan buttercream frosting!
There's something very happy about funfetti cupcakes.  Those cheerful little sprinkles (and a dash of glitter) just make me smile 🙂
If you don't know, Phil and I share consecutive birthdays, meaning his is the day before mine (20th and 21st August).  And this year I thought instead of a large cake I'd make adorable little funfetti cupcakes because:
They're SO easy to make (particularly when you have new patio door fitters in your kitchen at the same time)
Light, fluffy, moist and sweet
Buttery vanilla frosting
Smile factor
Funfetti or Confetti?
The word 'funfetti' has only been around since 1989 when the Pillsbury Company introduced a new type of cake and a play on the words fun and confetti.  It was originally a large white cake mix with multicoloured sprinkles mixed into the batter for people who wanted "a bigger bang out of their next birthday".  This unique look became a must have at children's birthday parties.  And as Phil and I are mostly just two large children it seemed more than appropriate I should make them!
How to make these easy vegan cupcakes:
Just two bowls and a spatula are all that's needed.  One bowl of wet, one bowl of dry, mix the two together
Stir your sprinkles in a the very end.  Not all sprinkles are created equal so use the best quality ones you can find.  And none of those round balls (or nonpareils) – they are the bane of funfetti anything as they quickly bleed into the batter and you end up with a weird pink/grey mixture.   Also see the note in the recipe about making sure they're vegan sprinkles.
Don't overfill your cases.  Around 2/3 full is all that's needed.  And the mistake I've made far too many times.  Phil thinks I do it on purpose just so I have to make (and then eat) them again.  This applies no matter what size of case you're using.  Because I was making these for our birthday(s) I made really large ones, using the large muffin cases rather than the delicate cupcake cases.  If you use smaller cases you'll get more cupcakes – and they'll probably take less time to cook.
While the funfetti cupcakes are cooling make the vegan buttercream.  This is pretty much exactly like normal buttercream frosting except you use vegan butter.  For buttercream I always use the block type vegan butter rather than the margarine style spread that comes in a tub as it holds its shape much better when piping and doesn't start to melt from the heat of your hands when you're holding the piping bag.
I love these disposable piping bags – though I always wash and re-use several times.  I bought one roll of them years ago, so they're really good value.
Bake the confetti cupcakes until they're just set.  You can use a toothpick inserted into the centre of a cupcake and if it comes out clean, they're done.  Or you can use a finger to gently press the top of one of the cupcakes and if the dent remains in the cupcake they need cooking a little longer.  If it feels spongy and the dent bounces back they're done.
Leave the cupcakes to cool completely before piping the frosting.  And of course sprinkling with even more sprinkles!  Edible glitter is optional but I do so enjoy it getting caught in Phil's beard whiskers without him realising 😉
Love vegan cupcakes as much as we do?  Here's some of tried and tested favourites:
Vegan Chocolate and Orange Cupcakes
Death by Chocolate Cupcakes (for the Halloween lovers amongst us!)
I'd love to hear from you if you make these Funfetti Cupcakes.  Just leave a comment as it's so helpful and I love to hear how the recipe worked out for you!  Thank you so much 🙂
Don't forget to follow us on YouTube, Facebook or Pinterest for even more recipe inspiration and chat, competitions, behind the scenes and so much more!
Funfetti Cupcakes with Vegan Buttercream
prep: 20 mins / cook: 25 mins / inactive: 30 mins / total: 1 hour 15 mins / quantity: 10 large cupcakes
Ingredients
Cupcakes:
1/2 cup (120ml) unsweetened almond milk
1/2 cup (120ml) coconut yoghurt
1 tsp apple cider vinegar
1 tsp vanilla extract
1 + 1/4 cups (180g) plain flour
1 tsp baking powder
1/2 tsp bicarbonate of soda
1/2 cup (100g) golden caster sugar
1/4 cup (55g) vegan sprinkles (see note)
Frosting:
1/2 cup (125g) vegan butter
1 cup (120g) icing (powdered) sugar
1 tsp vanilla extract
2-3 tblsp vegan sprinkles (see note)
Equipment:
Instructions
Preheat your oven to 180 Fan / 200 C / 400 F / Gas 6 and line 10 muffin holes with cases. If you use muffin cases as I did then you'll get 10 good sized cupcakes, if you use cupcake cases you'll get a lot more but smaller cupcakes out of this mix!
In a bowl or jug put the almond milk, yoghurt, vinegar and vanilla, give a quick whisk and leave to 'curdle' slightly while you prepare everything else
Into a large bowl sieve together the flour, baking powder and bicarbonate of soda then stir in the sugar
Add the milk and vinegar mixture to the large bowl and stir everything together until well mixed, stirring up from the bottom of the bowl so you don't miss any flour 'pockets'
Stir in the sprinkles until they're just mixed through
Evenly divide between your cases - filling each one roughly 2/3 full then bake for 22-25 minutes. Use a skewer or cocktail stick inserted in the middle of one of the cupcakes - if it comes out clean with no raw batter clinging to it the cupcakes are cooked. If not, just return to the oven for a few more minutes
While they're cooking and cooling make the frosting by beating together the butter, icing sugar and vanilla until very soft and fluffy. Transfer to a piping bag fitted with a large star nozzle
Once the cupcakes are cooked, leave them to cool in the tin for 5 minutes before transferring to a wire rack to cool completely
Pipe swirls of icing on top of each cupcake then scatter over your extra sprinkles
Store in an airtight container
Notes
Did you know a lot of sprinkles aren't vegan? Check the labels as colourings used often contain animal derivatives including cochineal and shellac.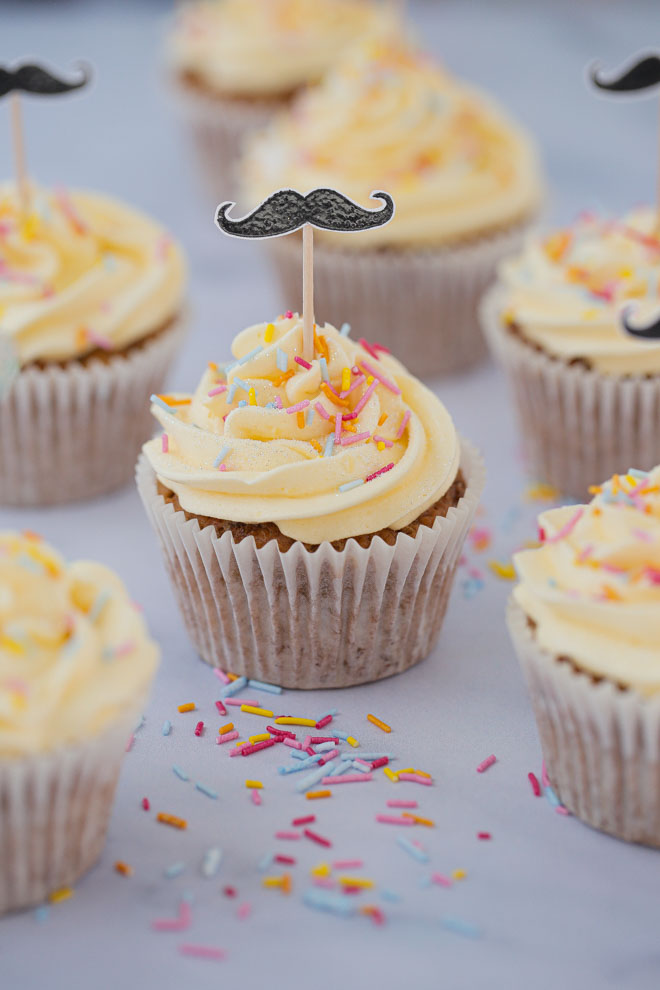 Hello and welcome to The Cook & Him.
We are Sam (The Cook), Phil (Him) and our little dog Nooch. What started with a plan to shed a few pounds back in 2016, soon became obvious that eating healthy doesn't have to be bland and boring.
So, combining Sam's 15 years of experience working within Michelin starred restaurants and our love for deliciously healthy food, we're creating recipes for you to make and enjoy. We've added our own unique spin on traditional and contemporary vegetarian and vegan recipes that keep you (and your pets!) healthy and full.  And we make sure they just work.
All things autumn - warming soups, savoury bakes and delicious sweet treats!
and I would like to see...
Or search for a recipe or post by keyword