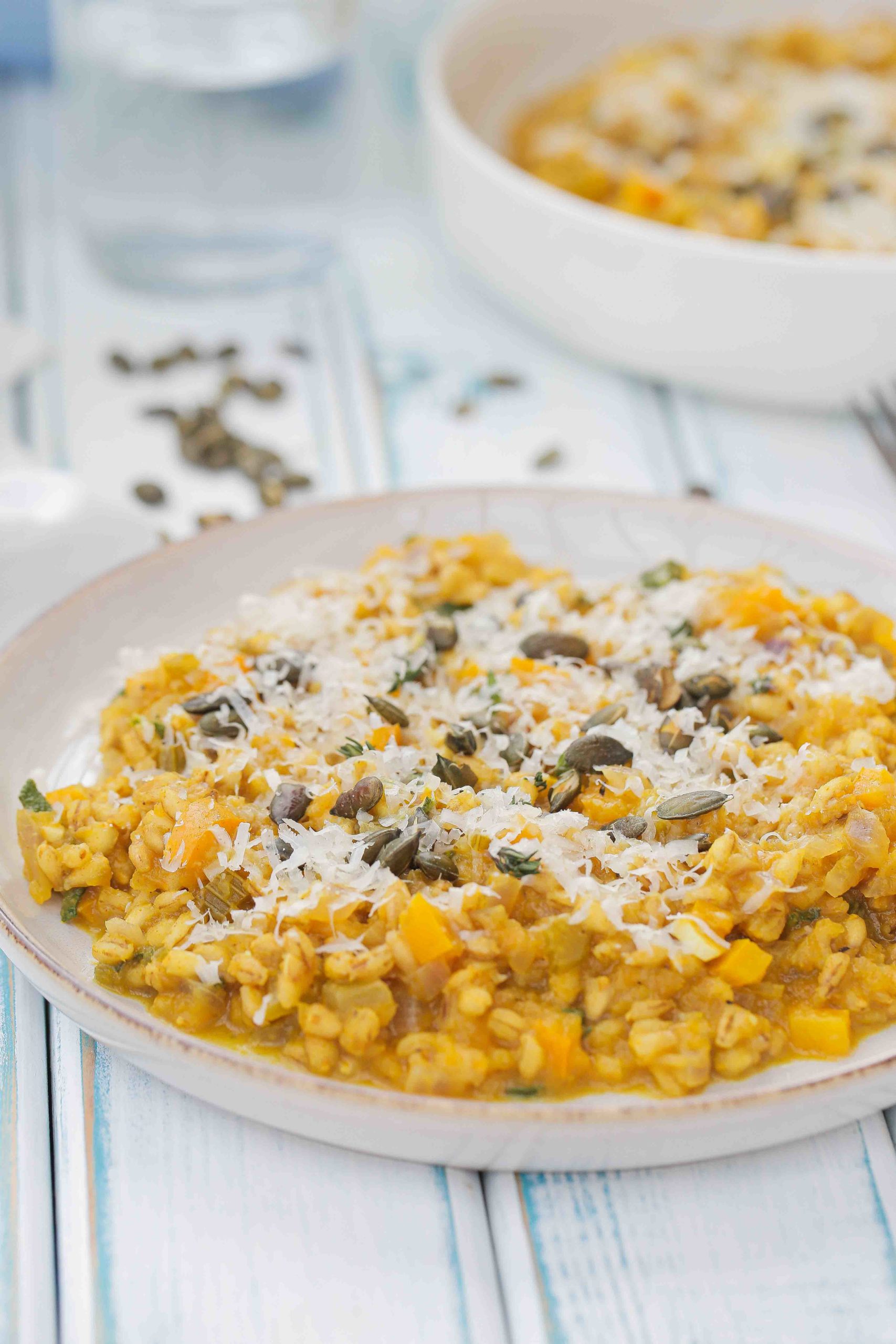 Posted in Recipes on 17.09.2023
Pumpkin Risotto with Sage and Pearl Barley
prep: 10 mins / cook: 20 mins / inactive: 0 mins / total: 30 mins / quantity: 2 servings Print recipe?
Easy, creamy, one pan pumpkin risotto with white wine, sage and pearl barley. Delicious autumn comfort food.
You know what it's like right?  Long day, can't be arsed to cook but you're cold, hungry and want something tasty.  It's about here you're probably reaching for the phone to get something delivered but hold on there just for one second.  What if you could make something that's super easy, warms you from the inside out, is WAY better for you than takeout AND is all cooked in one pan?  Folks, may I present to you the easiest pumpkin risotto.  WAY cheaper too.
Couple of pro tips for you as well – prep all the veggies ahead of time so it's literally chuck it all in a pan and let it bubble away while you open a bottle of something fruity and scooch your toes into your favourite slippers.  Bra removal optional.  Oh and second pro tip – make extra because this stuff is just as delicious reheated for lunch or dinner next day/later in the week/next time you can't be arsed to cook.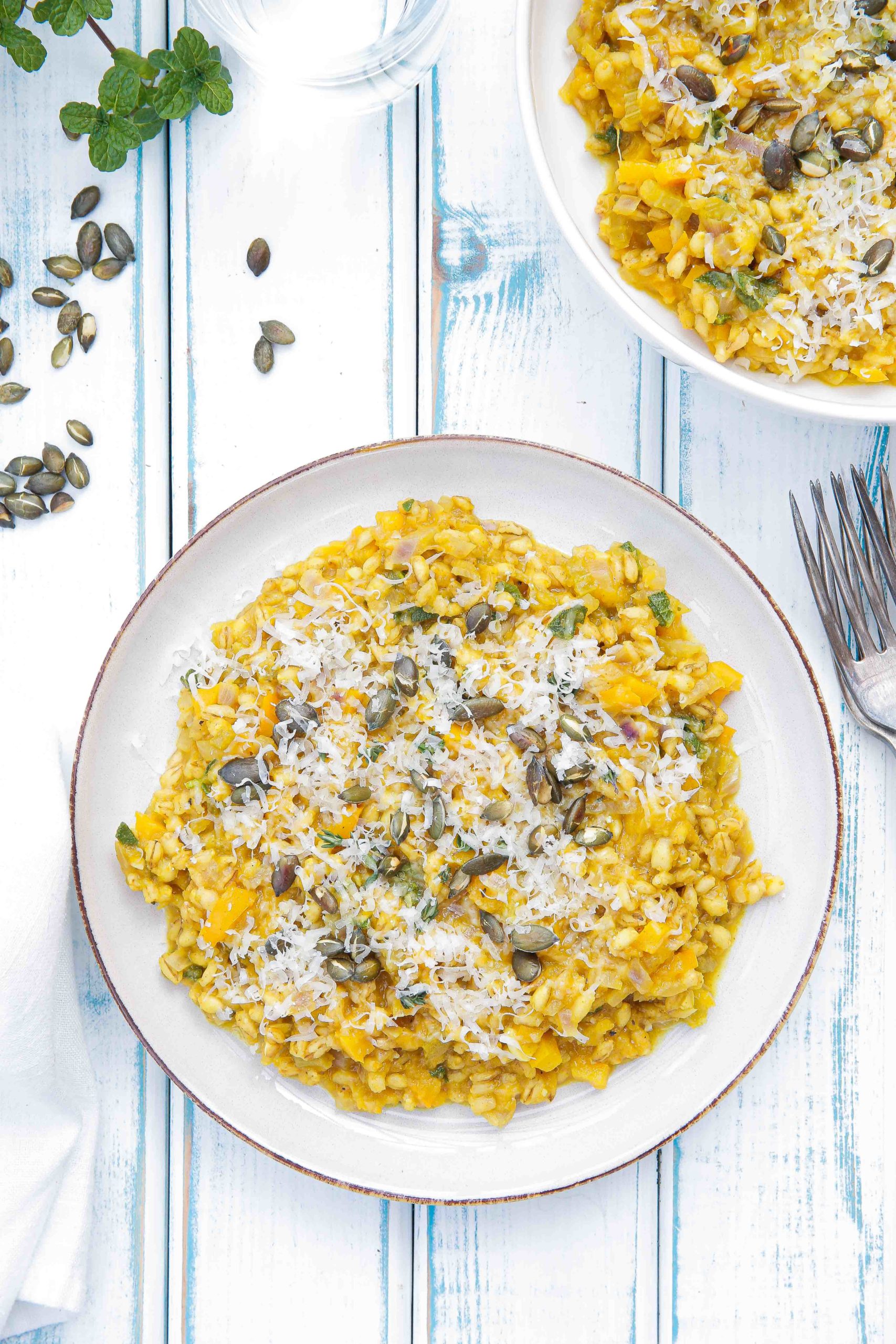 Vegan risotto ingredients:
Pumpkin puree – If you can't get hold of pumpkin puree in a can, it's SO easy to make your own.  Grab a pumpkin, slice in half and remove the seeds.  Place the pumpkins cut side down on a tray and pop in the oven preheated to 180 Fan / 200 C / 400 F / Gas 6.  Roast for 45-60 minutes.  They're done once the skin easily pulls away from the flesh.  Leave them until they're cool enough to handle, peel away and discard the skin then blitz the flesh in a food processor until smooth.
Don't worry about having a tonne of pumpkin puree – this stuff freezes wonderfully!  Or check out these other pumpkin recipes.  Oh and the dogs love it too!
Pearl barley – tonnes of good stuff in pearl barley.  I've been eating a lot of it lately, lovely in salads to bulk it out and add a bit of extra protein.
White wine – for cooking I buy the cheapest wine I can find.  If you don't want to use wine, just increase the veg stock by the same amount instead.
Pumpkin seeds – these can be toasted ahead but they cook in a flash.  Literally.  DO NOT walk away from the pan when toasting pumpkin seeds because like nuts, these little buggers go from almost done to OMG and a house filled with acrid black smoke.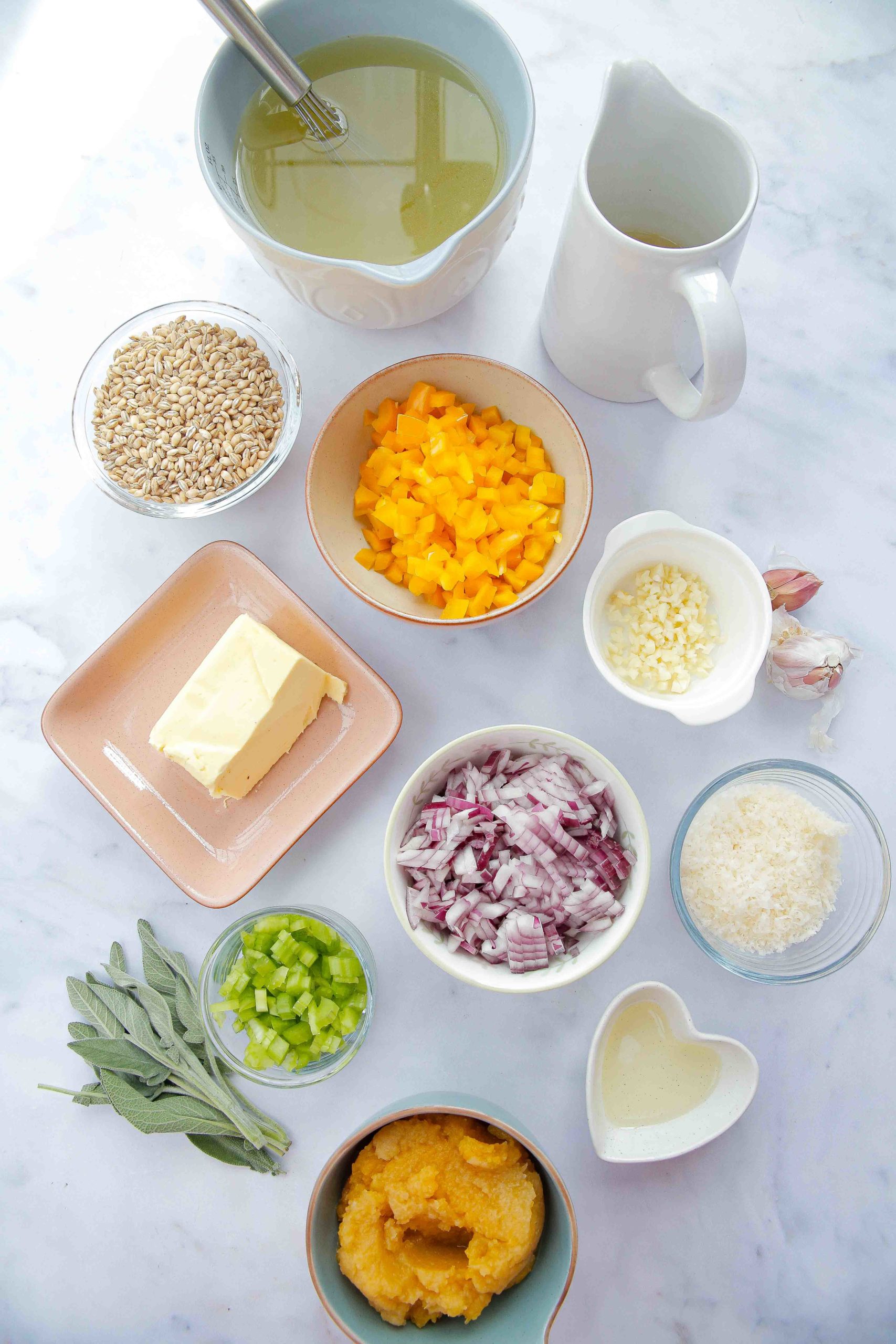 How to make pumpkin risotto:
Saute the chopped veggies with a drizzle of oil in a large pan until just starting to soften and caramelise, stirring from time to time.
Add the pearl barley, pumpkin puree, wine and stock and bubble 10-15 minutes over a medium heat until most of the liquid has been absorbed.
This is a good time to toast the pumpkin seeds.  Simply put into a dry frying pan over a medium heat and toss the pan from time to time until golden and lovely.
Stir the sage, salt and pepper and vegan parmesan into the risotto.
And that's it!  Dish up, sprinkle over the toasted pumpkin seeds and a bit of extra parm if you fancy.  Or not.  You do you.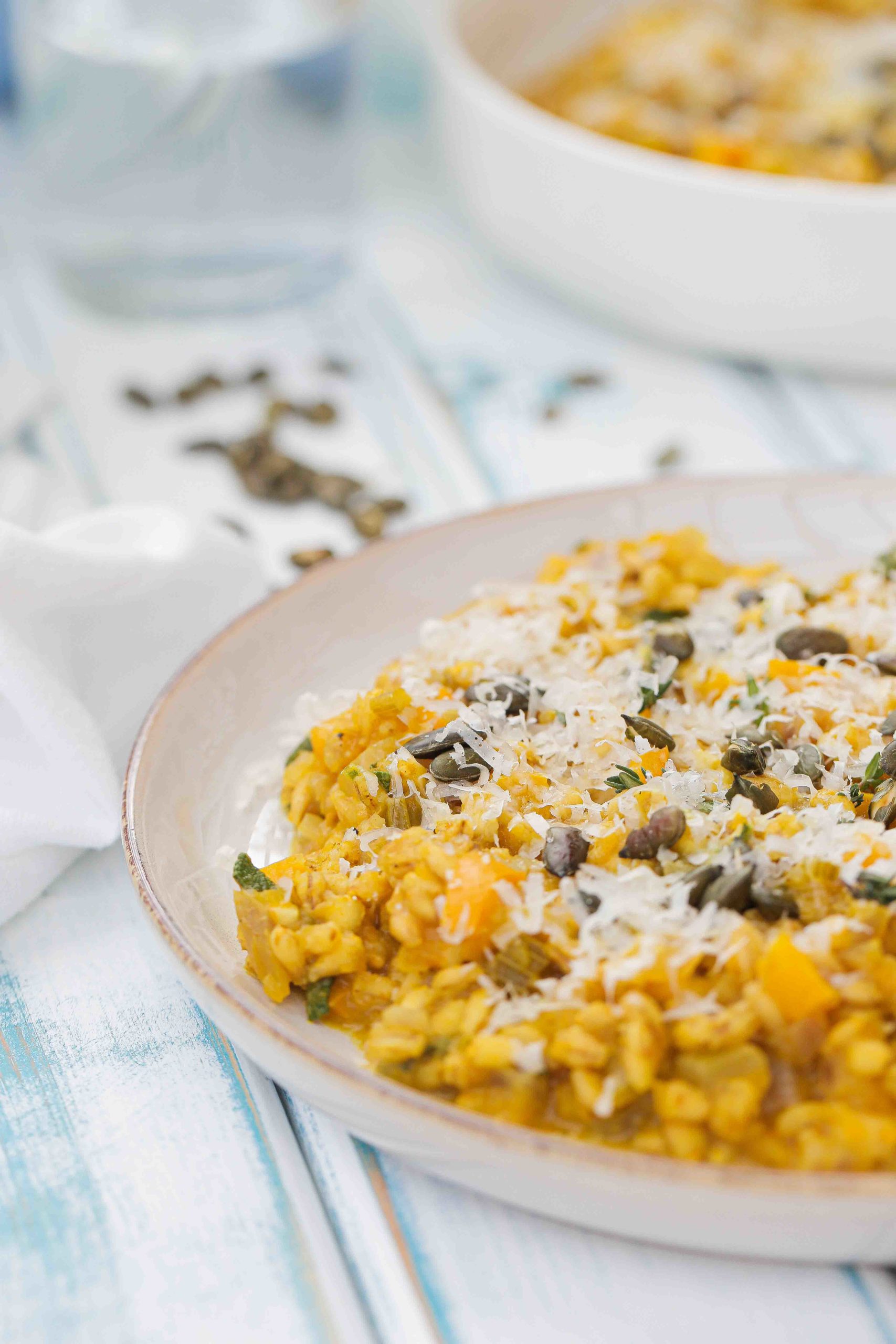 Looking for even more easy vegan one pan meals?  Try these:
Creamy lemon courgette rigatoni
White bean soup with leeks and pesto
Gnocchi with sprouts and sage butter
Sausage and mushroom stroganoff
If you make this recipe or any of the recipes from The Cook & Him I'd LOVE to see! Just snap a picture and share it on Instagram using #thecookandhim and tagging @thecookandhim in the photo itself (as this guarantees I'll see your picture!
)
Don't forget to follow me on Facebook or Pinterest for even more recipe inspiration and chat, competitions, behind the scenes and so much more!
Pumpkin Risotto with Sage and Pearl Barley
prep: 10 mins / cook: 20 mins / inactive: 0 mins / total: 30 mins / quantity: 2 servings
Ingredients
drizzle of oil
1 red or orange bell pepper – deseeded and diced small
1 stick of celery – finely diced
1 onion – peeled and finely diced
6 cloves garlic – peeled and very finely chopped
1 cup (190g) pearl barley
1 cup (240g) pumpkin puree (see note)
1/2 cup (125ml) white wine
2 + 1/2 cups (700ml) vegetable stock
few leaves of fresh sage – shredded (sub 1 teaspoon dried sage)
1/2 cup (20g) grated vegan parmesan (+ optional extra for topping)
salt and pepper to taste
1 tablespoon pumpkin seeds
Instructions
Heat a drizzle of oil in a large saute pan and add the pepper, celery, garlic and onion
Saute for a few minutes until just starting to soften and caramelise
Stir in the pearl barley, pumpkin puree, wine and stock and bubble for 15-20 minutes until most of the liquid has been absorbed. Give the pan an occasional stir
While that's cooking toast the pumpkin seeds in a dry frying pan, tossing from to time, over a medium heat - keep an eye on them as they burn easily!
To the risotto add the shredded sage, grated parmesan and salt and pepper to taste
Serve in warmed bowls topped with the pumpkin seeds and an optional extra sprinkle of grated parmesan
Store any leftovers in the fridge
Notes
Recipe for making your own pumpkin puree in the blog post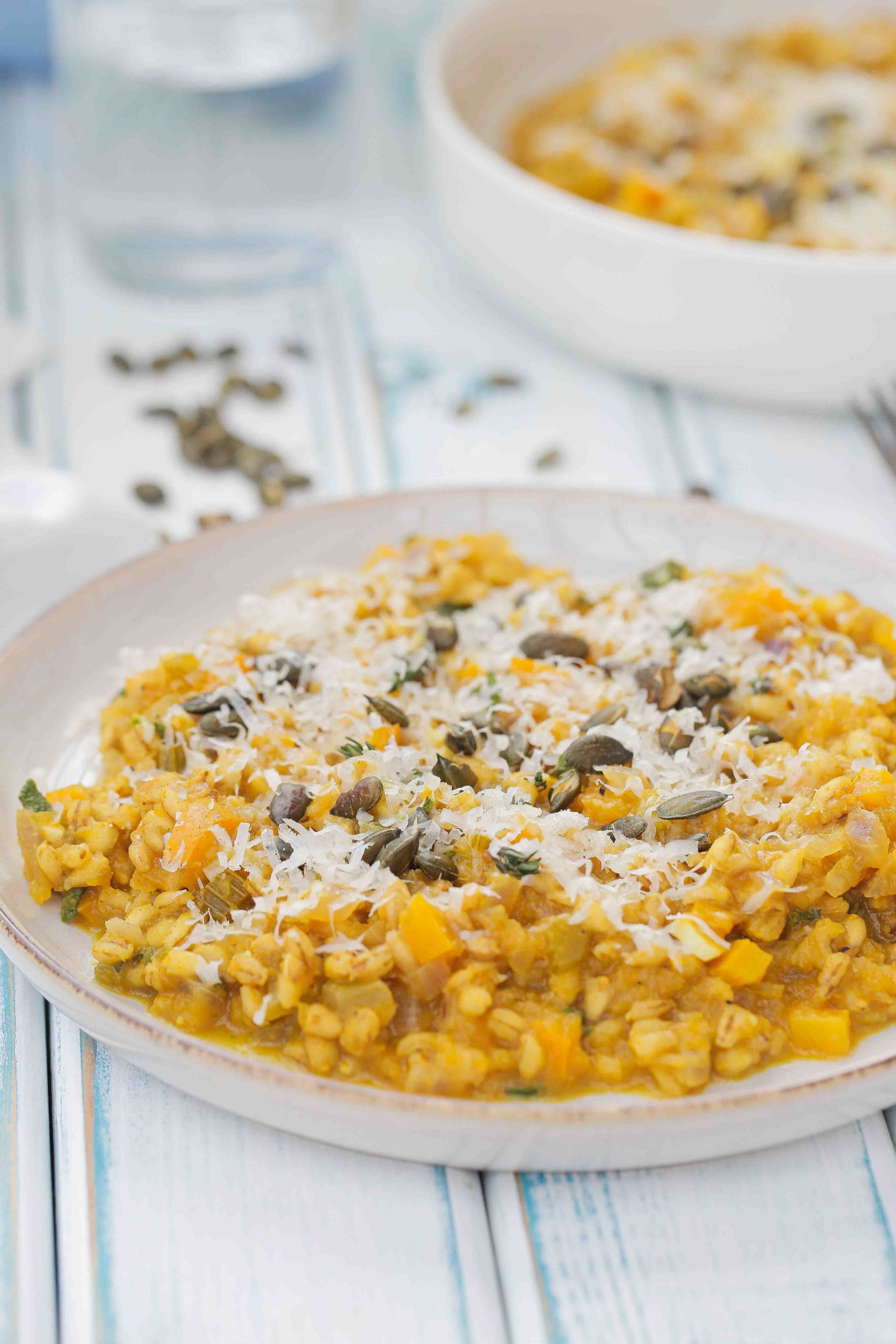 Hello and welcome to The Cook & Him.
We are Sam (The Cook), Phil (Him) and our little dog Nooch. What started with a plan to shed a few pounds back in 2016, soon became obvious that eating healthy doesn't have to be bland and boring.
So, combining Sam's 15 years of experience working within Michelin starred restaurants and our love for deliciously healthy food, we're creating recipes for you to make and enjoy. We've added our own unique spin on traditional and contemporary vegetarian and vegan recipes that keep you (and your pets!) healthy and full.  And we make sure they just work.
All things autumn - warming soups, savoury bakes and delicious sweet treats!
and I would like to see...
Or search for a recipe or post by keyword