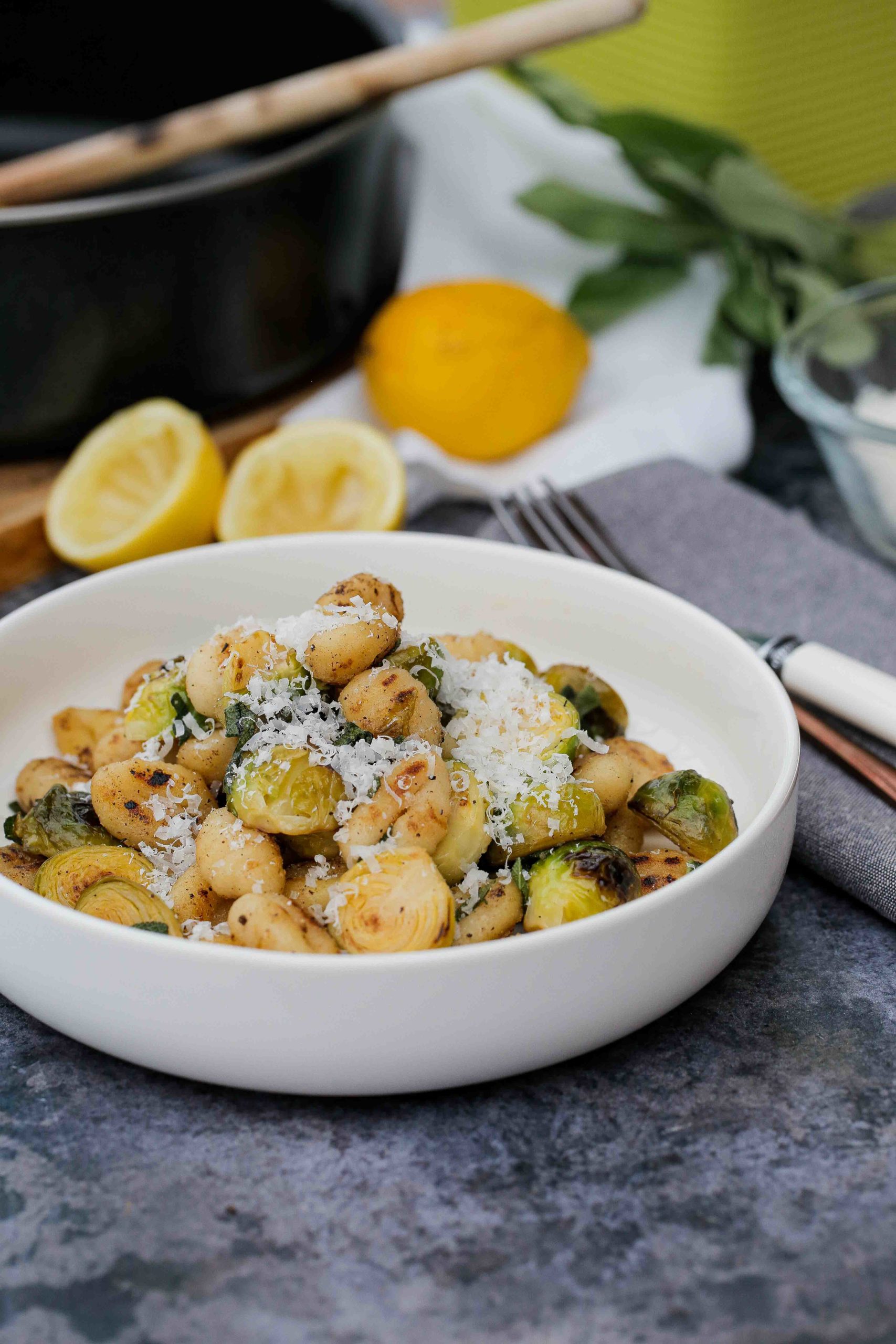 Posted in Recipes on 30.11.2022
Gnocchi with Sprouts and Sage Butter
prep: 10 mins / cook: 20 mins / inactive: 0 mins / total: 30 mins / quantity: 2 servings Print recipe?
Crispy pan fried gnocchi with tender Brussel's sprouts, hints of lemon and garlic in a rich sage butter sauce.
Honestly, what's not to like about that sentence?  And I'm currently a little bit addicted to this gnocchi with sprouts recipe.  It was born out of a rather enthusiastic estimation of how many sprouts I thought I could eat in one sitting.  The answer is a LOT.  But not quite as many as I'd shopped for.
One of the many joys of food blogging is the constant rota of food.  Which is also one of the downsides.  There's always something new and exciting to try and my mind is CONSTANTLY full of possibilities and what if's.  But this one is definitely a current favourite.  There is no compromise with flavour, even though there are just a few, really simple ingredients.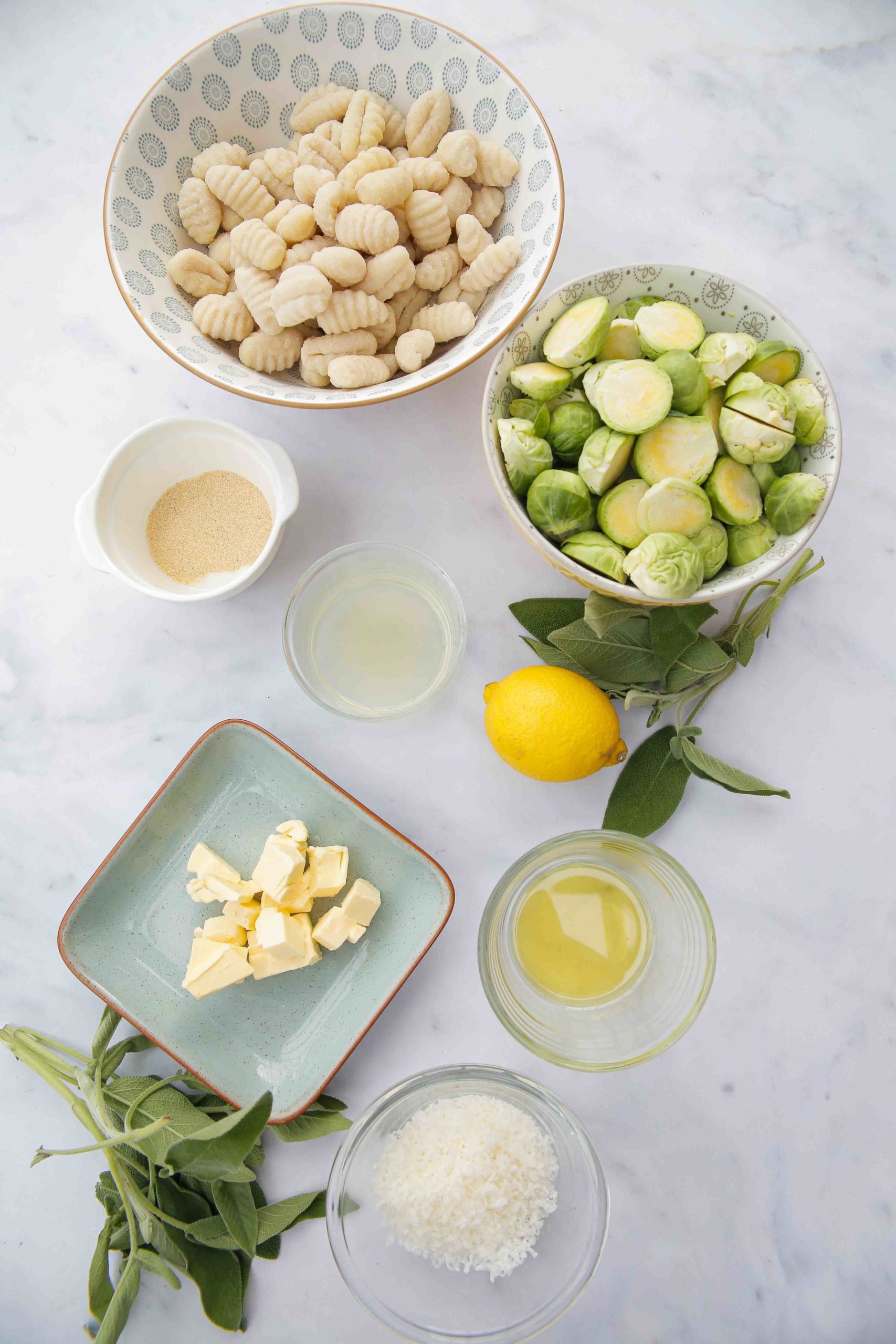 And because this is all made in one pan there's minimal washing up for this super quick, super easy vegan recipe.
How to make sprouts taste good:
The secret with sprouts, no matter HOW you're cooking them is to absolutely not overcook them.  Mushy sprouts are just no.  Cooking them like this in just a little bit of water after crisping the outside leaves the sprouts tender but with enough bite to not be mushy.
Start with the brussels sprouts.  Cut the base off the brussel sprouts, remove any spoilt leaves then cut each sprout in half.
Heat the oil in a large skillet or frying pan.  Add the sprouts and cook 5-6 minutes, stirring gently from time to time until they're starting to colour.  Add the lemon juice and water, cover with a lid and cook for a further 2-3 minutes until JUST starting to soften.  Test by inserting a pointed knife into a sprout, there should still be a little resistance.  Transfer to a bowl.
In the same pan heat a little more oil.  Then add the gnocchi and cook for 5-6 minutes, tossing or gently stirring the pan occasionally until golden and crispy.
Dot cubes of butter across the pan.  Allow it to melt then add the shredded sage and toss or gently stir the gnocchi through the melted butter.
Return the sprouts to the pan to heat through.  Serve with a sprinkle of grated vegan parmesan and tuck in!!
How easy was that?  No weird ingredients, no faff, zero drama or stress but FULL on flavour.  Garlicky, lemony, crisp gnocchi with fluffy middles and yummy cooked to perfection sprouts!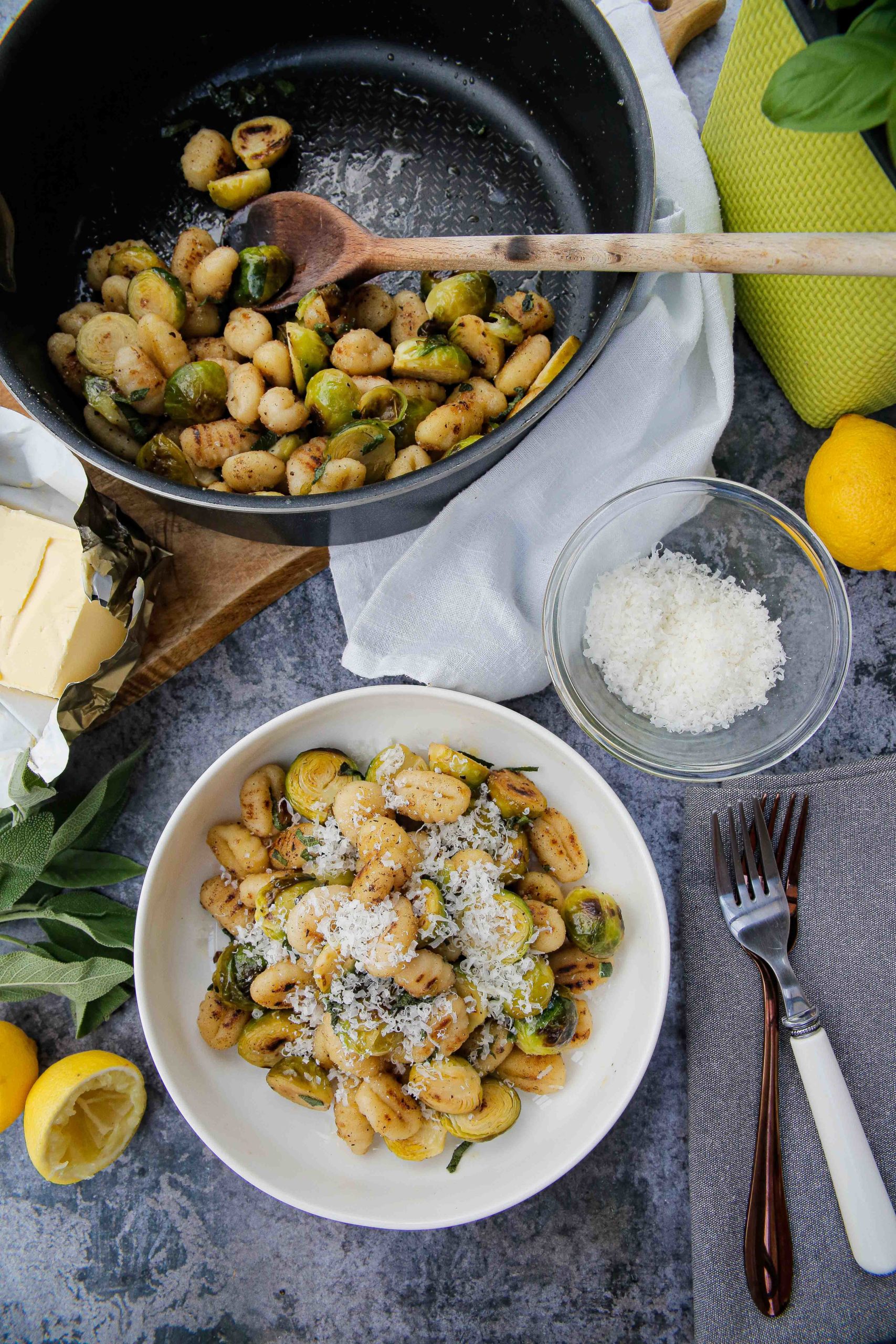 If you can find it, I wholeheartedly recommend the vegan parmesan wedge from Violife.  This stuff is about as close to dairy parmesan cheese as is possible.  It smells, looks and tastes just like parmesan and even has an almost identical texture – from what I can remember, it's been a while!
Looking for even more easy vegan meal ideas?  Try these:
Sausage and mushroom stroganoff
Butternut squash and gnocchi bake
Creamy tomato and black garlic tagliatelle
I'd also love to hear from you if you make this Gnocchi with Sprouts and Sage Butter recipe! Just leave a comment as it's so helpful and I love to hear how the recipe worked out for you! Thank you so much!
Don't forget to follow along on Instagram, Facebook or Pinterest for even more recipe inspiration and chat, competitions, behind the scenes and so much more!
Gnocchi with Sprouts and Sage Butter
prep: 10 mins / cook: 20 mins / inactive: 0 mins / total: 30 mins / quantity: 2 servings
Ingredients
1 tablespoon oil
1 lb (350g) Brussels sprouts
1 lemon – juice only
1/3 cup (80ml) water
500g pack gnocchi or use this gluten free gnocchi recipe
3 tablespoons (45g) vegan butter – roughly cubed
1 teaspoon garlic powder
15-20 fresh sage leaves
2-3 tablespoons vegan parmesan – grated
large pinch each salt and pepper
Instructions
Prepare the sprouts by cutting off the base and removing any wilted or spoilt leaves. Cut each sprout in half
Heat 1/2 tablespoon of oil in a large skillet or frying pan then add the sprouts. Cook for 5-6 minutes, stirring occasionally until they're just coloured on some sides
Add the lemon juice and water, cover the pan with a lid and cook 2-3 minutes until a pointed knife just about pushes into the middle of the sprouts
Tip the sprouts into a bowl and return the pan to the heat
Add the other 1/2 tablespoon of oil and the gnocchi to the pan and cook for 5-6 minutes, stirring gently from time to time, until the gnocchi is crisp and golden
Scatter the cubes of butter across the pan and allow to melt
Gently stir in the sage and coat all the gnocchi in butter
Add a good pinch each of salt and pepper and return the sprouts to the pan, gently stirring everything together until the sprouts are warmed through
Serve immediately with a sprinkle of grated parmesan
Notes
Cool any leftovers then store in the fridge. Reheat in a microwave or in a frying pan on the stove until piping hot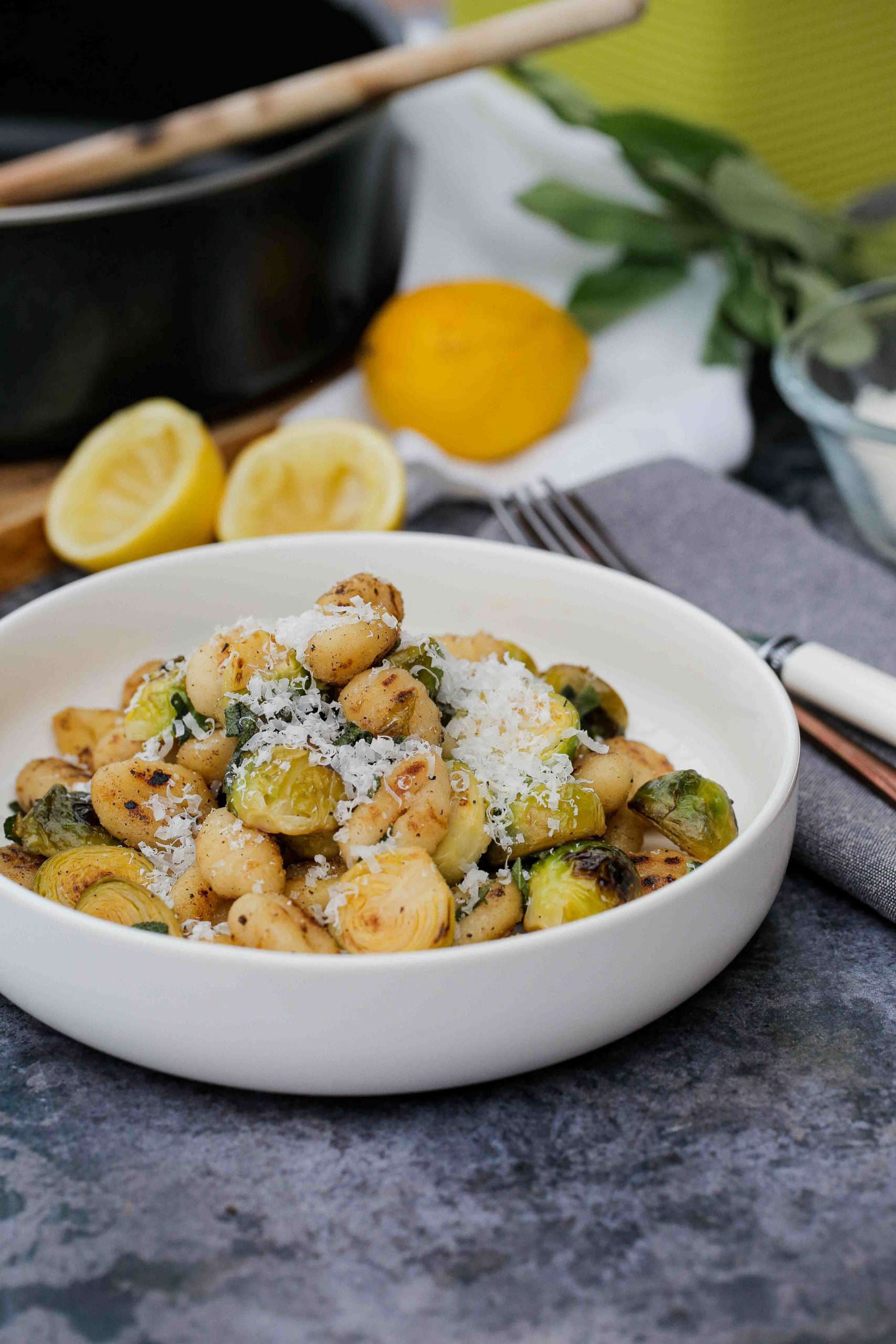 Hello and welcome to The Cook & Him.
We are Sam (The Cook), Phil (Him) and our little dog Nooch. What started with a plan to shed a few pounds back in 2016, soon became obvious that eating healthy doesn't have to be bland and boring.
So, combining Sam's 15 years of experience working within Michelin starred restaurants and our love for deliciously healthy food, we're creating recipes for you to make and enjoy. We've added our own unique spin on traditional and contemporary vegetarian and vegan recipes that keep you (and your pets!) healthy and full.  And we make sure they just work.
All things autumn - warming soups, savoury bakes and delicious sweet treats!
and I would like to see...
Or search for a recipe or post by keyword