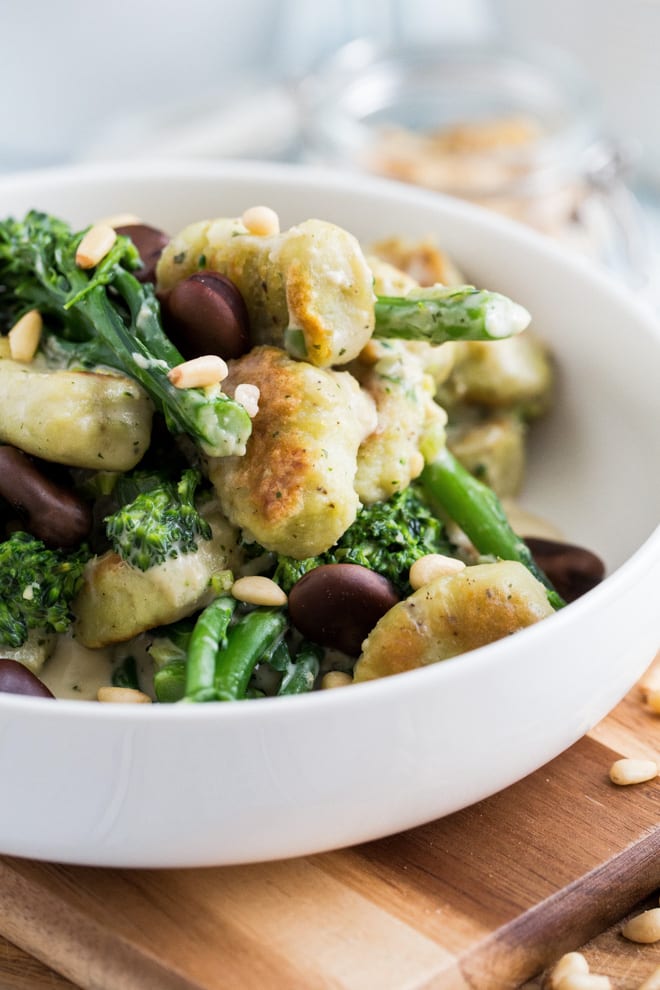 Posted in Recipes on 12.02.2019
Gnocchi with Beans and Greens
prep: 15 mins / cook: 1 hour 30 mins / inactive: 0 mins / total: 1 hour 45 mins / quantity: 2 generous servings Print recipe?
Gluten free, soft pillowy gnocchi is easier to make than you might think! Just 2 base ingredients then some gentle spices for subtle flavour!
I didn't set out to make a gluten free gnocchi recipe but I've fallen a bit in love with Hodmedods pea and bean flours.  They give everything a wonderfully subtle flavour and, dependent upon which flour you use, a lovely pea green or sunshine yellow hue!
If you've always wondered how to make gnocchi but been put off by thinking you need specialist equipment and even more specialist expertise, let me show you just how easy it is.
How to make gnocchi …
The gnocchi dough is a simple mixture of mashed potato and flour.  You can use a standard potato masher and some elbow grease to get lump free mashed potato.  Or you can use a potato ricer which gives perfectly smooth and creamy potatoes while also a being bit easier on the ol' arm muscles!
You then simply divide the dough in half (or in quarters if you've doubled the recipe to make some for a crowd or the freezer) and roll into long sausage shapes.
How to cook gnocchi …
Cut your sausages into little pieces then shape how you want really.  I just simply gave each one a little roll on the work surface then press a fork into one side for a bit of texture.
To cook them all you do is gently plop them into a large pan of boiling water and when they float to the top they're cooked.  If you're cooking a large quantity of gnocchi it might be easier to cook them in a couple of batches but it only takes 2-3 minutes for them to float to the top.  Remove the ones that are cooked, with a slotted spoon and put to one side while you cook the remainder
I also quickly fried them after boiling.  I'd never done this before but it gives a lovely crispy texture – almost like little jackets to the soft dough inside.
The veggies, beans and sauce are all very simple.  The broad beans take a little bit of pre-preparation as they need to be soaked in plenty of water overnight to allow them to re-hydrate properly.  They're then boiled for an hour until just soft – I prefer them with a little bite still.
I honestly hope I've encouraged you to have a go at making your own gnocchi – I found it incredibly relaxing slicing, rolling and forking!  The gnocchi dough is quite tactile and very easy to work with and this gnocchi recipe has a lovely flavour as well as being hearty and filling!
If you're looking for other gluten free tasty meals try these:
If you make this recipe or any of the recipes from The Cook & Him we'd LOVE to see! Just snap a picture and share it on Instagram using #thecookandhim and tagging @thecookandhim in the photo itself (as this guarantees we'll see your picture!
)
And don't forget to follow us on Instagram , Facebook or Twitter for even more recipe inspiration and chat, competitions, behind the scenes and so much more!
Gnocchi with Beans and Greens
prep: 15 mins / cook: 1 hour 30 mins / inactive: 0 mins / total: 1 hour 45 mins / quantity: 2 generous servings
Ingredients
Gnocchi:
500g potatoes – peeled weight
1/2 tsp ground cumin
1/2 tsp dried oregano
1/2 tsp salt
few good grinds of black pepper
Sauce:
150g  Hodmedods Broad Beans – soak in cold water overnight
200g tenderstem broccoli
drizzle of oil – I used avocado oil
1 bunch spring onions – thinly sliced
150g Edamame Beans
200ml vegan creme fraiche – I used Oatly
salt and pepper – soak in cold water overnight
handful of toasted pine nuts – optional
Instructions
The day before you want to make this recipe, rinse the broad beans then soak in cold water overnight
To cook the broad beans simply add them to a pan of boiling water and simmer gently for around an hour until softened. You can peel the outer skin if you have the time (or inclination) but there's so many earthy flavours and nutrients I tend to leave them on!
To make the gnocchi dice the peeled potatoes and put into a large pan. Cover with boiled kettle water, a good pinch of salt and boil gently for 15-20 minutes until the potatoes are soft and just cooked. You don't want to over-cook the potatoes as they become too watery
Drain the potatoes then either mash very well with a potato masher or squeeze (in stages) through a potato ricer back into the empty saucepan
Beat in the pea flour, cumin, oregano, salt and pepper until well mixed and you have a soft dough
Tip onto a lightly floured work surface (you can use more pea flour if you want to keep these gluten free), cut the dough in half then roll both halves into long sausages
Cut the gnocchi into even segments. It's then up to you how you decorate them - i just rolled the slightly on the counter to give them a softer, more rounded edge then pressed a fork into one of the sides
Bring a large pan of water to the boil then add carefully add your gnocchi. I do this in 2 batches for this quantity of gnocchi
When they float to the top either use a slotted spoon to remove them from the pan into a bowl then cook the broccoli for 5 minutes in the same water
Heat a large frying pan with a drizzle of olive oil over a medium heat then add the gnocchi. Sizzle gently until crisp and coloured on one side then flip to cook the other side
Stir in the spring onions and cook for a further minute then add the cooked broccoli, cooked broad beans, edamame beans and creme fraiche
Gently stir everything together, warming the sauce through, taste and season
Serve immediately sprinkled with a few toasted pine nuts if using
Notes
You can freeze the gnocchi before boiling if you're making enough for a few meals worth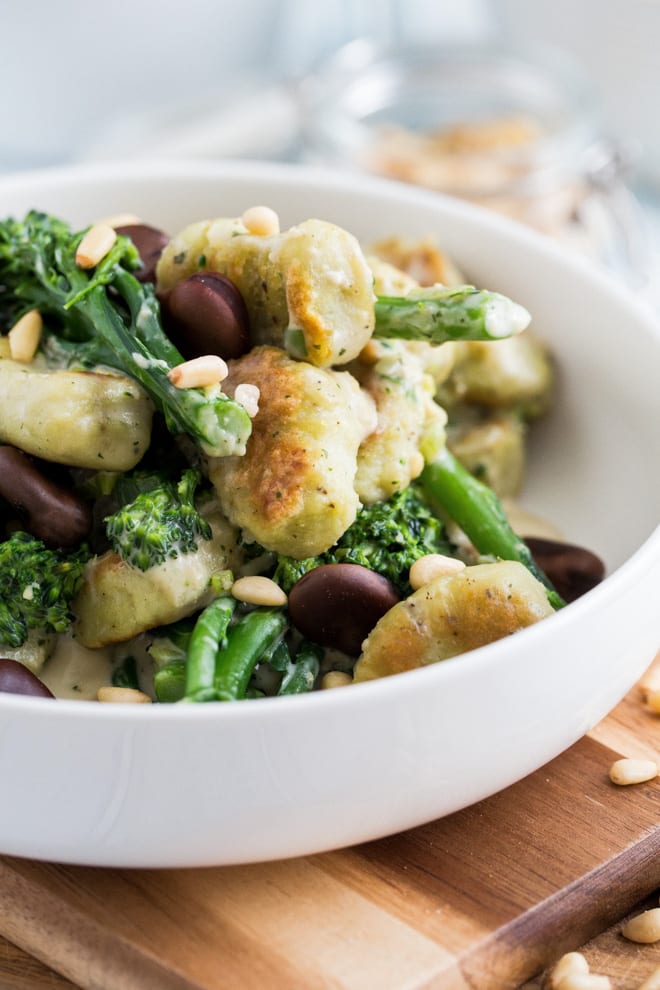 Some products I used in today's post...
Some of the links above are affiliate links, which pay us a small commission for our referral at no extra cost to you! Thank you for supporting The Cook & Him.
Hello and welcome to The Cook & Him.
We are Sam (The Cook), Phil (Him) and our little dog Nooch. What started with a plan to shed a few pounds back in 2016, soon became obvious that eating healthy doesn't have to be bland and boring.
So, combining Sam's 15 years of experience working within Michelin starred restaurants and our love for deliciously healthy food, we're creating recipes for you to make and enjoy. We've added our own unique spin on traditional and contemporary vegetarian and vegan recipes that keep you (and your pets!) healthy and full.  And we make sure they just work.
All things autumn - warming soups, savoury bakes and delicious sweet treats!
and I would like to see...
Or search for a recipe or post by keyword