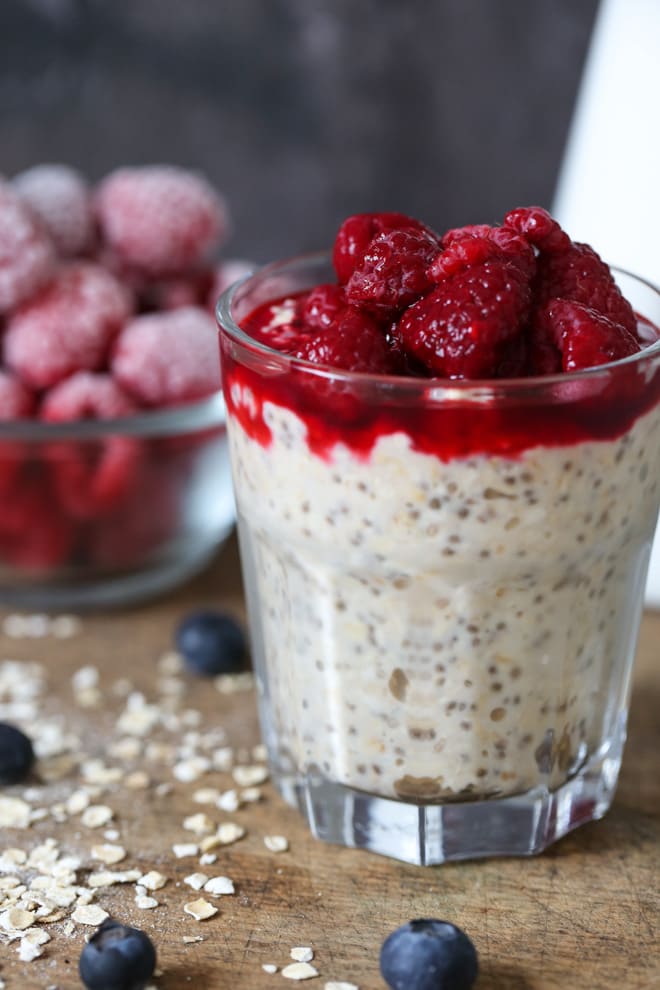 Posted in Recipes on 13.01.2018
Raspberry and Baobab Overnight Oats
prep: 10 mins / cook: 0 mins / inactive: 0 mins / total: 10 mins / quantity: 1 portion Print recipe?
Anyone else eat WAYYY too much over the entire festive season? ?  And as well as feeling bloated, lethargic and sluggish we also got very bored very quick of 'processed' foods.  Even commenting to each other that we really missed the food I cook every day.  The healthy home baked treats, rather than just shoving in another mince pie to keep the reawakened sugar monster at bay!  We also know that healthy living isn't always as easy as we'd like it to be.  But we haven't 'failed', we've overindulged for a few more days than we intended.  But line drawn because now we feel the need for green and natural back on our plate or in our breakfast bowl!
"Shit me Sam, that tastes good".  I apologise for the language but that was the exact response when I gave this to Phil and asked what he thought.  I should also point out he's an overnight oats aficionado, having it for breakfast at least 3 times a week most weeks.  It's all just SO easy to make a few ahead and keep in the fridge ready to grab 'n go the next day.  Are your mornings the same blurry rush as ours?  Alarms, snooze, alarms, snooze, alarms, rush rush rush ?  How do you folks with kids do it??  Meg doesn't move from under her blanket until it's time for her ablutions.  I can't imagine if I had to get her out of bed, dressed, fed and on the way to school as well!
Anyhoo …
Overnight oats are one of those things you can eat just as it is or chuck a whole load of stuff on/in it.  Normally it's just raspberries for Phil, banana for me and some sort of homemade granola for both of us.  Try this Peanut Butter one.  Or how about a spicy Gingerbread version that's just as tasty even post Christmas!
It's something you can make look super pretty …
Or super practical …
The Baobab Powder from Revolution Foods isn't there just for its health benefits – and you can read about those right here.  It also has THE most amazing sherbet zing to it.  It takes the humble raspberry and the even more humble overnight oats and gently slaps your face awake!  If you've not heard of Revolution Foods let me tell you a bit about them – they're the UK's number 1 for organic superfood blends and vegan proteins.  Their range is huge and can cater to a variety of specific needs or goals.  Whether that be fitness, weight loss, detox, digestive health or all round wellness.  They're also really nice people ❤
So if you're feeling a little overindulged too or just fancy a sherbet zing kinda start to the day then these Raspberry and Baobab Overnight Oats might just be the perfect thing for you ?
Here are some items I used to make today's recipe.
If you make this recipe or any of the recipes from The Cook & Him we'd LOVE to see! Just snap a picture and share it on Instagram using #thecookandhim and tagging @thecookandhim in the photo itself (as this guarantees we'll see your picture!
)
And don't forget to follow us on Instagram , Facebook or Twitter for even more recipe inspiration and chat, competitions, behind the scenes and so much more!
Raspberry and Baobab Overnight Oats
prep: 10 mins / cook: 0 mins / inactive: 0 mins / total: 10 mins / quantity: 1 portion
Ingredients
1 cup rolled oats
1 cup almond milk
2 tsp maple syrup
1/3 cup raspberries – fresh or frozen
2 heaped tsp Revolution Foods Baobab Powder
Instructions
Simply tip the oats and chia seeds into a container - it can be a pretty glass or some kind of easily transportable plastic tub with a lid!
Add the almond milk and maple syrup and give everything a really good stir
Put in the fridge and leave overnight (or over several nights if you're making a few in advance!)
Put the raspberries into another container and dust over the baobab powder
To serve simply give the raspberries and baobab a stir then tip onto the top of the overnight oats.  Enjoy!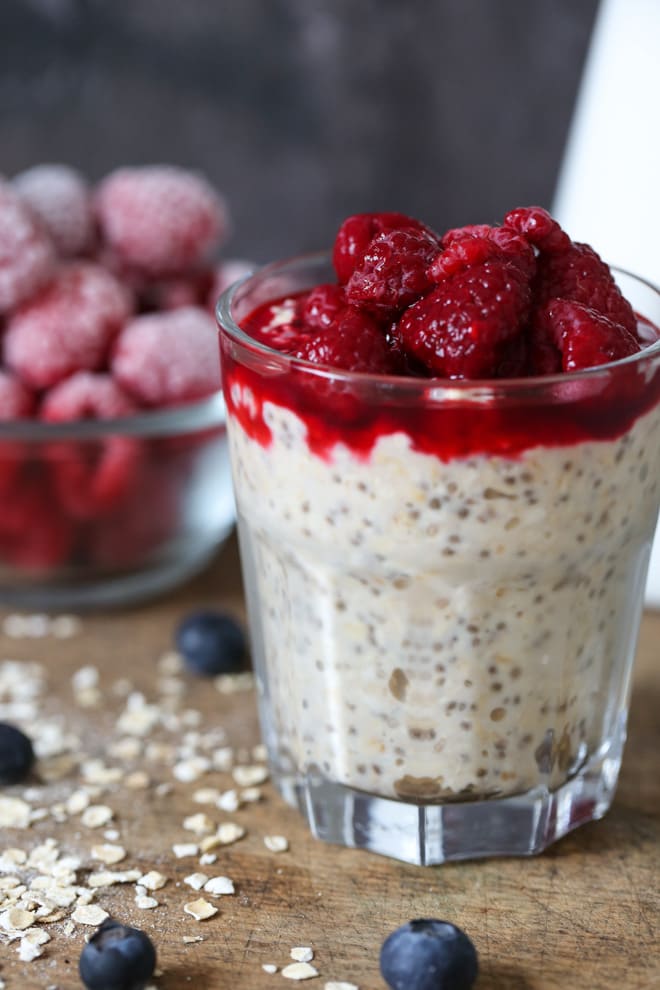 Hello and welcome to The Cook & Him.
We are Sam (The Cook), Phil (Him) and our little dog Nooch. What started with a plan to shed a few pounds back in 2016, soon became obvious that eating healthy doesn't have to be bland and boring.
So, combining Sam's 15 years of experience working within Michelin starred restaurants and our love for deliciously healthy food, we're creating recipes for you to make and enjoy. We've added our own unique spin on traditional and contemporary vegetarian and vegan recipes that keep you (and your pets!) healthy and full.  And we make sure they just work.
All things autumn - warming soups, savoury bakes and delicious sweet treats!
and I would like to see...
Or search for a recipe or post by keyword