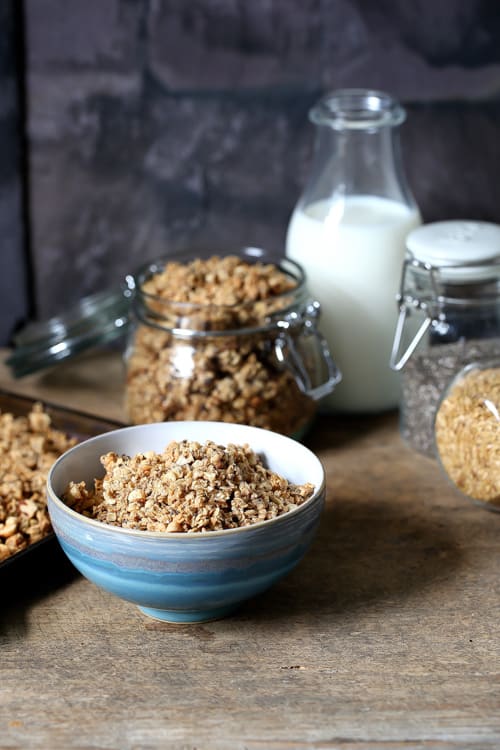 Posted in Recipes on 04.10.2017
Peanut Butter Granola
prep: 15 mins / cook: 30 mins / inactive: 0 mins / total: 45 mins / quantity: 20 portions - approx - as a topping! Print recipe?
I can honestly say, hand on heart, swear on whatever book or fashion item you choose that there isn't a single week goes by that this granola isn't in our house.  Not one single week.  I literally make enough of this to last us a couple of weeks then make more BEFORE it runs out.  Because not having any could only end in catastrophy!  One of the many best things about autumn and its colder mornings is porridge.  And on our porridge we love granola.  Bananas for me.  Raspberries for him.  Granola for both of us.  There's also this Gingerbread Granola to add to your festive breakfasts!
The choice of nuts is kind of up to you – use just one type or try many!  Over the time I've been making this stuff I've used various combinations of cashews, peanuts, pecans and walnuts – largely based on what I have kicking about.  There are a few baking things I try never to run out of – peanut butter, oats, bananas, maple syrup, chocolate, nuts, maca powder and chia seeds.  What are your kitchen staples?  Those MUST haves or the the world might fall off its axis kind of necessities?
I tried really hard to make this a one bowl mix too, but it's just so much easier if you mix the 'wet' together separate from the dry then mix the two together.  Mixing the peanut butter with the maple syrup and melted coconut oil loosens it enough to make it much easier on the forearms when adding to the oaty nut mixture ?
However, I'll never publicly admit to eating it straight off the tray, less than 5 minutes out of the oven.  Because who needs porridge really?
I'd love to hear if you make this – how it makes your house smell (yes, I have an obsession with making a house smell like some kind of cinnamony heaven, hey, we all have our 'thing' right?)  There are very few things more satisfying than – as someone who's life revolves round and almost every waking thought is about food – having someone make YOUR food.  Take your recipe, tweak it, try their own thing or just make it as it is –> Satisfaction <sigh>
If you make this recipe or any of the recipes from The Cook & Him we'd LOVE to see! Just snap a picture and share it on Instagram using #thecookandhim and tagging @thecookandhim in the photo itself (as this guarantees we'll see your picture!
)
And don't forget to follow us on Instagram , Facebook or Twitter for even more recipe inspiration and chat, competitions, behind the scenes and so much more!
Peanut Butter Granola
prep: 15 mins / cook: 30 mins / inactive: 0 mins / total: 45 mins / quantity: 20 portions - approx - as a topping!
Ingredients
1 tblsp organic coconut oil
3 cups (300g) rolled oats
2 tblsp chia seeds
1 tblsp flax seeds
1 tsp cinnamon
¼ cup (35g) pecan nuts
¼ cup (35g) cashew nuts
¼ cup (35g) peanuts
½ cup (125g) peanut butter
1 tsp vanilla extract
¼ cup (60g) maple syrup
Instructions
Preheat oven to 160 Fan / 180 C / 350 F / Gas 4 and cut a sheet of greaseproof to fit 1 large or 2 smaller baking trays, or use silicone mats
Gently melt the coconut oil and set aside to cool slightly
Put the oats, chia seeds, flax seeds and cinnamon in a large bowl
Roughly chop the nuts (you can use your own choice of nuts here – depends what you have in the cupboard, walnuts work too!) then add to the oat mixture and give everything a good stir with a spatula
To the coconut oil, add the peanut butter, vanilla and maple syrup and whisk together till smooth(ish!)
Pour this into the oats and mix well - you really want to try and coat all the oats and nuts with the syrupy mixture - then tip onto your tray(s) spreading out to the edges
Cook for 15 minutes, stir and cook for a further 15 minutes.  Leave to cool completely before storing in an airtight container for up to 3 weeks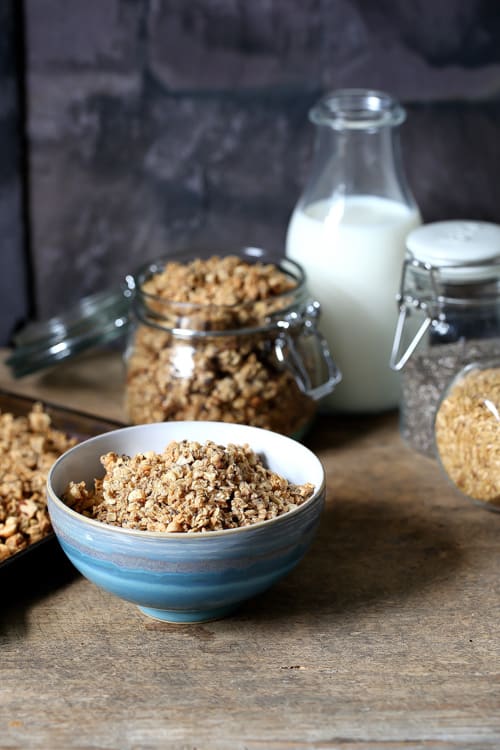 Hello and welcome to The Cook & Him.
We are Sam (The Cook), Phil (Him) and our little dog Nooch. What started with a plan to shed a few pounds back in 2016, soon became obvious that eating healthy doesn't have to be bland and boring.
So, combining Sam's 15 years of experience working within Michelin starred restaurants and our love for deliciously healthy food, we're creating recipes for you to make and enjoy. We've added our own unique spin on traditional and contemporary vegetarian and vegan recipes that keep you (and your pets!) healthy and full.  And we make sure they just work.
All things autumn - warming soups, savoury bakes and delicious sweet treats!
and I would like to see...
Or search for a recipe or post by keyword