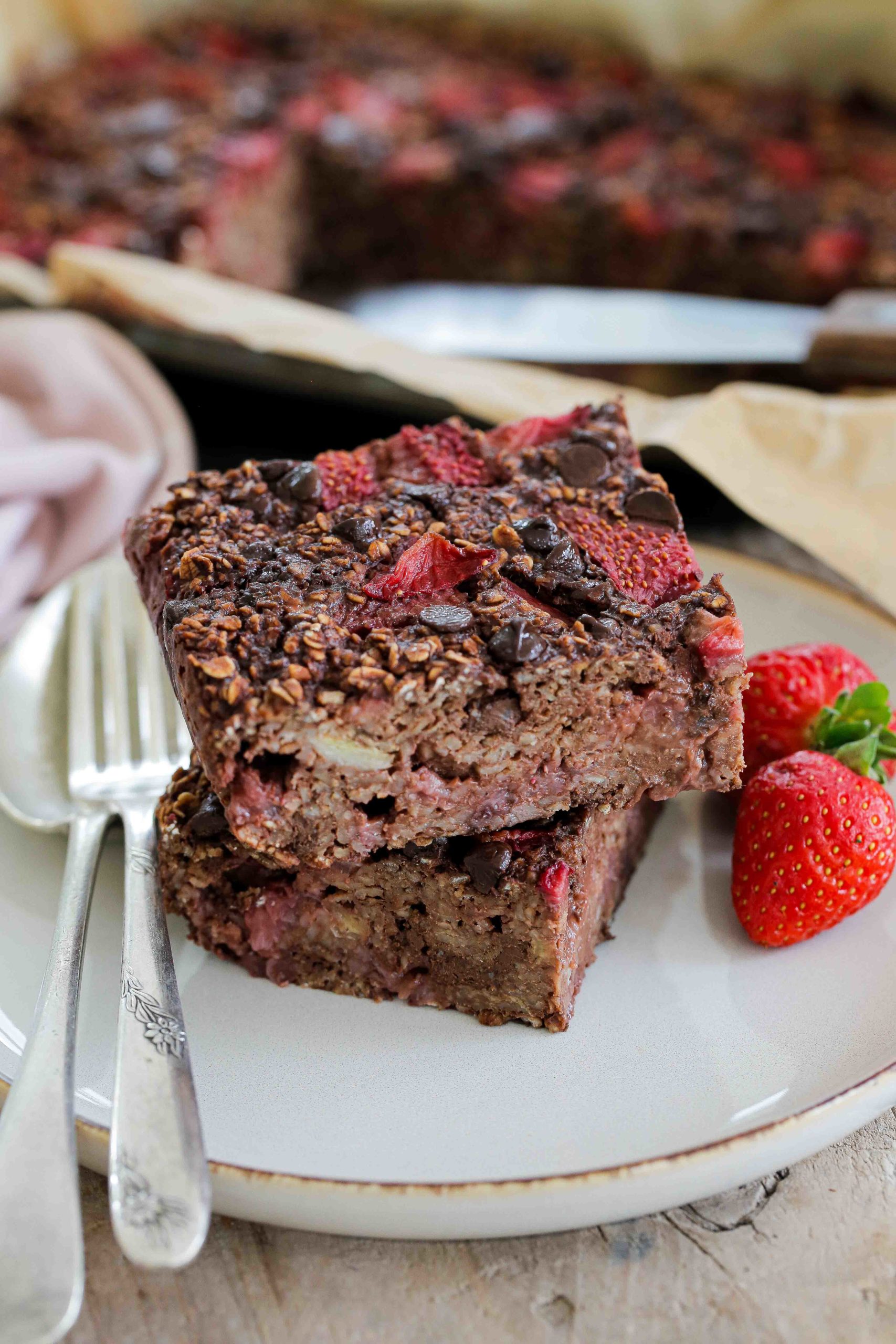 Posted in Recipes on 16.07.2023
Strawberry and Chocolate Baked Oats
prep: 20 mins / cook: 40 mins / inactive: 0 mins / total: 60 mins / quantity: 6-8 portions Print recipe?
These Strawberry and Chocolate Baked Oats come together in one bowl. They're vegan, gluten free and SO easy. The perfect healthy breakfast!
It's worth mentioning that while these chocolate baked oats are pretty darn healthy, they taste anything but.  This is a baked oatmeal recipe that makes you feel like you can have your breakfast cake and eat it!  I've been making these for years, adapted from my vegetarian acai and strawberry baked oats and my vegan chocolate and peanut butter baked oats.  And every time I eat them I am blown away by just how flipping good they are.  And definitely too good to not share the recipe with you!
Baked oats are becoming ever more popular and with good reason.  They're ridiculously easy to make, just one bowl, a fork and a spatula is all the mixing equipment you'll need.  They're also full of flavour and healthy ingredients.  And are a great recipe to double up on and pop the extras in the freezer for easy breakfasts or healthy after school snacks!
What makes this a healthy baked oatmeal recipe:
Oats – high in protein, nutrients and fibre but have a low GI (glycemic index) making them great for filling you up but not causing a sugar crash.
Coconut sugar – lower GI than regular sugar – 35 as opposed to 65 – much closer to the 25 GI that's naturally found in fruit.  Also smells like caramel heaven.
Raw cacao powder – I bang on about this stuff a LOT!  It's far less processed than cocoa powder and has a much richer, more chocolatey flavour.  It contains no additional sugar or additives and it even has a few health benefits!  It IS more expensive than cocoa powder though, so bake according to your budget.  No recipe is ever set in stone 😉
Ground flax – loaded with nutrients and omega 3 fatty acids (which is good for cholesterol and heart health) as well as rich in fibre.  Here they're mixed with water to create what's known as a flax 'egg' and provides the structure, emulsification and slight leavening that eggs normally do.
How to make this easy chocolate baked oats recipe:
Start with the flax 'egg' – mix the ground flax seeds and water together in a small bowl and set aside.
Break the peeled bananas into pieces and put in a large bowl.  Mash with a fork or potato masher.  They don't need to be overly mashed, a few lumps are fine!
Add the flax egg, vanilla and milk and mix.
Stir in the sugar, baking powder, cacao powder and oats and mix well.
Stir in the strawberries and chocolate chips – reserve a few of both to sprinkle on the top.
Pour into a greaseproof lined baking dish and spread evenly.  Scatter over the extra strawberries and chocolate chips and gently push with your palm into the mixture.
Bake in a preheated oven for 35-40 minutes until set.
Storing leftovers:
The baked oatmeal can be eaten immediately or if you're food prepping leave to cool completely before cutting into squares.  This recipe makes 6-8 squares depending on how large you want your portions!  Wrap the squares in foil or put into containers and store in the fridge or freezer.
They're lovely warmed in the microwave for a minute or so once defrosted.
Looking for even more easy make ahead vegan breakfast ideas?  Try these:
If you make this recipe or any of the recipes from The Cook & Him I'd LOVE to see! Just snap a picture and share it on Instagram using #thecookandhim and tagging @thecookandhim in the photo itself (as this guarantees I'll see your picture!
)
Don't forget to follow me on Facebook or Pinterest for even more recipe inspiration and chat, competitions, behind the scenes and so much more!
Strawberry and Chocolate Baked Oats
prep: 20 mins / cook: 40 mins / inactive: 0 mins / total: 60 mins / quantity: 6-8 portions
Ingredients
Instructions
Preheat your oven to 170 Fan / 190 C / 375 F / Gas 5 and line a 9.5 x 7.5 (23 x 19 cm) baking tin or dish with parchment
Mix the ground flax seeds with the water in a small bowl and set aside
Peel the bananas and break into chunks into a large bowl. Mash with a fork or potato masher - some lumps are fine!
Add the flax and water mixture followed by the vanilla and milk and give a quick mix
Add the sugar, baking powder, cacao powder and oats and stir to mix well
Reserve some of the diced strawberries and chocolate chips then add the rest of both to the bowl, mixing them in
Tip the mixture into your prepared baking dish and spread to flatten the top
Scatter over the reserved strawberries and chocolate chips and use the palm of your hand to gently push them down but not enough to submerge them!
Bake for 40-45 minutes until set in the middle - it should feel just firm to the touch
Leave to cool for a few minutes then serve - alternatively cool completely before cutting into portions and storing in the fridge or freezer
Notes
Substitute the coconut sugar for caster sugar or light brown sugar
Substitute the raw cacao powder for cocoa powder
Hello and welcome to The Cook & Him.
We are Sam (The Cook), Phil (Him) and our little dog Nooch. What started with a plan to shed a few pounds back in 2016, soon became obvious that eating healthy doesn't have to be bland and boring.
So, combining Sam's 15 years of experience working within Michelin starred restaurants and our love for deliciously healthy food, we're creating recipes for you to make and enjoy. We've added our own unique spin on traditional and contemporary vegetarian and vegan recipes that keep you (and your pets!) healthy and full.  And we make sure they just work.
All things autumn - warming soups, savoury bakes and delicious sweet treats!
and I would like to see...
Or search for a recipe or post by keyword