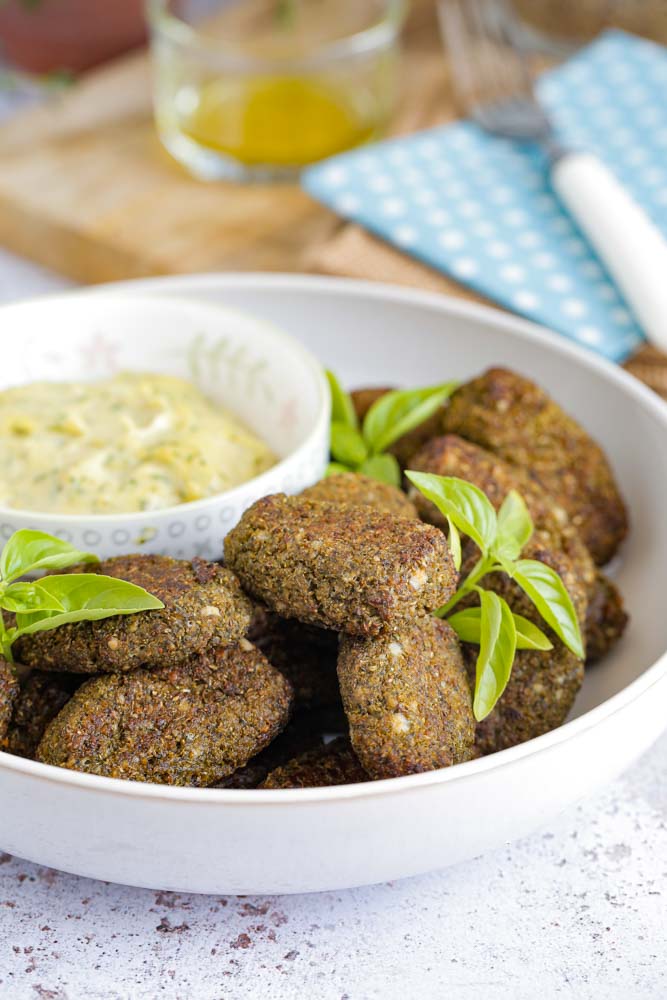 Posted in Recipes on 19.07.2021
Vegetable Tots with Garlic and Herb Mayo
prep: 30 mins / cook: 40 mins / inactive: 0 mins / total: 1 hour 10 mins / quantity: 20 tots Print recipe?
Perfect for a healthy snack, side dish or even the star of the show these vegetable tots are super simple to put together and baked for a really crisp outside and soft, fluffy insides!
Until I'd made these vegetable tots I'd never had a tot!  The name 'tot' originates from an American frozen food company that makes the Tater-Tot.  I think in the UK the closest we get to these small, cylinder shaped, deep fried side dish are potato croquettes.  I used to love a croquette as a kid.  I've mentioned before how my mum hated cooking.  She'd get too hot, flappy and didn't know how to juggle multiple things cooking at the same time.  But she was really good at serving up things already made – I'm looking at you here Findus Crispy Pancakes and Arctic Roll.  And potato croquettes was one of her specialities.  Dad and I were carb fans, so anything made with potato was always relished.
So these vegetable tots are a nod to both my mum and dad and all those years of beige food.  There's a little bit of colour in these veggie tots though as we've got both broccoli and spinach.  And I wanted something that was easy to make but a little bit healthier than a deep fried potato thing.
I also love a dippy thing.  Because these tots not only make a lovely side dish but they're a delish little snack, full of flavour and dipped into a herby, garlicky mayo is just the thing when you want something really tasty.
How to make vegetable tots:
Grate the potato.  Guided by the original Tater-Tot, grated potato is a given.  I don't bother peeling the potatoes, just scrub the skins clean unless they're particularly gnarly.  Then the hardest bit of the whole process is giving the potatoes a good squeeze.  The first time I tried these I skipped this part and the tots were so soggy I had to add a tonne of flour to have anything I could even remotely get into a tot shape.  Put the grated potato into a clean t-towel and squeeze to get rid of as much water as you can.
Put the broccoli florets into a food processor.  Add the spinach and whizz until it's very finely chopped.  Then tip in the squeezed grated potato and all the spices, herbs, flour and cheese as well as a good pinch each of salt and pepper.
Scoop out spoonfuls of mixture, shaping them into cylindrical 'log' shapes.  This mix makes roughly twenty tots that are about 2 inches (5cm) long each, but you can make them smaller if you'd prefer.  Place the shaped tots onto a lined baking sheet.  Don't bunch them up too much together, you want the outsides to crisp up and if they're too close they'll steam rather than bake.
Once you've shaped them all brush each one with a little olive oil.  Bake in a preheated oven for 30 minutes, then carefully flip each tot over and bake for a further 10 minutes.
While they're baking make the herb and garlic mayo.  Simply mix together all the ingredients for the mayo and put into a small bowl.  I've used homemade vegan pesto for this but if you don't have any to hand you can just add a little extra basil.
You can serve these hot or cold and they make great leftovers!  Simply chill, store in the fridge until needed then reheat thoroughly.  These vegetable tots make delicious finger food while you're watching your favourite Netflix tipple.  And the dogs watch you.
Looking for more easy, healthy and vegan ideas?  Try these:
Tortilla Wraps with BBQ Jackfruit
Peri Peri Tacos with Sweetcorn Salsa
Roasted Cauliflower with Tahini Dressing
I'd also love to hear from you if you make these Vegetable Tots! Just leave a comment as it's so helpful and I love to hear how the recipe worked out for you! Thank you so much!
Don't forget to follow us on YouTube, Facebook or Pinterest for even more recipe inspiration and chat, competitions, behind the scenes and so much more!
Vegetable Tots with Garlic and Herb Mayo
prep: 30 mins / cook: 40 mins / inactive: 0 mins / total: 1 hour 10 mins / quantity: 20 tots
Ingredients
Vegetable Tots:
2 + 1/2 cups (360g) grated potatoes (grated weight)
1 head broccoli – florets only
2 handfuls spinach
2 tblsp ground flax seeds
1 tsp onion powder
1 tsp smoked paprika
1/2 tsp dried thyme
3 tblsp grated vegan parmesan
1/4 cup (60g) plain flour
good pinch each of salt and pepper
2-3 tblsp olive oil
Garlic and Herb Mayo:
4 tblsp vegan mayonnaise
1 clove garlic – peeled and crushed
1 tblsp vegan pesto – or sub with several leaves of fresh basil
1 tblsp nutritional yeast
1 tsp dried parsley
salt and pepper to taste
Instructions
Grate potatoes by hand or with the grater attachment on a food processor. Tip onto a clean t-towel, fold the towel round the potato and squeeze out as much water as you can
Put the broccoli and spinach into a food processor with the 'S' blade and whizz until very finely chopped
Add the ground flax, onion powder, smoked paprika, thyme, salt, pepper, vegan parmesan, flour and the grated potato. Whizz until everything is mixed together
Preheat your oven to 200 Fan / 220 C / 425 F / Gas 7 and line a large baking tray with parchment or a silicon mat
Scoop out about a tablespoon of the mixture and shape into a cylindrical log roughly 2 inches (5cm) in length and 1 inch (2.5cm) thick
As you shape them lay them onto the prepared baking sheet, spacing reasonably apart - this helps prevent them from steaming so the tots have nice crisp coats!
Once they're all shaped brush each tot with a little olive oil then bake for 30 minutes
After 30 minutes flip the vegetable tots and bake for another 10 minutes until crisp
While the tots are baking make the dipping sauce by simply mixing all the garlic and herb mayo ingredients together. Add any salt and pepper to taste
Notes
These tots are also very good cold and can easily be used as leftovers - chill and store any extras in the fridge then reheat until piping hot in the middle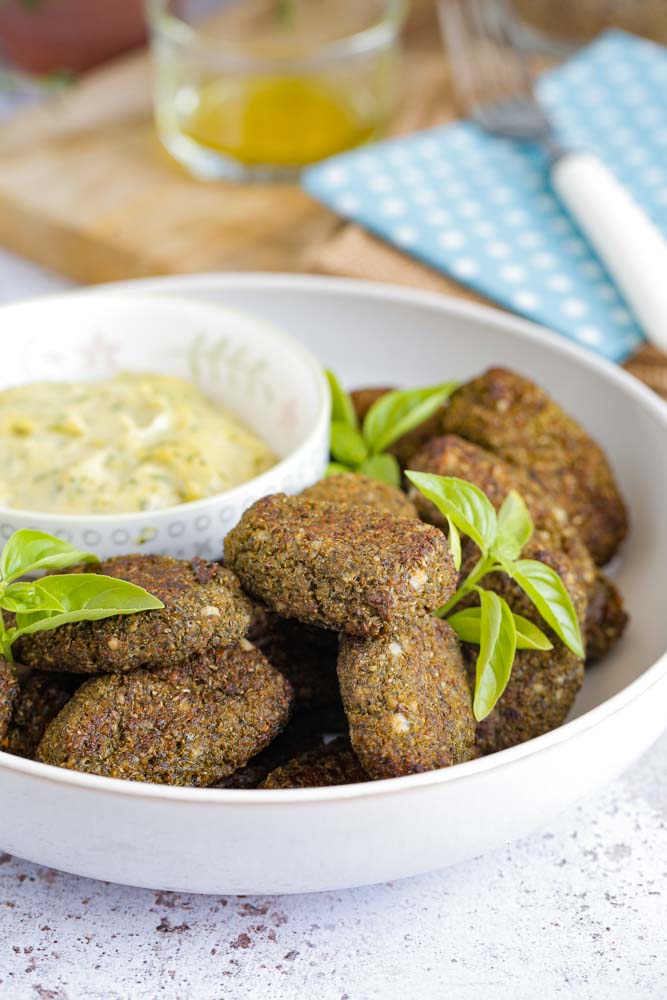 Hello and welcome to The Cook & Him.
We are Sam (The Cook), Phil (Him) and our little dog Nooch. What started with a plan to shed a few pounds back in 2016, soon became obvious that eating healthy doesn't have to be bland and boring.
So, combining Sam's 15 years of experience working within Michelin starred restaurants and our love for deliciously healthy food, we're creating recipes for you to make and enjoy. We've added our own unique spin on traditional and contemporary vegetarian and vegan recipes that keep you (and your pets!) healthy and full.  And we make sure they just work.
All things autumn - warming soups, savoury bakes and delicious sweet treats!
and I would like to see...
Or search for a recipe or post by keyword