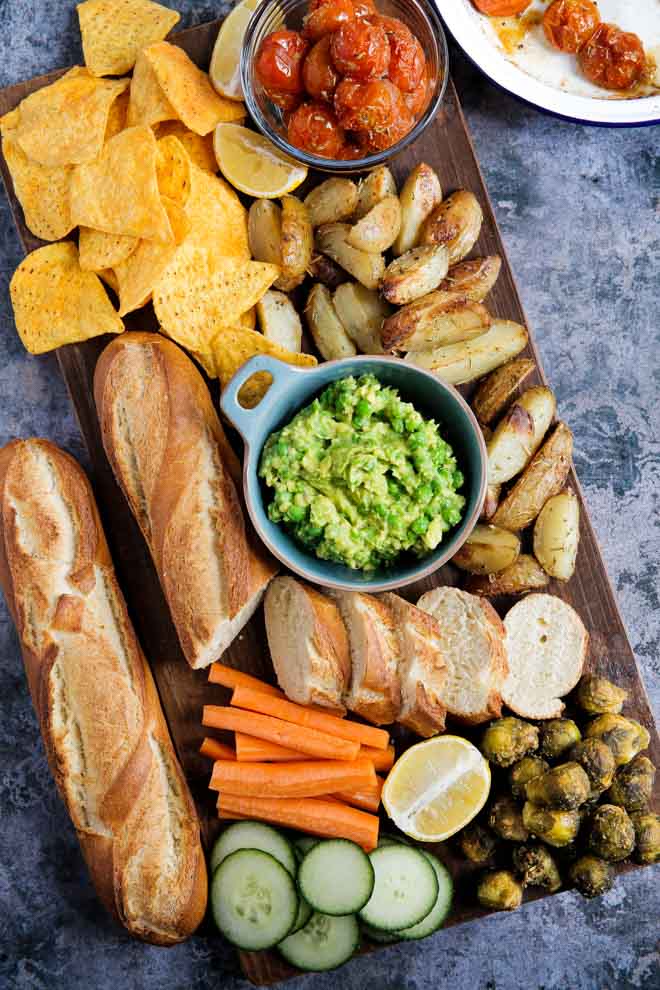 Posted in Recipes on 06.07.2020
Minted Pea Guacamole
prep: 10 mins / cook: 0 mins / inactive: 0 mins / total: 10 mins / quantity: Serves 4-6 Print recipe?
Bright petit pois and fresh herbs liven up a traditional guacamole, giving it a lovely sweetness and chunky texture, perfect for dipping and spreading!
I know there are some purists out there who will no doubt be gasping in horror at even the thought of peas in guacamole.  PEAS IN GUACAMOLE??  The way I see it is rules are (sometimes) meant to be broken.  Now I'm not encouraging you to go and do anything illegal here, but food rules can be bent, broken and even downright ignored.  Sometimes.
If people never experimented with food we'd never have the wonderful variety and abundance we have today.  Fusion food wouldn't exist.  The revolution that's happening with vegan food wouldn't be happening.  I had 8 vegan donuts delivered to my door at the weekend – you couldn't even have imagined that happening a couple of years ago.
And judging by the amount of questions I've had about this minted pea dip thing ever since posting it alongside this Roasted Cauliflower and these BBQ Tacos, I think there's quite a few of us non-conformists 😉
Traditionally this iconic avocado dip also doesn't actually have lime juice in it either.  This is purely personal preference.  Add some lime.  Or even add some lemon.  Without either you get a richer, less zesty flavour.  Or a gentle squeeze of citrus gives it a bright freshness.  I say try both.  Honestly, neither disappoints.
How to make this avocado dip recipe:
Seriously, I'm a little embarrassed to even call this a recipe.  Apart from maybe this Antioxidant Smoothie (chuck it all in a blender) or even these Chia Chocolate Cookies (chuck it all in a bowl then chuck it in the oven), I don't think we have an easier recipe on the blog.  But recipes don't always have to be complicated right?  Even raw food.  Food that doesn't even require turning the oven on can be delicious, healthy and nourishing (thank you healthy fats) and above all uncomplicated enjoyment.
Though I still remember the hoo-ha when Nigella posted her own smashed avocado on toast "recipe".
The most important thing is to use ripe and ready to smash avocados.  Too firm and you'll find yourself left with hard little lumps in a over worked mess.  You still want some texture to the paste and some body to hold the peas and all all the other flavourings together.  I err on the side of a more lumpy guacamole anyway, even without the peas.
Once you've removed your avocado flesh from its leathery jacket you simply mash it together with the remaining ingredients, reserving some of the cooked peas to stir through at the end.  I LOVE peas.  And I love the bright green-ness they bring to this vegan guacamole.  Feel free to add a dash of chilli if spicy is your thing too.
I'd love to hear from you if you make this recipe – just leave a comment as it's so helpful and I love to hear how the recipe worked out for you!  Thank you so much 🙂
Love healthy snacks?  So do we!
Don't forget to follow us on YouTube, Facebook or Pinterest for even more recipe inspiration and chat, competitions, behind the scenes and so much more!
Minted Pea Guacamole
prep: 10 mins / cook: 0 mins / inactive: 0 mins / total: 10 mins / quantity: Serves 4-6
Ingredients
1 ripe avocado
1 cup (145g) fresh or frozen petit pois peas – cooked until just tender
1 clove garlic – peeled and crushed
1/2 lime – juice only
3 spring onions – finely sliced
pinch of ground cumin
few leaves each of fresh mint and parsley – finely shredded (see note)
salt and pepper to taste
optional: fresh chilli or chilli flakes to taste
Instructions
Remove the flesh from the avocado - the easiest way is to cut the avocado in half, cutting round the hard stone in the middle then use a spoon to remove the stone then use the spoon to scoop out the flesh from the skin. Put the flesh into a bowl
Add half the cooked peas and using a fork or potato masher, mash them together to a thick paste. You don't have to be overly zealous here - lumps are fine!
Stir in the remaining ingredients and the rest of the peas, seasoning to taste
Serve immediately or store in a lidded container in the fridge for 4-5 days
Notes
Normally I suggest swapping out dried herbs for fresh if you can't get hold of fresh herbs - but for this guacamole recipe I don't think you can substitute the fresh herbs!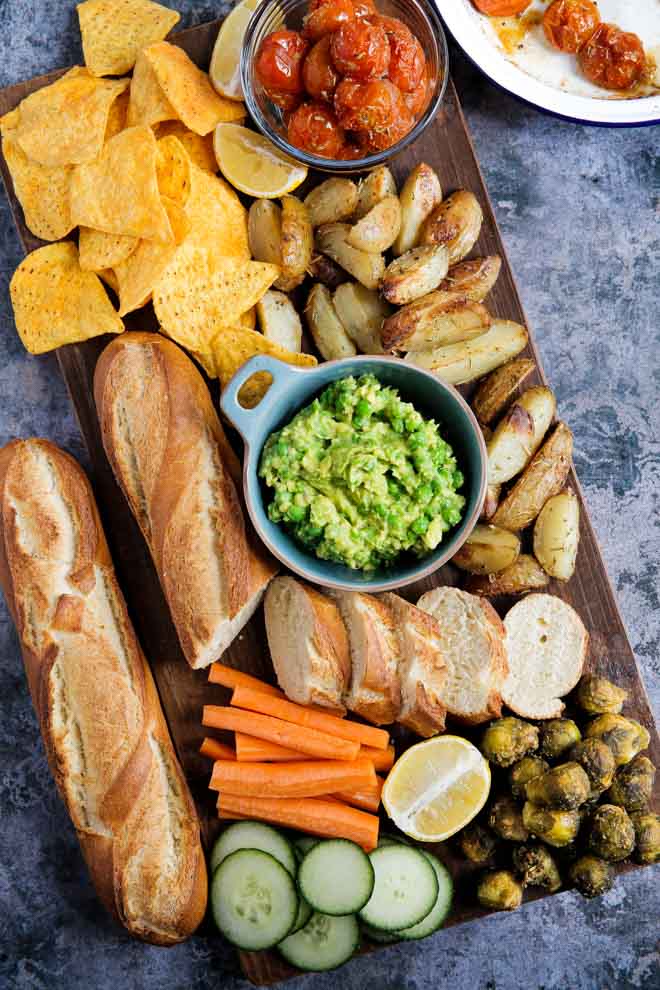 Hello and welcome to The Cook & Him.
We are Sam (The Cook), Phil (Him) and our little dog Nooch. What started with a plan to shed a few pounds back in 2016, soon became obvious that eating healthy doesn't have to be bland and boring.
So, combining Sam's 15 years of experience working within Michelin starred restaurants and our love for deliciously healthy food, we're creating recipes for you to make and enjoy. We've added our own unique spin on traditional and contemporary vegetarian and vegan recipes that keep you (and your pets!) healthy and full.  And we make sure they just work.
All things autumn - warming soups, savoury bakes and delicious sweet treats!
and I would like to see...
Or search for a recipe or post by keyword