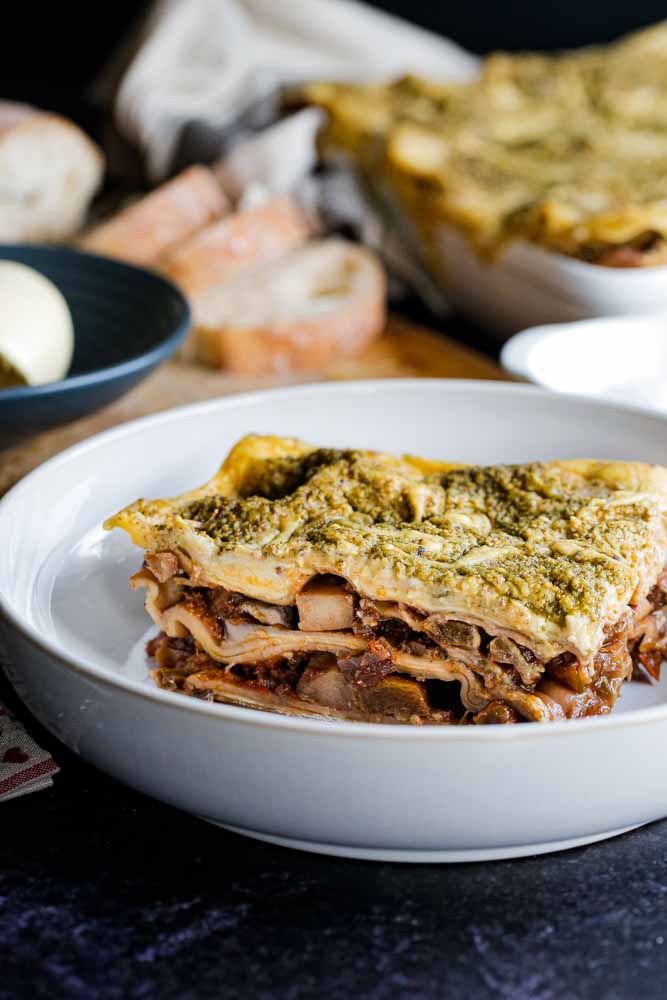 Posted in Recipes on 22.11.2021
Pumpkin Lasagne with Sage and Walnut Pesto
prep: 40 mins / cook: 40 mins / inactive: 0 mins / total: 1 hour 20 mins / quantity: 4-6 portions Print recipe?
Deliciously vegan pumpkin lasagne with a dash of wine and tonnes of veggies and flavour. Topped with a creamy vegan white sauce swirled with a homemade, garlicky sage and walnut pesto!
Lasagne is a BIG favourite in our house.  It takes a little time to prepare but the rich, saucy layers and creamy, crisped top is SO worth it.  And because there's only two of us, one large dish lasts us for a couple of meals. I also knew when we picked up some pumpkins at a pumpkin patch that I wanted to make this pumpkin lasagne.
Are you having a good autumn/fall?  On my internet travels I see a lot of people who struggle with the whole shorter days/darker evenings thing.  I belong to a couple of Facebook hygge groups.  If you don't know what hygge is (pronounced hoo-gah) I truly suggest you look it up.  And to me, autumn is possibly the most hygge of all seasons.  I also love winter but mostly because in the middle of all that cold is the sparkly thing that is Christmas.
For me autumn and winter is about warmth and comfort.  Cosy candles, fuzzy socks, warm sweaters.  And large dishes of warming, hearty food.  Voila le pumpkin lasagne (my apologies to any French readers).
Homemade pesto
In this pumpkin lasagne recipe I've also used homemade pesto.  Sage feels very autumnal to me.  But if it's a step too far feel free to use any vegan pesto you can get your hands on.  Homemade pesto is SO easy though.  Just whizz all the ingredients in a food processor or blender.  And I promise, you don't lose a jot of flavour by not using parmesan.  In fact homemade pesto has a tonne more flavour than the stuff you can get in a jar.
A white sauce, or bechamel, isn't a thing to fear either.  And if it has a couple of lumps in it well so what?  As long as they're not the size of golf balls I don't think anyone would even notice once it's swirled with pesto and baked until golden.
I've seen pumpkin lasagne recipes that require you to roast the pumpkin.  But I'm always trying to cut down on the amount of washing up.  And let's face it, making lasagne, especially if you make the pesto too, comes with a few dirty pots and pans. And food processors.  Spoons.  Spatulas.
So for this vegan lasagne I've borrowed an idea from my Gnocchi Bake and cooked all the veggies in one pan.  I love all the veggies in this dish, each one bringing their own flavour to the mix.  It's also a good way to include veggies for those normally veggie averse.  They're all cooked until meltingly soft with a good glug of red wine, crushed tomatoes and lots of things like garlic, miso and herbs for all the flavour.
Freezing your pumpkin lasagne
If you're not quite into the portion sizes Phil and I are this might make more that 4 servings.  So if you find yourself with leftovers you can absolutely freeze this.  Leave to go completely cold then cut into portions and freeze those.  If you want to make this ahead or make more than one dish you can freeze the whole dish – just make sure it's wrapped well so it doesn't dry out.  For either individual portions or a whole dish of lasagne defrost thoroughly before reheating.  They can be baked in the oven or heating in the microwave.  Just make sure the middle is piping hot!
More vegan pumpkin recipes for you to love:
Pumpkin Spice Pull Apart Bread
And one for the pups – Pumpkin Pie Dog Treats
I'd also love to hear from you if you make this vegan Pumpkin Lasagne! Just leave a comment as it's so helpful and I love to hear how the recipe worked out for you! Thank you so much!
Don't forget to follow us on YouTube, Facebook or Pinterest for even more recipe inspiration and chat, competitions, behind the scenes and so much more!
Pumpkin Lasagne with Sage and Walnut Pesto
prep: 40 mins / cook: 40 mins / inactive: 0 mins / total: 1 hour 20 mins / quantity: 4-6 portions
Ingredients
Vegan Pesto:
1/2 cup (60g) walnuts
1 medium bunch fresh sage – stalks discarded
4 cloves garlic – peeled
1/3 cup (60ml) olive oil
3 tblsp (10g) nutritional yeast
juice of 1 lemon
1 tsp salt
Lasagne:
1 tblsp oil
1 tblsp (15g) vegan butter
3 + 1/2 cups (500g) fresh pumpkin – skin and seeds removed (roughly 1/4 of a medium pumpkin)
1 large parsnip – peeled and diced, woody core discarded
1 cup (200ml) red wine
1 red onion – peeled and finely diced
1 red bell pepper – finely chopped, seeds discarded
1 stick celery – finely diced
5 cloves garlic – peeled and crushed
1 tsp dried sage
1 tsp dried rosemary
1 tsp smoked paprika
1 tin crushed tomatoes
2 tsp miso paste
2 vegetable stock cubes
3 cups (230g) chestnut mushrooms – sliced
salt and pepper to taste
12-15 lasagne sheets
White Sauce:
1/4 cup (40g) vegan butter
1/4 cup (40g) plain flour
1 cup (230ml) plant milk
4 tblsp nutritional yeast
1 tsp mustard
1 tsp each salt and pepper
1 cup (80g) shredded vegan mozzarella
Instructions
If you're making your own pesto start with that - simply put all the ingredients into a food processor or blender and whizz to a paste. Set aside
For the lasagne, warm the oil and butter in a large pan then add the diced pumpkin and parsnip and saute for 10 minutes, stirring from time to time
Add 1 cup of water and the red wine, lower the heat slightly and bubble for another 10 minutes or until the pumpkin is just soft
Add in the onion, garlic, pepper and celery, the herbs, paprika, tomatoes, miso paste and stock cubes and cook for a further 10 minutes over a medium heat, stirring occasionally
Stir in the mushrooms and bubble for 5 more minutes then add salt and pepper to taste
Lay 4-5 lasagne sheets in the bottom of your baking dish then top with half of the lasagne mixture
Repeat with another layer of lasagne sheets and top with the other half of the lasagne mixture
Add one final layer of lasagne sheets
Preheat your oven to 180 Fan / 200 C / 400 F / Gas 6
To make the white sauce melt the butter in a saucepan until bubbling
Add in all the flour at once and stir with a wooden spoon until it forms a thick paste or 'roux'
With the pan still on the stove over a low heat add the milk in 3-4 stages, beating well with a wooden spoon between each addition. At first it will stay as a dough but by the time you've added all the milk it should be a white sauce
Stir or whisk in the nutritional yeast, mustard, salt, pepper and mozzarella
Pour the white sauce over the top layer of lasagne sheets and spread to cover them
Drop spoonfulls of the pesto onto the white sauce then use the handle of a teaspoon to swirl the pesto into the sauce
Bake the pumpkin lasagne for 40-50 minutes until golden and bubbling
Notes
You can freeze the whole lasagne after baking - chill completely then wrap well to prevent the lasagne from drying out. You can also freeze any leftovers - cool, portion up and put into freezer proof containers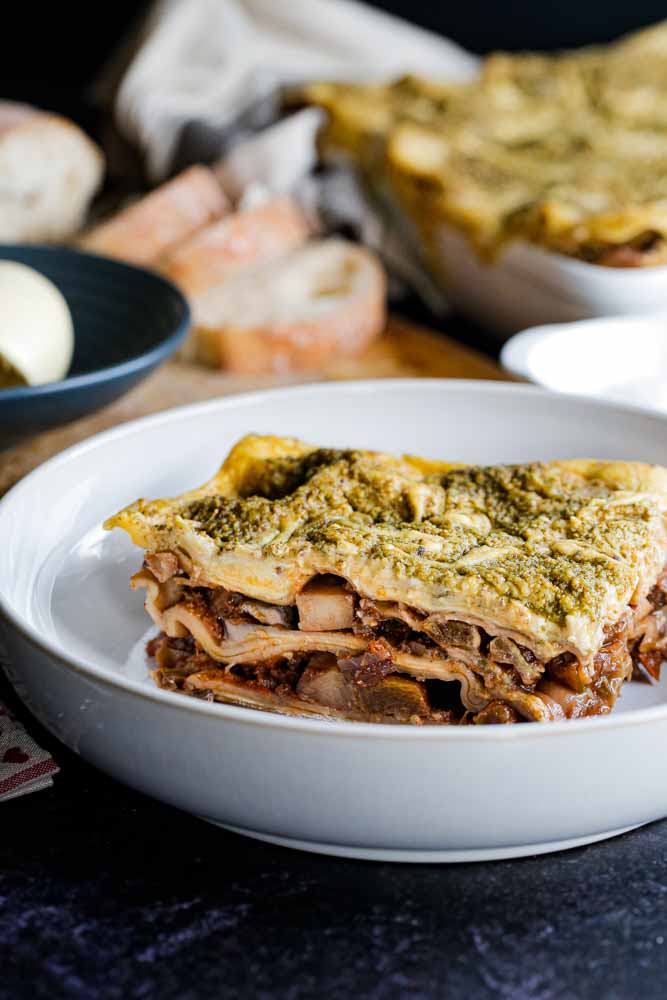 Hello and welcome to The Cook & Him.
We are Sam (The Cook), Phil (Him) and our little dog Nooch. What started with a plan to shed a few pounds back in 2016, soon became obvious that eating healthy doesn't have to be bland and boring.
So, combining Sam's 15 years of experience working within Michelin starred restaurants and our love for deliciously healthy food, we're creating recipes for you to make and enjoy. We've added our own unique spin on traditional and contemporary vegetarian and vegan recipes that keep you (and your pets!) healthy and full.  And we make sure they just work.
All things autumn - warming soups, savoury bakes and delicious sweet treats!
and I would like to see...
Or search for a recipe or post by keyword