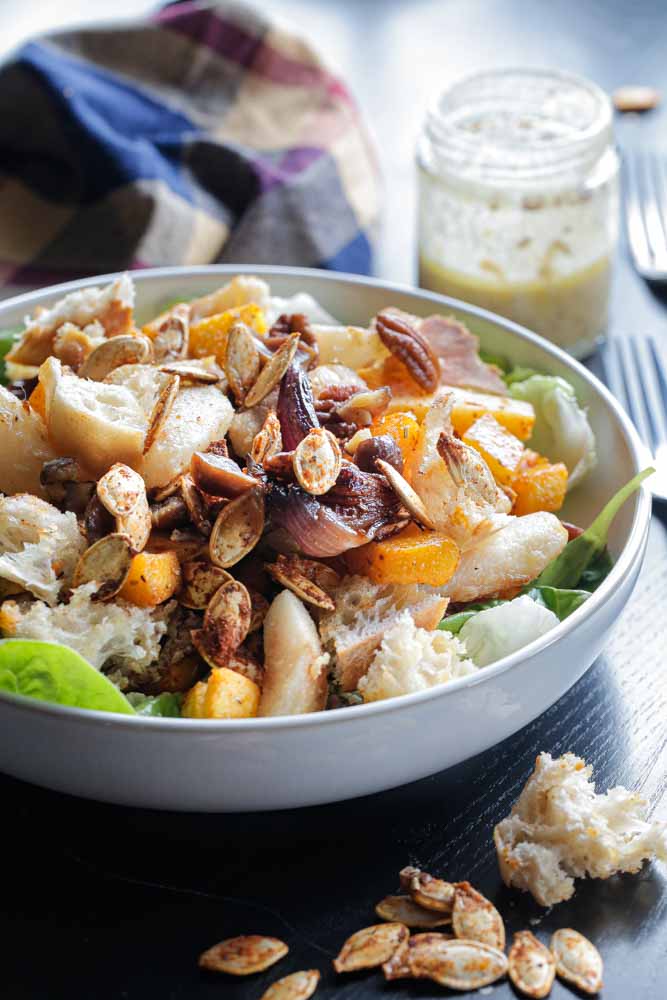 Posted in Recipes on 15.11.2021
Maple Roasted Pumpkin Salad
prep: 15 mins / cook: 45 mins / inactive: 0 mins / total: 60 mins / quantity: serves 2-4 Print recipe?
Drizzled with a light tahini dressing this fully loaded pumpkin salad with warm pears, toasted pecans, crisp croutons and spiced pumpkin seeds is everything a salad should be!
Have you seen that meme about the difference when non-vegans make a salad to when vegans do?  Well I couldn't help but think of it as I was putting together this very vegan pumpkin salad.
It's got *almost* everything in it.  The idea came about post Halloween and needing to use up the pumpkins we'd picked at Mostyn Kitchen Garden.  What an absolutely lovely place!  It was my first ever visit to a pumpkin patch and it was everything I hoped it would be.  It was also the first thing I could tick off my autumn bucket list for this year!  Do you do seasonal bucket lists?  It's been something I've been trying to embrace more of since we sold our house for a more slightly more nomadic lifestyle.
Anyway, pumpkin salad.  I wanted to make something that would make a great holiday side or have enough pizazz to complete meal in itself.  Because in between all the warm, hearty stews and soups sometimes, even in these colder, darker days, I still fancy a salad.
How to make a proper vegan salad:
I went out for lunch with Phil's mum the other day and on the side of her toasted sandwich were literally two strands of frisee lettuce and half a cherry tomato.  Not even a whole cherry tomato.  Now I know it was only a garnish but c'mon.
Flavour and texture are the most important things when it comes to salad.  And in this pumpkin salad we've got tonnes of both.
Chunks of sweet pumpkin flesh slow roasted with red onion, parsnip, garlic, maple syrup, herbs and spices.
There's also sautéd pears and chestnuts.  And just before the veg is finished roasting we throw on some pecans and chunks of bread to crisp up and take on some of that lovely, garlicky, roasted flavour.
I've also scooped out and washed the pumpkin seeds before roasting them at the same time as the veggies.  It may be a step too far if you don't have the time to scoop and clean but these crispy little delights are truly worth that extra bit of effort.  You do need to keep an eye on them though.  If I were just roasting the seeds alone I'd cook them at a lower temperature for more time.  But because I wanted to cut down on oven time I cooked them at the same time as the veg at a higher temperature.  This means they cook a LOT faster and will need to be stirred a few times during cooking so they don't catch and turn into acrid little burnt rabbit dropping looking things and fill your house with smoke.  Or so I've heard.
The perfect salad dressing:
The whole lot is finished off with a light, creamy tahini dressing.  The garlic that was roasted with the veggies is mushed up and added to the dressing.  Because it's roasted it loses a lot of that raw, overpowering flavour and instead adds a more mellow garlicky-ness to the whole salad.  It's wonderful I promise.
Looking for more pumpkin recipes?  Try these:
Pumpkin Spice Pull Apart Bread
And even one for the pups – Pumpkin Dog Treats!
I'd also love to hear from you if you make this Maple Roasted Pumpkin Salad! Just leave a comment as it's so helpful and I love to hear how the recipe worked out for you! Thank you so much!
Don't forget to follow us on YouTube, Facebook or Pinterest for even more recipe inspiration and chat, competitions, behind the scenes and so much more!
Maple Roasted Pumpkin Salad
prep: 15 mins / cook: 45 mins / inactive: 0 mins / total: 60 mins / quantity: serves 2-4
Ingredients
Roasted Vegetables:
3 + 1/2 cups (500g) diced pumpkin (skin removed and discarded)
1 large parsnip – peeled and cut into bite sized chunks
2 red onions – peeled and cut into wedges
3 cloves garlic – peeled
1 tblsp oil
1 tsp smoked paprika
1 tsp dried rosemary
2 tblsp maple syrup
salt and pepper
3-4 slices stale bread torn into chunks
3/4 cup (80g) pecans
Roasted Pumpkin Seeds:
1 cup (70g) pumpkin seeds
2 tsp oil
1 tsp garlic powder
1/4 tsp salt
1 tsp cayenne pepper
1 tsp dried sage
Warm Pears:
3 small firm pears – peeled, core removed and cut into segments
1 cup (180g) cooked chestnuts – crumbled
1 tblsp vegan butter
Dressing:
1 tblsp red wine vinegar
1 tsp wholegrain mustard
1 tblsp tahini
3 tblsp olive oil
pinch salt
Lettuce leaves of choice
Instructions
Preheat your oven to 180 Fan / 200 C / 400 F / Gas 6
Prepare the pumpkin first - cut in half and scoop out the pumpkin seeds. Put the seeds in a bowl of water and set aside - this helps to remove any of the excess flesh still clinging to them
Cut the peeled pumpkin and parsnip into bite sized chunks and cut the peeled onions into wedges
Put the vegetables into a large bowl along with the peeled garlic, oil, smoked paprika, rosemary, maple syrup and a good pinch each of salt and pepper
Toss everything together to coat the veggies then tip onto a roasting tray
Drain the pumpkin seeds from the water, dry on some kitchen towel or a tea towel then mix with the oil, garlic powder, salt, cayenne pepper and sage. Tip onto another roasting tray - try to keep them in one layer so they roast evenly
Roast the veggies for 30 minutes
Roast the pumpkin seeds for 15-20 minutes, stirring 2-3 times during the cooking. Keep a good eye on them as they can burn fairly easily. You want them crispy and crunchy
While that's all cooking put all the ingredients for the dressing into a small jar with a lid and shake well to mix
After 30 minutes of cooking the veggies add the chunks of bread and pecans to the tray, turn everything over to lightly coat the bread and nuts then cook for a further 15 minutes until the bread is crisp, the veg is soft and the pecans are lightly toasted
Once you've added the bread and nuts to the oven saute the pears by melting the butter in a small frying pan until bubbling then adding the pear wedges
Toss to coat the pears in the butter then cook, tossing from time to time until lightly caramelised
Toss in the crumbled chestnuts and warm through
To assemble put your favourite salad leaves in the bottom of the serving dish, top with the roasted veggies, the warm pears and chestnuts, sprinkle over the pumpkin seeds then drizzle over the dressing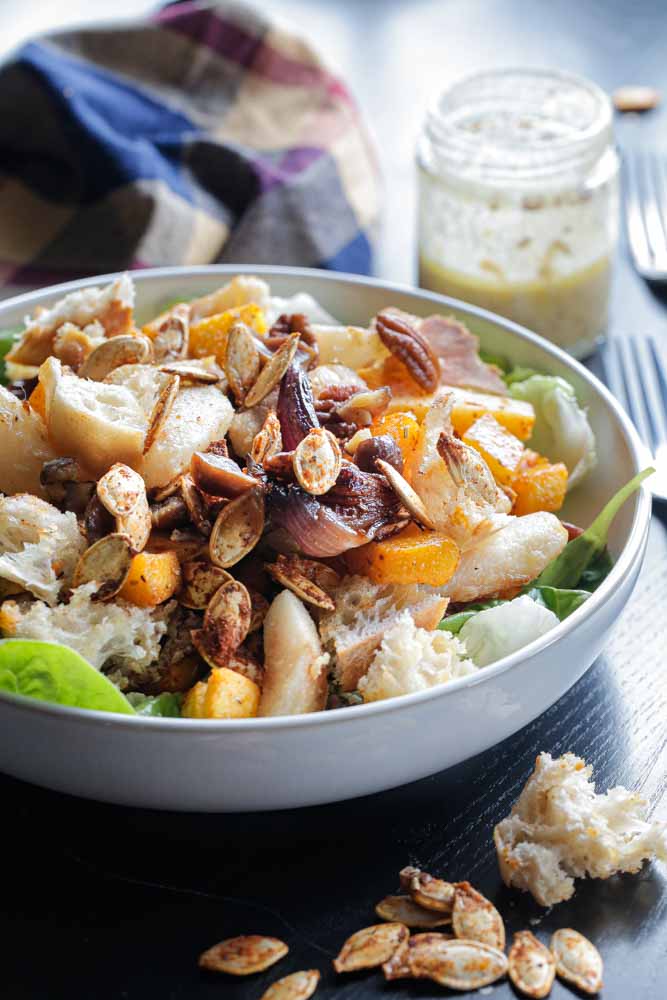 Hello and welcome to The Cook & Him.
We are Sam (The Cook), Phil (Him) and our little dog Nooch. What started with a plan to shed a few pounds back in 2016, soon became obvious that eating healthy doesn't have to be bland and boring.
So, combining Sam's 15 years of experience working within Michelin starred restaurants and our love for deliciously healthy food, we're creating recipes for you to make and enjoy. We've added our own unique spin on traditional and contemporary vegetarian and vegan recipes that keep you (and your pets!) healthy and full.  And we make sure they just work.
All things autumn - warming soups, savoury bakes and delicious sweet treats!
and I would like to see...
Or search for a recipe or post by keyword