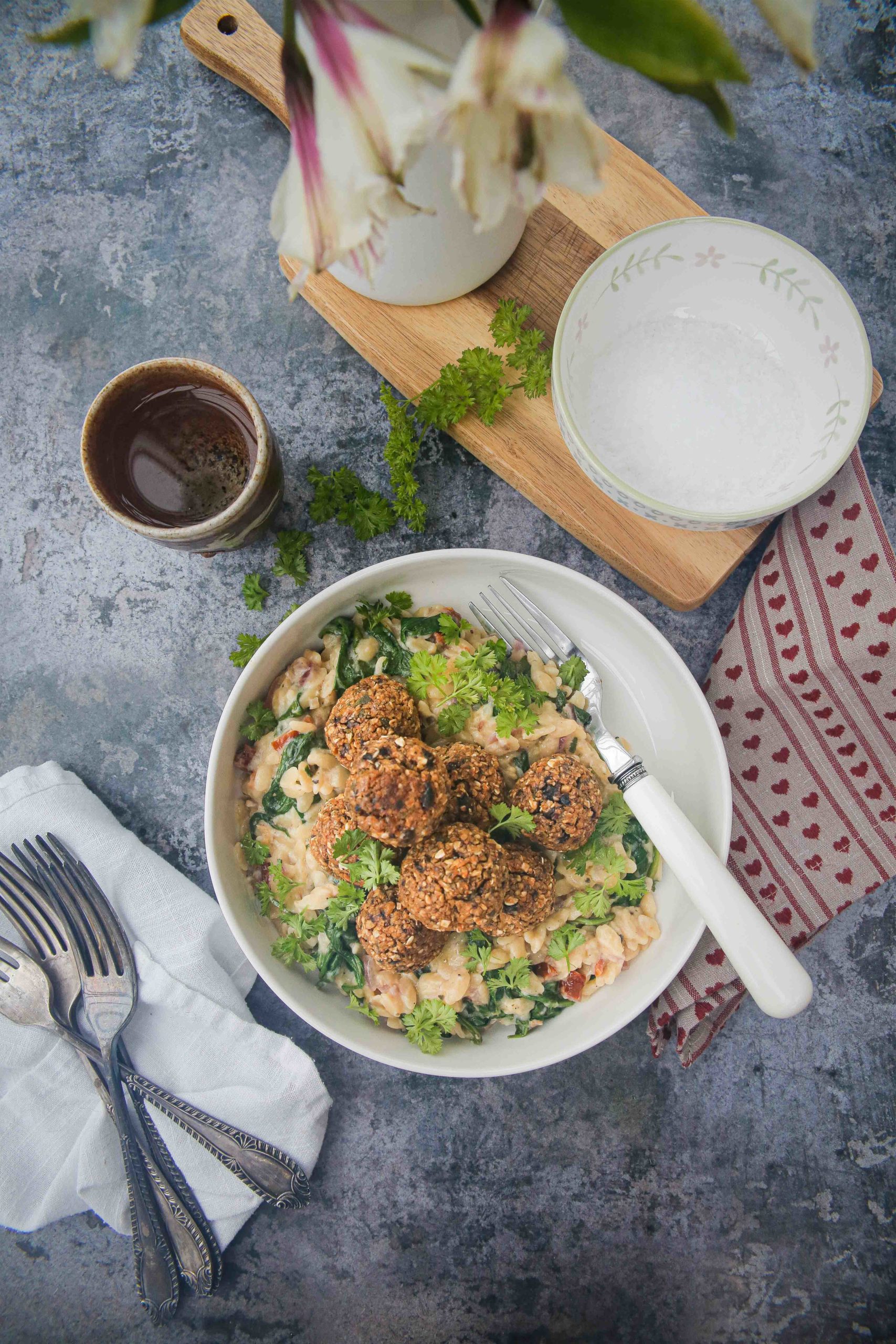 Posted in Recipes on 07.12.2022
Sage and Black Garlic Meatballs with Creamy Orzo
prep: 20 mins / cook: 35 mins / inactive: 0 mins / total: 55 mins / quantity: 2 servings Print recipe?
Crispy baked vegan meatballs with creamy orzo packed with spinach, sun dried tomatoes and lots of delicious flavour!
It dawned on me that I make these vegan meatballs on the regular but have never made an actual blog post about them.  I have them with so many things – quick marinara sauce and spaghetti, one pot pasta bake (working on that recipe too).  I even have them in wraps or in these meatball subs.  Yum.  And I fancied something a little different so meatballs with creamy orzo sounded just different enough!
The orzo is all cooked in one pan that you can prepare while the meatballs are baking, making this a deceptively easy dish.  It does seem like a bit of a shopping list of ingredients and you could, technically, forgo the making of the balls and use bought ones.  Because you really shouldn't miss out on this creamy dreamy orzo.
How to make vegan meatballs:
These are so easy and so tasty and only take a few minutes to whip up.  And they really are as simple as putting everything into a food processor.  I like to keep them a little chunkier so I don't over-whizz.  But that's up to you.  You might prefer a smoother meatball so whizz to however you like!
Roll into balls (the recipe makes about 14) and bake in the oven until crisp and lightly golden.
If you don't have black garlic to hand you can use regular garlic or garlic powder.  But just generally I recommend you try and get hold of some.  It has the most wonderful umami smell and flavour.  It's sweeter than regular garlic and much less harsh.  And SO versatile – try mushing a clove or two and adding to a salad dressing.  Heaven.
How to make creamy orzo pasta:
Heat a little oil and vegan butter in a medium/large skillet.  The butter is for flavour, the oil helps stop the butter from burning.
Saute the onion and garlic for a couple of minutes until starting to soften and turn translucent.  Add the sun dried tomatoes and saute for a further minute or two.  Take a moment to enjoy the smell 😉
Add the orzo, wine, vegetable stock and lemon juice and let everything bubble for 8-10 minutes until the orzo is cooked and most of the liquid has been absorbed.
Stir in the spinach to wilt it into the pasta then stir in the cream.  Season to taste.
Nestle the meatballs into the orzo pan and stir to coat the meatballs.  I didn't do this.  Mostly because I forgot but I'm going with the excuse that I wanted to show you the meatballs and their wonderful texture.  If you don't do this it doesn't really matter.  It's all getting shovelled into the same place.
Looking for more deliciously easy vegan meal ideas?  Try these:
Gnocchi with sprouts and sage butter
Creamy tomato and black garlic tagliatelle
Lemon and herb orzo with roasted tomatoes
Udon noodles with black garlic and king oyster mushrooms
I'd also love to hear from you if you make these Sage and Black Garlic Meatballs with Creamy Orzo! Just leave a comment as it's so helpful and I love to hear how the recipe worked out for you! Thank you so much!
Don't forget to follow us on Facebook or Pinterest for even more recipe inspiration and chat, competitions, behind the scenes and so much more!
Sage and Black Garlic Meatballs with Creamy Orzo
prep: 20 mins / cook: 35 mins / inactive: 0 mins / total: 55 mins / quantity: 2 servings
Ingredients
Meatballs:
1 tablespoon ground flax seeds
3 tablespoons water
1 x 400g can chickpeas – drained and rinsed
6 cloves black garlic
20 leaves fresh sage – or sub with 1 + 1/2 teaspoons dried sage
1 teaspoon onion powder
3 tablespoons nutritional yeast
large pinch each of salt and pepper
Creamy orzo:
1 teaspoon oil
1 tablespoon (15g) vegan butter
1 red onion – peeled and finely diced
4 cloves garlic – peeled and crushed
1/3 cup (80g) sun dried tomatoes – roughly diced
1 cup (200g) orzo pasta
1/2 cup (125ml) white wine
2 cups (500ml) vegetable stock
1 lemon – juice
2 handfuls fresh spinach
1/2 cup (125ml) vegan cream
3/4 cup (20g) grated vegan parmesan (grated weight)
Instructions
Preheat your oven to 180 Fan / 200 C / 400 F / Gas 6 and line a small tray with parchment or a silicon mat
Begin with the meatballs - mix the flax with the water and leave to stand while you prepare the rest of the meatball ingredients
Put the remainder of the meatball ingredients into a food processor then add the flax and water mixture. Whizz until well chopped
Roll the mixture into balls - the mix makes around 14 balls around the size of a golf ball - and place onto your prepared tray
Once they're all rolled bake for 35 minutes
While the meatballs are cooking make the orzo
Melt the oil and butter together in a medium/large skillet or frying pan then saute the onion and garlic for 2-3 minutes, stirring, until softened
Add the sun dried tomatoes and cook for a further minute then add the orzo, wine, stock and lemon juice and leave the pan to bubble for 8-10 minutes. Give the pan a stir once or twice just to make sure the orzo isn't sticking to the bottom of the pan
Once most of the liquid has been absorbed and the orzo is soft and plump wilt in the spinach then stir in the cream and parmesan. Season to taste
Remove the meatballs from the oven and nestle into the orzo, stirring to coat them
Serve immediately
Chill any leftovers then store in the fridge. Reheat in a microwave making sure everything is piping hot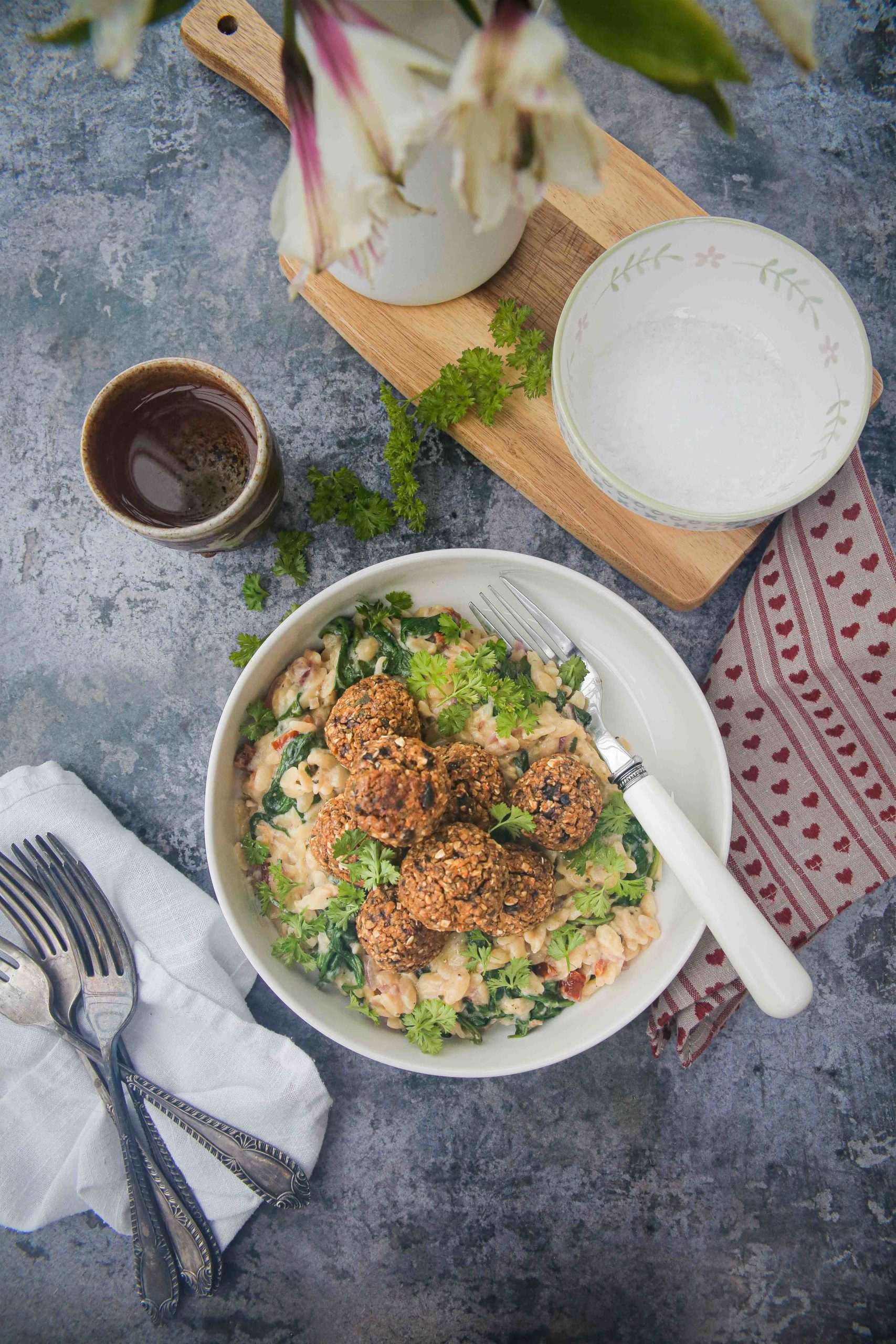 Hello and welcome to The Cook & Him.
We are Sam (The Cook), Phil (Him) and our little dog Nooch. What started with a plan to shed a few pounds back in 2016, soon became obvious that eating healthy doesn't have to be bland and boring.
So, combining Sam's 15 years of experience working within Michelin starred restaurants and our love for deliciously healthy food, we're creating recipes for you to make and enjoy. We've added our own unique spin on traditional and contemporary vegetarian and vegan recipes that keep you (and your pets!) healthy and full.  And we make sure they just work.
All things autumn - warming soups, savoury bakes and delicious sweet treats!
and I would like to see...
Or search for a recipe or post by keyword