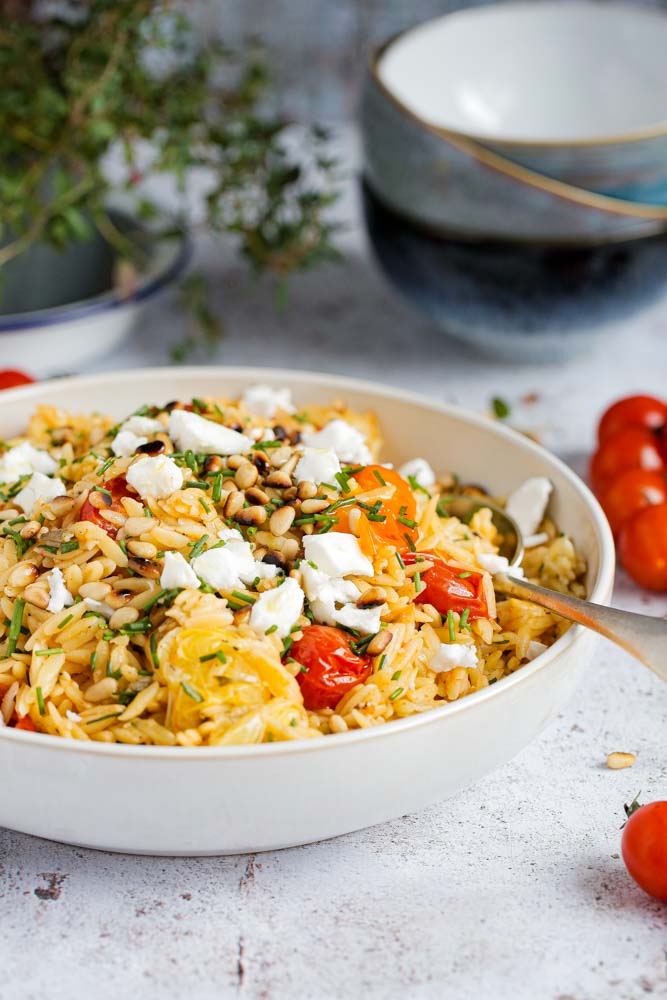 Posted in Recipes on 12.07.2021
Lemon and Herb Orzo with Roasted Tomatoes
prep: 5 mins / cook: 25 mins / inactive: 0 mins / total: 30 mins / quantity: serves 4 Print recipe?
A lemon and herb orzo with roasted cherry tomatoes, topped with toasted pine nuts and vegan feta for bright, fresh pops of summery flavour in every bite!
So with the weather up and down here in the UK – we've gone from I'm melting to get the jumpers back out in less than a week – I'm really looking for easy, flavourful, not too stressful if it's hot but also warming if it's cold type dishes.  And they don't come much more delicious than this lemon and herb orzo.  So much flavour from the juicy roasted cherry tomatoes and the zingy, fresh lemon and herb dressing that's warmed through when you toss the pasta and tomatoes together with it.
If you've never come across orzo before it's a tiny pasta shape that looks a lot like rice.  Once cooked it's quite a different texture to rice though, more soft, less chewy.  And it's perfect for absorbing all the gorgeous flavours it's mixed with.  We've got all the flavour from the herb roasted tomatoes, a pinch of spice and a bright, vibrant dressing that's chock full of even more herbs, lemon and some grated vegan parmesan cheese.  Top the lot off with toasted pine nuts and vegan feta for the best contrast of crunch and cream.
Pricey pin nuts …
If you're wondering about pine nuts and a nut allergy, pine nuts aren't actually nuts!  They are the edible seeds from pine trees and because of the time they take to grow and the fiddly nature of removing them from their protective casing they're one of the most expensive 'nuts'.   But they're also one of my favourites for flavour.  If you don't have a nut allergy you can sub the pine nuts for a toasted version of whichever is your favourite nut.  To toast the pine nuts or other nuts simply dry fry in a pan.  Watch them like a hawk though as they can go from almost perfectly golden to an acrid black smoke filled kitchen in the time it takes you to get something else out of the fridge.  And yes I dry fry them rather than roast in the oven because I'm even better at burning these expensive little buggers that way.
How to make this easy lemon and herb orzo pasta dish:
The whole thing should take around half an hour from start to finish as different things can be done while other things are cooking!  Oh and this pasta dish makes the BEST leftovers.  So cook extra.  You're welcome 😉
Start by roasting the tomatoes.  Toss them together with some fresh (or dried) thyme, whole cloves of garlic, smoked paprika, a drizzle of agave and plenty of salt and pepper.  Roast for 25 minutes.
While they're roasting cook the orzo.  It takes a little less time than all the larger pasta shapes but check the packet for specific timing.  Use a large pan with plenty of boiling salted water.
So your tomatoes are roasting, your pasta's bubbling …
Make the dressing.  Simply chop the fresh herbs, put into a large bowl then mix in the balsamic vinegar, lemon juice, grated vegan parmesan cheese, onion powder and a good pinch each of salt and pepper.
Drain the orzo once it's cooked then stir into the dressing.  Mix well – this part smells amazing as all the aromatics from the herbs are released as they warm up.  I've used parsley, basil and chives to complement the Mediterranean vibe going on with this dish.  I wanted flavour but not overpowering flavour.  I really recommend using fresh herbs if you can get your hands on them for this dish.  Do you grow your own herbs?  I've tried but I always end up with more than I know what to do with.  Chives practically took over our garden at one point.  The flowers are gorgeous purple globes though.
Pick the roasted cloves of garlic out of the tomatoes.  Then finely chop or squish with a knife. They should be lovely and soft and all the pungent raw garlic flavour cooked out of them.  Add to the orzo.
Stir through the roasted tomatoes.  You want at least some of the tomato skins to have burst, releasing all that juicy flavour.  Then tip everything into a serving bowl (or bowls if you're prepared to share) and top with the toasted pine nuts and crumbled vegan feta cheese.
I've made and remade this dish so many times now.  It's just perfect and I love knowing I've got leftovers in the fridge for a quick and delicious lunch the next day!
Looking for some more easy vegan summer recipes?  Try these:
Warm Peach and Sweet Potato Salad with Balsamic Dressing
I'd also love to hear from you if you make this Lemon and Herb Orzo Pasta! Just leave a comment as it's so helpful and I love to hear how the recipe worked out for you! Thank you so much!
Don't forget to follow us on YouTube, Facebook or Pinterest for even more recipe inspiration and chat, competitions, behind the scenes and so much more!
Lemon and Herb Orzo with Roasted Tomatoes
prep: 5 mins / cook: 25 mins / inactive: 0 mins / total: 30 mins / quantity: serves 4
Ingredients
Roasted Tomatoes:
3 cups (420g) cherry tomatoes
2 tblsp oil
4-5 cloves garlic – peeled
5 sprigs fresh thyme
1 tblsp agave or maple syrup
1 tsp smoked paprika
salt and pepper
Pasta
Dressing:
2 tblsp balsamic vinegar
juice of 1 lemon
2 tblsp grated vegan parmesan
handful each of chopped fresh basil, parsley and chives
1 tsp onion powder
salt and pepper
To finish:
Toasted pine nuts
Vegan feta cheese
Instructions
Heat your oven to 180 Fan / 200 C / 400 F / Gas 6
Tip the tomatoes and peeled whole garlic cloves onto a baking tray, drizzle over the olive oil, syrup, paprika, salt and pepper and thyme sprigs. Toss everything together on the tray then roast for 25 minutes
Bring a large pan of salted water to the boil then tip in the orzo. Cook according to packet instructions
To make the dressing simply stir together all the ingredients in a large bowl
When the orzo pasta is cooked, drain and add that to the dressing
Remove and discard the thyme stalks from the roasted tomatoes
Remove the garlic from the tomatoes and roughly chop then add to the orzo
Stir the roasted tomatoes into the pasta and mix everything together really well
Transfer to serving bowls and sprinkle over the toasted pine nuts and crumbled vegan feta cheese
Notes
This pasta dish is just as delicious cold as leftovers as it is freshly made so don't be afraid of making too much for one meal!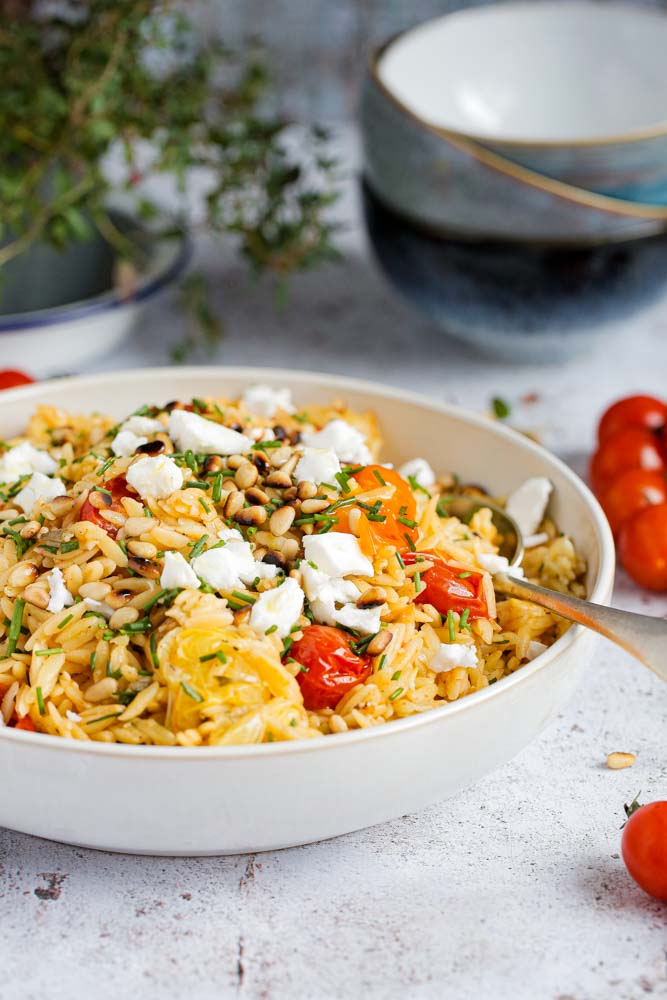 Hello and welcome to The Cook & Him.
We are Sam (The Cook), Phil (Him) and our little dog Nooch. What started with a plan to shed a few pounds back in 2016, soon became obvious that eating healthy doesn't have to be bland and boring.
So, combining Sam's 15 years of experience working within Michelin starred restaurants and our love for deliciously healthy food, we're creating recipes for you to make and enjoy. We've added our own unique spin on traditional and contemporary vegetarian and vegan recipes that keep you (and your pets!) healthy and full.  And we make sure they just work.
All things autumn - warming soups, savoury bakes and delicious sweet treats!
and I would like to see...
Or search for a recipe or post by keyword