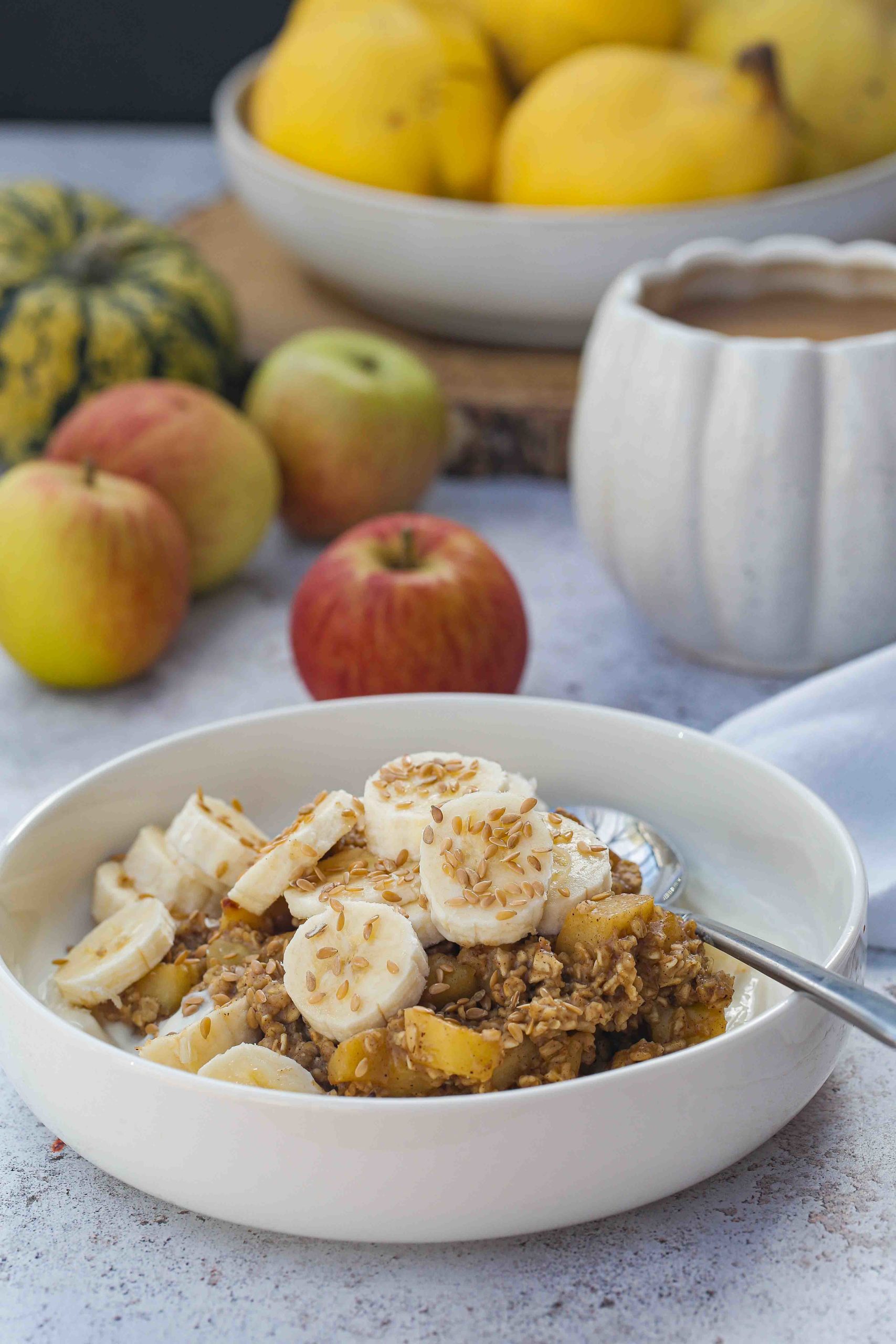 Posted in Recipes on 16.11.2022
Apple Crumble Oats
prep: 10 mins / cook: 10 mins / inactive: 0 mins / total: 20 mins / quantity: 2 servings Print recipe?
Enjoy dessert for breakfast with these creamy, warming apple crumble oats all cooked in one pan! Juicy apples and spices combine with oats and vegan yoghurt for a really hearty and easy breakfast.
Now that these dark and cold November days are here I've completely switched over to hearty and warming breakfasts full of flavour and good things.  And I recently discovered this recipe for apples, oats and yoghurt that looked so delicious I had to try it!  It was very good as is but I wanted to change a few things to my own personal taste (plus I'm greedy and 1 apple for 2 portions just wasn't enough for me 😉 ).  And so apple crumble oats was born!
Side note – I really recommend Jess's YouTube channel, I've made so many things from her 'what I eat in a day' vidoes!
The beauty of these breakfast oats is their adaptability.  Change out the fruit, use whatever is your preferred sweetener, sprinkle your own choice of seeds and top with whatever takes your fancy like granola, nuts or even something like bran flakes!
I love the combination of creamy vegan yoghurt and warm, appley oats with hints of cinnamon and nutmeg.  If you can get it, the Greek style yoghurt by Alpro is simply divine!  I top mine with sliced banana and flax seeds for extra crunch and good old fashioned gut health and Omega 3!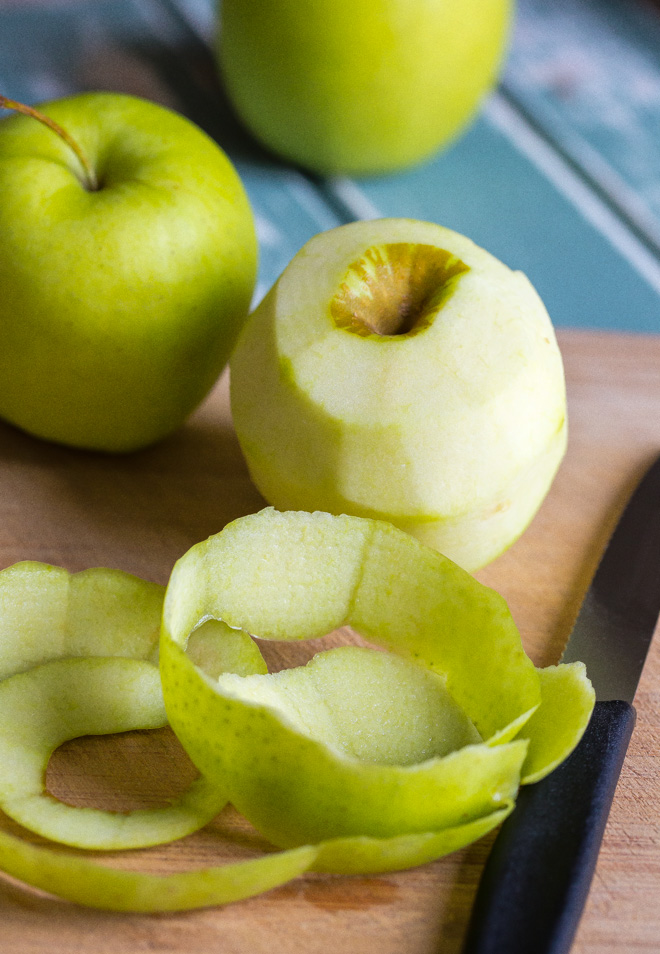 How to make apple crumble oats:
Peel, core and roughly dice the apples.  Heat a little coconut oil or vegan butter in a frying pan and saute apples until just starting to soften and turn golden.
Add in your oats, spices and choice of sweetener.  I've used everything from coconut sugar as recommended by Jess to agave syrup, maple syrup and even stevia sweetener.   She also used jumbo oats which means the finished dish will have a chewier texture.  Personally I used regular porridge oats which resulted in a smoother, creamier finish.  I'm also a fan of using what you have so do that!
Add your non-diary milk and bubble for just a couple of minutes so that the oats can absorb the milk.
Spoon some yoghurt into your bowl, top with the warm apple crumble oats, add a sliced banana (or not!), a sprinkle of seeds and tuck in!
This is such a delicious breakfast and it really feels like a treat while still being relatively healthy!  Make extra and store leftovers in the fridge as this re-heats really well in the microwave!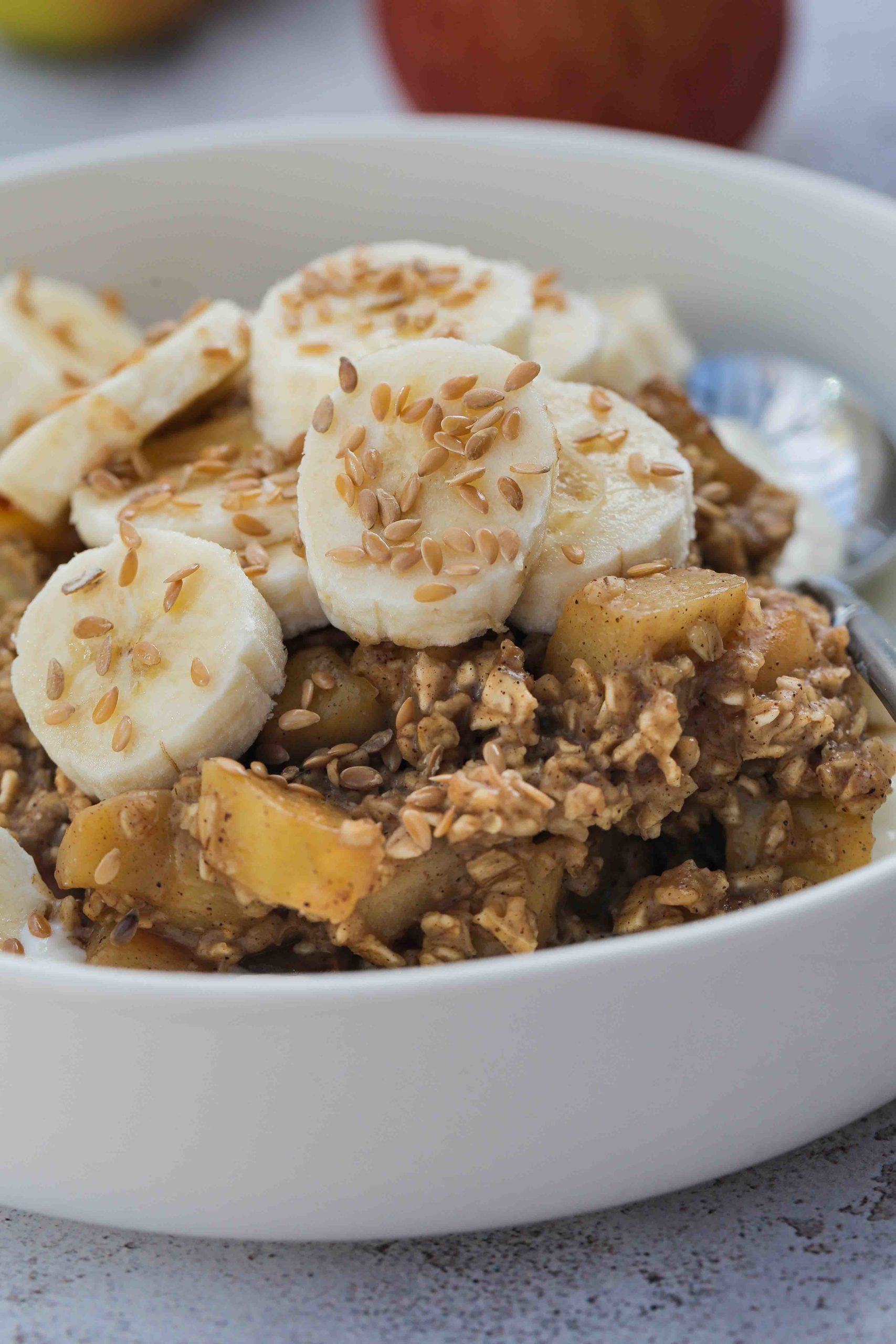 Looking for more easy vegan breakfast recipes?  Try these …
I'd also love to hear from you if you make these Apple Crumble Oats! Just leave a comment as it's so helpful and I love to hear how the recipe worked out for you! Thank you so much!
Don't forget to follow along on Instagram, Facebook or Pinterest for even more recipe inspiration and chat, competitions, behind the scenes and so much more!
Apple Crumble Oats
prep: 10 mins / cook: 10 mins / inactive: 0 mins / total: 20 mins / quantity: 2 servings
Ingredients
1 tblsp coconut oil or vegan butter
4 apples – peeled, cored and roughly diced
1 cup (80g) porridge oats
1/2 tsp ground cinnamon
1/2 tsp ground nutmeg
1-2 tblsp choice of sweetener – maple or agave syrup, coconut sugar etc
1 + 1/2 cups non-dairy milk
Optional to serve:
4-6 tblsp vegan yoghurt
2 bananas
1 tblsp whole flaxseeds
Instructions
Melt the coconut oil or vegan butter in a medium frying pan
Add the chopped apples, stir and cook for 5-6 minutes over a low-medium heat, stirring from time to time until just softened and starting to caramelise
Add the oats, spices, sweetener and milk and give everything a good stir
Bubble for 2-3 minutes until the milk is absorbed
Spoon the yoghurt into your serving bowl and top with the apple crumble oats
If using, slice over a banana then sprinkle over the flaxseeds
Enjoy!
Notes
You can make extra and store in the fridge - this re-heats very well in the microwave!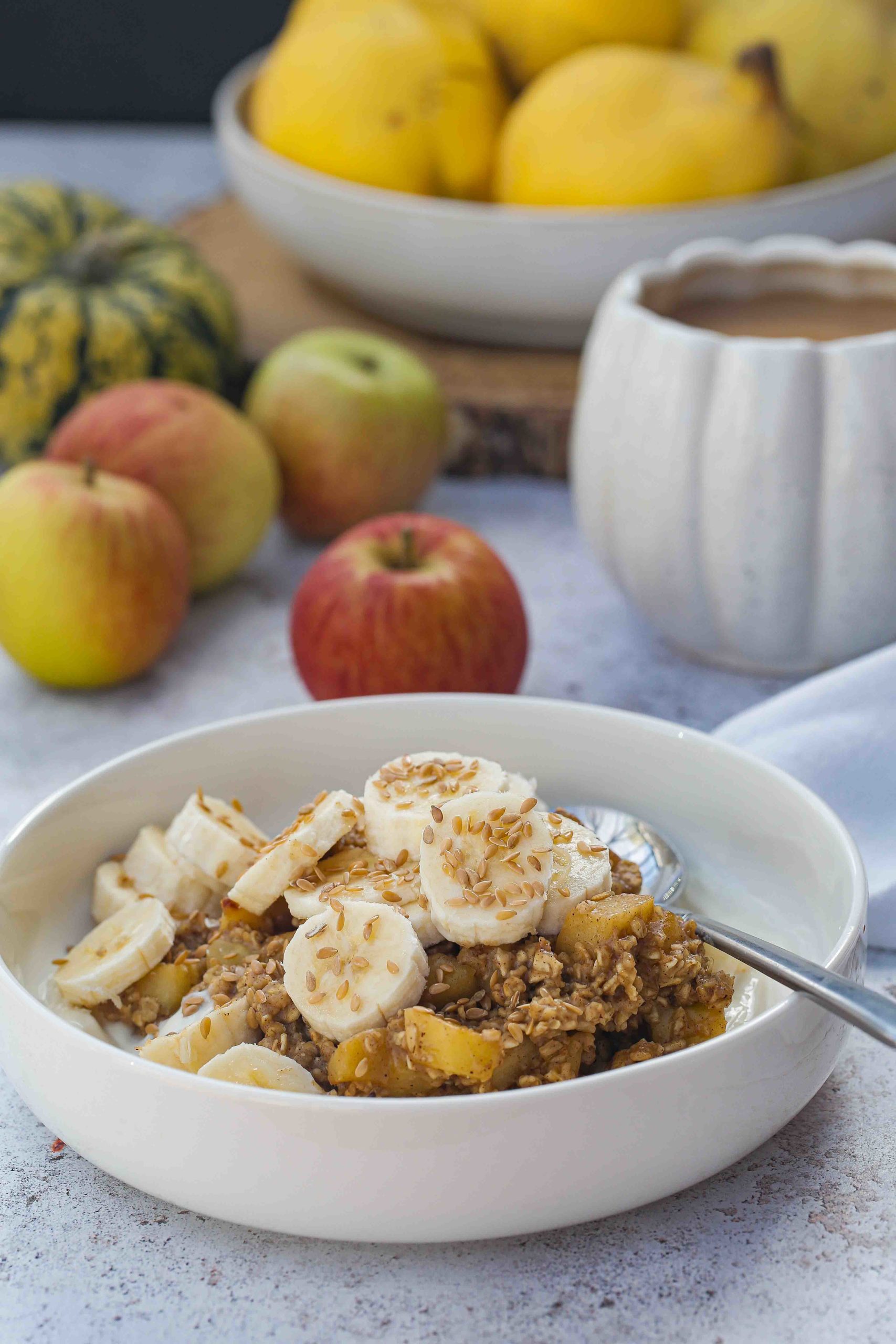 Hello and welcome to The Cook & Him.
We are Sam (The Cook), Phil (Him) and our little dog Nooch. What started with a plan to shed a few pounds back in 2016, soon became obvious that eating healthy doesn't have to be bland and boring.
So, combining Sam's 15 years of experience working within Michelin starred restaurants and our love for deliciously healthy food, we're creating recipes for you to make and enjoy. We've added our own unique spin on traditional and contemporary vegetarian and vegan recipes that keep you (and your pets!) healthy and full.  And we make sure they just work.
All things autumn - warming soups, savoury bakes and delicious sweet treats!
and I would like to see...
Or search for a recipe or post by keyword