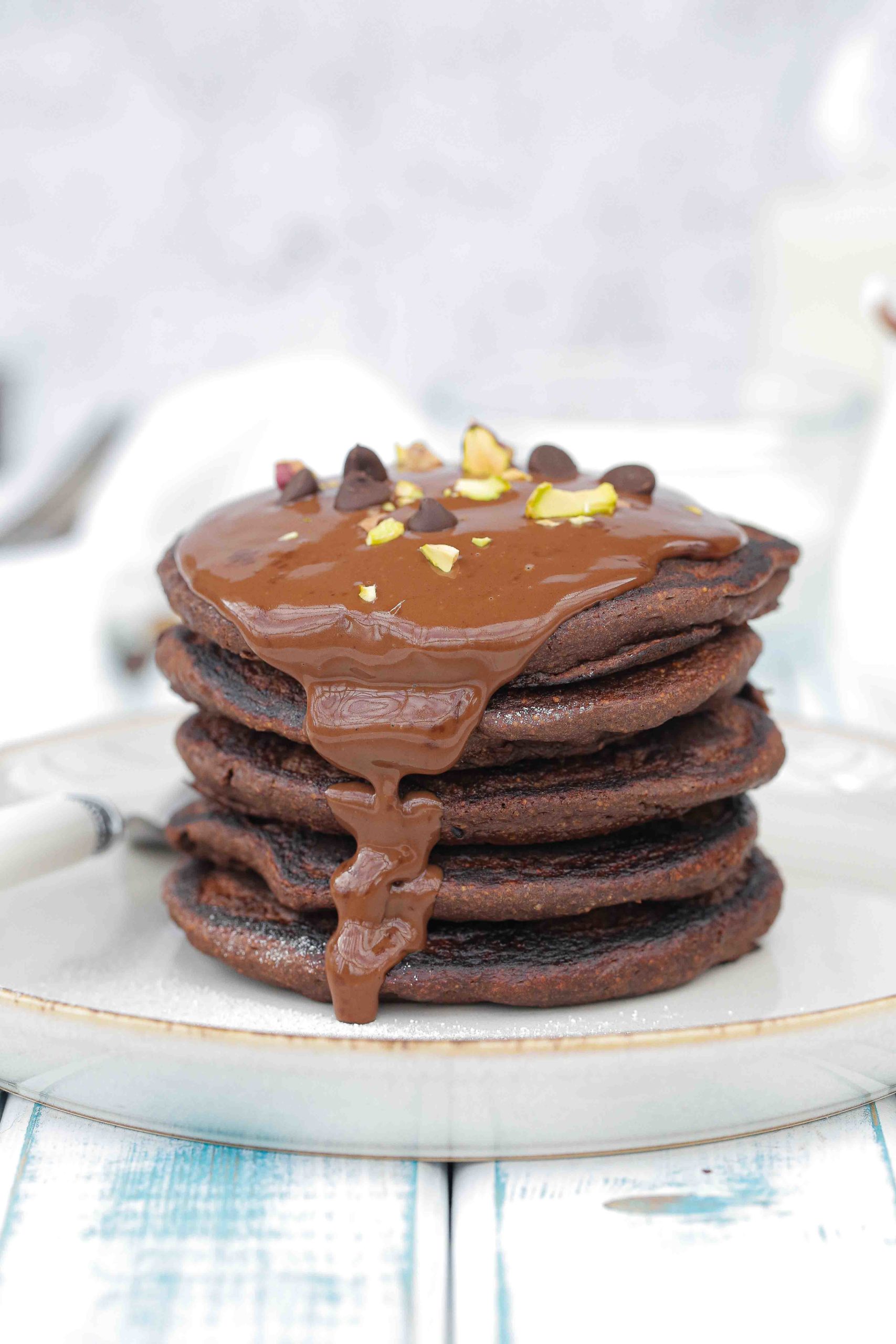 Posted in Recipes on 10.05.2023
Chocolate Pancakes With Chocolate Sauce
prep: 20 mins / cook: 15 mins / inactive: 0 mins / total: 35 mins / quantity: 12-14 pancakes Print recipe?
These easy vegan and gluten free chocolate pancakes are a chocolate lovers dream! Fluffy, full of rich cacao flavour and made with simple ingredients – including the divine chocolate sauce!
Yes we're a ways past Pancake Day (or Shrove Tuesday to give it its official name).  But honestly, anyone else here for the whole dessert for breakfast thing?  Because with these thick and fluffy chocolate pancakes, topped with a creamy chocolate sauce that's exactly what it feels like.  And I'm totally ok with that.
These pancakes are not only made in a blender (no whisking muscles required) but they're also gluten free.  A couple of my lovely friends and fellow villagers are gluten intolerant.  And having eaten with them a few times now it's made me far more aware of the challenges they face.  Much like vegan food, the availability of gluten free options has got better over the years.  But much like my vegan recipes, I want to create food that anyone can enjoy – omnivores and gluten tolerant alike.  And these vegan and gluten free pancakes are, I think, exactly that.  And I seriously can't get enough of them.
Pancake Ingredients:
Rolled oats – using oats is what makes these banana pancakes gluten free.  But do check your labels – some oats may be contaminated with gluten because they are processed in the same facilities as gluten-containing grains.
Banana – nature's natural sweeteners as well as full of nutrients!
Raw cacao powder – this is something I've spoken a lot about on the blog. It's far less processed than cocoa powder and has a much richer, more chocolatey flavour.  It contains no additional sugar or additives and it even has a few health benefits!  It IS more expensive than cocoa powder though, so bake according to your budget.  No recipe is ever set in stone 😉
Apple cider vinegar – another of my favourite ingredients when it comes to baking or pancakes!  It causes a chemical reaction with the bicarb and replicates the leavening normally provided by eggs.  Resulting in fluffy baked goods and pancakes!  And I promise, you do not taste it.
How to make vegan and gluten free pancakes:
Simply put all the pancake ingredients into your blender cup and whizz until smooth.
Heat a large frying pan or skillet – if it's non-stick there's no need for oil.  Pour or spoon some of the pancake mixture into your pan, spreading it out slightly.  With a large pan you can get get 2-3 good sized pancakes cooking at a time.
Once bubbles start to form on the top side of the pancakes it's time to flip!  Use a spatula and be confident!
Allow the pancakes to cook another minute or so on the underside before lifting out onto a plate.  Serve immediately or keep warm in a low oven.
The pancakes can also be made ahead and warmed in the microwave.
How to make vegan chocolate sauce:
This can be done a couple of ways …
Melt the cream and chocolate together in a microwave.  Do this in a few short bursts so the chocolate doesn't burn.  Whisk in the butter and sugar.
OR
Heat the cream and sugar in a saucepan then pour over the chocolate and butter and stir until melted.
Looking for even more vegan pancake recipes?  Try these:
Sweet Hazelnut and Chocolate Pancakes
If you make this recipe or any of the recipes from The Cook & Him I'd LOVE to see! Just snap a picture and share it on Instagram using #thecookandhim and tagging @thecookandhim in the photo itself (as this guarantees I'll see your picture!
)
Don't forget to follow me on Facebook or Pinterest for even more recipe inspiration and chat, competitions, behind the scenes and so much more!
Chocolate Pancakes With Chocolate Sauce
prep: 20 mins / cook: 15 mins / inactive: 0 mins / total: 35 mins / quantity: 12-14 pancakes
Ingredients
Pancakes:
2 cups (200g) rolled oats
1/4 cup (55g) light brown sugar
1 teaspoon baking powder
1 teaspoon bicarbonate of soda
1/3 cup (30g) raw cacao powder
1 cup (225ml) plant milk
1 teaspoon vanilla extract
1 tablespoon apple cider vinegar
3 medium bananas – peeled
Chocolate Sauce:
1/4 cup (60g) dairy free dark chocolate
1/2 cup (125ml) vegan cream
1 tablespoon caster sugar
1 tablespoon (15g) vegan butter
Instructions
Put all the pancake ingredients into a blender cup and whizz until smooth
Heat a large frying pan or skillet over a medium heat then spoon or pour in 2-3 piles of the mixture, spreading each one out slightly and spacing each pancake apart from the others.
Cook for 1-2 minutes until bubbles start to form on the top. Flip each pancake over carefully (but confidently!) and cook for another minute on the other side
Repeat until you've used all the pancake batter - keep them warm in a low oven or reheat in the microwave to serve
Sauce method 1 - melt together the chocolate and cream in a microwave then stir in the sugar and butter until smooth
Sauce method 2 - heat the cream and sugar in a saucepan then pour over the chocolate and butter, stirring until smooth
Notes
Store any extra cooled pancakes in the fridge - reheat in the microwave or even toaster!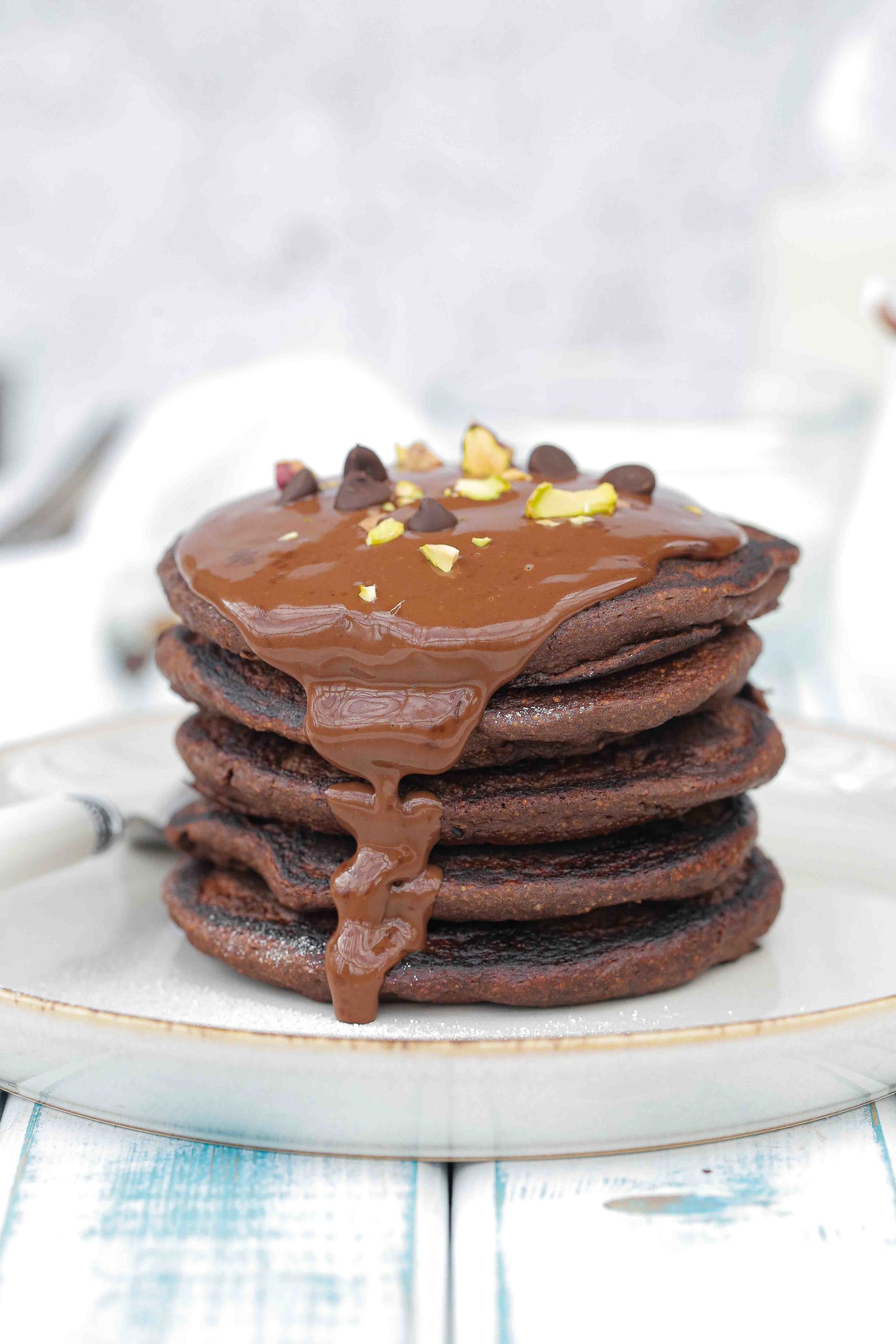 Hello and welcome to The Cook & Him.
We are Sam (The Cook), Phil (Him) and our little dog Nooch. What started with a plan to shed a few pounds back in 2016, soon became obvious that eating healthy doesn't have to be bland and boring.
So, combining Sam's 15 years of experience working within Michelin starred restaurants and our love for deliciously healthy food, we're creating recipes for you to make and enjoy. We've added our own unique spin on traditional and contemporary vegetarian and vegan recipes that keep you (and your pets!) healthy and full.  And we make sure they just work.
All things autumn - warming soups, savoury bakes and delicious sweet treats!
and I would like to see...
Or search for a recipe or post by keyword