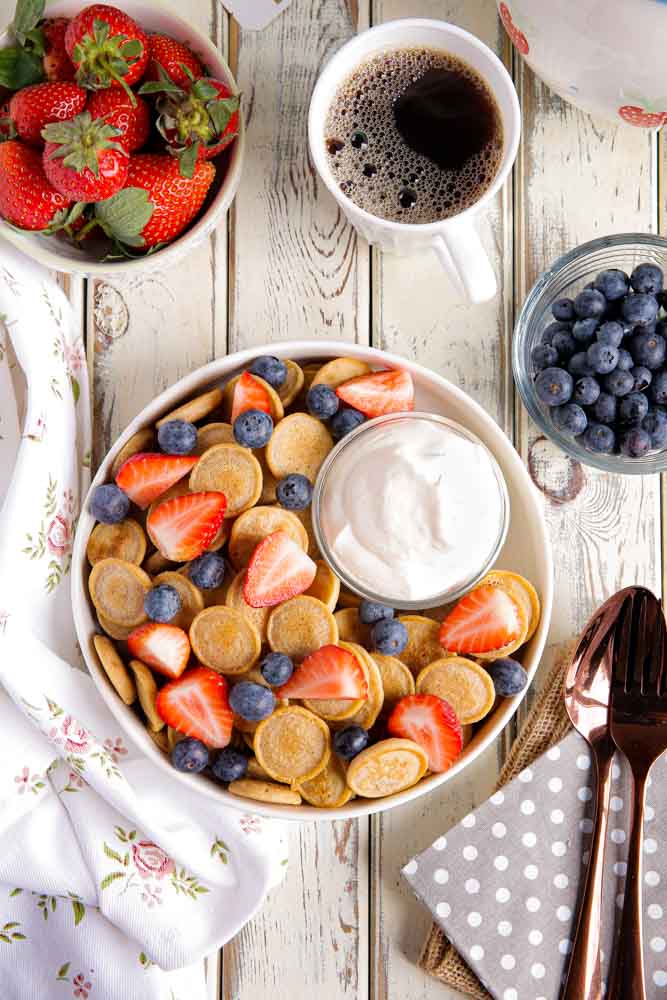 Posted in Recipes on 05.07.2021
Banana Mini Pancake Cereal
prep: 10 mins / cook: 20 mins / inactive: 0 mins / total: 30 mins / quantity: Serves 4 Print recipe?
Have fun with your breakfast by making mini pancake cereal! Dinky little pancakes topped with fresh fruit and whipped vegan cream!
Sometimes I'm a little behind with food trends.  Things come in and out of favour FAST.  And sometimes I just flat out don't 'get' them.  Frozen fruit ON anything for example.  Do people really eat those giant frozen strawberries?  Yes the frostiness looks pretty, but I come from a place where if you aren't going to eat it, don't put it on there, no matter how pretty it looks.  HOWEVER!  These tiny little pancakes are definitely a food trend I can get on board with.  They're really easy to make, look adorable and are downright FUN to eat.
Like, you can pretend you're a giant while you eat them.  Just me then?
You can top them with whatever you fancy.  I've gone for whipped vegan cream and fresh berries (no frozen berry nonsense for me 😉 ).  But you could also try butter, chocolate (chips or sauce), sliced banana, fruity sauces or syrups, warmed Biscoff drizzle (ohhhhh yum), nuts, fruit compote, caramel sauce, jam, peanut butter .. oh I could go on and on.  Oooh how about ice cream?
Why make mini pancakes?
Ok, so making teeny tiny little pancake cereal IS a tad more time consuming than just regular old pancakes.  But the extra time spent cooking is so worth it.  Because they're so tiny, they end up being crisper than larger pancakes as there's less surface area to cook, making them, well cereal like!  And actually making the batter takes literally minutes.  Mix the dry, mix the wet, mix the two together.  You'll also want some kind of squeeze bottle to put the pancake batter in as this is what makes making these an absolute doddle.  This squeeze bottle is perfect but you can also use something like a squeezy mayo or ketchup bottle that's been well cleaned and save yourself a few pennies.
I also wanted to try making a pancake batter that didn't contain any actual banana.  Bananas are often used in pancakes for natural sweetness and instead of eggs for a richer flavour.  But I was aiming for a really smooth batter and (honestly) couldn't be bothered to clean the blender.  BUT I still wanted a banana flavour to my pancakes.  And yet again Foodie Flavours to the rescue with their all natural 100% vegan Banana Flavouring!  Actually, you could use pretty much any of their flavours in this recipe as Phil and I LOVE our Sunday ritual Sweet Hazelnut and Chocolate Pancakes.
How to make pancake cereal:
I've already hinted above at the ease with which these pancakes come together but let's run through the process …
Start with the liquid part.  Mix the milk with the apple cider vinegar.  We do this first as it's the chemical reaction between the milk and the vinegar that makes vegan 'buttermilk', giving the pancake cereal a richer flavour and it takes a couple of minutes for that reaction to happen.  Drip in the banana drops (I find 25-30 drops gives a good but not over-powering flavour) and whisk in the oil then set aside while you prepare the remaining ingredients.
Next comes the dry bit.  Mix the flour with the baking powder, bicarbonate of soda, cinnamon and coconut sugar.  If you want to you can sift together everything except the sugar – this helps eliminate lumps in the batter.
Pour the milk mixture into the flour mixture and whisk well until you have a thickish, runny batter.  Pour the pancake batter into your squeeze bottle.
Heat a large frying pan or griddle plate then brush or wipe in a drizzle of oil.  Not too much, we don't want to deep fry the mini pancakes!  I drizzle in a little oil then use some kitchen paper to wipe it round the pan.  Be careful doing this though as the pan is hot!  I use the same piece of kitchen paper to wipe round the pan between each batch.
Pipe in small circles of batter – roughly 2.5 cm (1 inch) in diameter.  It's tempting to crowd the pan with these little dots but leave some room for yourself to be able to flip them over.
Cook the mini pancakes until bubbles form on the top.  Then carefully flip each one over until crisp and golden on both sides.  Tip the pancakes out of the pan into your bowl and repeat this process until you've used up all the batter!  You can also store the batter in the bottle in your fridge if you want to cook more another day.
Normal, full size pancakes are mostly best when served warm fresh from the pan, but this mini pancake cereal actually tastes better cooled.  So don't worry about trying to keep the little buggers warm in between cooking batches!
Serve them in a bowl piled high or you could even fancy them up by making dinky little kebabs with fresh fruit and a drizzle of syrup!
Looking for even more vegan pancake recipes?  Try these:
Simple Vegan Pancakes – straight forward, no fuss, no frills pancakes.  Serve with a blueberry compote.  Or don't.
Gingerbread Pancakes – because gingerbread is for life, not just Christmas.
Sweet Hazelnut and Chocolate Pancakes – part of our sacred Sunday morning ritual.  Try them and you'll realise why.
Coconut Vegan Pancakes – with the most sublime date and peanut butter drizzle.
Summer Fruits Pancake Tacos – for when a pancake stack just doesn't quite cut it.
I'd also love to hear from you if you make these Banana Mini Pancake Cereal! Just leave a comment as it's so helpful and I love to hear how the recipe worked out for you! Thank you so much!
Don't forget to follow us on YouTube, Facebook or Pinterest for even more recipe inspiration and chat, competitions, behind the scenes and so much more!
Banana Mini Pancake Cereal
prep: 10 mins / cook: 20 mins / inactive: 0 mins / total: 30 mins / quantity: Serves 4
Ingredients
Pancakes:
1 + 1/4 cups (335ml) oat milk
1 tsp apple cider vinegar
25 – 30 drops Foodie Flavours banana flavouring
2 tblsp light vegetable oil
1 + 1/2 cups (250g) plain flour
1 + 1/2 tsp baking powder
1/2 tsp bicarbonate of soda
1/2 tsp ground cinnamon
2 tblsp coconut sugar – or sub with caster or light brown sugar
Equipment:
Large frying pan or griddle plate
To serve:
Fresh fruit or berries
Vegan whipped cream
Maple or agave syrup
Instructions
Put the milk into a bowl or jug and whisk in the vinegar, banana flavouring and oil
Sift the flour, baking powder, bicarbonate of soda and cinnamon into a large bowl then stir in the sugar
Pour in the milk mixture and whisk together to make a thickish but runny batter
Pour the batter into your squeeze bottle
Heat a large frying pan or griddle pan brushed with a tiny drizzle of oil
Squeeze blobs of pancake batter into small discs roughly 2.5 cm (1 inch) in diameter, spacing each one to give you enough room for flipping them over
Cook the mini pancakes until bubbles form on the top then carefully flip each one, cooking on the other side until crisp and golden
Tip the cooked pancakes into your bowl then repeat the cooking process until all the batter is used up
Serve sprinkled with fresh berries, a drizzle of syrup and a pot of whipped vegan cream for dipping
Notes
I've used oat milk as I love the creamy flavour but you can swap it for your preferred plant milk
If you don't want to cook all the pancakes in one day you can store the squeeze bottle of pancake batter in the fridge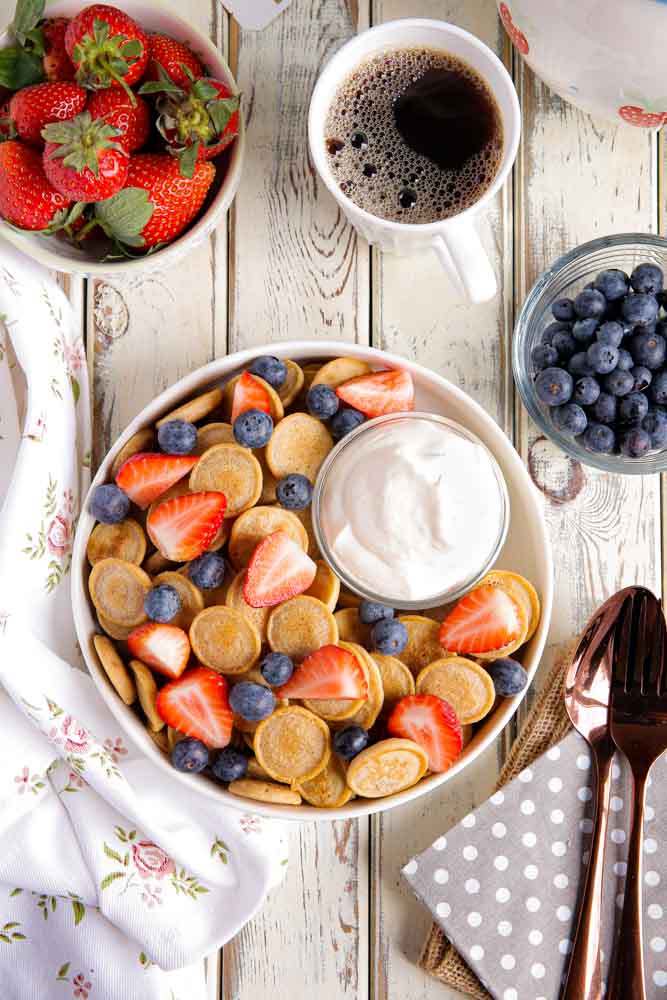 Hello and welcome to The Cook & Him.
We are Sam (The Cook), Phil (Him) and our little dog Nooch. What started with a plan to shed a few pounds back in 2016, soon became obvious that eating healthy doesn't have to be bland and boring.
So, combining Sam's 15 years of experience working within Michelin starred restaurants and our love for deliciously healthy food, we're creating recipes for you to make and enjoy. We've added our own unique spin on traditional and contemporary vegetarian and vegan recipes that keep you (and your pets!) healthy and full.  And we make sure they just work.
All things autumn - warming soups, savoury bakes and delicious sweet treats!
and I would like to see...
Or search for a recipe or post by keyword