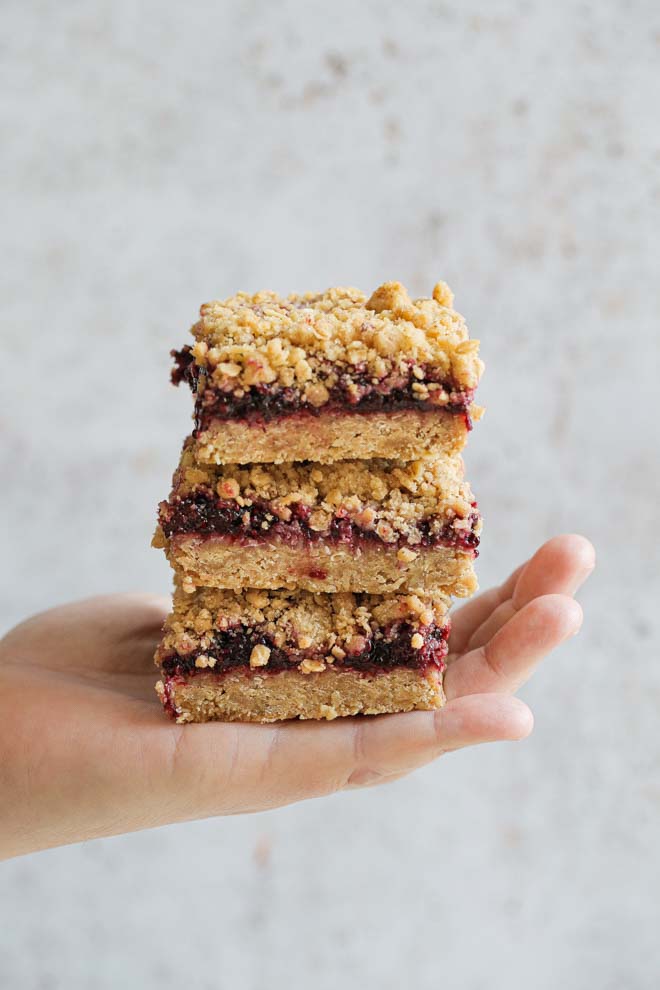 Posted in Recipes on 05.10.2020
Blackberry Crumble Bars | Easy & Vegan
prep: 30 mins / cook: 40 mins / inactive: 0 mins / total: 1 hour 10 mins / quantity: 9-12 bars Print recipe?
Full of juicy blackberries and topped with a crisp buttery crumb topping these blackberry crumble bars are so simple, easy to make and delicious!
Being somewhere between a healthy bar and an indulgent treat these blackberry crumble bars are SO versatile.  They make a quick grab and go breakfast or a yummy afternoon treat.  Or how about warmed with a big dollop of vegan vanilla ice-cream?  Pretty much why life is worth living right?
They actually 'age' really well too and after 1-2 days the fruit starts to soften the crumble base making them very slightly more chewy.  And about a million miles better than anything out of a packet.  They can also be adapted to use whatever fruit is in season – blueberries, strawberries, raspberries.  Though I have a slightly different and gluten free raspberry crumble bars recipe that are just as delicious and a little bit healthier with no refined sugar.  But I'm feeling all the warm, cosy autumn vibes right now and blackberries to me = autumn.
We live next door to a large dog walking field that has wild blackberries growing and I love seeing them start to pop out around the end of August.  It means autumn is on its way.  Even if the birds that eat them then leave blackberry tinted presents on the car.
How to make these sticky pie bars
Make the jam.  And this REALLY isn't as complicated (or sugar-laden) as it sounds.  Just the fruit, sweetener of choice, a squeeze of lemon and a pinch of zest bubbled for just 10 minutes.  Then stir in chia seeds and bubble for another 5 before leaving to cool slightly.  The chia seeds expand and help the jam to thicken.  This lessens the cooking time and sugar quantity and makes lovely homemade jam in a pinch!
Make the crumble mix.  This is just as simple as weighing the dry ingredients into a bowl then stirring in the melted butter.  You'll need to mix it well, so that the butter is well incorporated and makes the mixture like lumpy wet sand.
Put 2/3 of the mixture into your prepared tin.  Push it flat and into the corners as this will be the base for your crumble bars.  Bake for just 7 minutes.  This helps firm the base up and makes it easier to spread the jam across it.
Spread the jam over the base.  Then sprinkle over the remainder of the crumble and bake for 25 minutes until golden and delicious!
The hardest part is waiting a few minutes for them to cool because, you know, molten jam.
I made Phil wait a WHOLE day before devouring these because I wanted to get the bars cooled and set in the fridge so that I could cut clean slices for you to see the layers in these crumble bars.  That part is optional.  If you don't care about clean slices cut and eat with abandon!  Honestly though these are just as delicious at room temperature as they are straight from the fridge.  They'll just be a little softer if you don't keep them in the fridge and may not keep as long.  That's if they don't get hoovered up by the hungry masses!
These blackberry crumble bars make a great breakfast bar and afternoon snack.  But they are absolutely incredible eaten warm (either fresh or warmed up again) with a dollop of vegan vanilla ice cream.  So.Much.Yum.
Love easy but delicious snacks as much as we do?  Here's some of our tried and tested favourites (all vegan too!) …
I'd love to hear from you if you give this Blackberry Crumble Bars recipe a try! Just leave a comment as it's so helpful and I love to hear how the recipe worked out for you! Thank you so much 🙂
Don't forget to follow us on YouTube, Facebook or Pinterest for even more recipe inspiration and chat, competitions, behind the scenes and so much more!
Blackberry Crumble Bars | Easy & Vegan
prep: 30 mins / cook: 40 mins / inactive: 0 mins / total: 1 hour 10 mins / quantity: 9-12 bars
Ingredients
Jam:
4 cups (800g) blackberries – fresh or frozen
1/2 lemon – grated zest and juice
1/2 cup (100g) golden caster sugar or liquid sweetener like agave
2 tblsp chia seeds
Crumble:
1 + 1/2 cups (170g) rolled oats
1 + 1/2 cups (240g) plain flour
1/2 tsp baking powder
1 cup (175g) light brown sugar
1 tsp ground nutmeg (can sub with cinnamon or ginger)
3/4 cup (170g) vegan butter
Instructions
Begin by making the jam - put the berries, lemon zest and juice and sugar into a heavy based saucepan and stir together
Bubble gently over a low heat, stirring ocassionally, for 10 minutes
Stir in the chia seeds, bubble for another 5 minutes then set aside to cool slightly
Preheat your oven to 160 Fan / 180 C / 350 F / Gas 4 and line a 7 x 9 inch (18 x 23 cm) tin with parchment, covering the base and sides
To make the crumble put the oats, flour, baking powder, sugar and nutmeg into a bowl and stir together
Melt the butter then stir into the oats mixture until you have something that looks like lumpy wet sand
Spoon 2/3 of the crumble mixture into the prepared tin and using your hands or the bottom of a glass push the mixture to completely cover the bottom of the tin
Bake for 7 minutes
Carefully spread the jam over the part cooked base, covering it completely
Sprinkle over the remaining crumble then bake for a further 25 minutes until golden and delicious
Leave to cool for a few mintues before cutting into bars. If you cool then chill it completely in the fridge you'll get cleaner cuts on your bars
Store in the fridge - can be enjoyed straight from the fridge, or at room temperature or REALLY enjoyed warm and served with a dollop of ice-cream!
Notes
I've made this recipe a few times now and sometimes set aside roughly 1/4 of the blackberries, adding to the slightly cooled jam so that you get a few whole blackberries in the crumble!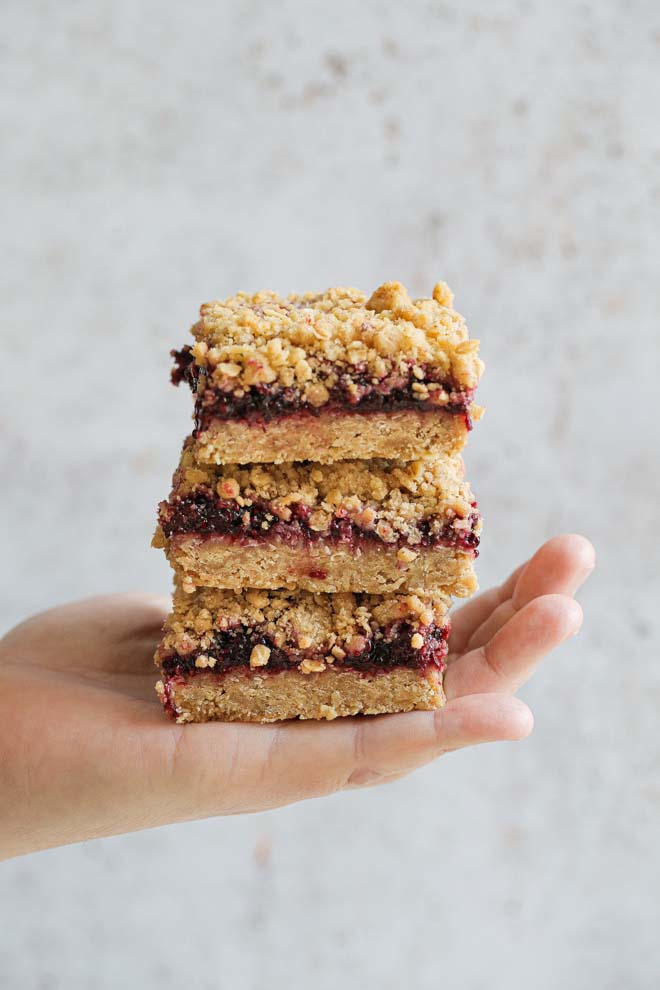 Hello and welcome to The Cook & Him.
We are Sam (The Cook), Phil (Him) and our little dog Nooch. What started with a plan to shed a few pounds back in 2016, soon became obvious that eating healthy doesn't have to be bland and boring.
So, combining Sam's 15 years of experience working within Michelin starred restaurants and our love for deliciously healthy food, we're creating recipes for you to make and enjoy. We've added our own unique spin on traditional and contemporary vegetarian and vegan recipes that keep you (and your pets!) healthy and full.  And we make sure they just work.
All things autumn - warming soups, savoury bakes and delicious sweet treats!
and I would like to see...
Or search for a recipe or post by keyword